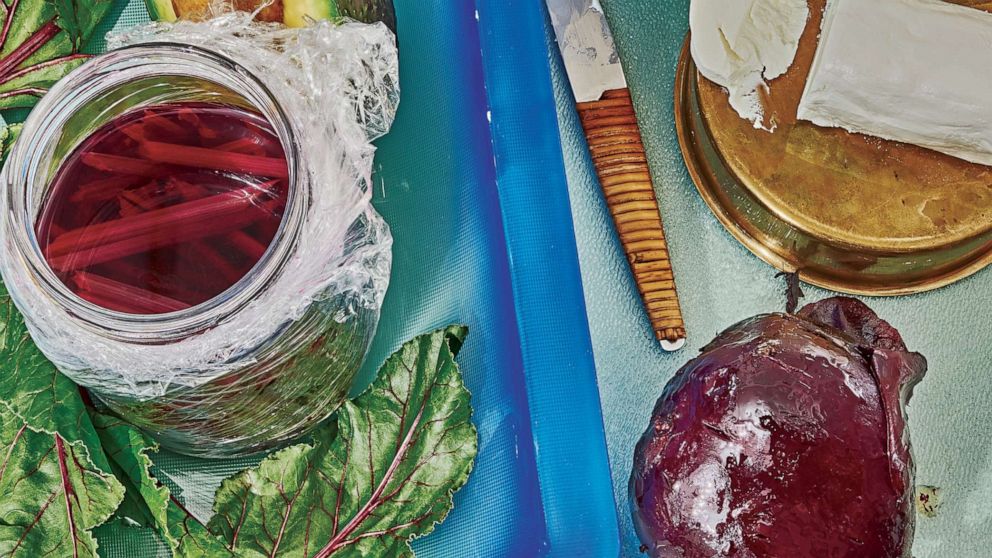 Root-to-leaf Beet Burgers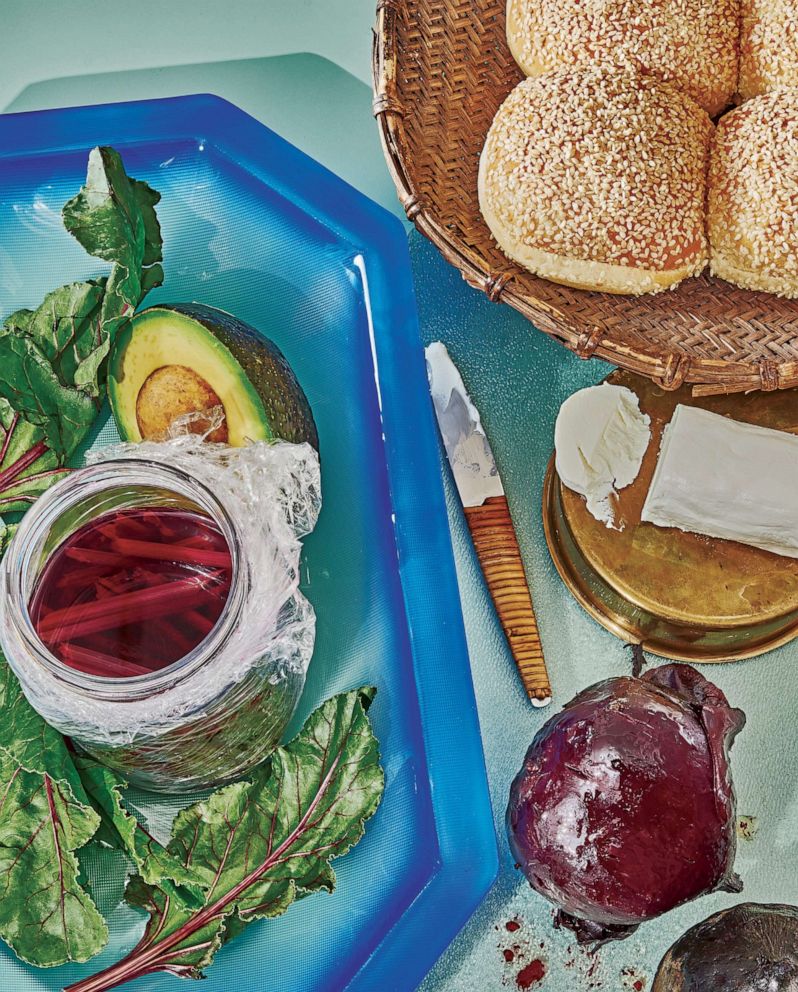 Makes: 4 burgers
Ingredients:
For the pickled beet stems:
Stems from 1 bunch of beets
1 quart water
4 cloves garlic, peeled
3 bay leaves
3/4 cup white vinegar
5 tablespoons sugar
2 tablespoons sea salt
1 teaspoon whole black peppercorns
For the roasted beets:
2 large beets, any color, stems reserved for pickling (see above)
2 sprigs thyme
2 tablespoons olive oil, divided
2 teaspoons sea salt, divided
Pepper to taste
To assemble the burgers:
4 hamburger buns, toasted
Roasted beets
Pickled beet stems
1 avocado, thinly sliced
4 ounces goat cheese
Fresh beet greens
Directions:
Make the pickled beet stems: trim any bruised or discolored parts from the stems. Cut the stems into 2-inch pieces and place into a clean glass jar.
Combine the remaining ingredients in a large stainless steel pot. Bring to a boil. Pour the pickling liquid over the beet stems. Let the mixture cool and then place the lid on top. Shake the jar and refrigerate the stems for at least 24 hours.
Make the roasted beets: scrub the beets well to remove any dirt and trim off the leafy greens close to the top of the beet, leaving about a half-inch of stem. Remove the stems from the greens and reserve both. Wash the greens and spin or pat dry.
Preheat the oven to 375 degrees. Tear two large sheets of aluminum foil. Place one beet on each sheet of foil. To each foil package, add one sprig of thyme, one tablespoon olive oil, and one teaspoon of sea salt. Wrap the beets loosely in the foil. Place the wrapped beets on a baking sheet. Roast for 50 to 60 minutes, checking every 20 minutes or so.
Roast until the beets are tender. You'll know when the beets are done when a paring knife easily slides into the center of the beet.
Let the beets cool. When they're cool enough to handle, hold one of the beets in a paper towel and rub the skin away. The skin should peel away easily. Discard the thyme and foil packages.
Slice the beets into 3/4-inch rounds and season with salt and pepper to taste.
Build your burgers: place at least two slices of roasted beets on the toasted bun bottoms. Top each burger with 1/4 cup pickled beet stems, 1/4 of the sliced avocado, one ounce goat cheese, one to two leaves of beet greens, and the toasted bun top. Serve immediately.
Parmesan Broth with Greens, Beans and Pasta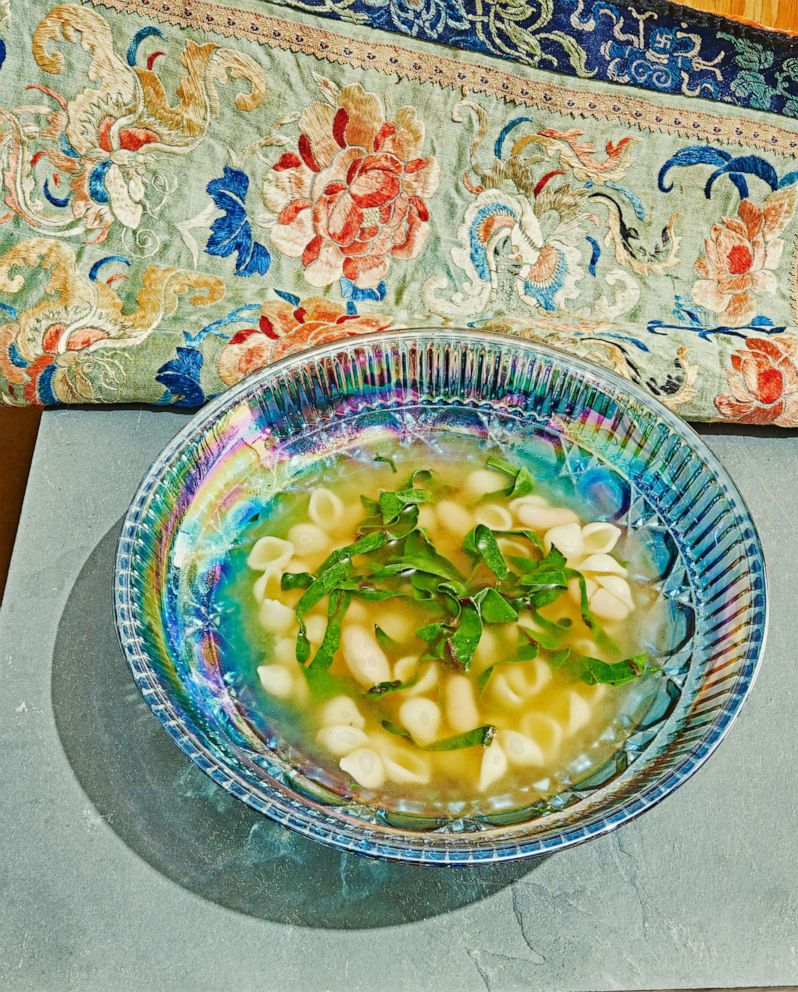 Makes: 4 to 6 servings
Ingredients:
For the homemade chicken stock:
5 medium carrots, roughly chopped
4 celery stalks, roughly chopped
1 large onion with peel, cut into 8 pieces
1 head garlic, cut in half crosswise
1 cup extra-virgin olive oil
3 to 4 leftover chicken carcasses
1 large bunch flat-leaf parsley (or stems from assorted soft herbs like parsley, dill, cilantro, etc.)
1 cup dry white wine
For the soup:
10 cups homemade or store-bought chicken stock
8 ounces Parmesan cheese rinds (about 6 to 8 rinds)
1/2 cup dry soup pasta (such as ditalini, cannellini or orzo)
1/2 cup cooked white beans
4 cups loosely packed, tender cooking greens (such as spinach, chard, mustard greens, kale, or chicory), roughly cut into 1/4- to 1/2-inch-wide ribbons
1 lemon
To make the homemade chicken stock:
Combine the carrots, celery, onion, garlic and olive oil in a large stockpot or soup kettle and set over high heat. Cook, stirring, until the vegetables are browned, about eight minutes. Add the chicken carcasses, parsley, wine, and just enough water to cover the chicken and vegetables (about 12 cups water). Reduce the heat to medium-low.
When the broth comes to a simmer, add two cups cold water (this technique will keep the stock cooking at a low simmer; the stock should never come to a rolling boil, as that simply redistributes impurities).
Reduce the heat to low and allow the stock to gently simmer, checking every half an hour or so to skim the surface of fat and add cold water as needed. The chicken and vegetables should always be barely covered with liquid. Cook until the stock is very rich, about four hours.
You will have about four and a half quarts, so freeze leftovers in one-cup and one-pint containers to have a supply always at the ready. Strain the stock, discarding the vegetables and bones. Refrigerate the stock for two to three days or freeze for up to six months until ready to use.
To make the soup:
In a large pot, combine the broth and cheese rinds and bring to a light simmer over extremely low heat. Simmer for about two hours, or until the broth has reduced to about eight cups.
Strain the broth through a sieve and discard the rinds. Bring the broth back to a simmer and add salt to taste. Add the pasta and cook until al dente, about 10 minutes.
Add the cooked white beans and the greens. When the pasta is done, turn off the heat, taste, and adjust for seasoning.
Grate the lemon zest directly over the pot and squeeze the lemon juice into the soup. Serve immediately.
Kitchen Scrap Kimchi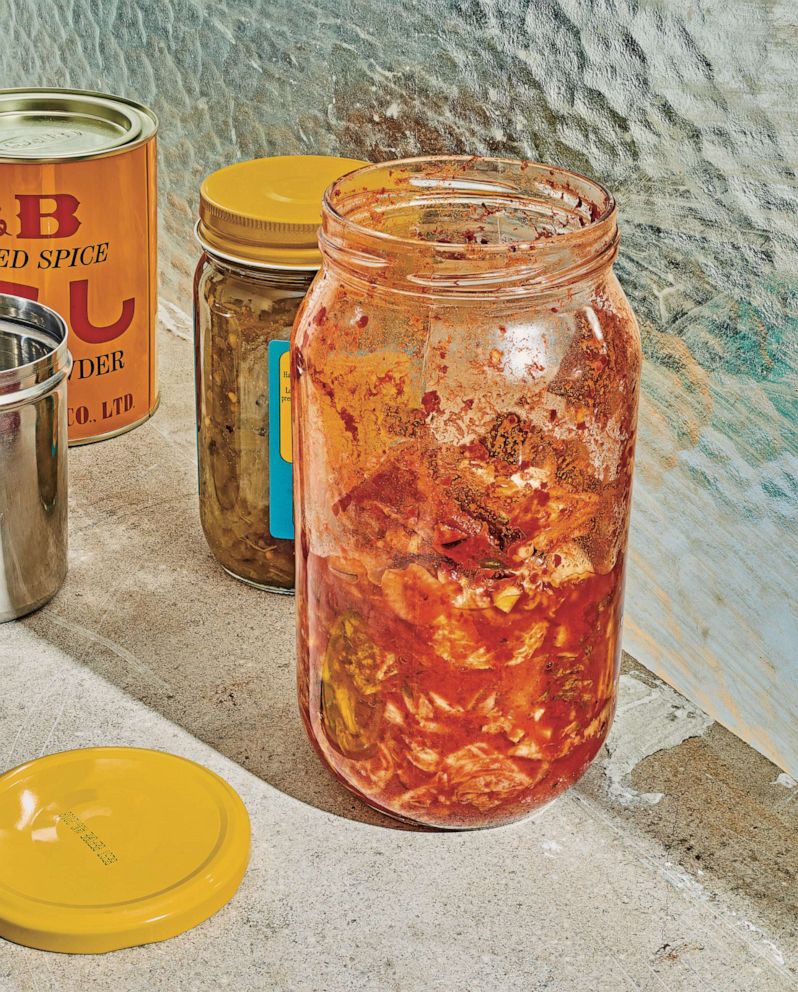 Makes: 3 cups
Ingredients:
4 cups cores, stems, and outer leaves of cabbage, kale, chard, beet, or any other greens you have on hand, roughly chopped
1 cup kosher salt
10 to 15 garlic cloves
1 bunch scallions, chopped
1 cup gochugaru (Korean chile powder)
1 cup thinly-sliced onion
1/2 cup sliced Asian pear
1/2 cup daikon radish, peeled and roughly grated
1/4 cup ginger, peeled and chopped
1/4 cup fish sauce
2 tablespoons sugar
Directions:
Toss the greens' cores, stems, and leaves in a large bowl with the salt.
Transfer the mixture to a large colander and place the bowl underneath. Let sit overnight on the counter.
The next day, rinse the greens under cold water and pat dry. Transfer to a large bowl and add the remaining ingredients. Mix to combine.
Pack the kimchi in clean jars or ziplock bags at room temperature for two to three days, then refrigerate. The kimchi will keep for 10 to 12 days in the refrigerator.
Chocolate Avocado Pudding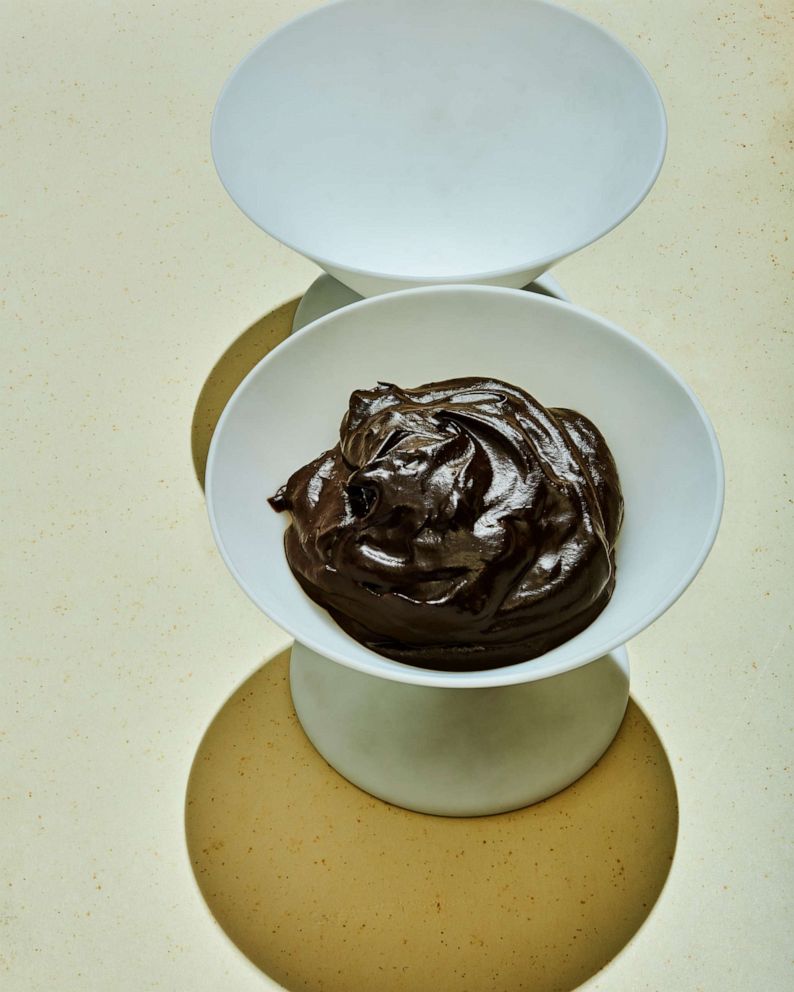 Makes: 4 servings
Ingredients:
2 bruised avocados, cored and diced
1/2 cup agave, or more to taste (preferably organic blue agave)
3 tablespoons high quality cocoa powder1/2 teaspoon kosher salt
Sliced strawberries
Toasted and chopped pistachios or hazelnuts
Extra-virgin olive oil for serving (optional)
Directions:
In a blender, combine first four ingredients until smooth. Use a rubber spatula to scrape down the sides of the blender and repeat.
Taste and add a little more agave if you'd like it sweeter.
Transfer to the refrigerator and chill for two to three hours.
To serve, scoop the chilled pudding into serving bowls or cups. If you like, top with strawberries, toasted pistachios or hazelnuts, and olive oil.
Recipes reprinted from "Waste Not" with Debbie Gold, Jason Weiner, Sara Jenkins and Jamie Simpson with permission from the James Beard Foundation.