Harvey Weinstein makes first court appearance
Harvey Weinstein turned himself into police in New York City this morning to face rape and sexual misconduct charges, before being released on $1 million cash bail and fitted with a GPS tracking device.
The disgraced movie producer was carrying three books, including Todd Purdum's "Something Wonderful: Rodgers and Hammerstein's Broadway Revolution," as he got out of a black SUV and walked past the swarm of TV cameras and reporters and through the front door of the New York Police Department's 1st Precinct in Manhattan this morning.
He was subsequently arrested, processed and charged with rape, criminal sex act, sex abuse and sexual misconduct for alleged incidents involving two separate women, police said.
"Today's charges reflect significant progress in this active, ongoing investigation," Manhattan District Attorney Cyrus Vance said in a statement. "I thank the brave survivors who have come forward, and my office's prosecutors who have worked tirelessly on this investigation."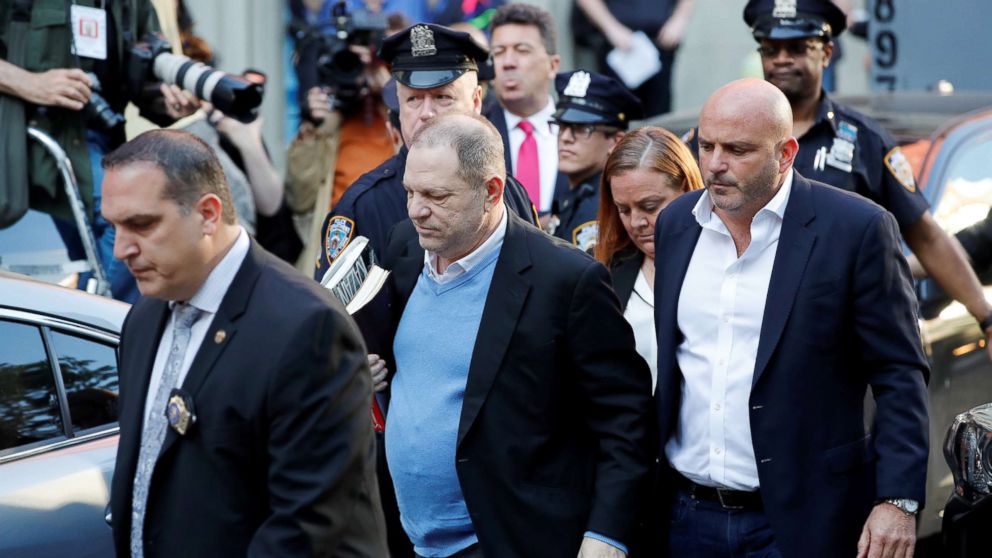 Weinstein was later escorted out of the 1st Precinct with a smile on his face and his hands cuffed behind his back. He was then transported in an unmarked SUV to the New York State Supreme Court Building in Manhattan for his arraignment on the charges.
Judge Kevin McGrath set Weinstein's bond at $10 million, with $1 million paid in cash to post bail. The judge also imposed a temporary protective order directing Weinstein to stay away from the two women whose complaints prompted the charges.
Weinstein put up the $1 million in cash and was released. The case was adjourned to July 30.
Weinstein surrendered his passport to authorities and will be expected to wear an electronic monitoring device at all times that requires him to stay in New York or Connecticut. He must seek approval from authorities if he wishes to travel beyond those two states.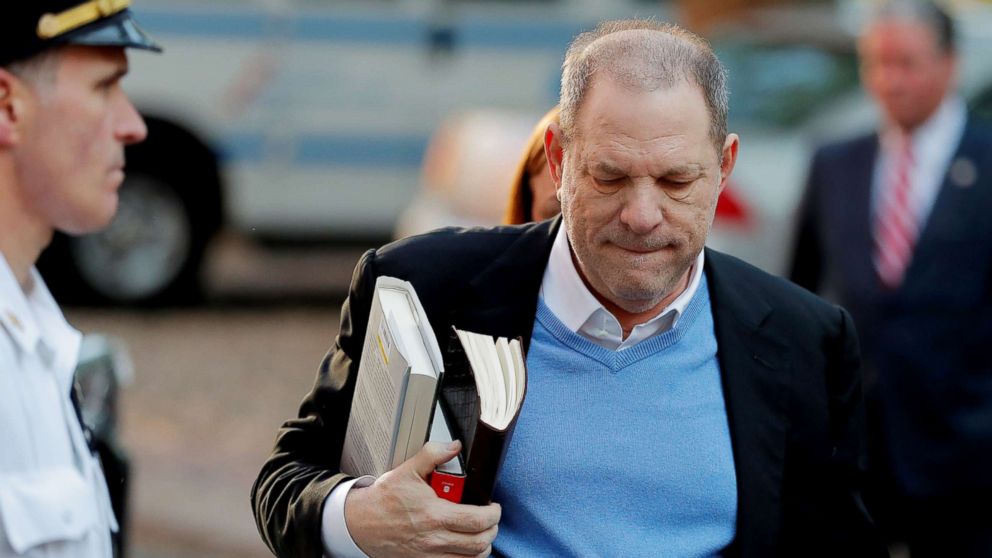 Weinstein's attorney Benjamin Brafman, who appeared in court alongside him, told reporters after the hearing that his client will enter a plea of not guilty on all the charges brought against him. They have known about the investigation for several months and the charges "are not factually supported by the evidence," Brafman added.
When asked how Weinstein is doing, the attorney said his client is "as well as can be expected when you are accused of a crime that you vehemently denied that you committed."
"We intend to move very quickly to dismiss these charges," Brafman told a throng of reporters outside court. "We believe, by the end of the process, Mr. Weinstein will be exonerated."
While defending Weinstein, Brafman said his client "did not invent" Hollywood's "casting couch" culture and that "bad behavior is not on trial in this case."
"My job is not to defend behavior. My job is to defend something that is criminal behavior," he told reporters. "Mr. Weinstein did not invent the casting couch in Hollywood. To the extent that there's bad behavior in that industry, that is not what this is about."
In a written statement released to the press, Brafman said: "Mr. Weinstein has always maintained that he has never engaged in non-consensual sexual behavior with anyone. Nothing about today's proceedings changes Mr. Weinstein's position. He has entered a plea of Not Guilty and fully expects to be exonerated."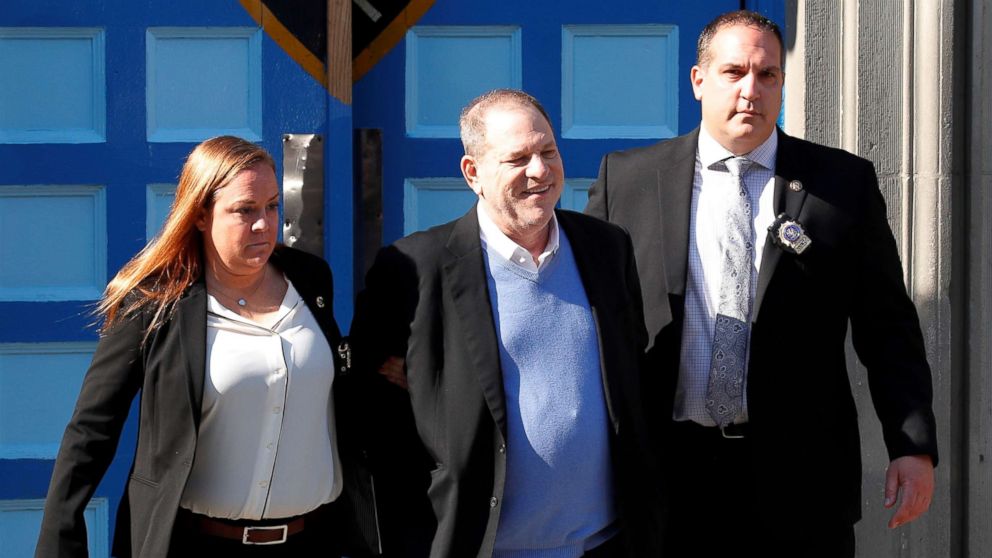 Weinstein, 66, has been accused by dozens of women of sexual misconduct and has been investigated by the New York City Police Department, the Manhattan District Attorney's Office, the New York Attorney General's Office, the Los Angeles Police Department and U.K. authorities. He has denied all allegations of nonconsensual sex.
The criminal sex act charge stems from an allegation brought by Lucia Evans, who has said Weinstein forced her to perform oral sex during what she thought would be a casting call. The rape charge stems from an allegation by a woman who has not been publicly identified.
Evans told Ronan Farrow of The New Yorker magazine last year that Weinstein forced her to perform oral sex on him in 2004.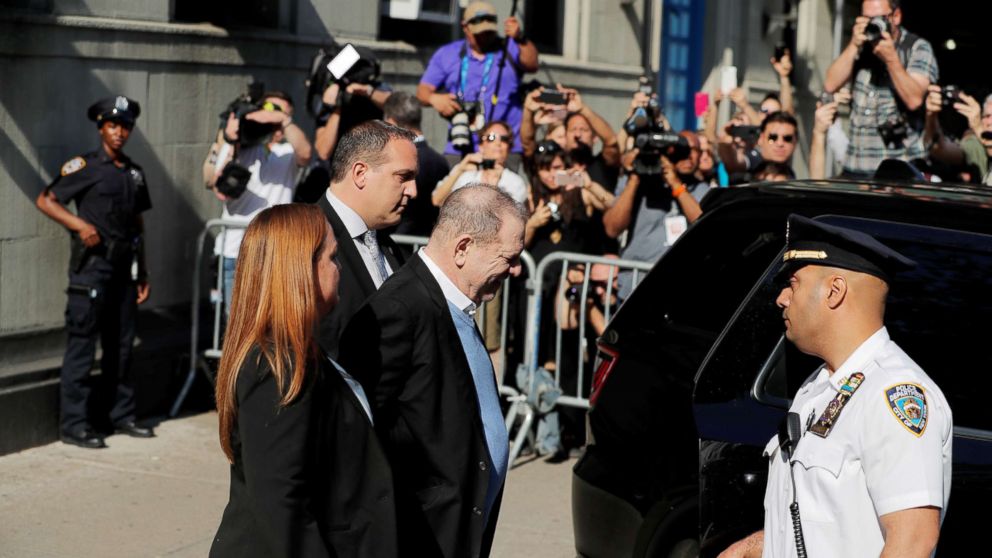 Consequences for Weinstein were swift and severe. Immediately after the first allegations emerged last October, he was terminated by his production company and expelled from the Academy of Motion Picture Arts and Sciences.
His personal life imploded too. Weinstein's wife of more than a decade, Marchesa co-founder Georgina Chapman, announced that she was leaving him. Their divorce has yet to be finalized.
Weinstein voluntarily returned to New York to turn himself in rather than waiting for police to arrest him on their terms, in an attempt at "controlling the circus," a source familiar with the matter told ABC News.
Weinstein's legal and public relations teams realized that, in the current social and political climate, he would be indicted and arrested despite his consistent denial of nonconsensual sex, two sources told ABC News.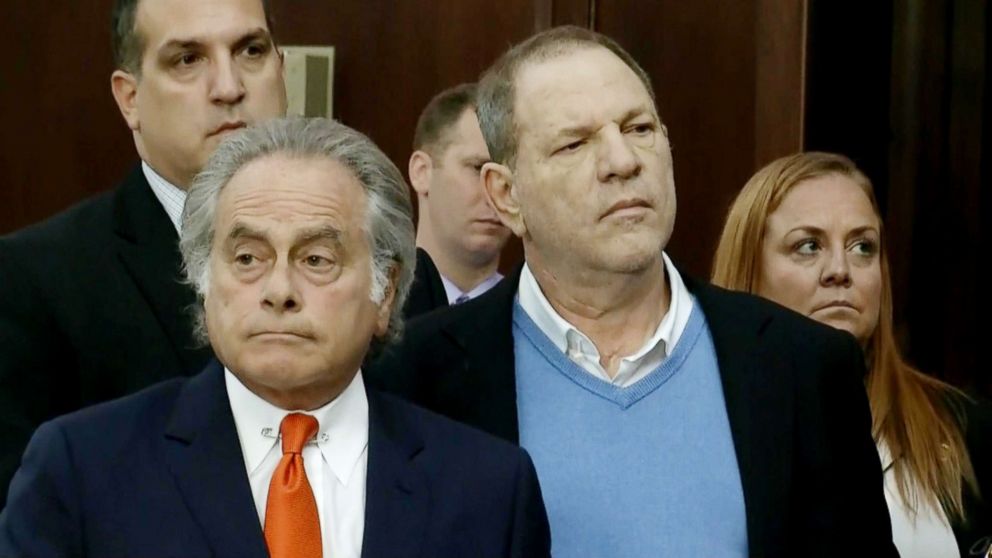 In an interview today on ABC News' "Good Morning America" with co-anchor Robin Roberts, Farrow said Weinstein's arrest was preceded by "a lot of sleepless nights" for Evans and the other accusers he spoke with.
"When I first began speaking to Harvey Weinstein's accusers, they were correctly terrified, they feared retaliation, they feared for their physical safety," Farrow said. "And now we live in a universe in which it is conceivable that survivors speak on an issue like this about someone that powerful and they're heard."
ABC News' Kelly McCarthy and Morgan Winsor contributed to this report.