Brad Pitt and Jennifer Aniston reunite backstage
Barry King/WireImage via Getty Images, FILE
When Jennifer Aniston and Brad Pitt shared a friendly moment at the 2020 SAG Awards Sunday night, fans went insane.
It had been almost exactly 15 years since Hollywood's former golden couple announced the end of their four-year marriage, and shortly after that, Pitt publicly moved on with Angelina Jolie.
So how did we get to where we are now?
"Good Morning America" looks back at Aniston and Pitt's relationship.
1998: Aniston, then starring in the popular sitcom, "Friends," and Pitt, fresh from an Oscar nomination for his work on "12 Monkeys," are set up by their agents on what the actress later tells ABC News' Diane Sawyer was a "very easy," "very fun" first date. Immediately, she said, she knew she was going to marry him.
"We both did," she added. "It was weird."
However, they keep their relationship under wraps for a bit, even arriving separately to the premiere of Pitt's film, "Meet Joe Black," that November.
September 1999: After a year of dating, Pitt and Aniston make their red carpet debut as a couple at the Emmys in 1999.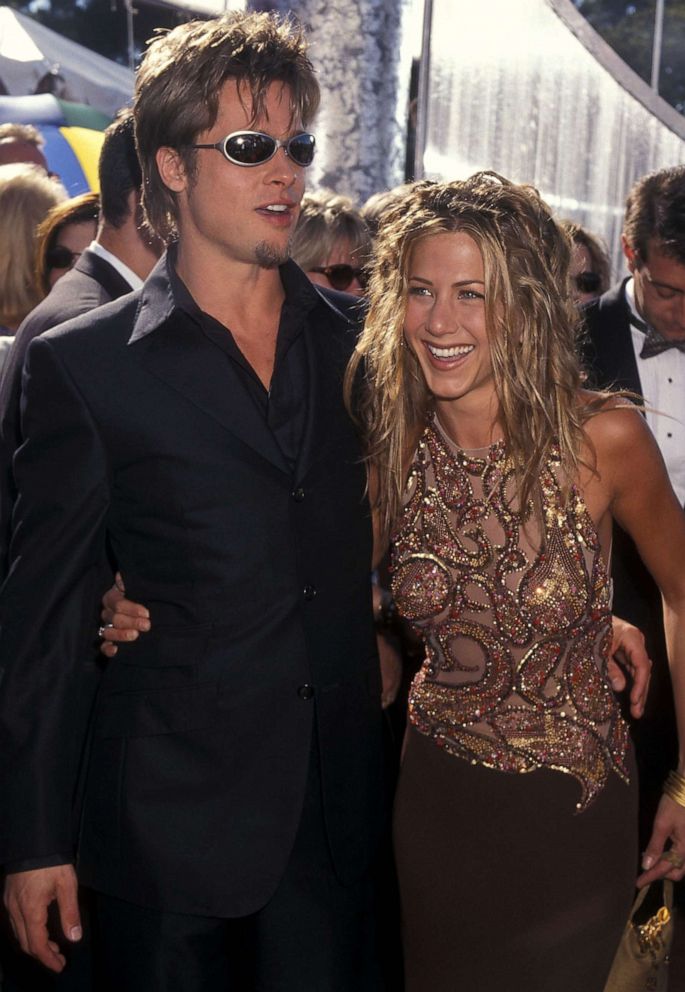 November 1999: Engaged! Aniston and Pitt get on stage at a Sting concert in New York City to show off her new diamond ring. According to People, they sing along with one of the musician's hits, "Fill Her Up."
The lyrics include: "We're going to Vegas, we're gonna get wed/ So fill her up, son, don't be staring/ Yeah, that's a real diamond she be wearing."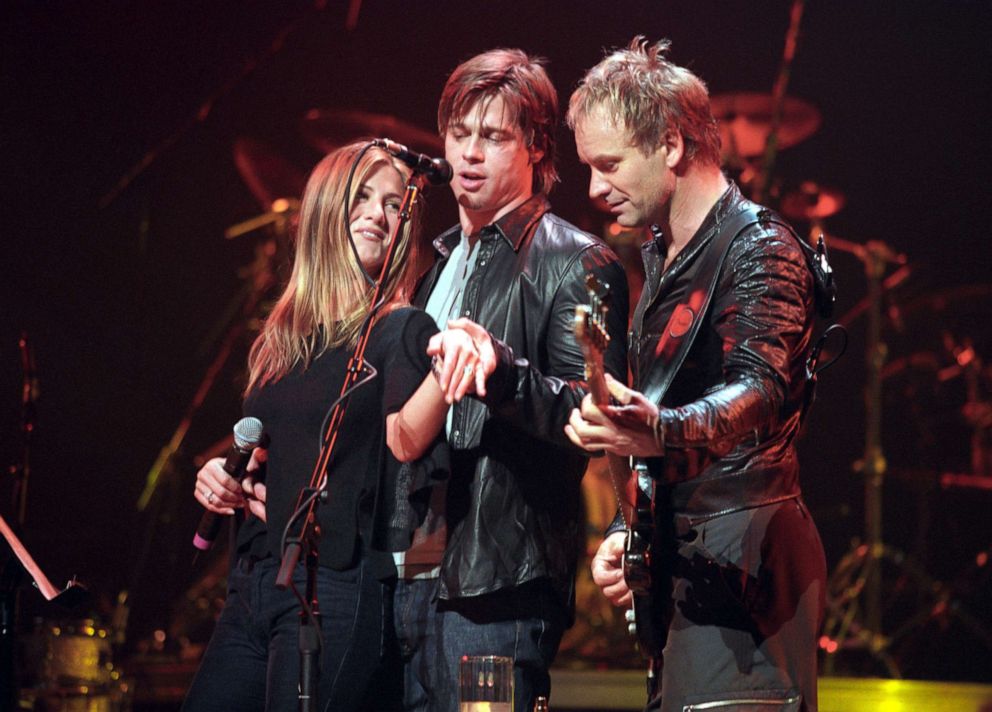 July 2000: The couple says "I do" at a private estate in Malibu on a bluff overlooking the Pacific Ocean. Aniston wears a floor-length white satin silk gown designed by Lawrence Steele, according to a press statement at the time, while Pitt dons a black tuxedo designed by Hedi Slimane.
The 200 guests include Edward Norton, Salma Hayek, Cameron Diaz and Aniston's "Friends" co-stars, and the celebration, which reportedly cost $1 million, is capped off with a heart-shaped fireworks display.
November 2001: Pitt plays an adversary of Aniston's character when he guest-stars on "Friends," but in real life, their marriage is going strong. People reported that earlier that year, Pitt filled Aniston's "Friends" trailer with 1,500 roses on Valentine's Day and spelled out "I love my wife," using petals.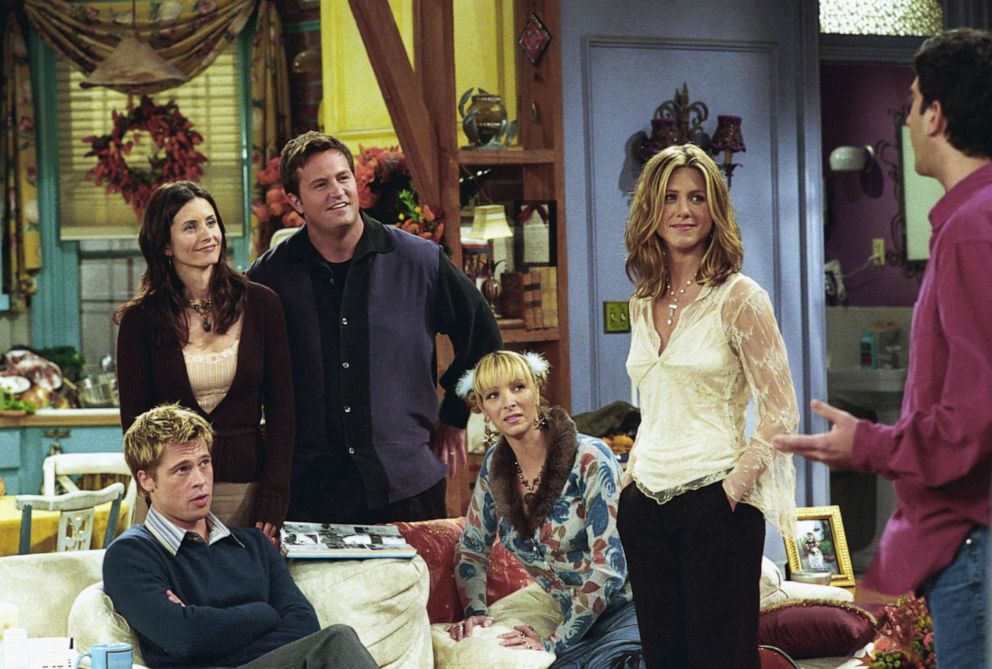 Circa 2003: Aniston tells Sawyer that she and Pitt hope to have "at least" two children.
"I can't image being with any other human being. I married him because he was the love of my life," she said. "He's the most fun I've ever had."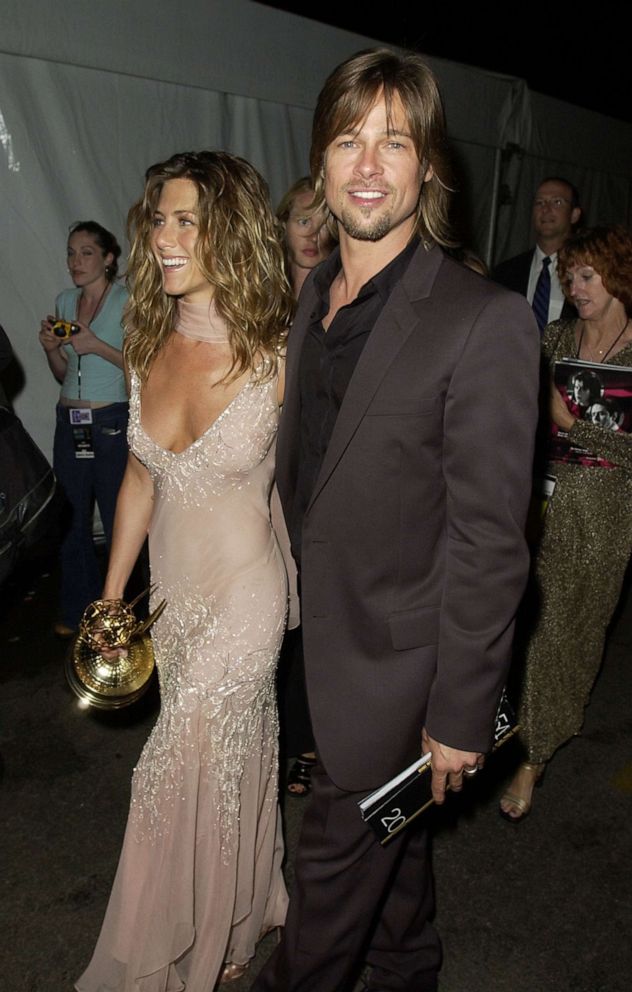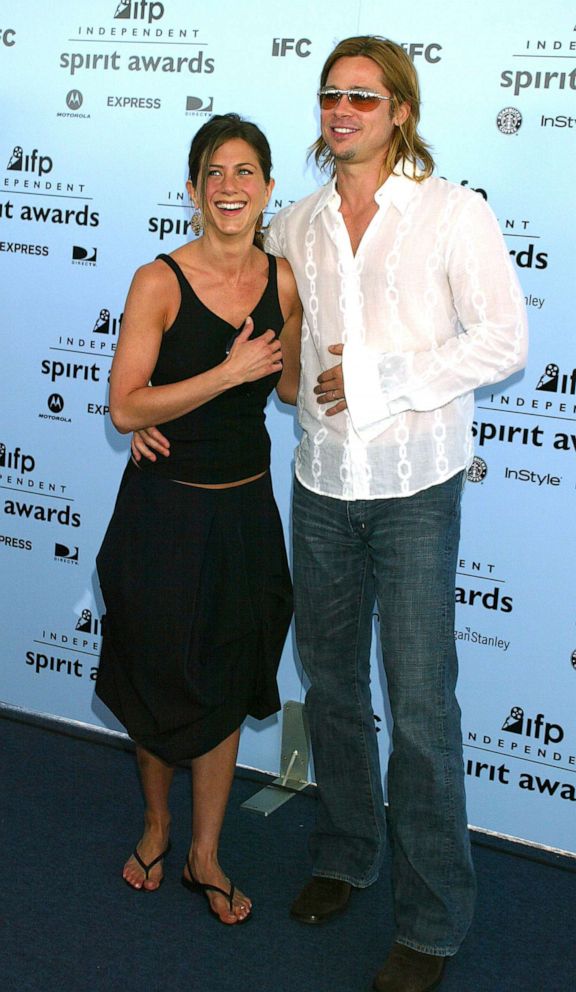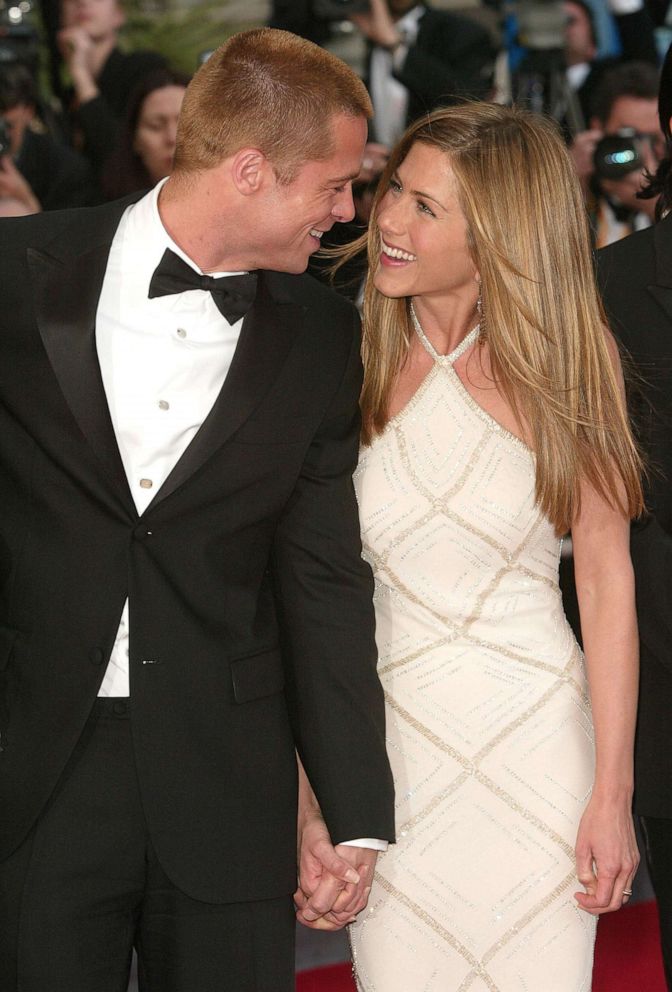 January 2005: Fresh from a beach vacation with Courteney Cox and her then-husband, David Arquette, Aniston and Pitt stun the world by announcing their split.
"We would like to announce that after seven years together we have decided to formally separate. For those who follow these sorts of things, we would like to explain that our separation is not the result of any of the speculation reported by the tabloid media. This decision is the result of much thoughtful consideration," they told People magazine. "We happily remain committed and caring friends with great love and admiration for one another. We ask in advance for your kindness and sensitivity in the coming months."
About four months later, however, photos emerge of Pitt with Angelina Jolie, which Aniston says "shocked" her.
"There are many stages of grief," tells Vanity Fair that September. "It's sad, something coming to an end. It cracks you open, in a way — cracks you open to feeling. When you try to avoid the pain, it creates greater pain. I'm a human being, having a human experience in front of the world. I wish it weren't in front of the world. I try really hard to rise above it."
She also addresses rampant tabloid speculation that her split from Pitt was caused by her reluctance to have children.
"A man divorcing would never be accused of choosing career over children," she said. "That really pissed me off. I've never in my life said I didn't want to have children. I did and I do and I will! The women that inspire me are the ones who have careers and children; why would I want to limit myself? I've always wanted to have children, and I would never give up that experience for a career. I want to have it all."
Their divorce was finalized in October 2005; Pitt and Jolie would welcome their first biological child, Shiloh, the following May.
December 2008: Aniston gives an interview to GQ magazine and said that she and Pitt are in touch "when there's something to congratulate or celebrate," but adds that there was "no charge."
"The funny thing is that people don't realize we all go away to the Hamptons on the weekends," she joked. "Can you imagine? That'd be hysterical: I've got Zahara on my hip, and Knox..."
She also responds to comments Jolie made about falling in love with Pitt during production of "Mr. and Mrs. Smith," which was shot while Pitt and Aniston were still together.
"Well, you know, that was definitely a confirmation for me of something that wasn't quite confirmed at the time," she said.
May 2011: Rumors begin to circulate that Aniston is dating actor Justin Theroux, to whom she gets engaged in 2012. They wed in 2015, and separate in 2018.
August 2014: After several years together and six children, Pitt and Jolie officially wed in France. Two years later, they announce their split.
December 2018: Aniston defends both of her marriages in an interview with Elle magazine.
"I don't feel a void. I really don't. My marriages, they've been very successful, in [my] personal opinion. And when they came to an end, it was a choice that was made because we chose to be happy, and sometimes happiness didn't exist within that arrangement anymore," Aniston told the publication. "Sure, there were bumps, and not every moment felt fantastic, obviously, but at the end of it, this is our one life and I would not stay in a situation out of fear. Fear of being alone. Fear of not being able to survive. To stay in a marriage based on fear feels like you're doing your one life a disservice. When the work has been put in and it doesn't seem that there's an option of it working, that's OK. That's not a failure."
February 2019: People magazine reports that Aniston invited Pitt to her 50th birthday party in February.
"It was a big night for Jen," a source told the magazine. "The important people in her life gathered to celebrate with her. Brad fits into that group, and it was natural that he would want to come."
That December, he reportedly makes an appearance at her holiday party, too.
January 2020: Pitt and Aniston, both winners at the 2020 SAG Awards, share a sweet moment backstage.