The evolution of Taylor Swift's music
Christopher Polk/Getty Images, FILE
Taylor Swift's debut single "Tim McGraw" turns 15 this year and, on Tuesday, the actual Tim McGraw opened up about what he really thought about the hit song.
Speaking to Apple Music, the country legend admitted that he was shocked when he first learned of the song, which was performed by Swift when she was just 16.
"I was a little apprehensive about it when I first heard it," the three-time Grammy winner confessed, according to Just Jared. "Then I thought, 'Have I gotten to that age now to where they're singing songs about me? Does that mean I've jumped the shark a bit? Is everything still cool?'"
McGraw said that, upon giving the song more thought, he saw it in a completely different light.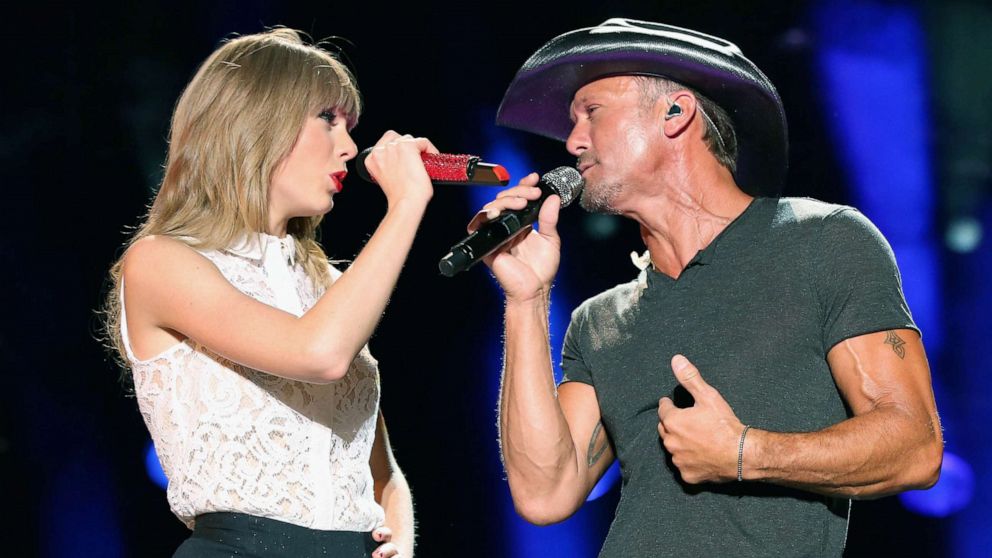 "Then I realized that somebody had told me that she was in her 7th grade math class when she wrote the song, so it made me feel a little bit better about that because she was so young writing it. So I didn't feel like I was that terribly old," he laughed.
Swift went on to open for McGraw and his wife, Faith Hill, on their Soul2Soul II tour in 2007, a time the "I Called Mama" singer remembers fondly because he was so impressed by her stage presence. Plus, he admits her acoustic guitar skills blew him away.
"She has such a unique way of connecting with her audience, and her songwriting ability and her intuition is just so incredible," McGraw gushed. "I just think she's one of the greatest artists to come along in a long time."
Beyond touring together, McGraw and Swift partnered with Keith Urban on the 2013 single "Highway Don't Care," which was nominated for a Grammy and won a slew of other awards.