Photographs capture baby boom at fire department
These firefighter experienced a serious baby boom after seven of them welcomed newborns just months apart.
The ladder-men of Glenpool Fire Department in Glenpool, Oklahoma, posed with their kids on Sunday in adorable photos snapped by Avery Dykes, the mom to the oldest baby in the bunch.
"It was just crazy because we just kept having pregnancy after pregnancy after pregnancy," Dykes told ABC News on Tuesday. "The third baby who was born after mine, it was her mom's idea. She saw a photo on Pinterest and said, "We should do this."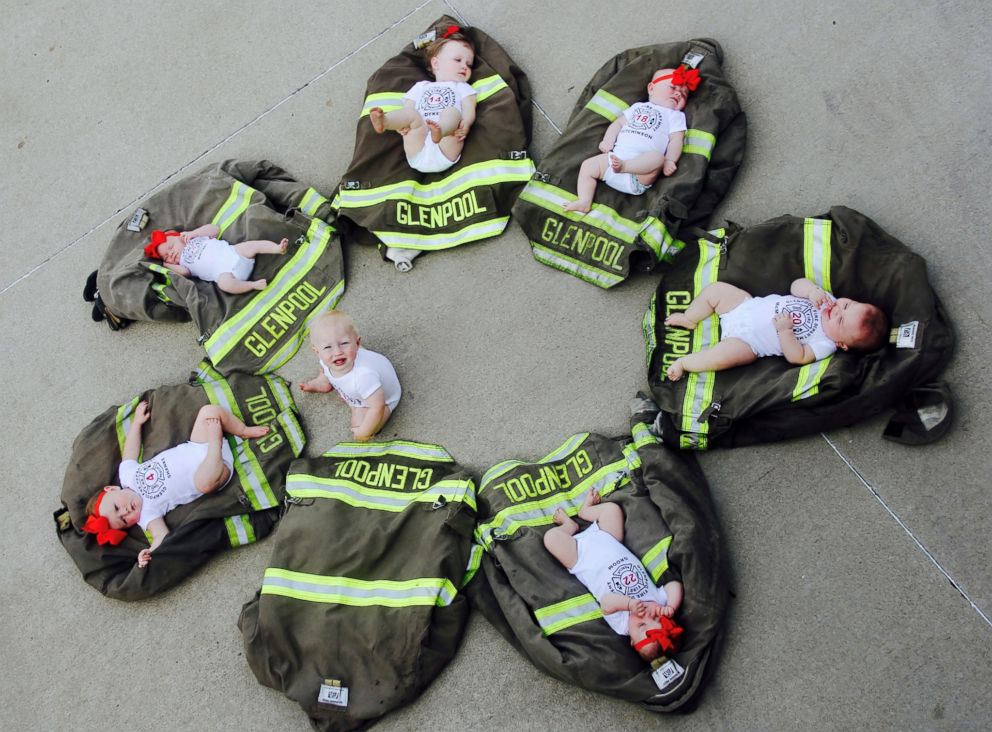 "[It was] challenging, but having four kids and experience with photography helped, of course," Dykes added of the photo session. "I thought they were cute no matter what."

The babies entered the world in the following order.
Jovie Gray Dykes born Feb. 7, 2017, to Kendall and Avery Dykes.
Cohen Miles Todd born May 26, 2017, to Dusty and Melanie.
Saylor Rene Shanks born July 31, 2017, to Sam and Allysa Shanks.
Bodie Owen McMurrian born Oct. 27, 2017, to Kyle and Amber McMurrian
Henley Noel Hutchinson born Jan. 8, 2018, to Dusty and Sarah Hutchinson.
Kadance Joyce Groom born Jan. 12, 2018, to Darin and Miranda Groom.
Gracie Lynn Whitney born April 20, 2018, to Mick and Carrie Whitney.