Bobby Flay and daughter Sophie share egg-cooking technique, breakfast burrito recipe
Celebrity chef, TV host and restaurateur Bobby Flay has had his fair share of delicious brunches and breakfasts, but he and his daughter Sophie have a recipe for their favorite morning meal that's a must-try.
The father-daughter duo fronting the upcoming streaming series "Bobby and Sophie on the Coast" joined "Good Morning America" to share this go-to recipe for a breakfast burrito.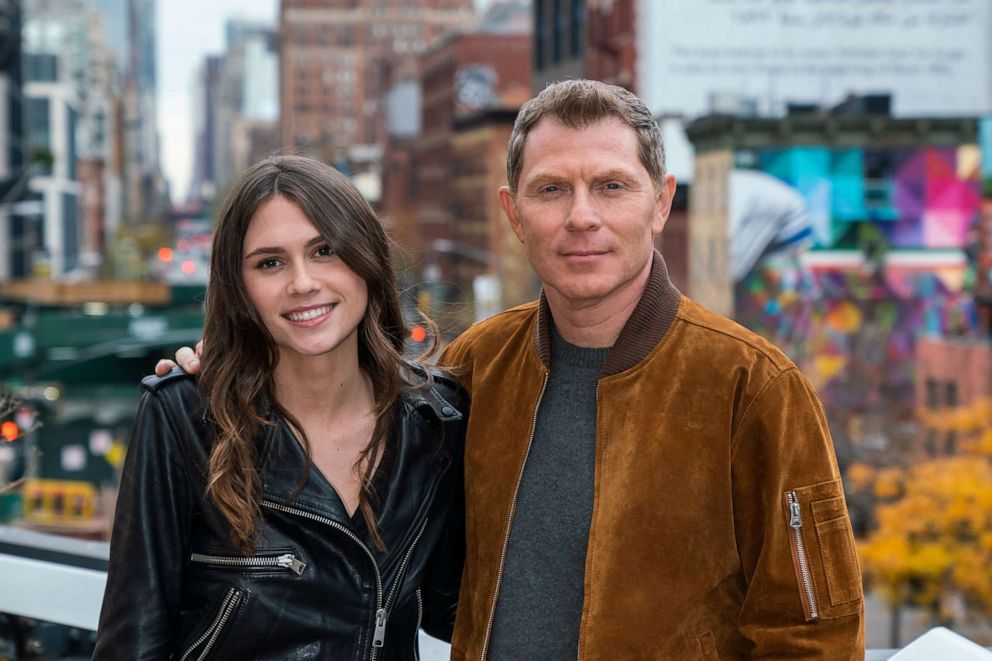 Flay also said the secret to his burrito is to spread a layer of sauce that's made with three simple ingredients: mayonaisse, chipotle and roasted red peppers.
Breakfast burrito
Serves: 1
Ingredients
1, 12-inch good quality, whole wheat tortilla
1 tablespoon unsalted butter
2 large eggs, lightly beaten
Kosher salt and freshly ground black pepper
2 slices American cheese, roughly chopped
2 slices bacon, cooked until very crisp
1/4 of an avocado, cut into 2 slices
2 tablespoons fresh tomato salsa, drain off excess liquid
6-8 potato chips, such as Lay's
For the fresh tomato salsa
3 plum tomatoes, seeds removed, finely diced, 1/4-inch
1/2 small red onion, finely diced
2 tablespoons chopped cilantro
1 teaspoon chipotle in adobo
Juice of 1 lime
1 tablespoon avocado oil
Kosher salt and freshly ground black pepper
Directions
For the salsa, Add all the ingredients to a medium sized bowl and mix to combine. Season with salt and pepper and set aside. Store any unused in an airtight container in the refrigerator for up to 24 hours.
Place a large non-stick saute pan on medium heat. Warm the whole wheat tortilla in the empty pan for about 5-10 seconds per side then transfer to a clean surface for assembly.
Add the butter to the pan and swirl to melt. Working quickly, add the eggs to the pan, lower the heat slightly and swirl the pan gently for even egg distribution. Season with salt and pepper and add the cheese evenly over the top of the eggs. Immediately after adding the cheese, using a rubber heat-proof spatula, gently fold the eggs over into a rectangular shape, about 6 inches in length. Once folded from all sides, gently flip eggs and allow to cook for additional 5-10 seconds (never pressing down on the eggs) to ensure eggs are set but remain very fluffy inside.
Carefully transfer the eggs to the center of the tortilla on top of the sauce. Add the bacon lengthwise on top of the eggs. Add the avocado slices lengthwise on top of the bacon. Spoon tomato salsa evenly on top of the avocado. Add potato chips across the top.
Carefully fold the tortilla into a burrito shape, make sure seam is face down to secure and cut in half. Either wrap first or serve as is.