Celebrating National Taco Day with 3 different recipes
Today is National Taco Day, and three talented chefs appeared on "Good Morning America" to show how to make different variations of the fan-favorite dish.
CHICA Las Vegas Chef Lorena Garcia, Emmy-nominated celebrity chef Marcela Valladolid, and Jordan Andino, the owner of Flip Sigi, a Filipino taqueria, shared their favorite taco dishes to make all year 'round.
Here are their recipes for you to try as you celebrate National Taco Day at home!
Lorena's soft blue corn tortilla pork belly taco with crispy chicken skin, avocado, spicy pico, jicama slaw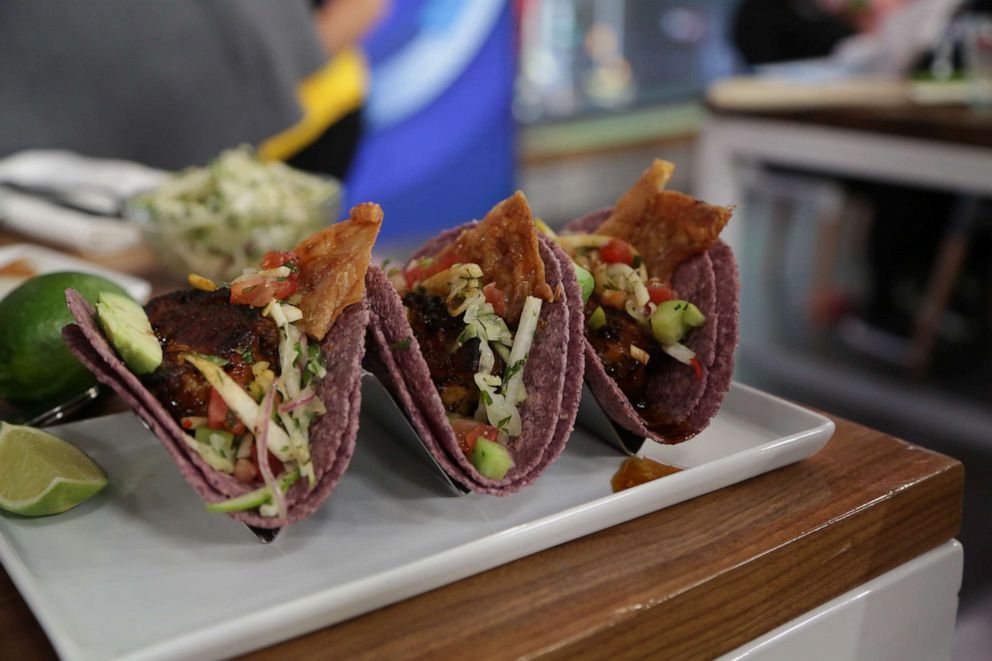 Chef Lorena cooks with her 4-year-old son, Leonardo, frequently. Passing down the Latin recipes and techniques she learned growing up is an important part of her everyday life at home and she's thrilled to share with families across the country and beyond.
Lorena's tips for making delicious tacos include adding a touch of freshness like pico de gallo, including both a crunch and a spice element, always using fresh tortillas and using both an acid element, like citrus, and something spicy, like jalapenos, to give the taco a special kick.
Taco ingredients:
Soft blue corn tortillas
Avocado, sliced
Pork belly (see recipe below)
Crispy chicken skin (see recipe below)
Spicy pico (see recipe below)
Jicama slaw (see recipe below)
Pork belly ingredients:
3 pounds pork belly, no rib bones
3 teaspoons kosher salt
2 teaspoons freshly ground black pepper
2 teaspoons ancho chile powder
8 cachucha chiles, chopped
2 California chiles, chopped
1 fresh cayenne pepper, chopped
1 cup agave syrup, divided
2 cups chicken stock or water
Crispy chicken skin ingredients:
A whole chicken skin, one piece if possible
Salt
1 tsp Chile piquin powder
1 tsp of miso +1 tablespoon of agave, mixed
Oil spray
Two flat sheet pans
Spicy pico ingredients:
2 whole ripe tomatoes, diced small
1 cup cucumber, diced small
1/2 red onion, diced small
1 red jalapeno, diced small
2 tablespoons fresh cilantro, finely chopped
2 tablespoons lemon juice
1/2 tablespoon vegetable oil
Kosher salt
Fresh ground black pepper
Jicama slaw ingredients:
2 cups jicama, peeled and julienned
1/2 cup green cabbage
1/2 cup red onion, thinly sliced
1/4 cup green apple, julienned
1 whole jalapeno, seeded and julienned
1/4 cup cilantro, finely chopped
1/4 cup parsley, finely chopped
Dressing ingredients:
2 tablespoons lemon juice
1/2 tablespoon honey
1-1/2 teaspoon kosher salt
1/2 teaspoon fresh black pepper
3 tablespoons extra-virgin olive oil
Instructions to make pork belly:
Preheat oven to 280 degrees Fahrenheit. Season the pork belly with salt, pepper, and ancho chile powder.
Scatter chiles in a large roasting pan and place the pork belly on top of the chiles, skin side down. Drizzle 1/2 cup of agave on top of the pork belly.
Dilute the remaining agave by whisking into chicken stock or water.
Add agave liquid to the roasting pan. Cover tightly with lid or aluminum foil and roast for 2 hours, basting pork with pan juices every 30 minutes.
Turn pork belly over and continue roasting until it is fork tender, about 2 more hours.
Transfer pork to a deep tray or plate, reserving the pan juices, and set it aside to cool. Once pork has cooled, cover it with parchment or waxed paper. Place a large plate over the covered pork belly and weigh it down with heavy cans or a foil-wrapped brick. Refrigerate pork this way overnight.
Strain the liquid from the roasting pan into a saucepan, reserving the chiles.
Simmer the sauce for about 30 to 45 minutes until it is reduced to about 1 cup. Add reserved chiles and remove thickened sauce from the heat. Set aside to let the glaze cool, then place in the refrigerator to chill.
When you are ready to serve the dish, remove pork belly from refrigerator. Preheat a large, heavy skillet or cast-iron pan over medium heat.
Slice pork belly into 1-inch wedges.
Sear each side of the pork belly until it's crispy and heated through, about 3 minutes each side. Reheat the glaze and brush it on the pork.
Instructions to make crispy chicken skin:
Preheat oven 320 degrees Fahrenheit.
Spray with oil the chicken skin and season with salt.
Spray one of the sheet pans with oil and extend the chicken skin so is completely flat.
Spray the bottom of the other tray and bake for 30 minutes or until crisp.
Remove from the oven and slightly brush the agave/miso and sprinkle the Chile piquin on top to taste.
Break in desired shape pieces.
Instructions to make spicy pico:
In a nonreactive bowl, toss together tomatoes, cucumber, onion, jalapeño, and cilantro with lemon juice and vegetable oil.
Season with salt and pepper.
Let pico sit at room temperature for 15–20 minutes before serving.
Instructions to make dressing:
In a small bowl, combine lemon juice, honey, salt, and pepper.
Whisk together, slowly pouring in the olive oil to emulsify dressing.
Instructions to make jicama slaw:
In a medium-size bowl, combine all ingredients.
Pour dressing over jicama and toss well.
Marcela's enfrijoladas -- chicken soft tacos in black bean sauce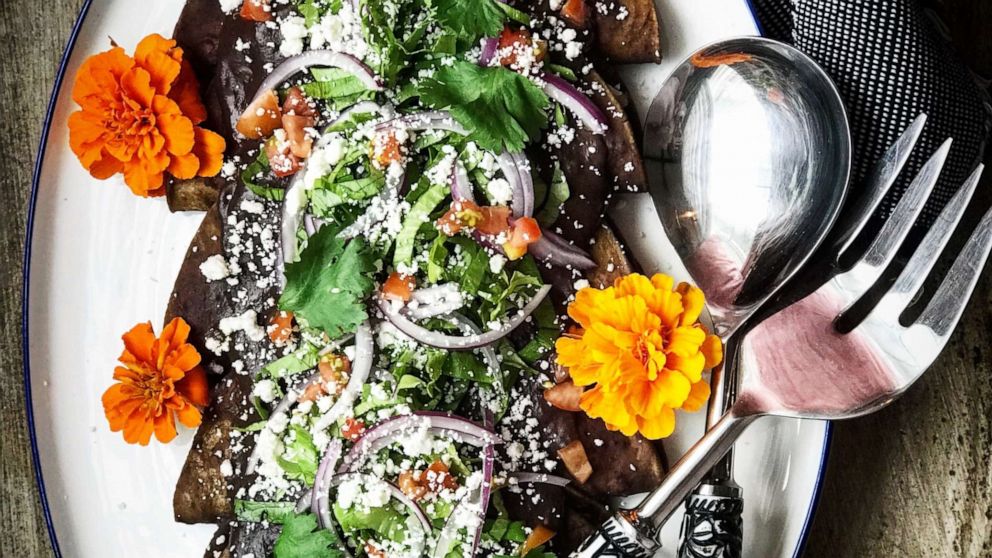 Chef Marcela grew up on the Mexican side of the border these recipes remind her of her Tijuana upbringing, including being surrounded by cooks from all over Mexico cook in her home kitchen. She has tasted versions of this dish from all over Mexico and said the dish can change regionally from both preparations to ingredients included, but is always delicious.
To make this kid-friendly meal even easier, Marcela recommends using a pre-purchased rotisserie chicken and ready-made pico de gallo to sprinkle over the enfrijoladas.
Ingredients for 6 enfrijoladas:
1 15-ounce can organic black beans
1/3 cup low-sodium chicken broth (additional as needed)
1 large garlic clove, peeled, sliced
1 canned chipotle in adobo (you can use half or none if no spice is desired)
3/4 teaspoon kosher salt
1/4 teaspoon crumbled oregano
1/4 teaspoon cumin
1/3 cup plus 2 tablespoons avocado oil
6 organic corn tortillas
1 and 1/2 cups shredded chicken
Garnishes including crumbled queso fresco, chopped tomatoes, sliced red onions, cilantro leaves and shredded iceberg lettuce
Instructions:
Add undrained beans, chicken broth, garlic, salt, oregano and cumin to blender and blend at high speed until very smooth.
Heat 2 tablespoons of the avocado oil in a medium skillet over medium-high heat.
Add bean sauce and cook, stirring frequently so beans won't stick to side of pan, until slightly thickened but still runny, about 8 minutes.
In a small skillet heat 1/3 cup oil until hot but not smoking (dip a wooden spoon inside oil and if it bubbles it means it's ready).
Dip one tortilla into oil and fry on both sides until golden but still pliable, about 30 seconds per side.
Using tongs, lift to allow excess oil to drop and then dip into bean sauce.
Transfer tortilla covered in sauce to cutting board (board will get messy!).
Cover half with a scant 1/4 cup chicken and fold other tortilla half over.
Transfer to platter.
Repeat with remaining 5 tortillas, bean sauce and chicken. Top with desired garnishes.
Chef Jordan's hard tacos stuffed with sauteed bok choy and topped with chicken adobo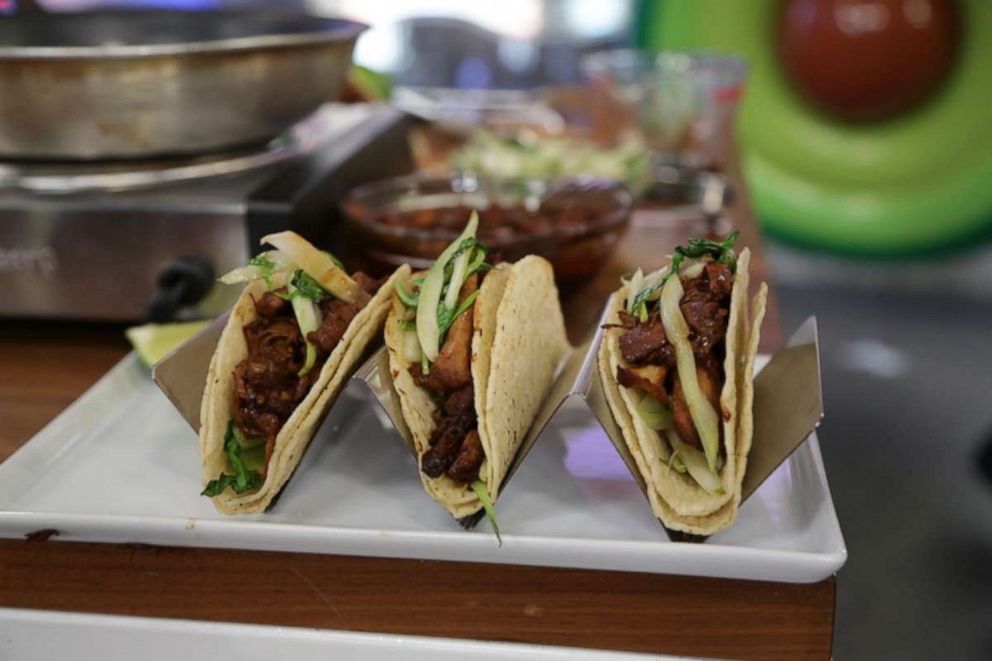 Chef Jordan enjoys making tacos for his friends and brings a press to their homes to make fresh-pressed masa corn tortillas.
When building a hard shell taco, Jordan recommends placing dry ingredients on the bottom and wet ingredients on top. Raw, shredded veggies are good as a base because they help soak up any sauces or liquids that may make the taco soggy. An even distribution of ingredients is paramount for tacos, he says.
Adobo chicken ingredients:
2 lb. Chicken thighs with bone
1/2 cup garlic, minced
1-1/2 cup mushroom soy
4 tbsp. sriracha
1 tbsp. sesame oil
1 cup oyster sauce
1 pint white vinegar
1 tsp. pepper
Bok choy ingredients:
3 pc baby bok choy, julienne
1 garlic clove, minced
1 tsp, sesame oil
1 tsp. vegetable oil
Instructions to make adobo chicken:
Combine all ingredients into a large mixing bowl except for the mushroom soy and vinegar.
Coat and massage all ingredients into the chicken.
Sauté on high in a large stock pot until chicken is browning.
Add vinegar and soy and stir, bringing to a boil.
Once at a boil, reduce heat to medium/low and place lid on pot.
Let cook and boil for 35 minutes and then cut heat.
Let rest for 5 minutes and serve over rice or pull to make tacos.
Instructions to make sauteed bok choy:
Heat pan on high.
Add both oils and then garlic clove.
Cook garlic until light brown and then add bok choy.
Sauté until greens wilt but do not over cook.
All recipes reprinted with chefs' permissions.