To continue the celebration of Asian American Native Hawaiian Pacific Islander heritage month, "Good Morning America" tapped New York City chef Justin Lee for some vegan dishes off his menu at Fat Choy, a restaurant that describes itself as "kind of Chinese, also vegan."
Lee shared two of his favorites and the full recipes below.
Fried Rice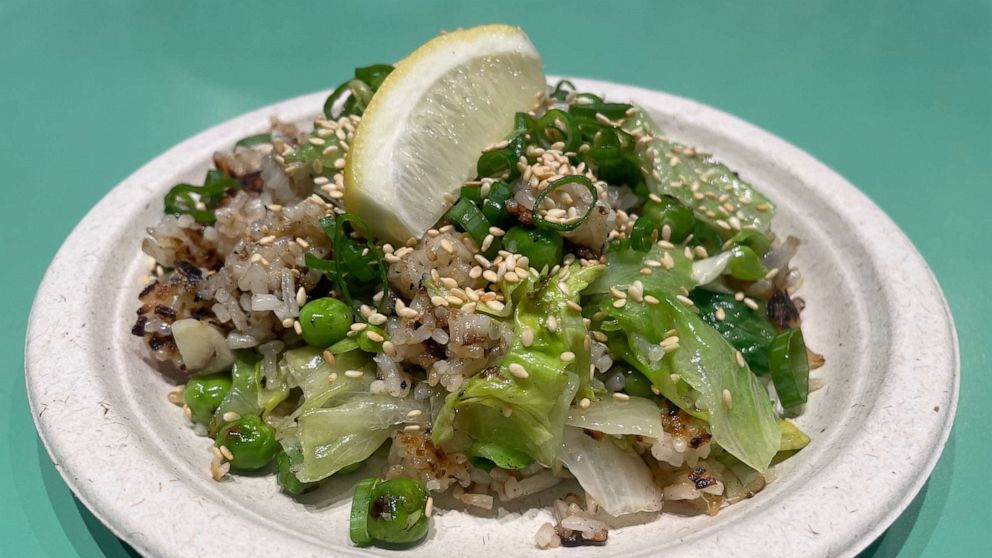 Ingredients
Ginger Scallion Paste
1 cup scallion root ends
1 cup ginger peels
1 tablespoon salt
Oil to barely cover
1 quart leftover rice
1 small white onion, large diced
1 pint frozen peas
1/4 head iceberg lettuce, large diced
1 scallion, thinly sliced
1 tablespoon toasted sesame seed
Method
Mince scallion and ginger scraps as finely as possible in a food processor. Salt the mixture and let it sit from 15 minutes to overnight.
Put the mixture in a small pot and just barely cover with oil. Cook on low heat, stirring occasionally, for 1 hour.
Once the mixture has cooled down enough to not be dangerous, place it back into the food processor to blend as smooth as possible, a rough pesto consistency, cool and reserve.
Mix the paste with the old rice being sure to make the grains as individual as possible, no big clumps of rice. Mix in the diced onion and peas.
In a nonstick pan cook the rice over medium high heat, mixing and tossing frequently for 3-5 minutes. Stop stirring the fried rice but leave over medium heat for 1-2 minutes to form a crust on the bottom.
Toss the iceberg into the fried rice and plate everything. Garnish with sliced scallions and toasted sesame.
Note: this recipe is based on general proportions, but fried rice is a wonderful dumping ground to utilize any and all kitchen scraps.
Mac and Cheese
Serves: 2-4
Ingredients
1 pint vegetable scraps, thinly sliced
1 pint water
1 pint meltable cheese, grated
Salt to taste
1 pint raw macaroni elbow
Method
In a medium pot cook the vegetable scraps and water on medium low heat until the scraps are very tender, maybe 20 minutes.
Transfer to a blender and blend until very smooth.
Pour the smooth sauce base back into the pot, add in cheese, and cook over low heat, while stirring, until melted and fully incorporated.
Add cooked macaroni and season to taste.
TIP: If you omit cheese and cool the vegetable puree, it's a nice base you can add pesto to for a creamy sandwich spread or dip.
Recipes reprinted courtesy of Justin Lee.