Chef Michael Symon shares 3 twists on Thanksgiving turkey recipes
Thanksgiving is right around the corner which means it's a good time to decide how you're going to prepare your bird for the big day!
Chef Michael Symon dropped by "GMA" to share his recipes for an oven smoked turkey, pan gravy and how to make use of leftovers (if you have any!)
Check out the dishes below and recreate them at home this holiday.
Oven smoked turkey with compound butter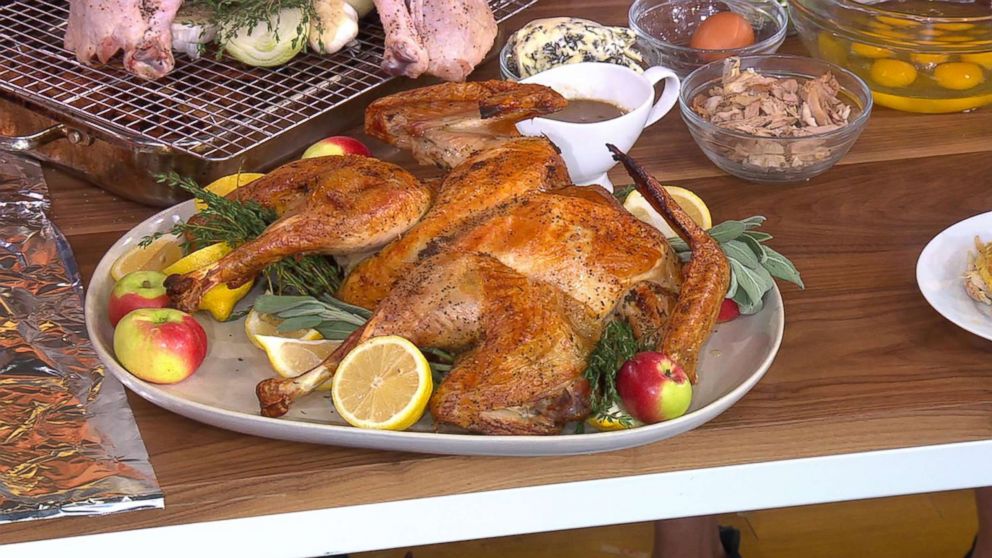 Serves 6-8
Ingredients:
1 turkey (10-12 pounds)
Kosher salt
1 teaspoon ground coriander
Freshly ground black pepper
1 onion, peeled and halved
1 small bundle thyme
6 sage leaves
1 head garlic, halved widthwise
2 cups Applewood chips, for smoking (soaked in water for 1 hour or overnight)
1/2 pound unsalted butter, softened
2 cloves garlic, grated w/ a microplane
2 tablespoons thyme picked thyme leaves, roughly chopped
2 tablespoons chopped sage leaves
Directions:
In the meantime make your butter. Combine the softened butter with the grated garlic, chopped thyme and sage and half teaspoon salt. Crack some black pepper in and mix thoroughly. Set aside.
After an hour, remove the turkey from the oven and take the foil off. Turn the oven down to 375 degrees.
Brush a good amount of the herb butter all over the turkey then put it back in the oven, uncovered, until the leg temps at 160 degrees, another hour and a half. Make sure you brush the turkey with the butter mixture every half hour.
Remove the turkey from the oven and let it rest up to 30 minutes before carving.
Pan Gravy
Makes 1 quart
Ingredients:
4 tablespoons unsalted butter or pan drippings
4 tablespoons flour
4 cups turkey stock
Small bundle fresh thyme
Kosher salt
Freshly ground black pepper
Directions:
Place your roasting pan over two burners on medium-high heat. Add the butter or pan drippings. When melted, whisk in the flour then the turkey stock. Add the bundle of thyme and season with salt and freshly ground black pepper.
Simmer over low heat for 45 minutes, until thickened and reduced and the flour is cooked out.
Remove the thyme bundle, check for seasoning then strain and serve.
Leftover turkey sandwich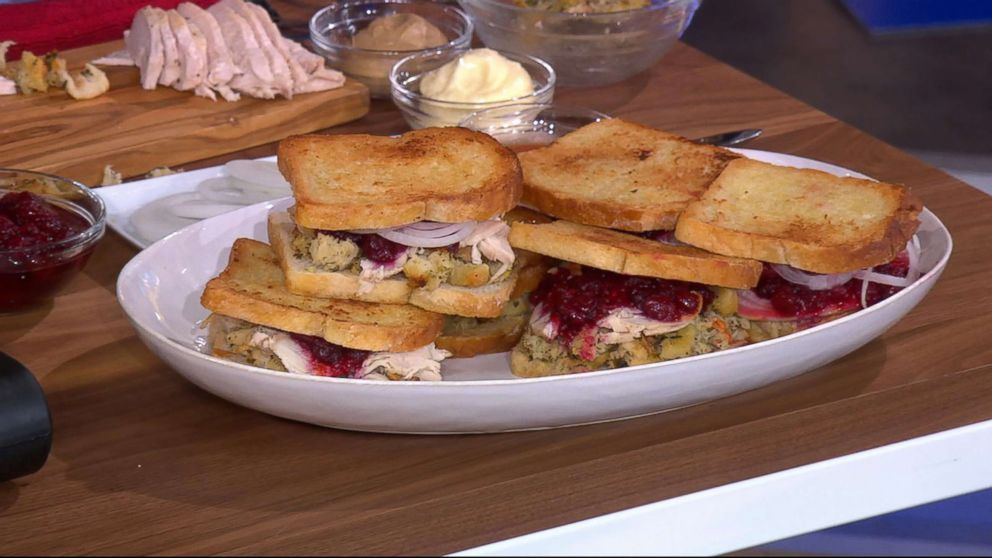 Serves 1
Ingredients:
Leftover turkey
Sliced onion
Stuffing
Bertman's Mustard
Duke's mayonnaise
Hot sauce
Cranberry sauce
2 slices bread
Directions:
Assemble ingredients into sandwiches.
Apply some mayo to the outside of the bread and grill it.
Leftover Turkey Frittata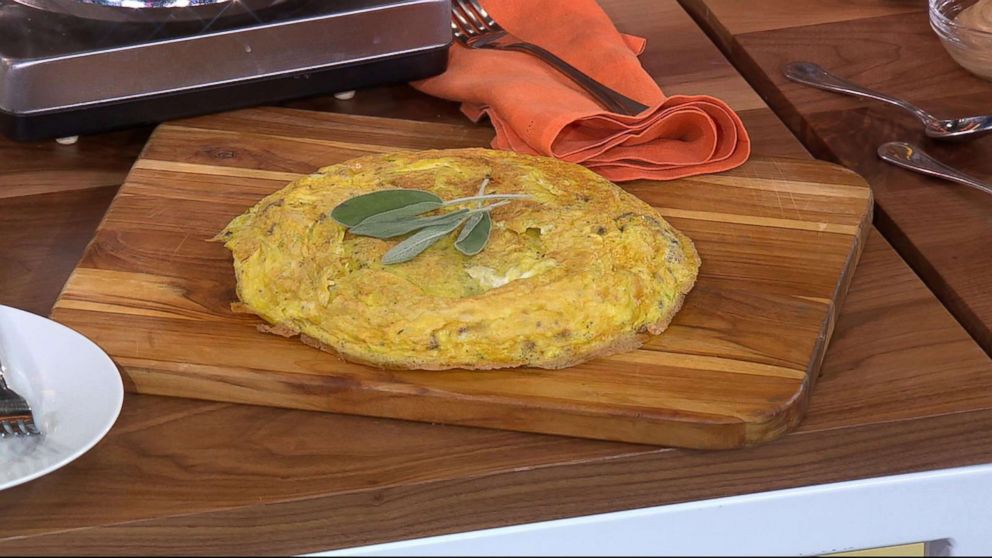 Serves 6
8 large eggs
1/4 cup thinly sliced scallions, green and white parts
Kosher salt and freshly ground black pepper
2 tablespoons unsalted butter
1 tablespoon finely chopped fresh sage leaves
2 cups small-diced cooked turkey
Directions:
Preheat the broiler to medium-high.
Put a large ovenproof nonstick skillet over medium-high heat.
In a medium bowl, whisk together the eggs and scallions. Season with salt and pepper.
Add the butter to the preheated skillet followed by the sage. Cook until the sage is aromatic and crisp, about 1 minute. Add the eggs and cook, stirring gently from time to time, until the eggs begin to set up but are still a little runny, about two minutes.
Stir in the turkey and put under the broiler until lightly browned, about one minute.
Slide the frittata out of the pan onto a cutting board, slice, and serve.
Recipes reprinted courtesy of Michael Symon.