Celebrate the father figure in your life with a delicious, chef-approved dish any dad will devour.
Every meal to make dad for Father's Day this weekend
From breakfast in bed to appetizers and dinner inspired by these chefs' own family recipes, here are a few simple ideas to get cooking this Father's Day.
Chef Elisa Marshall, Maman: Brandy Brioche French Toast with Espresso Mascarpone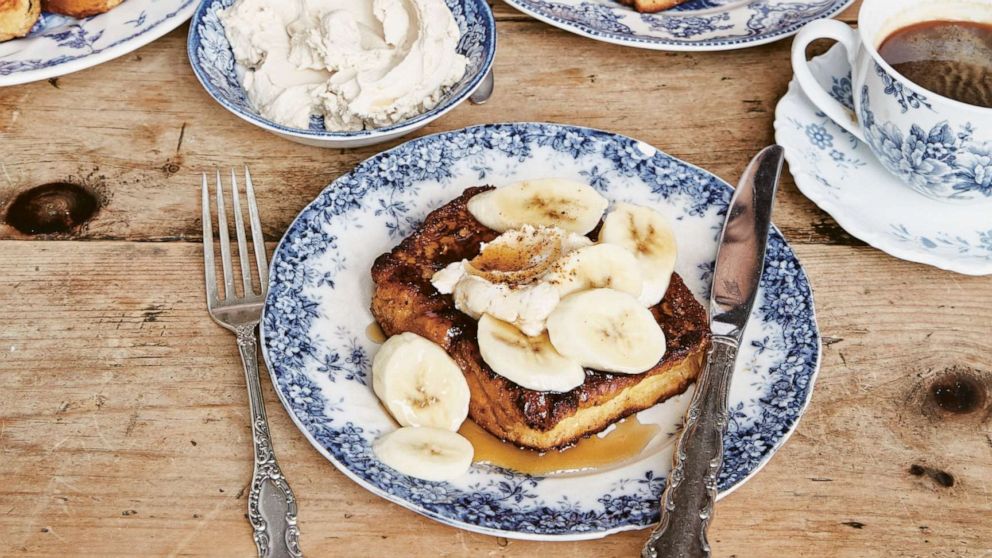 "All dads like eating and sleeping, so the best way to start Father's Day is a beautiful and delicious breakfast in bed -- prepared, in part, by the kids!" the Maman founder and cookbook author told "Good Morning America." "The Brandy Brioche French Toast is a delicious, indulgent recipe that uses two of dad's favorites -- espresso powder and brandy -- to kick it up a notch."
Serves: 4
Ingredients
8 large eggs
2 cups (480 ml) whole milk
1 cup (240 ml) heavy cream
3/4 cup (150 g) sugar
1/4 cup (60 ml) brandy, such as St-Rémy Cognac
2 tablespoons pure vanilla extract
1 large unsliced loaf day-old brioche (about 1 pound / 450 g)
For the espresso mascarpone
2 1/2 cups (600 g) mascarpone
2 tablespoons maple syrup
1/4 teaspoon fine sea salt
1/4 cup (15 g) instant espresso powder
1 tablespoon warm water
3 tablespoons sunflower oil serving
2 bananas, sliced (optional)
Finely ground coffee (optional)
Maple syrup, warmed
Directions
To make the French toast: In a large bowl, beat the eggs. Add the milk, heavy cream, sugar, brandy, and vanilla and whisk until fully combined. Spread a thin coat of the mixture on the bottom of a 9 × 13-inch (23 × 33 cm) baking dish.
Slice off the ends of the brioche (reserve for another use), then cut the loaf crosswise into slices roughly 2 inches (5 cm) thick—you should have 5 or 6 slices. Dip each slice into the batter, turning to coat fully, then arrange snugly, side by side, in the baking dish. Pour any remaining batter over the brioche. Tightly cover the baking dish with plastic wrap and refrigerate for at least 6 hours or overnight.
For the espresso mascarpone: In a medium bowl, combine the mascarpone, maple syrup, and salt and whisk until fully combined.
In a small bowl, whisk the instant espresso powder with the warm water until fully dissolved. Add to the mascarpone mixture and whisk until fully combined and an even, light-tan color. Refrigerate until ready to use.
About 1 hour before serving, remove the French toast from the refrigerator and let it come to room temperature. Set the oven to 200°F (100°C) to keep the French toast warm.
Heat 1 tablespoon of the sunflower oil in a large nonstick skillet over medium heat. When the oil is shimmering, reduce the heat to medium-low and add 2 slices of brioche. Place a heavy saucepan directly on top of the brioche to press it into the skillet. Cook until golden brown on the bottom, about 6 minutes, then flip over the slices and cook the other side the same way until golden brown all over, 6 minutes more. Keep the French toast warm in the oven while you continue cooking, using 1 tablespoon of sunflower oil for each batch.
To serve: Arrange each slice of French toast on a plate and generously dollop with the espresso mascarpone. If desired, sprinkle with banana slices and finely ground coffee. Serve with warm maple syrup.
Tips: In lieu of instant espresso powder, you can use regular instant coffee, preferably a dark roast, but you'll need to add a little extra to approximate the rich, roasted flavor of espresso. Store the espresso mascarpone refrigerated in an airtight container for up to 5 days
Reprinted with permission from Maman: The Cookbook by Elisa Marshall and Benjamin Sormonte with Lauren Salkeld. Copyright 2021. Photographs by Linda Xiao. Published by Clarkson Potter, an imprint of Penguin Random House.
Chef Sal Lamboglia, Cafe Spaghetti: Ricotta Crostini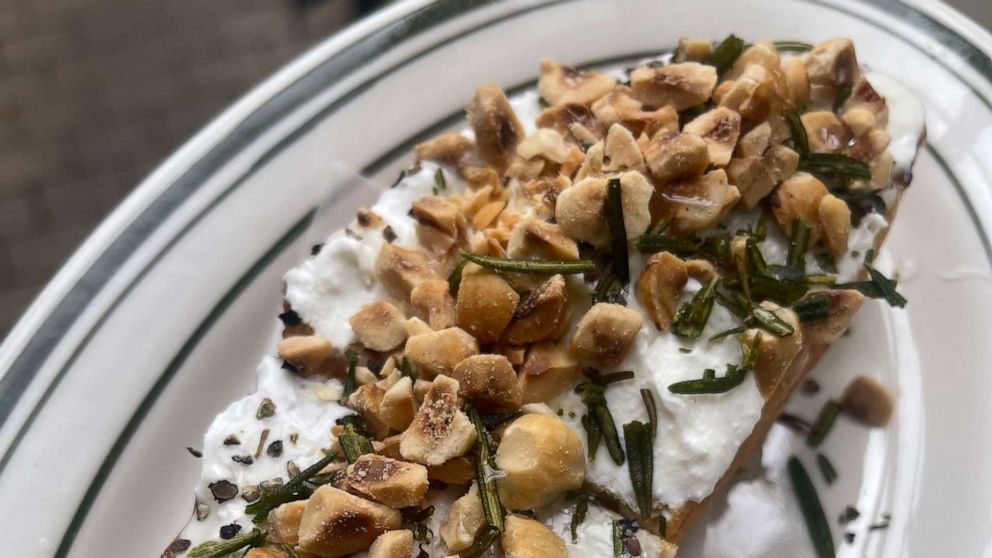 "My father always told me if I was going to cook for a living, I'd have to make sure I did it with all my heart. Something I'll never forget," Lamboglia said of his favorite advice from his father, Tony, who was also a chef.
Lamboglia also recalled "fond memories of making tiramisu" with his dad. "I was always so eager to learn all the ingredients and make it on my own," he said.
Now he serves the tried and true dessert by Tony at his new Carroll Gardens hotspot.
Serves: 2
Ingredients
2 slices of Italian bread
1/2 cup crushed hazelnuts
1 cup ricotta
1/4 cup heavy cream
2 sprigs of rosemary
1 tablespoon Maldon Sea Salt - crunchy sea salt
1 teaspoon black pepper
1/2 cup truffle honey
Directions
Toast your hazelnuts in foamy butter until golden brown. Reserve.
Fry rosemary in extra virgin olive oil until crispy and dark colored. Reserve.
Whip ricotta with the heavy cream and salt until nice and fluffy.
Toast the bread in an oven at 350 degrees for a few minutes till nice and toasty.
Spread the ricotta nice and evenly on the bread.
Sprinkle with salt and pepper, chopped hazelnuts and rosemary. Finish with truffle honey and enjoy!
Chef John Manion, El Che Steakhouse & Bar: Beef Tenderloin with Tio's Chimichurri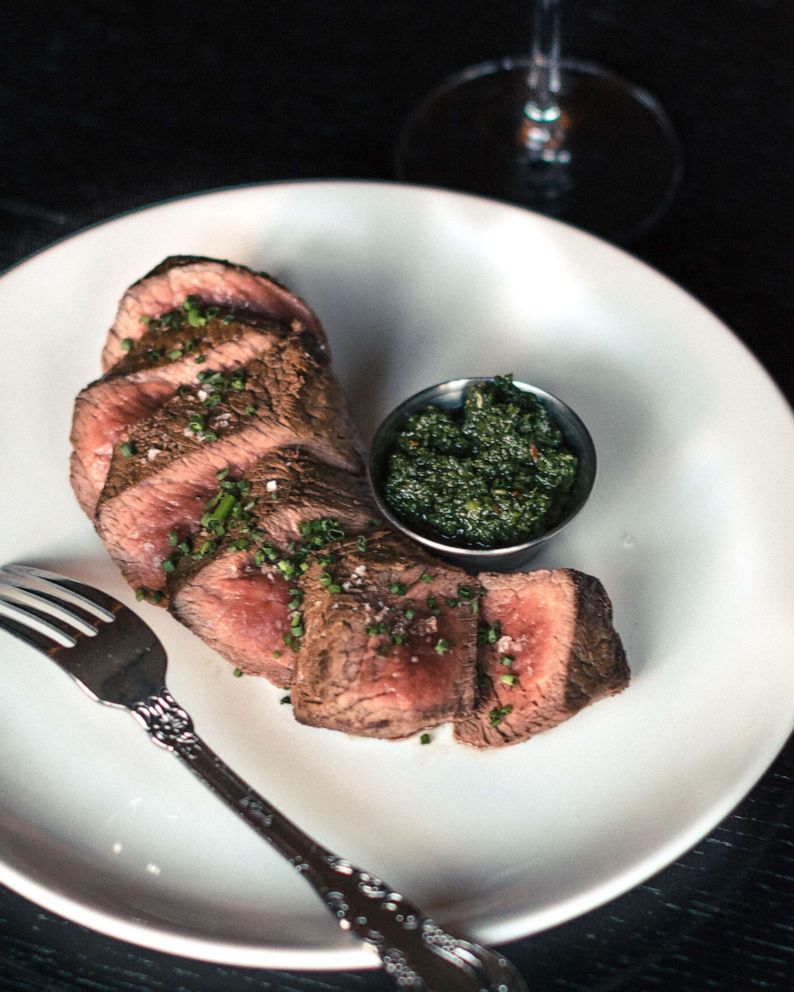 As a child, Manion's family moved from suburban Detroit to Sao Paulo, Brazil. Manion said he found comfort in a dish he ordered on one occasion with his father.
"Me and my dad sat at a table poolside to grab some lunch. I was completely at a loss as to what to order, so my dad got us each a steak sandwich," the chef recalled. "It arrived quickly with little fanfare, so I had no idea my world was about to change."
"A perfectly toasted Italian roll was slathered in aioli (new to me)," he continued. "Crisp, cold, crunchy lettuce held up beautiful beefsteak tomatoes the likes of which I'd never seen. And the beef. Tenderloin, cold and rosey, perfectly seasoned with salt and pepper and topped with a healthy amount of what I would learn to know as chimichurri, one of the world's greatest condiments. After taking one bite, I looked at my dad, who was taking a sip of an ice-cold beer, and knew everything was going to be alright."
Manion said that some of his "earliest food memories are of going to churrascarias in Sao Paulo on Sunday nights for expat family dinners."
"Me and my dad would always make a beeline to the open kitchen to check out the slabs and skewers of meat cooking over wood and charcoal, him holding me up so I could take in the view," Manion said. "That smell of beef fat dripping into live fire has never left me and is a big reason why I do what I do, and I cherish the fact that he was able to see this dream become a reality."
"Whole beef tenderloin will always remind me of holiday dinners with my dad. He was pretty adamant that Christmas dinner deserved a roast, and beef tenderloin was his absolute favorite. Coupled with chimichurri inspired by our time living in South America, this will always remind me of my dad."
Ingredients
1 whole beef tenderloin, trimmed of silver-skin and tied into a roast (Pro tip: Ask your butcher to trim and tie a whole tenderloin for you)
Salt and cracked black pepper
Extra virgin olive oil
For Tio's Chimichurri
3 cups flat-leaf parsley leaves (from about 3 bunches), very finely chopped (no stems!!)
6 garlic cloves, very finely chopped
1 1/2 teaspoons finely chopped fresh oregano leaves
1/4 cup distilled white vinegar
1 teaspoons kosher salt
1 teaspoon freshly ground black pepper
3/4 teaspoon dried red pepper flakes
1 bay leaf
3/4 cup extra-virgin olive oil
Directions
Preheat your oven to 475 degrees.
For the chimichurri: In a medium-size airtight container, stir together the parsley, garlic, oregano, vinegar, salt, the black pepper, the bay leaf and red pepper flakes. Stir in the olive oil, cover and refrigerate the chimichurri sauce overnight. "When I'm pressed for time, I've been known to throw everything in the food processor and pulse it a few times instead of doing all that fine chopping," the chef shared.
Rub liberally with kosher salt and cracked black pepper then massage the whole thing with some nice quality olive oil.
Place the tenderloin on a roasting rack and roast for 20-25 minutes to an internal temperature of 120-25 for medium-rare. Remove, douse with chimichurri and let rest, covered, for 10 minutes.
Slice and enjoy.
Recipe reprinted courtesy of El Che Steakhouse & Bar.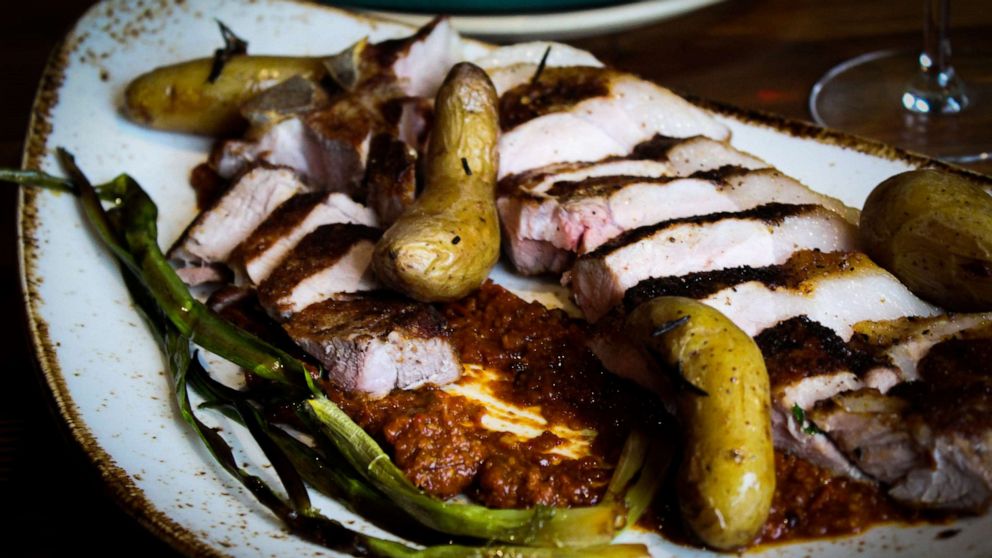 Chef Noah Zamler, The Press Room: Pork Porterhouse with Romesco
"My dad passed away when I was 11. I remember making breakfast for him every Father's Day," Zamler said. "We would always make crepes, egg white scramblers, and bread from the leftover pizza dough we would make for his birthday a week earlier. He taught me how to make soups and understand that the best part of cooking is enjoying the food with the people you love."
Ingredients
Pork Porterhouse, Pork Chop, or Loin Cut
Fingerling Potatoes
For the Romesco:
3 red bell peppers
1 plum tomato
1/2 cup toasted bread crumbs
1/2 cup toasted hazelnuts
1/2 cup evoo
6 cloves roasted garlic
1 dried guajillo pepper
1 dried chile de árbol
1 dried ancho pepper
2 tablespoons sherry vinegar
2 tablespoons pomegranate molasses (or honey)
Directions
Roast peppers and plum tomatoes, and set aside to cool. soak dried chilis in hot water for 1 hour, combine remaining ingredients in a food processor and blend until smooth.
Boil fingerling potatoes in salted water until soft. Chop rosemary, garlic, shallot, and thyme and toss the potatoes in the herbs.
In a high heat pan sear the pork porterhouse on both sides until golden brown, about 1 minute each side. slightly smash the fingerling potatoes and add to the pan with whole scallions, and bake 5-10 minutes, 5 minutes for medium, 10 for well done.
Serve alongside the romesco, and enjoy!
This story was first published on June 16, 2022.