Checking out game day grub at Yankee Stadium
These chef-inspired twists on ballpark classics are a home run.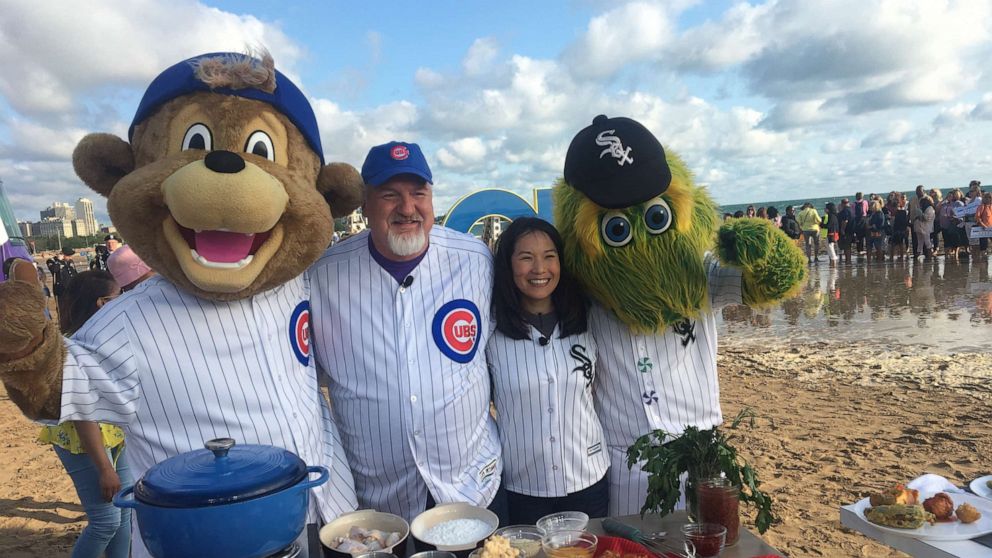 Chef Art Smith -- owner and chef of Table Fifty-Two and the former chef to "The Oprah Winfrey Show" -- and chef Beverly Kim -- owner and chef of Parachute and Wherewithall -- joined "GMA" on the road in Chicago to dish their best ballpark fare.
Both chefs faced off to create the best stadium snack.
Smith put his sassy chicken wings and fried mac and cheese balls up against Kim's Chicago fire hot dogs and tempura pepper poppers.
Check out their full recipes below.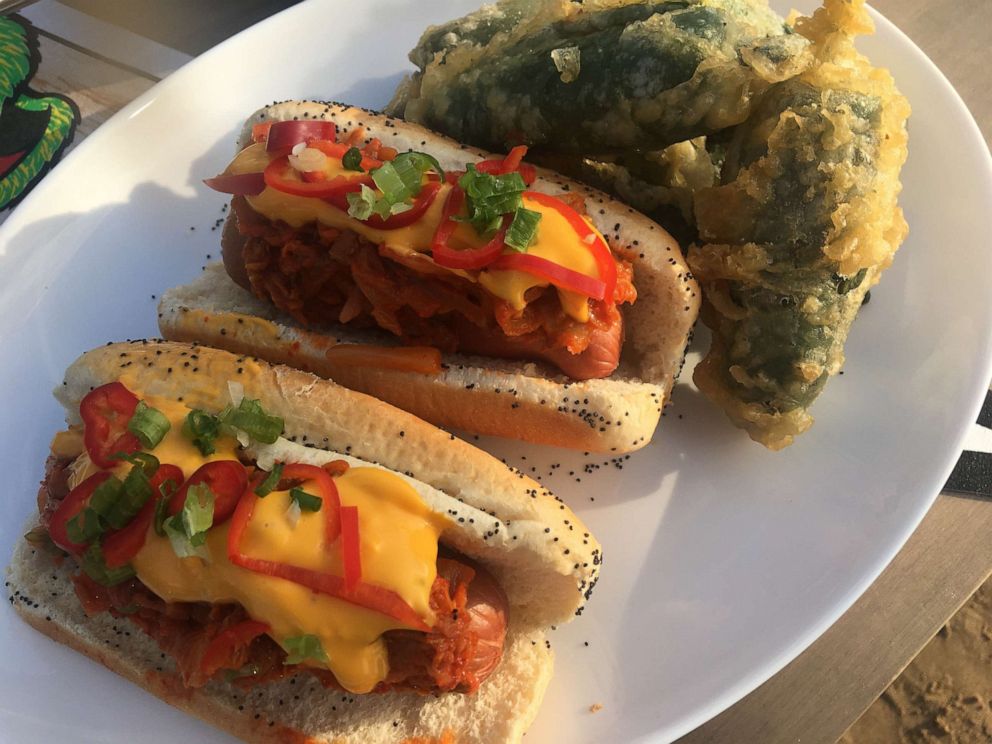 Chicago Fire Hot Dog
Ingredients:8 poppy seed buns
8 hot dogs
2 tablespoons sesame oil
1 tablespoon minced ginger
1 tablespoon minced garlic
1/2 onion julienned
4 cups sliced kimchi
1 teaspoon soy sauce
2 tablespoons gochujang
1 bottle Cheez Whiz
2 scallions thinly sliced
1 tablespoon toasted sesame seeds
2 jalapeños sliced thin
Directions:
Heat large saute pan over medium heat. Add sesame oil, ginger garlic and onion, kimchi, soy and gochujang. Stir and saute for six minutes until caramelized.
Boil hot dogs is boiling water in sauce pot for six to eight minutes.
Microwave Cheez Whiz (or heat in small sauce pot, stirring so it doesn't burn).
To serve, put warmed hot dogs in bun, top with caramelized kimchi, add fresh sliced jalapeños, top with warmed Cheez Whiz, garnish with scallion and sesame seeds.
Tempura Pepper Poppers
Ingredients:
3 cups distilled white vinegar
2 teaspoons salt
12 fresh cayenne chilies
12 pieces mozzarella sliced into batons
2 cups tempura flour mix
1 cup cold water, less or more
Directions:
Toss chilies with salt. Bring vinegar to boil and pour over. Put something on top to weigh chilies down.
Once chilled, scrape the seeds out chilies and stuff it with mozzarella.
In a medium bowl, stir cold water into tempura flour mix with a whisk until its thick enough to coat- do not over beat.
Dip chilies in tempura batter and fry it preheated oil 365 degrees.
Recipes reprinted courtesy of chef Beverly Kim.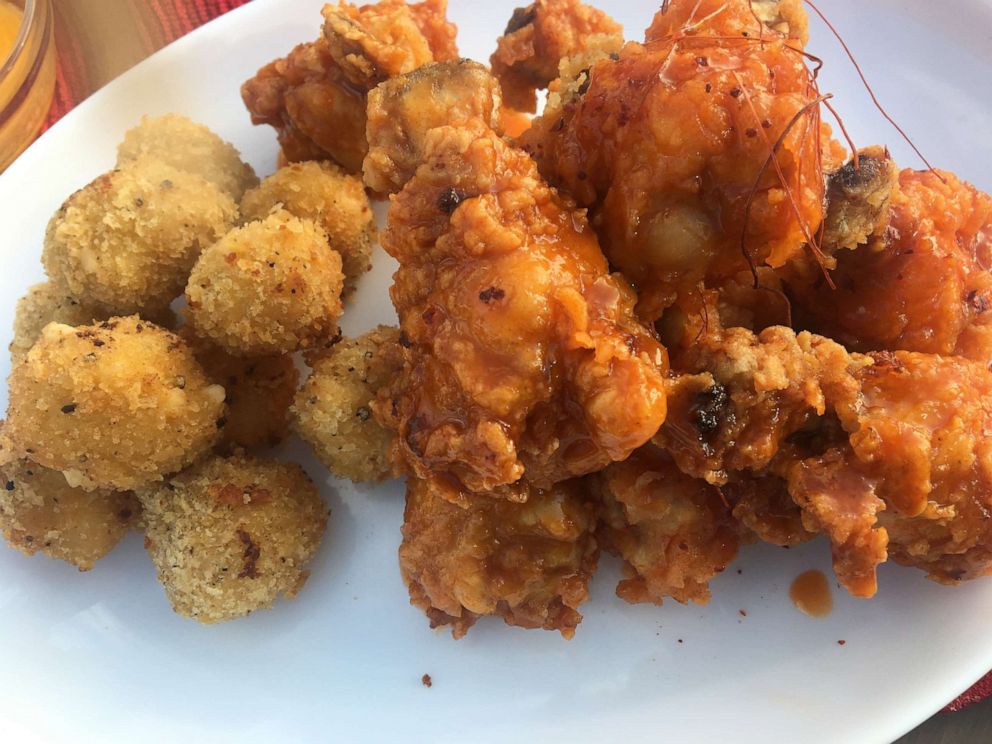 Sassy Fried Chicken Wings
Ingredients:For the brine
1 gallon cold water
1 cup kosher salt
2 teaspoon black peppercorns
5 sprigs rosemary
5 sprigs thyme
4 cloves garlic (crushed)
2 shallots peeled cut lengthwise
4 bay leaves fresh
1 quart buttermilk
3 lbs chicken wings (drummettes)
For the dredge
3 cups all-purpose flour
3 cups self rising flour (I use White Lily flour)
3 tablespoon garlic powder
3 tablespoon onion powder
3 tablespoon salt
1/4 cup paprika
2 teaspoon cayenne
1 tablespoon whole dried thyme (crushed by hands)
2 tablespoon kosher salt
For the sauce
2 cups hot sauce of choice
1 cups local honey
Rice brand oil for frying
Directions
For the brine
In a medium soup pot, dissolve the salt in water over medium-high heat, stirring to dissolve the salt.
Add the black peppercorns, rosemary, thyme, garlic cloves, shallots and bay leaves. Let steep for one hour.
Strain and discard all ingredients.
Cool liquid and place chicken in minimum 12 hours.
Remove chicken from brine and place in buttermilk refrigerate for at least four hours.
For the dredge:
Mix together the flours, garlic powder, onion powder, salt, paprika, cayenne and thyme.
Remove two pieces of chicken at a time. Roll in the seasoned flour and shake off any excess flour. Fry chicken at 350 degrees until it reaches an internal temperature of 165. Do not over crowd the fryer this will cause the skin to fall off.
When chicken is ready place on a wire rack to let excess oil drain off.
Mix the hot sauce and honey together and toss the wings and enjoy.
Fried Mac and Cheese Balls
Ingredients
1 pound elbow macaroni
4 tablespoons unsalted butter
1/3 cup all-purpose flour
4 cups whole milk
4 cups shredded extra-sharp cheddar cheese
4 cups white cheddar
Salt and freshly ground pepper
Hot pepper sauce
1/4 cup (1 ounce) freshly grated Parmesan cheese
For rolling the balls
2 cups all purpose flours
4 extra large eggs
2 cups dried bread crumbs (Japanese panko)
1 quart rice bran oil for frying
Directions
Bring a large pot of lightly salted water to a boil over high heat. Add the pasta and cook until al dente. Drain well.
Melt the butter in a medium saucepan over medium heat. Whisk in the flour. Gradually whisk in the milk. Bring to a simmer, stirring constantly, until the sauce thickens and the flour taste is gone. Reduce the heat to low and simmer for five minutes.
Remove from the heat and stir in two cups of the sharp cheddar cheese and two cups of the white cheddar cheese. Season to taste with salt, pepper, and hot sauce.
Mix the sauce with the noodles and let cool.
Once cooled, add remaining cheese and form into about half inch balls.
Roll balls in flour then egg wash, finished rolling in seasoned panko.
Preheat the fryer to 350 degrees, fry until golden brown.
Recipes reprinted courtesy of chef Art Smith.