How a bunny, baskets and eggs got connected with Easter
Courtesy Katrina Bahl/In Katrina's Kitchen
Easter is the time of year when candy and sweets get thrust into the culinary spotlight -- for adults and children alike.
Here is a roundup of some dessert recipes that make the perfect sweets to fill up Easter baskets, or serve at gatherings with family or friends this Sunday. You can also use make these recipes with your leftover Easter candy next week, to keep the festivities going.
Peeps Bunny Bark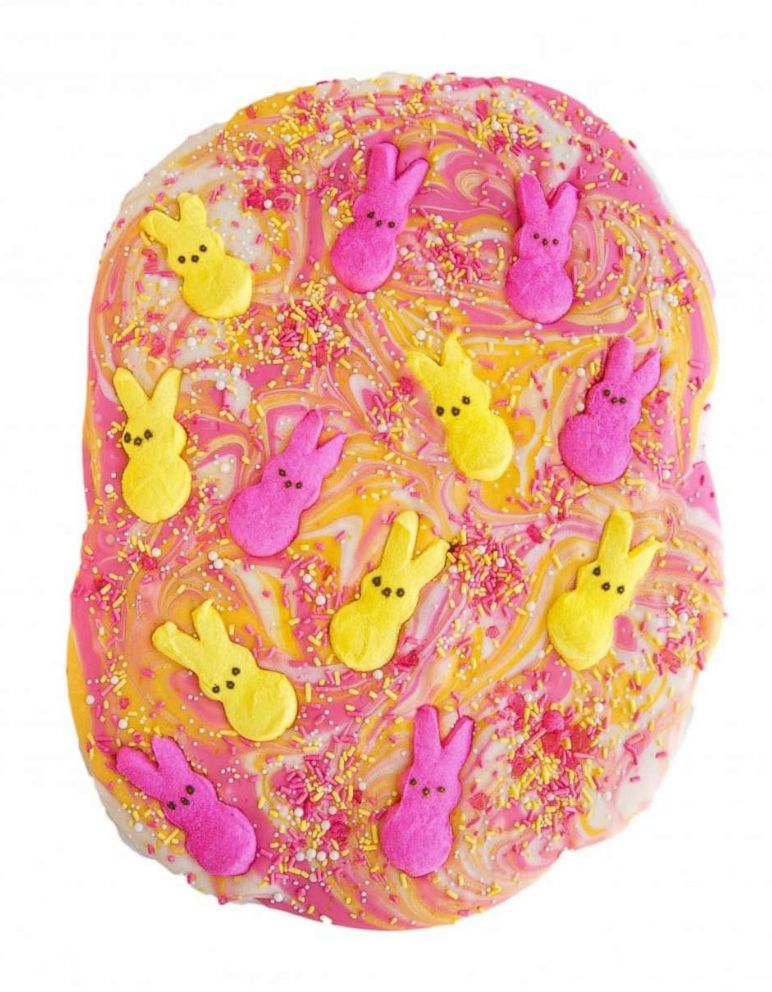 Food blogger Christi Johnstone of "Love From the Oven," shared this festive and colorful Easter sweets recipe featuring everyone's favorite seasonal, springtime, marshmallow treats: Peeps. Johnstone has co-authored a cookbook, "Peeps-a-licious," which solely features Peep-themed recipes.
Ingredients:
1 16oz package vanilla candy coating or almond bark
6 oz pink candy coating melts or color of your choice
6 oz yellow candy coating melts or color of your choice
6 pink PEEPS bunnies
6 yellow PEEPS bunnies
2 tbsp assorted sprinkles
Instructions
To make your bark, start by melting your candy coating melts in three separate bowls, according to the directions on the package.
Once melted, place large spoonfuls of melted candy coating onto a baking sheet that has been lined with wax paper. Use all of the candy coating, creating almost a patchwork of candy coating colors.
Using a knife, gently swirl all of the melted candy coating together. You do not want to over mix or the candy coating will turn orange; instead, gently swirl the knife throughout the candy coating.
Immediately press your PEEPS Marshmallow Bunnies deep into your candy coating.
Sprinkle assorted sprinkles over candy coating.
Chill for at least two hours than break apart by hand or with a knife. Pieces can be large or small, whatever works for your needs.Store in a cool, dry place.
Peeps Pudding S'mores Pies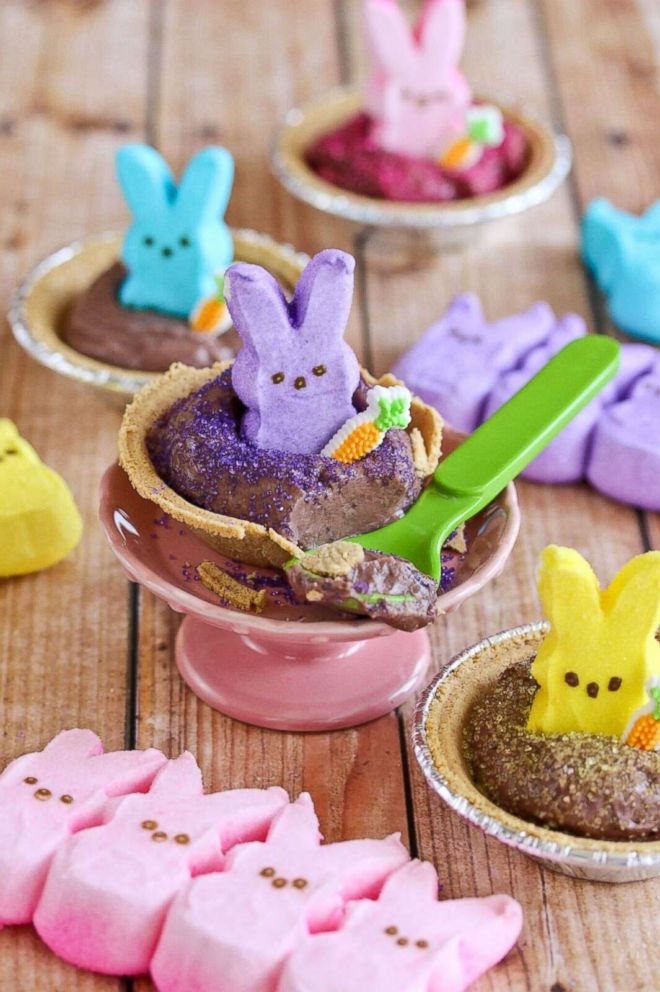 Katrina Bahl, the mastermind behind "In Katrina's Kitchen," a dessert-forward food blog featuring the mother of young boy's original recipes, shared this Easter recipe that she said is fun for children to put together on their own.
You can switch things up by using a regular-sized graham cracker crust if you can't find the mini version at your local grocery store, she wrote on her blog. In addition, this is the ideal recipe for children to make independently.
She wrote, "Lay out the ingredients and let them have fun!"
Ingredients:
6 Keebler Mini Graham Cracker Crusts
2 Cups chocolate pudding, prepared
6 Peeps marshmallow candies
Carrot candies, optional
Colored sanding sugar, optional
Instructions:
Divide prepared chocolate pudding among 6 mini crusts (approximately 1/3 cup in each crust). Top with a Peep candy and carrot. Top with matching colored sugar (optional). Chill before serving if desired.
Cadbury Cream Cookie Cups
Bahl also shared this recipe featuring her homemade Cadbury cream-inspired filling in chocolate chip cookie cups. The creations are almost too cute to eat when completed, and sure to be a crowd-pleaser for both children and adults at any Easter gathering.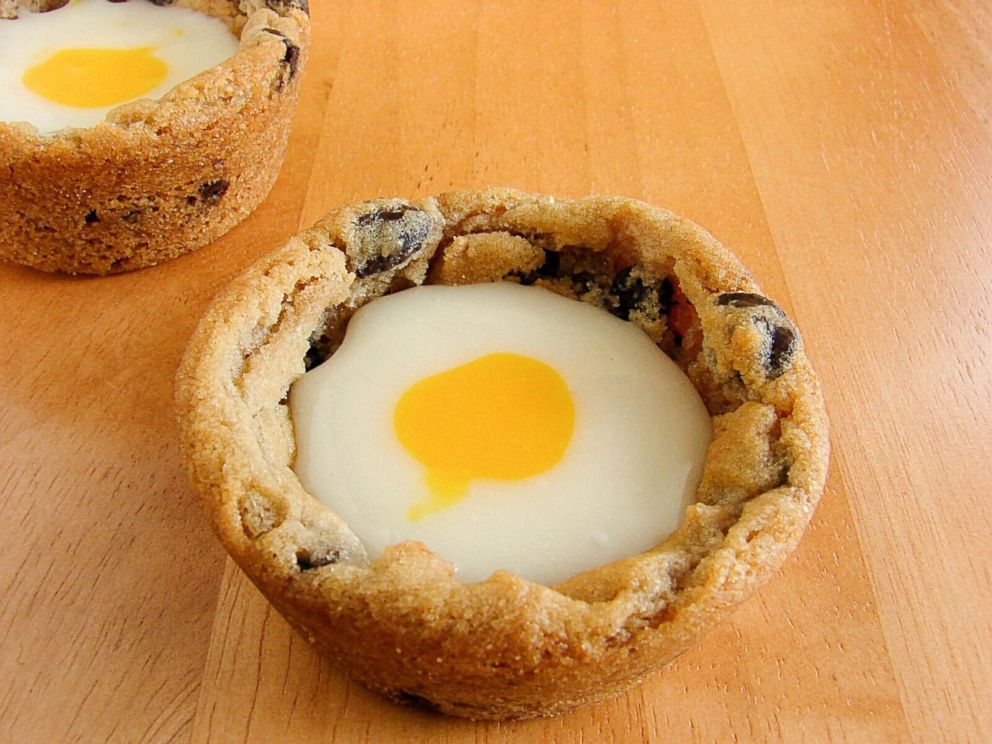 Ingredients:
Chocolate chip cookie dough, prepared or purchased
1/2 cup light corn syrup
1/4 cup salted butter, softened
1 teaspoon vanilla
3 Cups powdered sugar
Yellow food coloring
Instructions:
Prepare your favorite chocolate chip cookie dough. Spray a muffin pan with nonstick spray and add about 3 Tablespoons of dough to each muffin well. Bake for 13 to 15 minutes until golden. Let cool 15 minutes in the pan. The middle will sink in. To help it along you can press a small glass (or spice jar) into the well to create a cookie cup. While the cookies are warm but firm use the tips of your fingers to gently twist the cookie cups up and out of the pan. Let cool completely.
In the bowl of your mixer combine corn syrup, butter, and vanilla until smooth. Slowly add powdered sugar and mix until incorporated. Remove about 1/4 of the cream and dye with yellow food coloring.
Pour white cream into the cookie cups. Finish off with a small drop of yellow cream.
Notes: Bahl said she usually uses the Nestle Tollhouse chocolate chip cookie recipe. When making these cups, if the filling gets too firm, you can warm it up in the microwave (for about 5 to 10 seconds at a time) to make the consistency pour-able again, Bahl said.
Banana Oatmeal Nest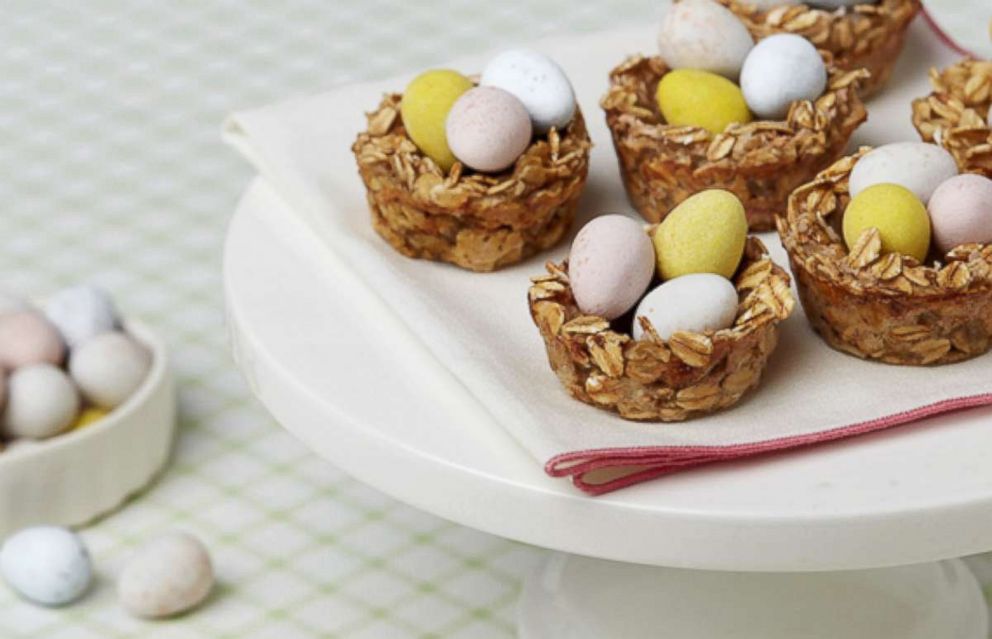 This quick and easy, three-ingredient recipe developed by Hershey offers a unique twist on how to serve your Easter candy.
Ingredients:
2 medium, ripe bananas
1 cup rolled oats or quick-cooking oats
36 CADBURY MINI EGGS Candy
Instructions:
1. Heat oven to 350°F. Lightly grease 12 cup (2-1/2 inch diameter) muffin cup pan.
2. Peel and slice bananas. Mash banana with oats in large bowl until well combined and no pieces of banana are visible. Let sit 5 to 10 minutes to allow oats to absorb moisture and mixture becomes easier to handle.
3. Evenly divide mixture into prepared muffin cups. With fingers or spoon press mixture onto bottom and 1/2 inch up sides of muffin cup forming a cup within a cup.
4. Bake 12 to 15 minutes or until tops are dry and firm. Cool 15 minutes in pan on wire rack. Remove from pan; cool completely.
5. To serve, fill each cup with two or three mini egg candies. Makes 12 nests.
Recipe courtesy The Hershey Company
This story was originally published on March 27, 2018.