Farewell to summer with the perfect bite to eat
Super Bowl Sunday is about the food spread as much as it is about football spread, celebrity-filled commercials and Rihanna's highly-anticipated half time performance.
As the Kansas City Chiefs prepare to take on the Philadelphia Eagles for the big game in Arizona, "GMA" Food rounded up a few classic game-day eats from mini seven-layer dips to buffalo chicken nachos that are sure to spice up your festivities.
Check out the full recipes below and tag "GMA" in your creations if you score culinary points with your friends and family in the kitchen.
Food host, recipe developer and sports broadcaster Jaymee Sire shared two dishes that pack a punch and can fill up any hungry football fan.
Air Fryer Bacon Jalapeño Poppers
Total Time: 30 min
Cooking: 15 min
Yield: 10 large or 20 small jalapeño poppers
Ingredients
5 large jalapeños (or 10 small-to-medium jalapeños)
4 to 6 ounces cream cheese, softened slightly
10 slices thick-cut bacon
1/4 cup chopped cilantro (optional)
Juice from 1/2 lime (optional)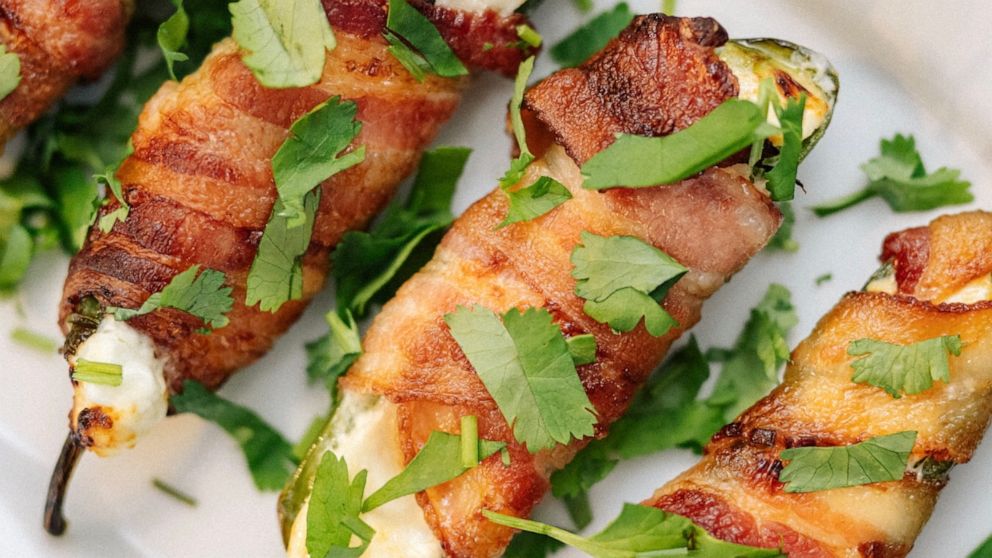 Directions
Preheat an air fryer to 375 degrees. (If preheating is necessary, see Jaymee's note for oven directions).
Slice each jalapeño in half lengthwise and remove the ribs and seeds (see note). Using a small rubber spatula or spoon, fill the jalapeño halves with the cream cheese. If using large jalapeños, wrap each half with one slice of the bacon, tucking in the ends. (If using smaller jalapeños, cut each slice of bacon in half crosswise before wrapping.)
Place the jalapeños (cream cheese side up) in a single layer in the air fryer and cook for 10 to 12 minutes, or until the bacon is cooked through and crispy.
Allow to cool slightly and sprinkle with the cilantro and lime juice, if using, and serve!
Note:
A pointy, serrated grapefruit spoon is great for removing the ribs and seeds from chiles. If using the oven, preheat to 400 degrees. Bake the wrapped jalapeños in an oven-safe dish for 45 to 60 minutes, or until the bacon is cooked through and crispy.
Buffalo Chicken Filled Football Biscuits
4 ounces (half a brick) of cream cheese, softened
1 cup shredded pepper jack cheese
1/2 cup cooked, diced chicken
2 tablespoons Buffalo sauce (store bought or homemade)
1 can of 8 biscuits
1 egg yolk
1 tablespoon whole milk or cream
Additional shredded cheese, for topping (optional)
1/2 carrot, sliced into thin matchsticks (if you want to make "laces")
Ranch dressing or Blue cheese dressing, for dipping
More Buffalo sauce, for dipping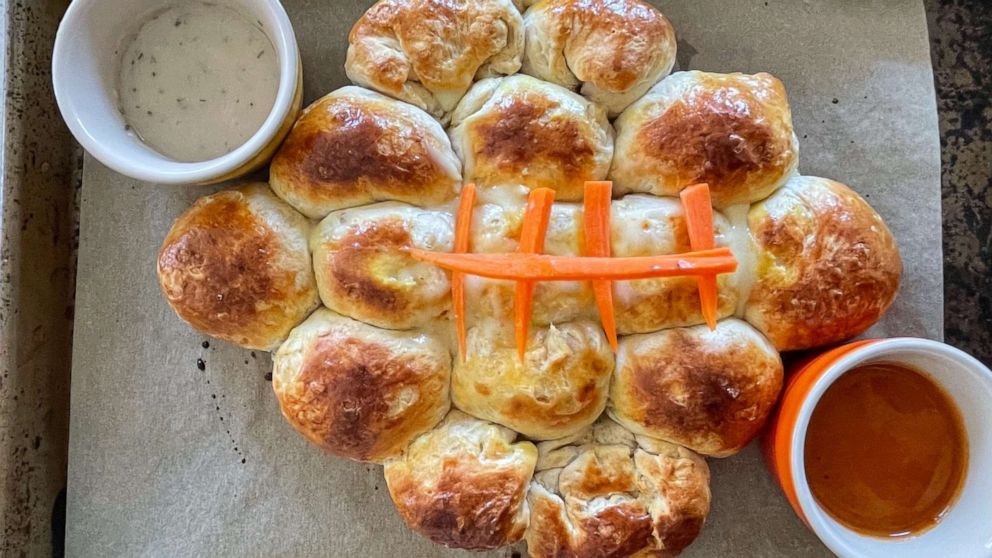 Directions
Pre-heat oven to 375 degrees, or whatever is indicated on the can of biscuits. Mix together cream cheese, pepper jack, chicken and 2 tablespoons of buffalo sauce. Roll into 16 even balls. Refrigerate until ready to use.
Lay biscuits out on a cutting board. Using a piece of string or unflavored dental floss, cut each biscuit in half so that you have 16 round pieces of biscuit dough. (See video!)
Place a ball of cream cheese mixture in the center of each round, and seal. Arrange stuffed biscuits seam side down in the shape of a football on a parchment-lined baking sheet. Whisk together egg yolk and milk or cream to create an egg wash and brush over biscuits.
Bake for 18-22 minutes, or until biscuits are cooked through and turn a golden brown. For cheesier biscuits, add more shredded cheese to the in-between spots about halfway through cooking time.
Once biscuits are done baking, serve warm with additional buffalo sauce.
Above recipes reprinted courtesy of Jaymee Sire and e is for eat.
Cookbook author, mom of five and founder of The Girl Who Ate Everything, Christy Denney, shared a few additional favorites with "GMA" just in time for game-day.
Individual Seven-Layer Dip Cups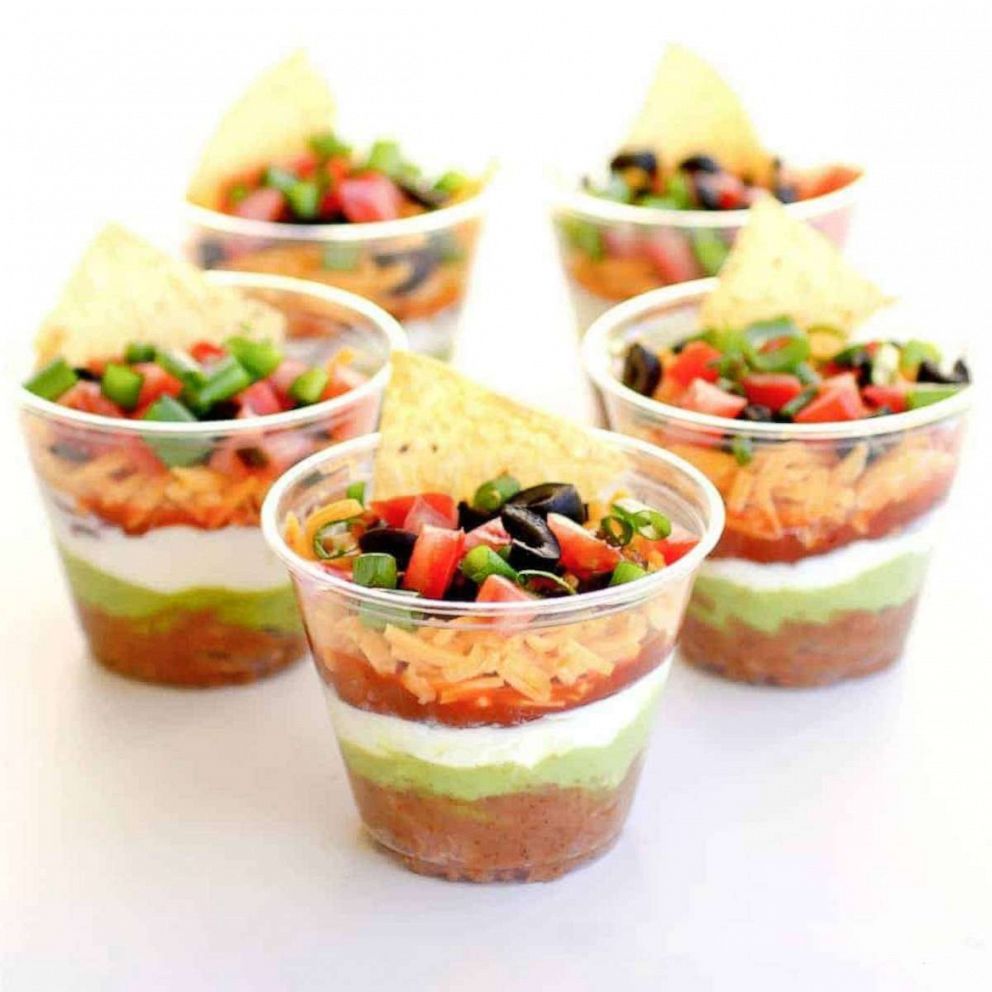 The perfectly individual portioned cups are a simple handheld appetizer that, unlike its traditional 7-layer bean dip, totally avoids the issue of double-dipping.
Yield: 8 cups
Ingredients
1 16 ounce can refried beans
1 ounce package taco seasoning
1 cup guacamole or make homemade guacamole
1 8 ounce container sour cream
1 cup chunky salsa or pico de gallo; or make homemade pico de gallo
1 cup shredded cheddar or Mexican blend cheese
2 Roma tomatoes , diced
1/2 bunch of green onions , sliced
1 can (2.25 ounce) of sliced olives, drained
8 plastic tumbler glasses, (9 ounce)
Tortilla chips
Directions
In a small bowl mix taco seasoning with refried beans. Some people prefer to mix their taco seasoning with the sour cream layer but I wanted a bright white layer so I did it with the beans.
Layer 1: beans and taco seasoning; Layer 2: sour cream; Layer 3: guacamole; Layer 4: salsa or pico de gallo; Layer 5: cheese; Layer 6: tomatoes; Layer 7: green onions and olives.
In each plastic glass, layer about 2 Tablespoons of the beans, followed by 2 Tablespoons of sour cream, 2 Tablespoons of guacamole, 2 Tablespoons of salsa or pico de gallo, and 2 Tablespoons of cheese. Make sure you drain your salsa or pico to get the excess liquid out before you pour it on. Then top with about 1-2 teaspoons of tomatoes, olives, and green onion (If making ahead of time, wait to add these toppings until shortly before serving).
Garnish with one tortilla chip. Store in the refrigerator until serving and serve with chips. Makes around 8 individual dips.
Big Game Buffalo Chicken Nachos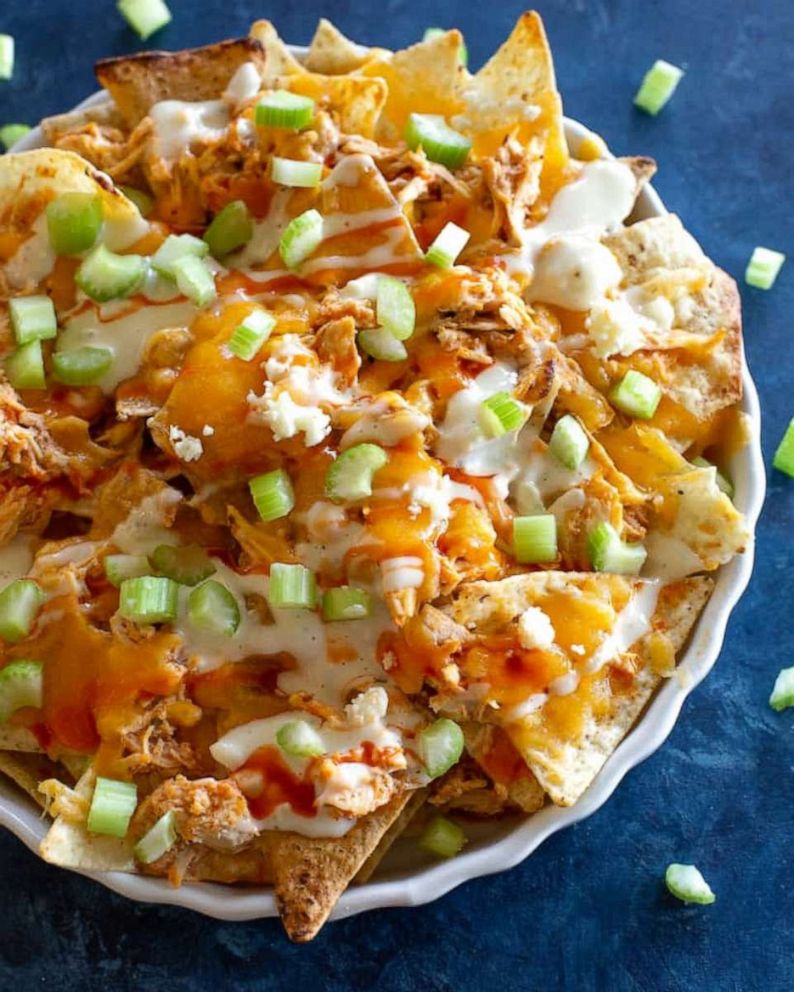 This spicy, savory appetizer is drizzled with buffalo sauce, celery, cheddar cheese, blue cheese, and blue cheese crumbles.
Prep Time: 10 minutes
Cook Time: 30 minutes
Yield: 6 servings
Ingredients
8 cups tortilla chips
4 cups cooked chicken, shredded
1 1/2 cups Frank's Buffalo Wing sauce
1/2 cup water
3 cups shredded cheddar cheese
1/3 cup blue cheese dressing
4 ounces blue cheese crumbles
1 cup chopped celery
Directions
Preheat oven to 475 degrees. Spread tortilla chips on a rimmed baking sheet or in a shallow dish.
Bring wing sauce and 1/2 cup water to a simmer. Add shredded cooked chicken; heat through. Strain the chicken (reserving the sauce) and spread over ranch-flavored tortilla chips. Top with shredded cheddar.
Bake in the upper third portion of the oven until cheese is melted for about 5-7 minutes. After nachos are baked top with blue cheese dressing, blue cheese crumbles, chopped celery and the reserved wing sauce.
Above recipes reprinted with permission from The Girl Who Ate Everything.
An earlier verison of this story was first published September 9, 2021.