How to make the perfect wet ribs for summer
What better way to kick off the unofficial start to summer this Memorial Day weekend than with some festive sips?
From red-hued beverages to cocktails that evoke nostalgic tastes -- like sweet peach tea and Shirley Temples with a spiked twist -- check out the delicious lineup of drinks below.
Grilled Lemon Blueberry Smash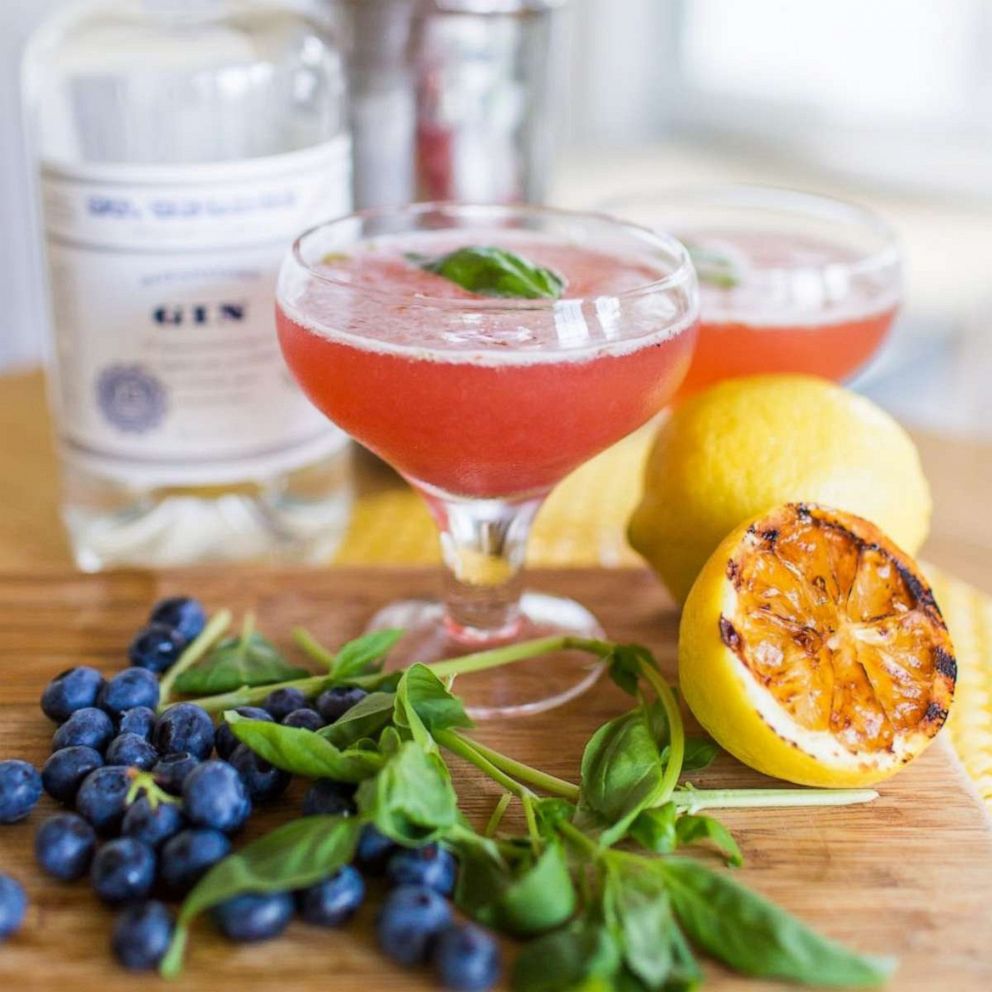 Jaymee Sire, TV personality, food creator and host of the hit podcast "Food Network Obsessed," shared a recipe from her blog "E is for Eat" that's full of the bright flavors of summer and gets the grill fired up for a charred twist.
Makes: 2 cocktails
Ingredients
For the cocktail:
2 lemons
2 ounces simple syrup (recipe below)
10 basil leaves, plus additional for garnish
1/2 cup blueberries
3 ounces gin
ice
6 ounces sparkling wine
To make simple syrup: (makes approximately 1 cup)
1 cup water
1 cup sugar
Instructions
For the cocktail: Pre-heat grill to medium-high. Cut lemons in half and grill for 3-4 minutes, or until you see golden brown grill marks on the lemons.
Combine 2 ounces simple syrup, basil leaves, blueberries and 3-4 ounces of the grilled lemon juice in a cocktail shaker depending on how tart you like your cocktails. (You may have a leftover half lemon). Muddle. Add gin and ice and stir vigorously until mixture is cold.
Strain into cocktail glasses. Top each with 3 ounces of sparkling wine and garnish with basil. Enjoy!
For the simple syrup: Combine equal amounts of water and sugar in a small saucepan. Heat until sugar dissolves completely. Cool. Store in refrigerator until ready to use. (Will keep up to a month in the fridge).
Shirley's Sister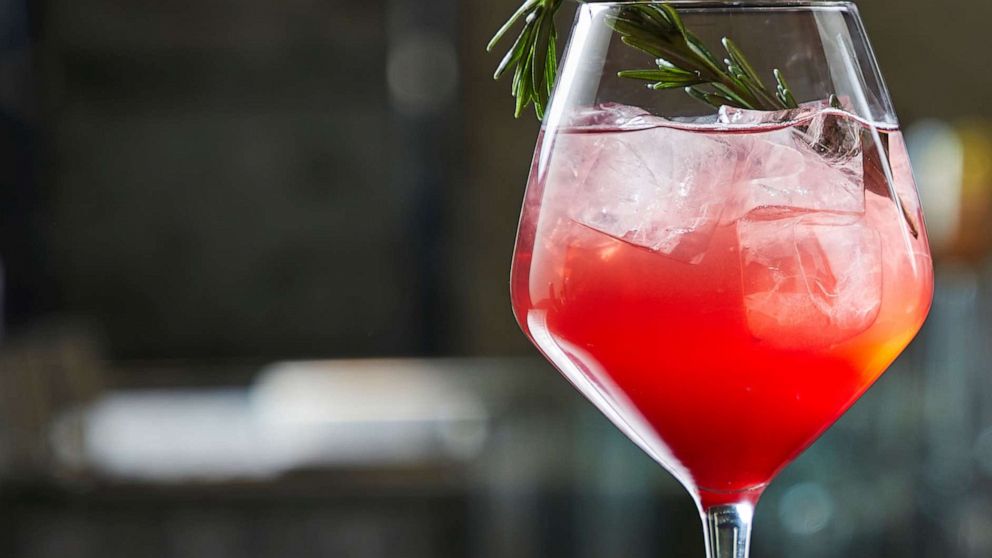 The internet and social media went crazy earlier this month over the notion of bringing back a nostalgic, "colorful and unapologetically sweet" vodka-spiked drink that the The New York Times dubbed the "drink of the summer."
Sarah Clark, beverage director at The Dearborn, offered "Good Morning America" an elevated non-alcoholic version off her own menu, but said it can still be made with anyone's spirit of choice.
"Shirley's Sister is an excellent mixer for an alcoholic beverage, as well. It works really well with vodka and gin. I would recommend adding one and a half to two ounces of your desired spirit, and making the Shirley's Sister recipe the exact same way as you would sans alcohol."
"It is really fun to create non-alcoholic recipes. I believe it is such an underrated and under-developed portion of many beverage programs. There is great opportunity for creativity here, and we are having fun exploring different flavor profiles and seasonal offerings for our non-imbibing guests."
Ingredients
2 ounces Shirley Syrup, below
1/2 ounce Lemon Juice
Top with Club Soda
Serve in a Red Wine Glass over Ice
Garnish with a straw and fresh Rosemary Sprig
To Make Shirley's Syrup:
12.5 cups Cranberry Juice
6.5 cups Sugar
3 - 17 ounces Morello Cherry Jam (can be purchased from Whole Foods or on Amazon Prime)
Zest of 6 Lemons
1/2 cup fresh Rosemary
Method
Boil Cranberry Juice, Morello Cherry Jam & Sugar together. Add Lemon Zest.
Allow a rolling boil for about 2 minutes.
Turn off heat & add 1/2 cup Rosemary Sprigs (leaves, stems & all).
Allow syrup to cool with Rosemary floating in it.
When cooled completely, strain mixture through a chinois (if you do not have this tool, you can use a colander & cheesecloth to strain out the rosemary pieces).
Store in a sealed container & refrigerate. Because you are using fresh ingredients, you should label, date and use the syrup within 7 days.
Spiked Peachy Iced Tea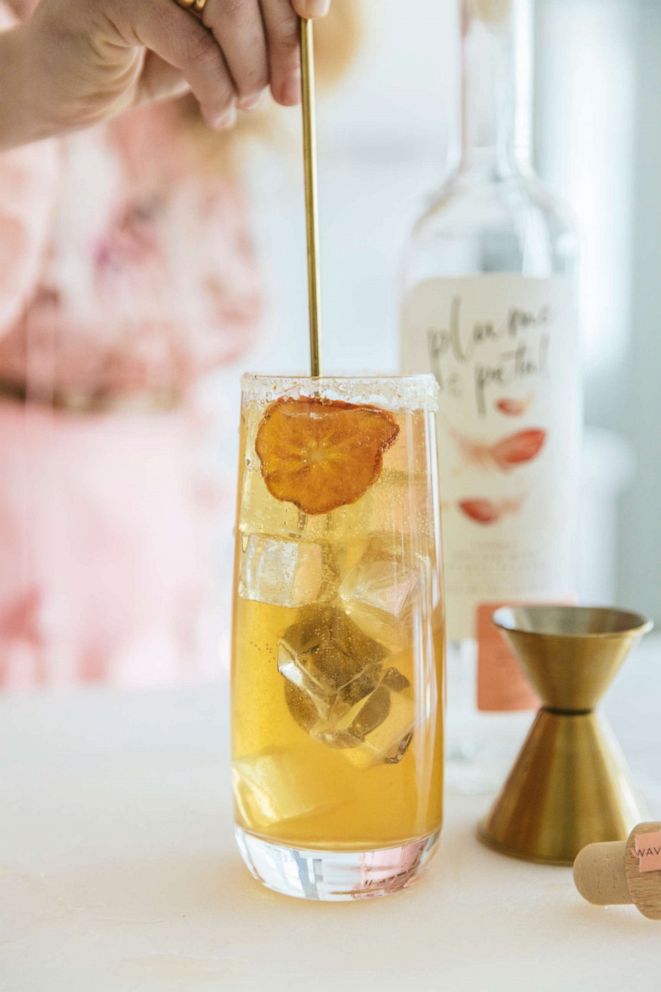 "Eat Your Heart Out" cookbook author Daphne Oz shared a sweet twist on a classic summer drink -- peach iced tea. Her spiked version uses a mix of fresh Earl grey tea and peach infused vodka. Plus, a dehydrated slice of persimmon adds a tasty and pretty garnish that's a great treat when the drink is finished.
Ingredients
3 ounces Peach Plume and Petal vodka
3 ounces Earl Grey Tea
1/2 oz fresh lemon juice
1/4 ounce simple syrup
Top with club soda
Garnish: Dehydrated persimmon
Rim: Bergamot Smoked Salt and Sugar Mix
Instructions
Boil 8 oz. of water, add 1 tea bag and let steep for 5 minutes. Let tea cool for 10 minutes in the refrigerator.
Cut a lemon wedge and moisten the rim with it. Next, evenly dip the rim into the bergamot smoked salt and sugar mix.
In a highball glass, add ice, Plume and Petal Peach Wave, Earl Grey Tea, lemon juice, and simple syrup.
Stir to mix ingredients.
Top off with club soda and garnish with dehydrated persimmon.