— -- The Maryland parents who came under fire for making videos of themselves pulling pranks -- which critics say are gratuitously cruel -- on their children say they are "ashamed" by their behavior and described the videos as being just for "shock value."
"[What] you see on our YouTube channel is not a reflection of who we are. It's not," Heather Martin said in an interview that aired today on "Good Morning America." "It's a character. It was a show, a bad show, but it was a show."
Martin and her husband, Mike Martin, of Ijamsville, Maryland, rose to YouTube stardom by posting videos of their family on their YouTube channels "DaddyOFive" and "MommyOFive."
The "DaddyOFive" channel, which features the antics of the parents and their five children, Jake, 14, Ryan, 12, Emma, 11, Cody, 9, and Alex, 9, currently has more than 760,000 subscribers on YouTube.
"I am ashamed," Mike Martin said. "It started out as family fun. It started with me and my kids, but then it was just about making a video and then making the next video more crazier than the next."
Heather Martin said their children would get excited as the family's videos got more views.
"It was more for shock value," she said. "We were going for shock value."
One video in particular that received intense backlash on social media depicts the parents dousing the floor of one child's room with invisible ink and then angrily blaming the child for ruining the carpet.
As the children begin crying and screaming over the false accusation, the parents continue cursing and yelling at them. Finally, Heather Martin breaks into laughter and Mike Martin says, "You just got owned," but neither child reciprocates their parents' smiles.
"He knew he was being pranked," Heather Martin said of her son, Cody, in that video. "I'm not saying that the things we were doing didn't bring on an emotional reaction, but the reaction was exaggerated."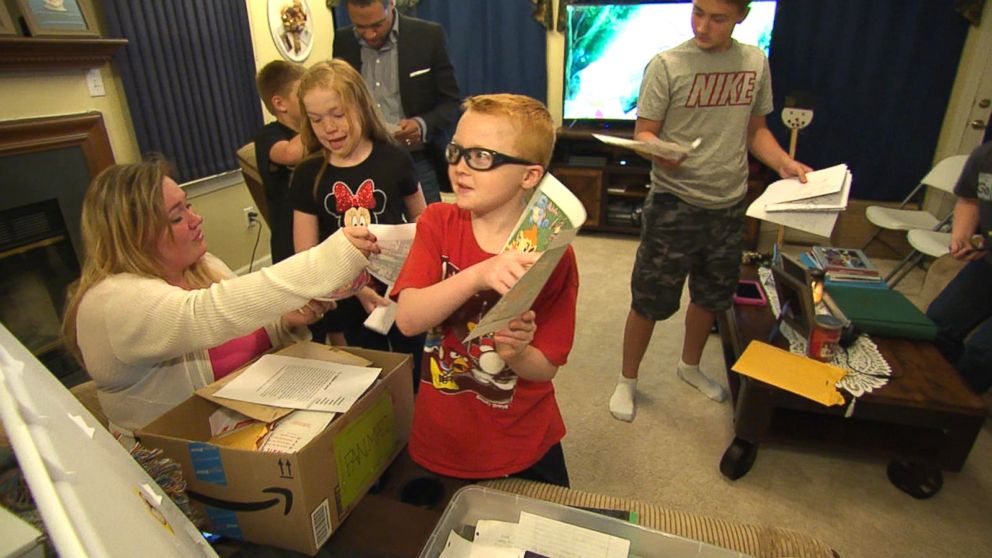 She said her excessive cursing in the video was "more of a character."
"We all had characters that we were playing in these videos, and I'll guess we just let the characters take over," she said.
The Martins have since deleted the videos on their "DaddyOFive" YouTube channel. A public apology they posted earlier this week has more than one million views.
Police in Baltimore confirmed they have opened an investigation into the Martins and their videos.
"We have received a referral in reference to the family involved in the "DaddyOFive" YouTube videos. We are currently conducting an investigation into the matter to determine if any of the videos were created in Baltimore County and if any of those involve criminal violations," Jennifer Peach, a public information officer with the Baltimore County Police Department, said in a statement to ABC News.
Mike Martin said that when the children start genuinely crying while they film videos, "Then we'll stop the video and deal with it ... We'll tell them, 'Look, if you wanna keep doing this video, that's fine.'"
The father adds that he understands the backlash that their videos have received by people who don't know them, saying, "I made some real bad judgment calls. And when I look back on it now ... it makes me sick."
He said they have lost friends and family members over their videos, and "I've lost my own self-respect."
"I am completely broken," Mike Martin said. "I did all this for my kids. I thought I was doing the right thing."
"Because of my poor decisions, now my family's suffering," he said. "I was able to do so many things for my family because of this YouTube channel. We were able to give the kids a college fund ... [But] I ended up destroying my family thinking that I was helping my family."
Heather Martin said that their YouTube channel "is not a reflection of who we are."
She said they are not worried about their children being affected by the backlash, because "they know who we are as parents." The Martin children told ABC News they miss making the videos and hope to make a comeback with more tactful videos in the future.
Heather and Mike Martin confirmed they are working with a crisis consultant to help them deal with fallout from the videos. They also said the family is now undergoing counseling.
"They know the things that people are saying aren't true," Heather Martin said of her children. "They know that we love them."