Tennessee falafel shop owner helps feed tornado victims
The aftermath of Monday's devastating tornadoes in Tennessee left a Nashville community reeling, but amid the terror and confusion, many are coming together to help in the recovery.
One of those eager to lend a helping hand is restaurant owner Yassin Terou of Yassin's Falafel House in Knoxville, Tennessee.
After the devastating tornadoes slammed through parts of Nashville, Terou immediately rushed to the area from his hometown of Knoxville and set up a pop-up kitchen to feed those in need.
Terou, a refugee who fled war in his home country of Syria nearly a decade ago, said he did not hesitate to help because he could empathize with people in Nashville who suddenly lost everything.
"I know what it means to leave your house without nothing. If you've been in a tornado zone, or you've been a war zone … it's not your option and not your decision," he said Thursday on "Good Morning America." "But as a community it's our decision to help you. It's our responsibility to help you."
"I'm doing what America did to me when I came here," he said.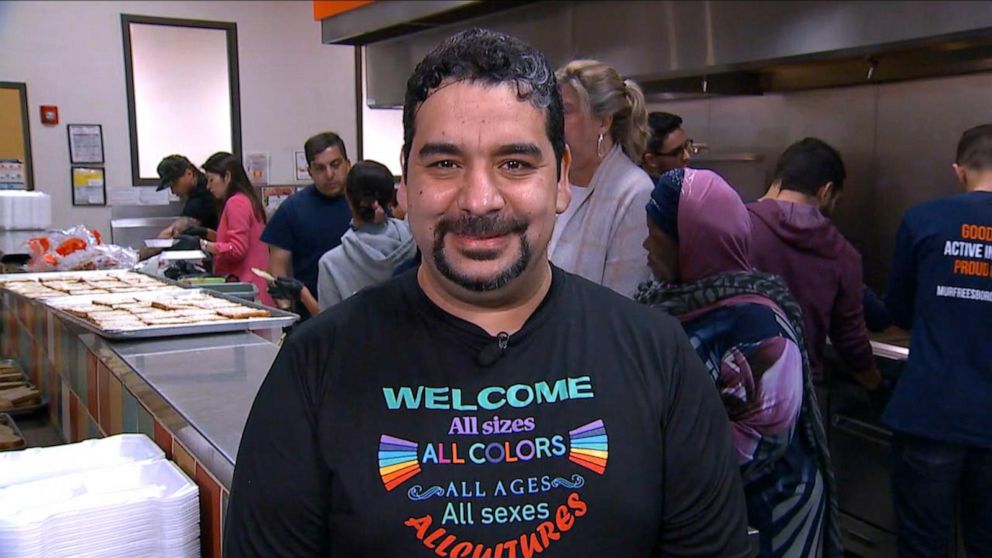 This isn't the first time Terou has shown his love for his community. In 2018, his restaurant received the accolade of Reader's Digest Nicest Place in America.
When he received the accolade, he told "GMA" co-anchor Robin Roberts that he "had a second chance of life to be in the United States." He described his restaurant as being about family, love and "building community."
"What I'm doing is I'm transferring the love I have received from everyone," Terou said Thursday on "GMA." "I think that we should not stop the love in America. We should not stop who we are by being selfish. This is my mission."
"We are breaking bread to break hate and build love," he said.
Terou's efforts in Nashville this week earned the praise of celebrity chef Jose Andres, who owns restaurants throughout the U.S. and is the founder of World Central Kitchen, a humanitarian organization that provides meals to natural disaster victims.
"Yassin you are great! [World Central Kitchen] will support your efforts! We have people there activating food trucks too! #ChefsForTennessee," he wrote on Twitter.
Across Tennessee, all hands have been on deck with volunteers working on clean up and recovery efforts. As of Wednesday, officials said more than $670,000 had been raised for the Community Foundation of Middle Tennessee, a non-profit organization that helps people throughout middle Tennessee and Kentucky.
Country music stars from Reba McEntire to Taylor Swift and Dolly Parton have offered their support. Other Nashville residents are also pitching in by posting in Facebook groups to share resources and offer support.