For the past two months, Sean Peacock, a small business owner in Eastman, Georgia, and his team have worked overtime to make 21 custom memorial benches by hand, one for each of the victims of the mass shooting at Robb Elementary School in Uvalde, Texas.
Over the weekend, the benches were driven in a donated U-Haul trailer over 1,200 miles from Eastman to Uvalde, where Peacock is now personally delivering them to each victim's family.
"These benches are just a little temporary, beautiful gift honoring their special, beautiful children," Peacock told "Good Morning America."
Referring to himself and the 21 families, he added, "We're forever connected."
Peacock, the owner of the graphic arts business Jass Graphix, said he had no connection to Uvalde prior to receiving an order inquiry in late May from April Elrod, the mother of 10-year-old Makenna Lee Elrod, one of the 19 students who died in the May 24 shooting, along with two of their teachers.
Peacock said the original inquiry requested more information about butterfly memorial benches he sells on Etsy, the first of which he made for his mom after his sister's death in 2008.
Elrod told ABC News that she noticed the bench on Etsy because of its butterfly design. Makenna, according to Elrod, loved butterflies and was laid to rest wearing a purple dress with butterflies on it.
"When we go visit her at the cemetery, there's always butterflies around. We've had butterflies in our cars and our houses, everywhere we go," said Elrod, who is building a butterfly garden at her home. "I saw that butterfly bench and I thought that would be perfect, somewhere to go sit and think about Makenna and talk to Makenna."
Elrod said she reached out to Peacock hoping to purchase one bench for herself and one bench for Makenna's dad for Father's Day.
According to Peacock, Elrod did not identify herself as the mother of a Uvalde victim, but simply asked if the benches could be customized for the loss of a child, provided her daughter's name and asked if the $1,800 benches would be discounted if she purchased more than one.
Peacock said he went online and searched the words Elrod and Uvalde.
"Lo and behold, number one on the list, Makenna Lee Elrod, the same name that that momma used," he said. "When I discovered that, that was the beginning of it all."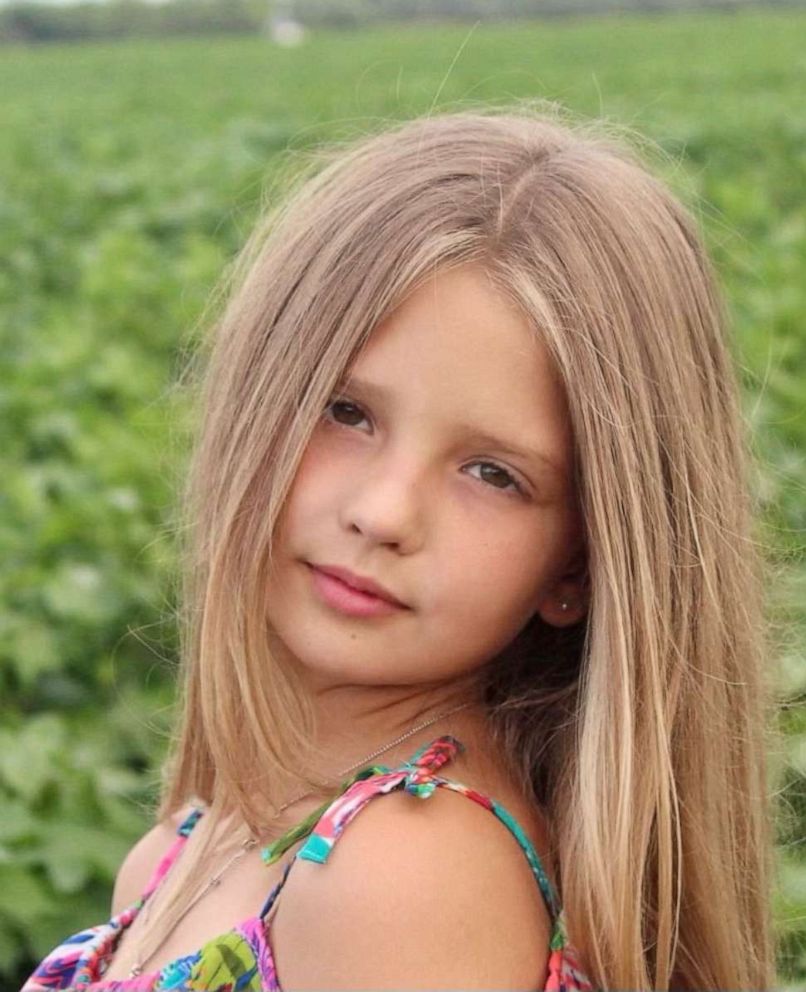 Peacock said he posted about the order inquiry on his personal Facebook page, and without making any specific request, donations started coming to him from friends and family who wanted to pay for a memorial bench for Makenna.
Wanting to provide a bench for not just Makenna but each of the 21 victims, Peacock started a GoFundMe with a goal of raising $20,000.
Less than 48 hours after launching the GoFundMe, more than $23,000 had been donated.
"On the day of Makenna's funeral, I texted the mother and revealed to her what I did," recalled Peacock. "I told her, 'Your bench is paid for for your precious child, and so are 20 more.'"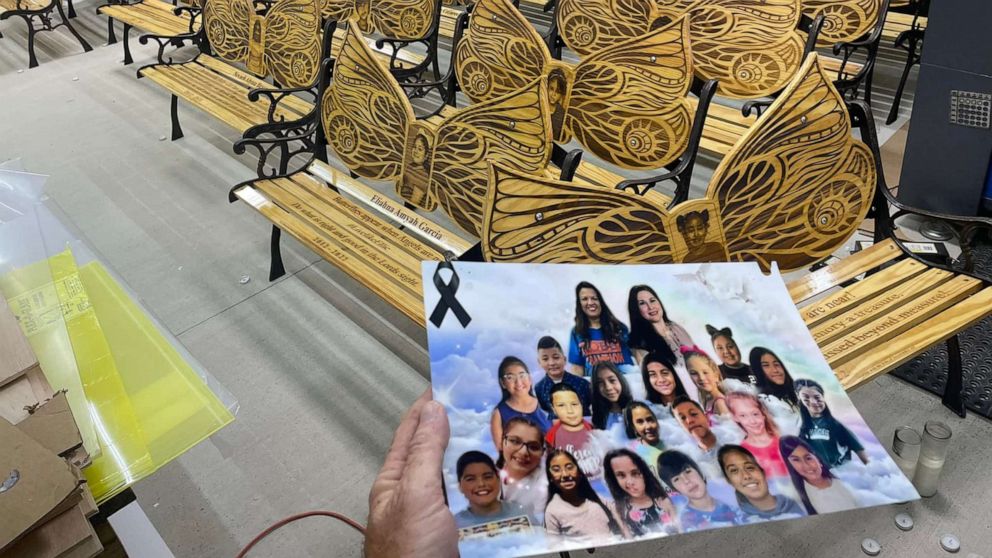 Over the next several weeks, Peacock said he spoke with family members of each of the victims -- all fourth-grade students and their two teachers -- to learn more about them and their lives.
Then, he and his team began to make the benches by hand. Each features a photo at the center of the butterfly wings that form the back of the bench, and an inscription for each family on the seat.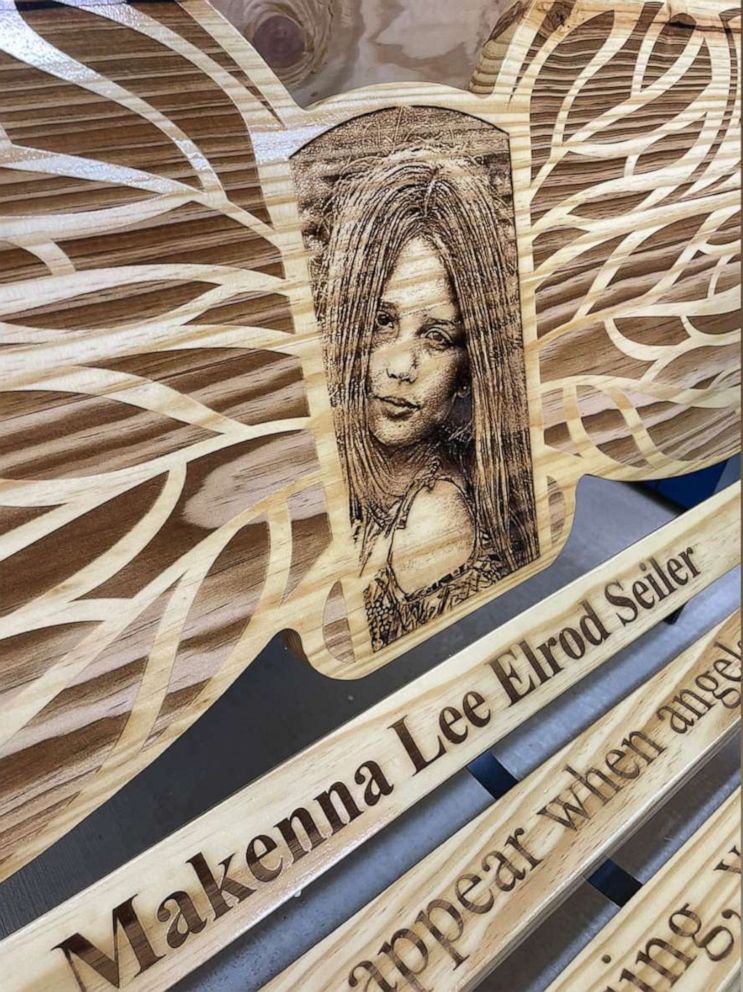 "It's a blessing," Elrod said of Peacock's generosity.
"He and I've been talking since and when I'm having a bad day, he just seems to be the one that messages and says you know, we're praying for you," Elrod added of Peacock. "Her story has brought people closer together. And I mean, what more can you ask for?"
For a typical order, one bench may take as long as six weeks to complete, according to Peacock, but his team worked together to make all 21 in less time than that. In addition to a bench, each family is also receiving an outdoor memorial sign, duplicates of which will be given to the city of Uvalde to use in a community memorial, according to Peacock.
"There's a lot of labor that goes into this," said Peacock, adding that employees from all parts of his business volunteered their time to work on the project. "This is a very special, precious item in any situation."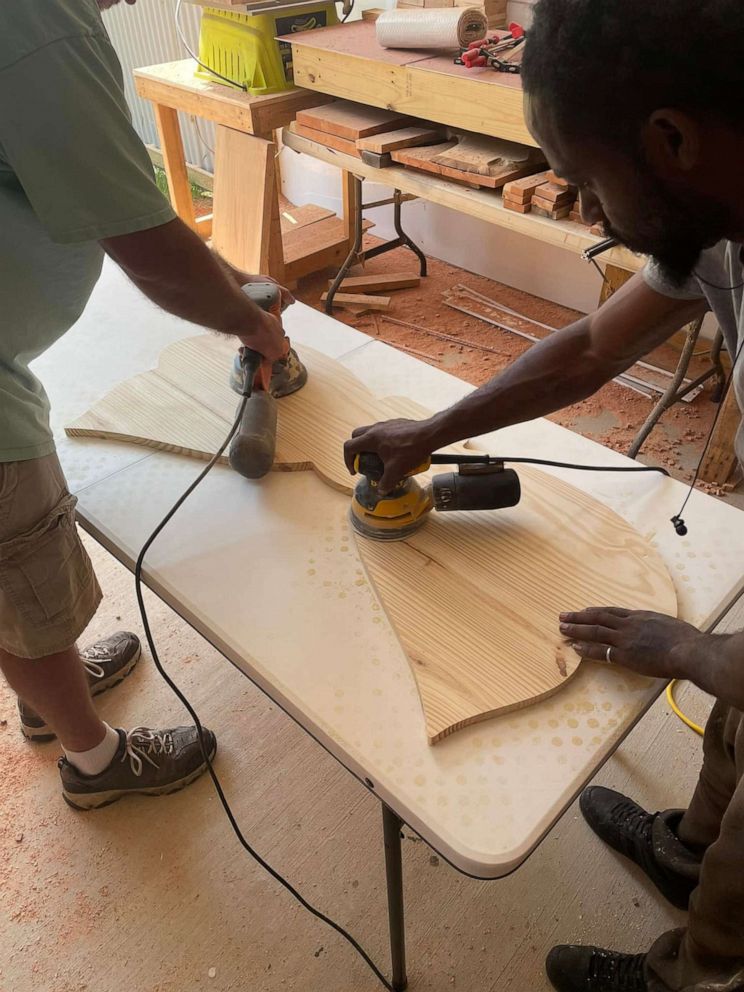 In addition to Peacock's business, the whole town of Eastman also became involved in the project, with businesses and individuals donating everything from white crosses for each family to custom hand-sewn pillows for each bench.
On Sunday, the community gathered for a prayer service to pray over the benches before they were driven to Uvalde in a U-Haul truck that was paid for by the city, according to Rev. Tyler Kirkley, the pastor of Lakeside Assembly of God, where Peacock is a member.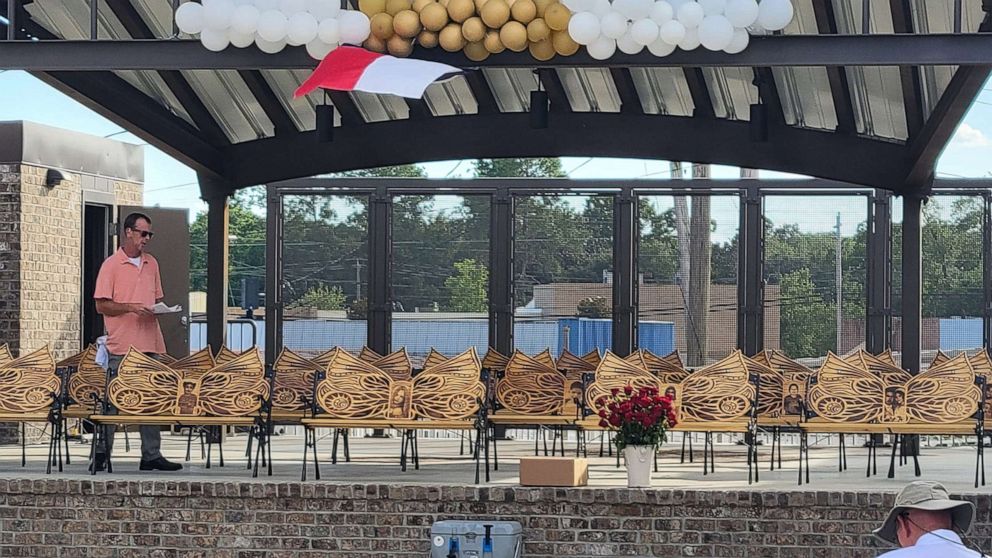 Kirkley traveled with Peacock to Uvalde to personally deliver the benches to the victims' families.
"My prayer, my hope is that love will make a difference, and when they sit on these benches, they'll be reminded of a love that can change the world," said Kirkley.
"If you stick a light in a very dark place, it shines its brightest," he added. "That's what we want to do and that's what we want the world to see."
Peacock said he plans to stay in touch with each family he has spoken to, and said he hopes the kindness he and others have demonstrated shows the people of Uvalde that there is still good in the world.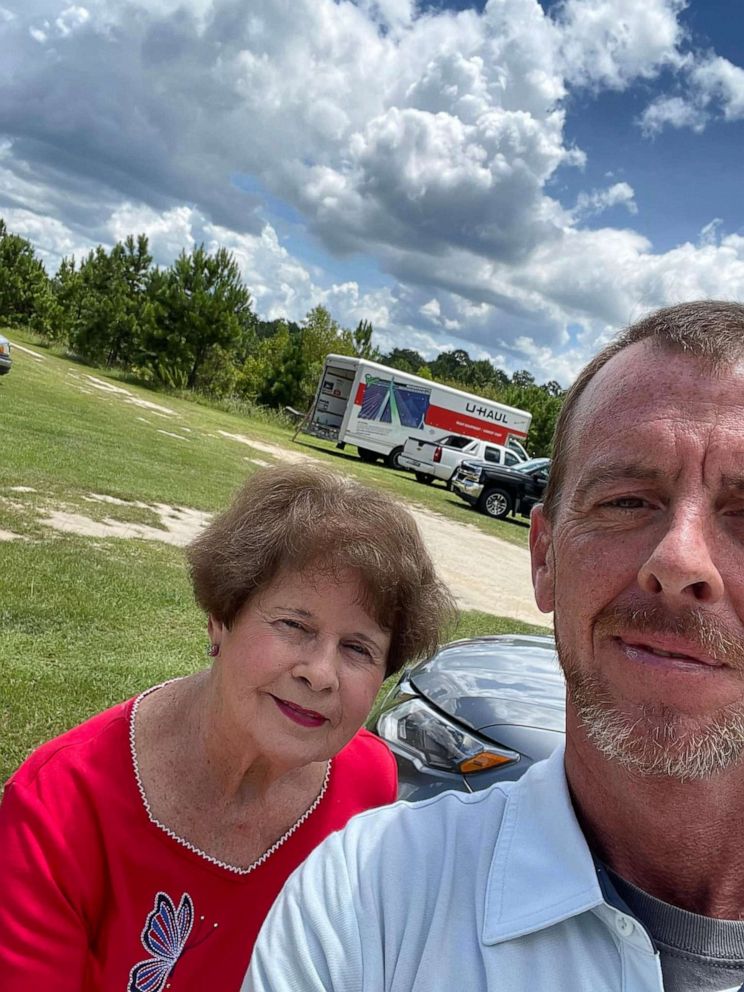 "That's an act of evil that occurred out there," he said of the school shooting. "What happened in Eastman, Georgia, is the opposite of that. It was an act of love, of compassion, donation, consideration. This is a story continues to just be a love story."
ABC News' Jenny Wagnon Courts and Kiara Alfonseca contributed to this report.