The two moms behind The Home Edit have organized the homes of celebrities from Gwyneth Paltrow to Rachel Zoe and Mandy Moore, who famously pretended to faint when she saw her organized pantry.
Now Clea Shearer and Joanna Teplin have their own TV series thanks to another one of their celebrity fans: Reese Witherspoon.
Shearer and Teplin's home organization company is featured in "Master the Mess," a TV series, available on DirecTV and DirecTV now, created by Witherspoon's production company, Hello Sunshine.
On the show, the duo, who met on a "mom date" in Nashville nearly three years ago, bring their color-organized genius to everyday people's homes, as well as a few belonging to celebrities.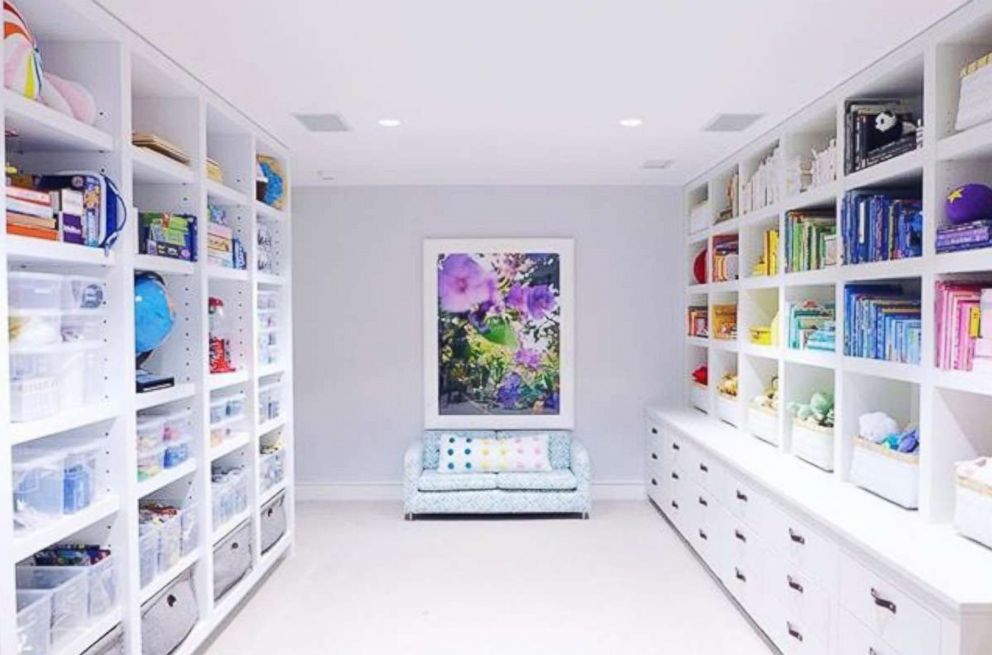 "Good Morning America" spoke to Shearer and Teplin earlier this year for their home organizing tips that anyone can use.
Here are the organizing rules Teplin and Shearer say will give your spaces, whether it's a room or a closet or a pantry, new life.
1. Start small
Kick off your home organizing by starting with something like a junk drawer in your kitchen.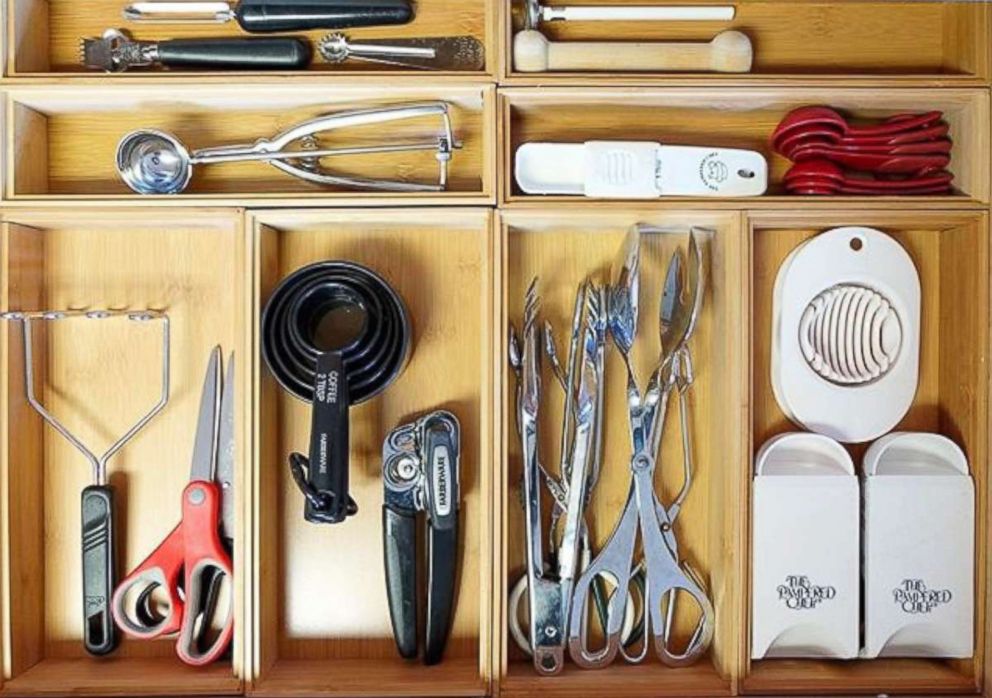 A drawer will be easier than what Teplin and Shearer say is the hardest space to organize, the kitchen pantry, which can take a full day.
"You kind of learn the ropes and then you can kind of scale up once you have mastered that one drawer," Teplin said. "You can take that and apply it to any space."
2. Edit
Teplin and Shearer say editing -- evaluating what is in the space you're organizing and then eliminating the things you don't need -- is so crucial they put the word in their company's name.
"The first thing we always say no matter what the project is, is to edit out whatever you can," Teplin explained. "You've got to pare down to the stuff that you love or use."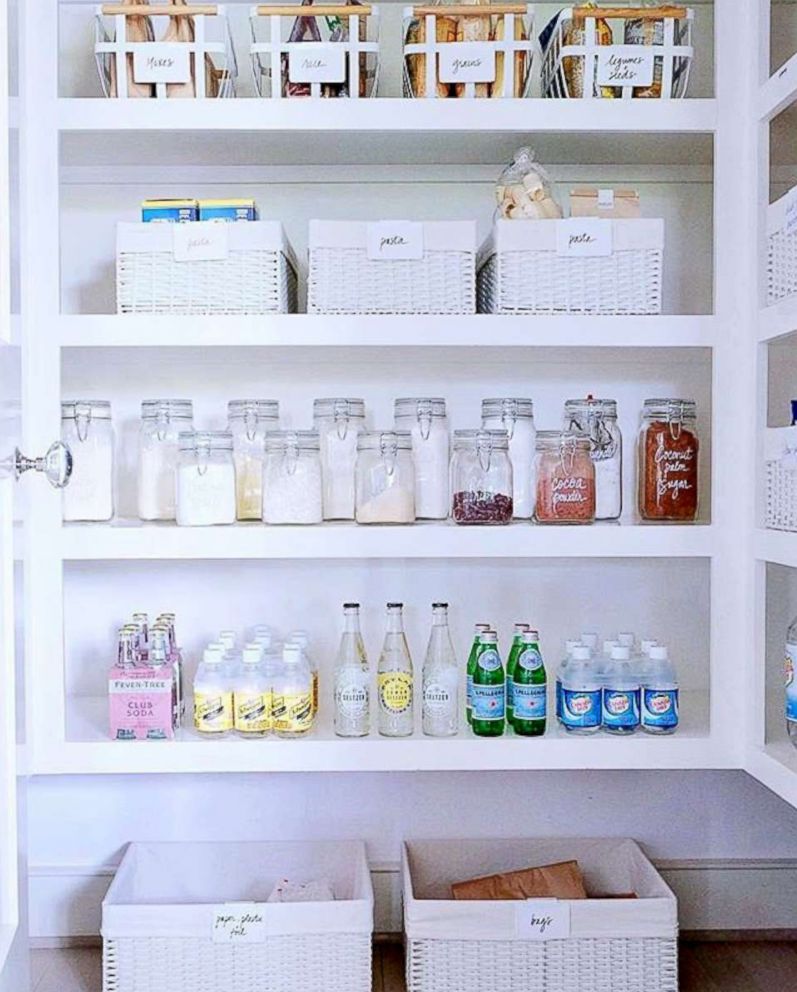 She added, "If you can't make any edits, you're just kind of shuffling things back and forth."
In order to fully see the scale of what you need to organize, take out everything and put it on a floor or table. The editing process for a pantry, for example, may take over the entire floor of a kitchen.
"You really need to touch every single item in the space. Every single item," Teplin said. "Pull out things that are expired or you won't eat or wear anymore."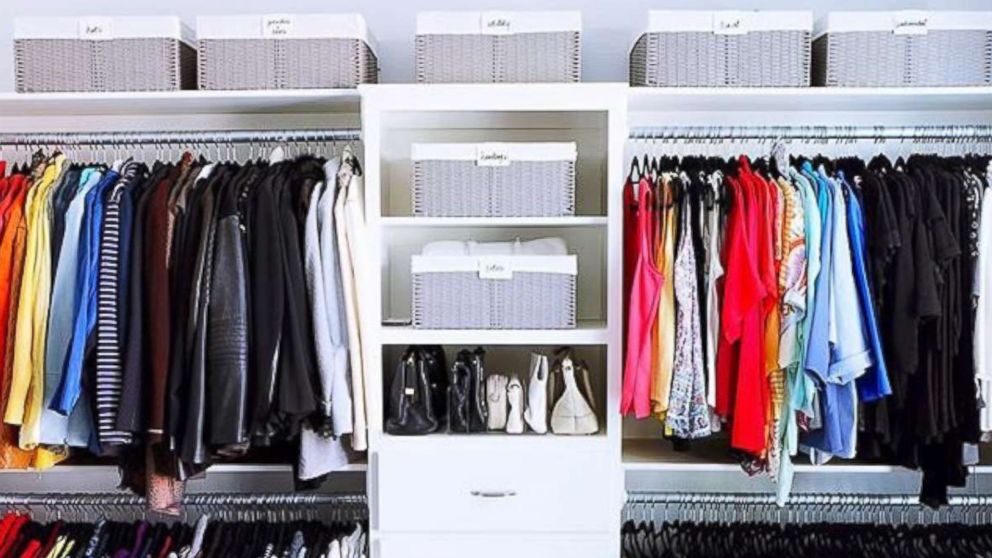 She added that "90 percent of clients say they don't want to get rid of anything in their closet until we make them look at every single item."
Teplin's mantra for clients during the editing process is, "You get the item or you get the space, but you don't get both."
"You have to make a decision. Is the breathing room more valuable or is that particular item more valuable?" she explained. "It applies to a pen in a junk drawer and to a fur coat, and it applies to a house big or small."
People get too specific with their categories. In the pantry, if you label [a basket
3. Contain
Once you have an edited closet, the next step is to group like items together -- baby food, chips, grains in a pantry, for example -- and contain them.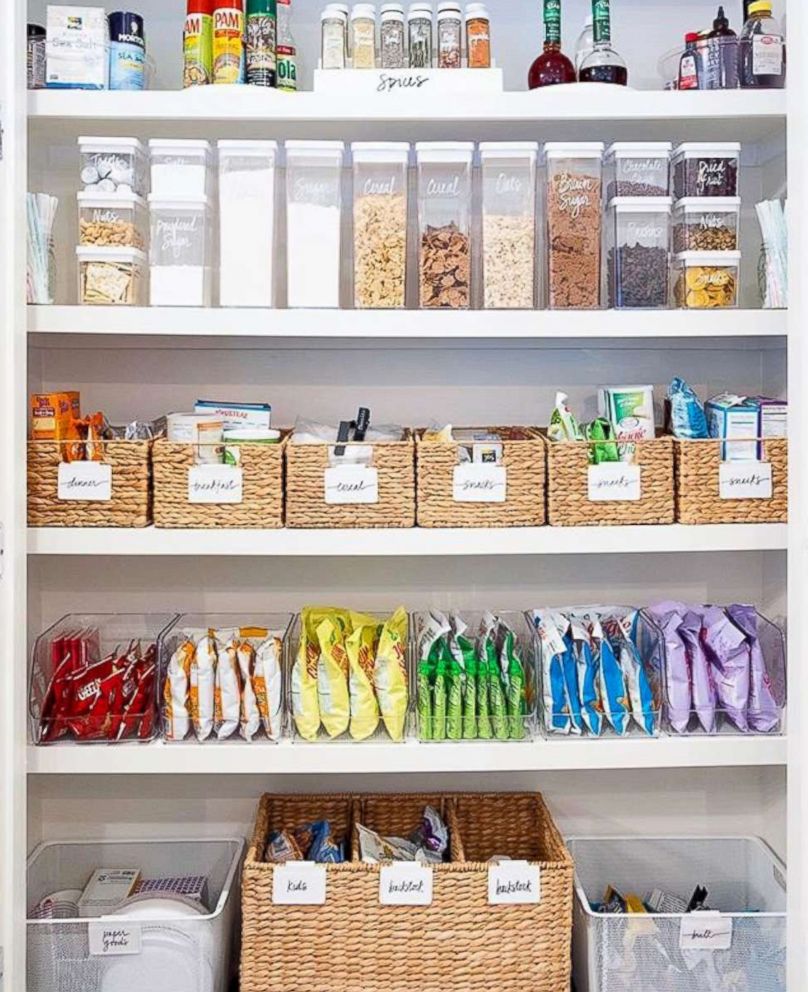 "Putting things in a container and actually containing the item, that's actually another piece of our name and our logo, the laurels around our name, is the concept of containment," Shearer said. "We really believe that if things are kind of free floating out in space it's a very slippery slope and it's just going to fall right back to where it was."
Baskets, shelves and jars are just some of the containers used by The Home Edit pros.
There is one trap to avoid, however.
"People get too specific with their categories," Teplin said. "In the pantry, if you label [a basket] just rice and you come home with quinoa, then you're stuck. You're already set up for failure."Teplin's advice is to think big and make a category instead of foods for dinner, for example.
4. Label
Up next for organizers is to label each of the containers. Teplin and Shearer say this important step sets up their clients for success.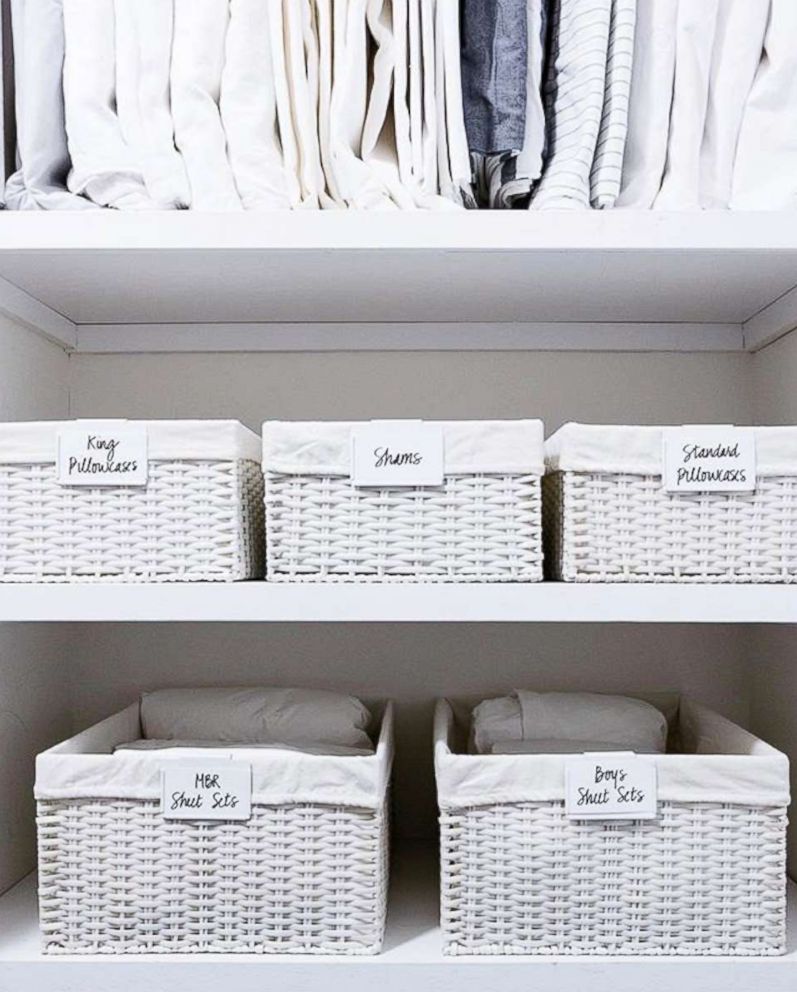 "If you have a label on something, it holds you accountable," Shearer explained. "Not only do you start to see, wow, this basket is overflowing and maybe I need to edit some more out, but it also makes sure you're putting things back in the appropriate space."
Teplin and Shearer use labels or write the contents directly on the container.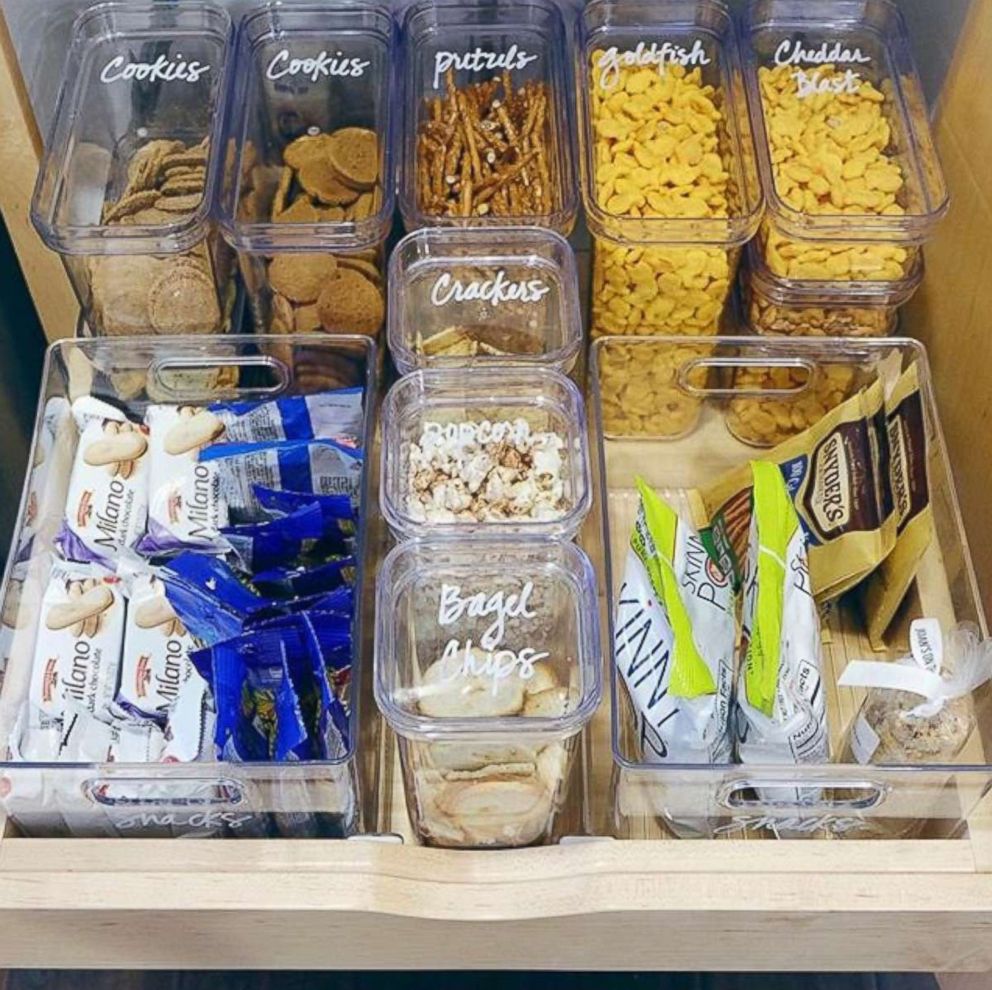 "It's literally no extra thought in your mind about where do I put this when I'm unpacking the groceries," Shearer said. "That label is truly the key to long-term maintenance."
Using colors is also an aesthetically-pleasing approach that serves an important function. Children's toys can go in different color buckets or books can be organized by color, for example.
Teplin and Shearer are well-known for their rainbow style of organizing.
"The rainbow is actually a label," Shearer said. "What we do when we set things up in rainbow order is we are giving you a set of instructions for how to put things back and how to find whatever you're looking for."
She added, "My kids at this point, they ask to go get a book from the blue section. It's a much easier, intuitive system for them."