Meet the youngest athlete to ever qualify for the World Surf League Championship Tour
Caroline Marks doesn't have her driver's license yet, and she doesn't spend Friday nights at her high school's football games. But as the youngest athlete, man or woman, to ever qualify for the World Surf League Championship Tour last year at age 15, she's not sweating that her teenage life isn't exactly conventional.
"I would way rather be doing what I'm doing. I think traveling the world is a little bit cooler than prom," said Marks, who turned 16 this past February, a month before competing in her first tour event.
As the only rookie on the 2018 roster, Marks is nicknamed "the grom" (young surfer) on tour but has quickly climbed the ranks among the sport's elite women. Her ability to seamlessly transition between turns on high-performance waves earned her as high as a No. 3 ranking early in the season.
She continues to hold a steady position among the top-10. Marks competes in the WSL's seventh tour stop, the Vans US Open of Surfing in Huntington Beach, California, this week. Not that she's sweating that either."When you're rookie, there's really no pressure," said the goofy-footed water-woman, one of only three women on the 17-member tour who surfs leading with her right foot.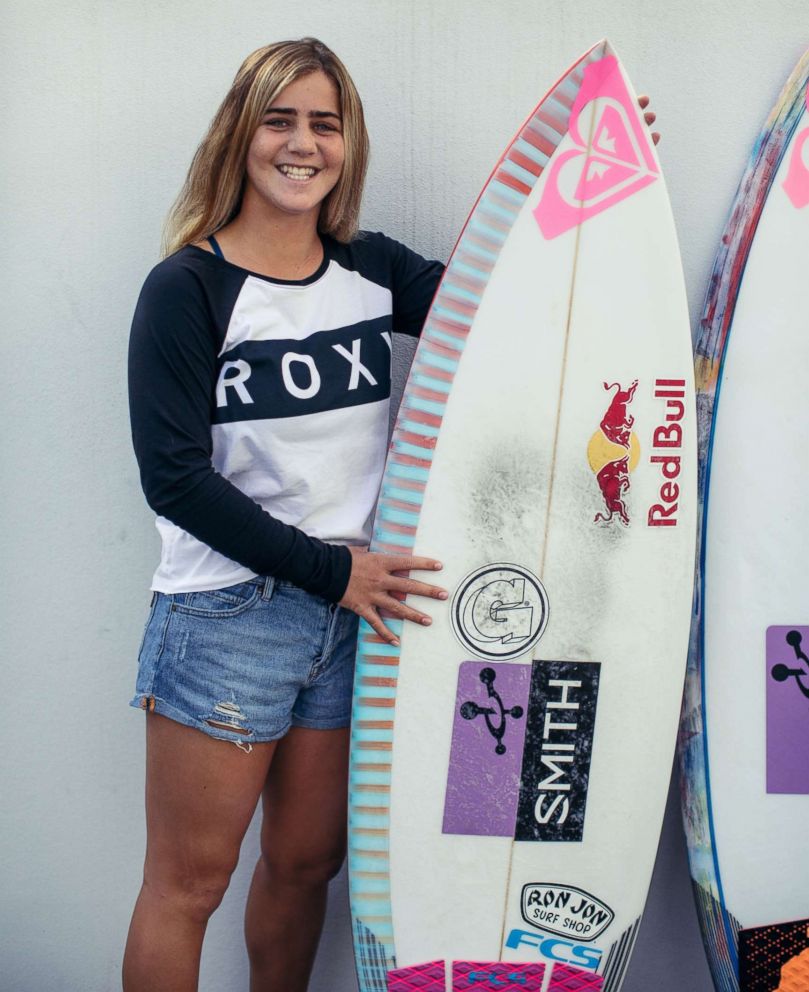 The third of six children, Marks hails from Melbourne Beach, Florida, where she grew up zipping up and down on her bike from the beach to her family's lake-front backyard with her two older brothers, Luke and Zach. She also discovered her love of sports, first on horseback through barrel racing. But at age 8, she swapped her horse for a surfboard after watching Luke, then a competitive surfer, enter local contests -- and won her first contest at age 10.
"I could see that competitive drive, like she wanted to win so badly," Luke said. "She'd surf every single day. I still see her as a 10-year-old grom who would ask me to run mock heats for her outside our home in Melbourne."
After winning amateur and junior contests for years, Marks started competing full-time on the WSL's Qualifying Series circuit in 2017, a development league that feeds into the championship tour, with the intent of qualifying for the championship tour in a few years. When it happened much sooner, it prompted some intense discussions with her family and coach, mostly surrounding her age.
"Does she go for this now or do we hold her back a year or two? Those were really big conversations," said former pro surfer Mike Parsons, Marks' coach and a Surfers' Hall of Fame inductee.
Caroline Marks, right, grew up riding her bike from the beach to her family's house in Melbourne Beach, Florida, with her two older brothers.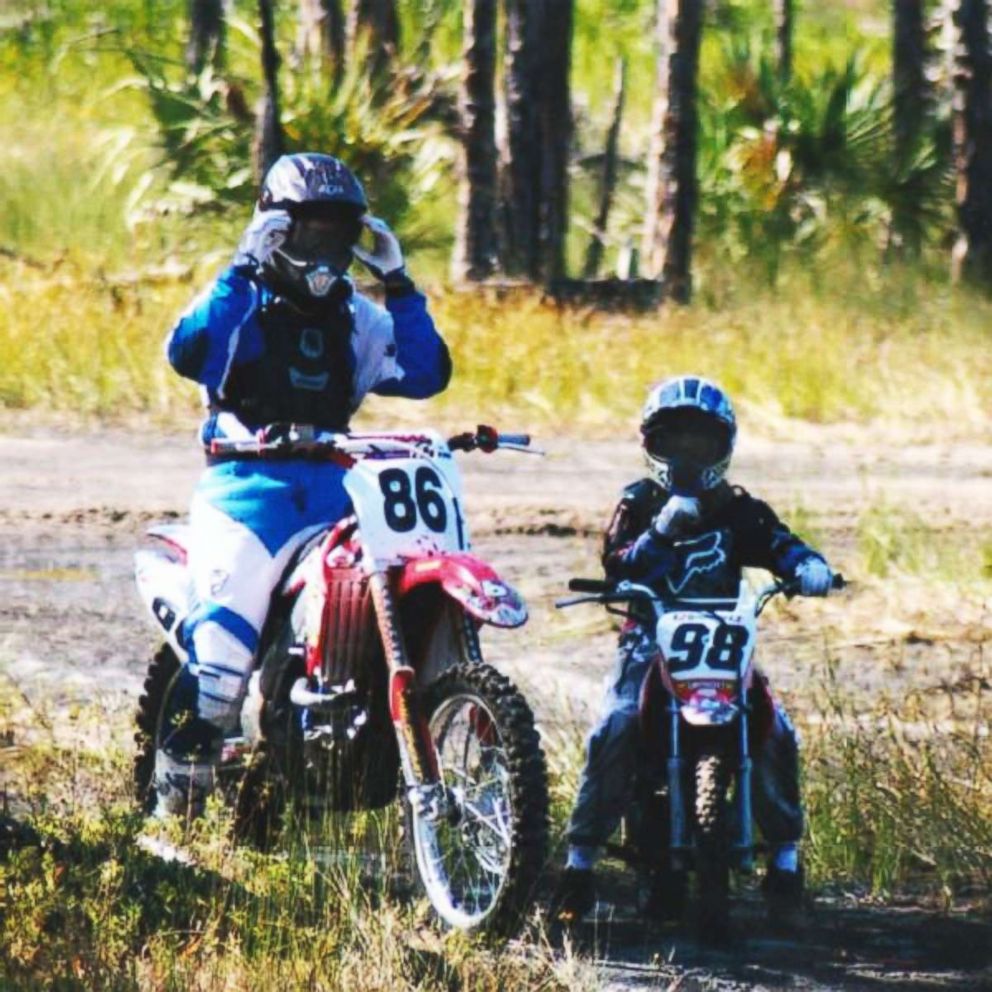 The tour's rigorous travel schedule was also a concern for her parents, with 10 stops, everywhere from Bali to Fresno, and 10 months of traveling. For her father, Darren, the decision to let her compete was partly aided by his two older sons, both of whom have mentored Caroline throughout her surfing career.
"They said, 'Dad, she's ready for this,'" said Darren, who travels with Caroline to as many tour stops as he and wife Sarah can. "I think we made the right decision. She's got a smile on her face constantly."
She does so even amid harsh social media scrutiny. When news of Marks' qualification made the rounds, Darren said the family weathered criticism about Caroline being "another dumb surfer going on tour with no education." In reality, Caroline said she has been home-schooled since the sixth grade and often travels with school books.
And then there are the unique hazards of surfing while female.
"It's definitely so different from any other sport because you're in a bikini or you're in a wetsuit. There have been times where I've been like, 'Man, that's so mean. That guy is probably, like, triple my age, and he's making fun of me,'" she said of the social media comments she sometimes reads. "For me, I just try to not to worry about what people say. I think I'm pretty confident in myself."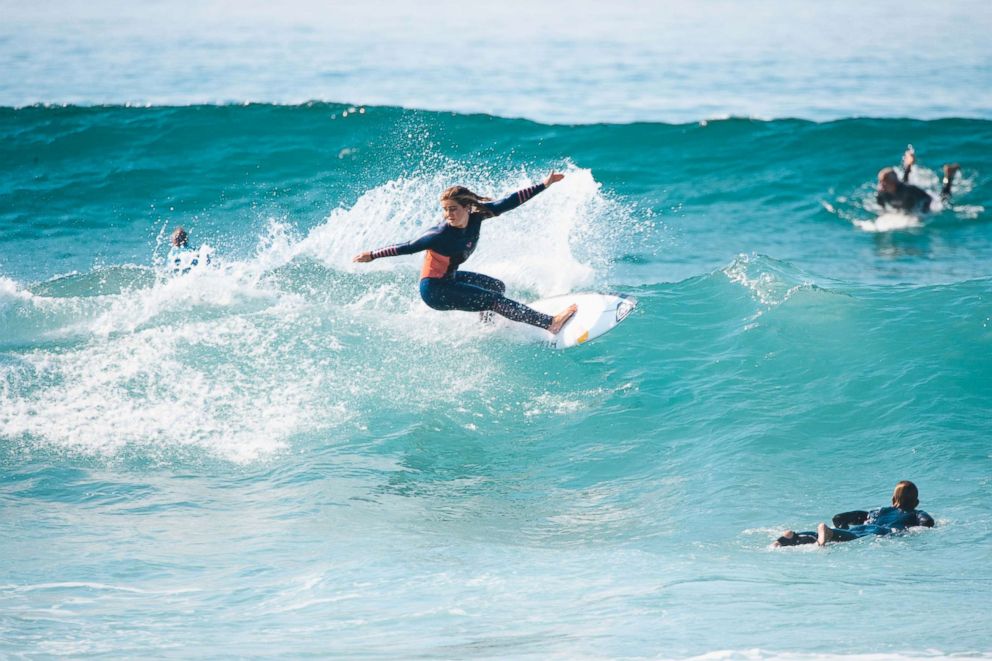 It's a confidence that has allowed her to face former women's world champions like Stephanie Gilmore and Carissa Moore, both of whom Marks says she looked up to for years before joining the championship tour. Her natural prowess in the water has prompted some to dub her the next Kelly Slater, an 11-time men's world champion. Marks demurs at the comparison; her coach Parsons doesn't.
"It's hard to find surfers or athletes that love what they do as much as she does. It's like a young Kelly Slater," he said. "Her stoke for it is so much that a lot of the girls [on tour] make fun of her because she always says the waves are good even when they're terrible."
When she isn't criss-crossing the globe on the quest for a world title, Marks splits her time between Florida and San Juan Capistrano, California, where her family relocated to two years ago. But chances are, you'll find her outside and in the water no matter where she is -- and not, say, playing video games.
"Barefoot and fishing and surfing and riding motocross. That's my thing," she said. "Not Fortnite."
This story originally appeared on espnW.com. Disney is the parent company of ESPN and "Good Morning America."