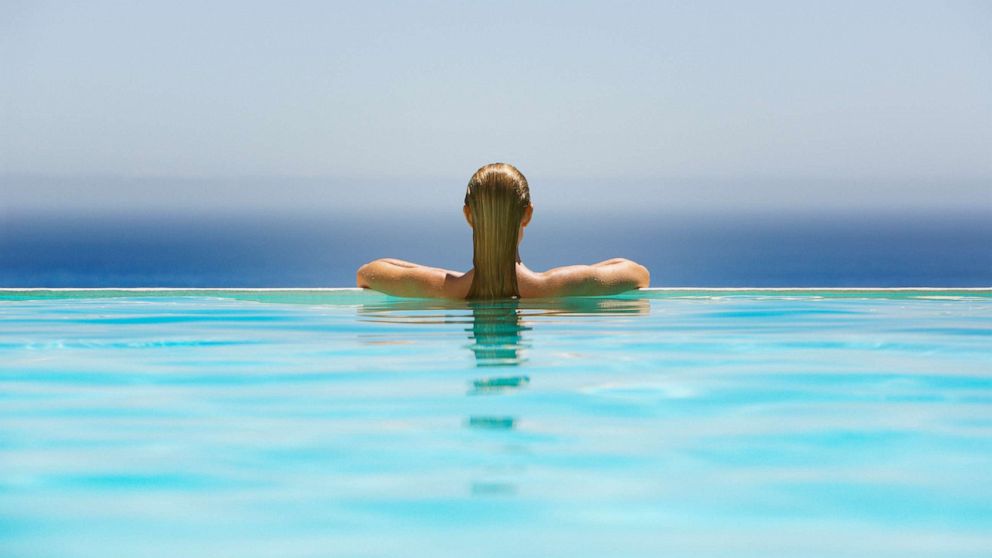 While spending time outdoors and laying by the pool this summer, you might realize that your hair is taking a beating from harsh pool chemicals and the hot summer sun. Pool chemicals such as chlorine can strip your natural oils, create tangles and dryness, change blonde to green and even cause split ends. Plus, prolonged exposure to the sun's UVA and UVB rays can also cause hair damage.
But there's no need to skip out on summer fun, because we tapped hairstylist and healthy hair expert Michele Pritchard for her best tips and products to keep your hair feeling healthy all season long.
By clicking on these shopping links, visitors will leave Goodmorningamerica.com. These eCommerce sites are operated under different terms and privacy policies than Goodmorningamerica.com. ABC will receive a commission for purchases made through these links.
1. Always use a leave-in spray that has heat protection
"Using one product when you get out of the shower every time, will help your hair stay healthy against aggressors," according to Pritchard. Pro tip: Throw a leave-in spray in your beach or pool bag, and use it before getting in the pool or salt water to protect from chlorine.
2. Step up your hair mask game
Add a hair mask to your weekly routine, Pritchard recommended. "Using a hair mask once a week is key to getting your hair healthier," she said. "When you are on vacation, use it daily. This will help keep your hair shaft and cuticle closed and make it harder for chlorine, sun and sand to disrupt your texture, which, in turn, will make your hair silkier and less frizzy."
3. Make sure your shampoo is sulfate-free
"In simple terms, sulfates are drying, and during summer months it's important to keep the moisture in your hair," Pritchard said.
4. Use an oil on the ends of your hair before bed
Using hair oil on your ends at night is a simple and easy way to protect and perfect your hair during the summer months. Pro tip: You can also apply it to your roots for a scalp treatment and rinse in the morning!
5. Air-dry more often in the summer months
Finally, Pritchard said, "Using less heat on your hair is always a great way to keep your hair healthy. However, air-dry creams are a great bonus step when you want to make sure you are air-drying with intention."