A mom in Michigan is providing inspiration to parents across the country looking for new ways to keep their kids active during the coronavirus pandemic.
Maricela Montemayor, mom of three daughters, created a hopscotch obstacle course in her driveway for her middle daughter, 8-year-old Melanie.
"She is a swimmer and she missed swimming because we don't have a pool at the house," Montemayor told "Good Morning America." "I thought it would be fun for her to exercise through the circuit so I made it for her."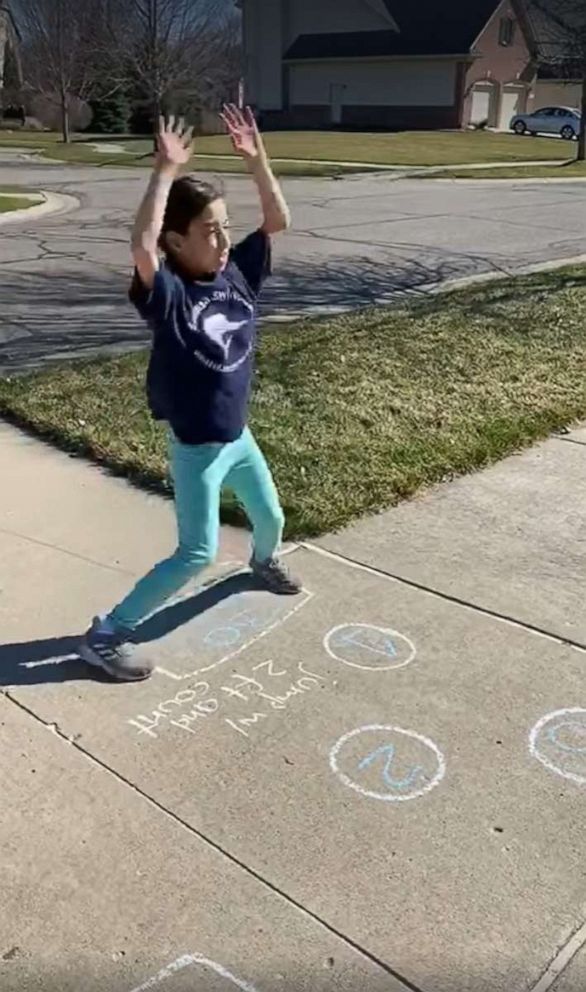 Montemayor's workout for her daughter includes everything from jumping on the letters of the alphabet while singing them to doing jumping jacks and lunges, all while having to concentrate in order to read the directions on the driveway and follow along.
Montemayor, who is an avid exerciser herself but does not have any fitness credentials or background, posted a video of Melanie doing the workout on Facebook, where it has more than 13 million views.
"I hope it can help other parents do the same for their kids or even for themselves too during this pandemic," Montemayor said, adding that she plans to make a second circuit for her daughters as soon as a new set of chalk is delivered by Amazon.
What to know about coronavirus: