How a teen cleared her acne using cheap products
After spending years suffering from severe acne, a teen said she was finally able to clear up her skin using cheap and mostly natural products.
After her striking before-and-after photos soon went viral, Karina Banuelos, 17, from Palmdale, California, shared her skincare regimen with "Good Morning America."
"It was under my eyebrows ... under my nose. Like, around my lips," she told ABC News of her spots.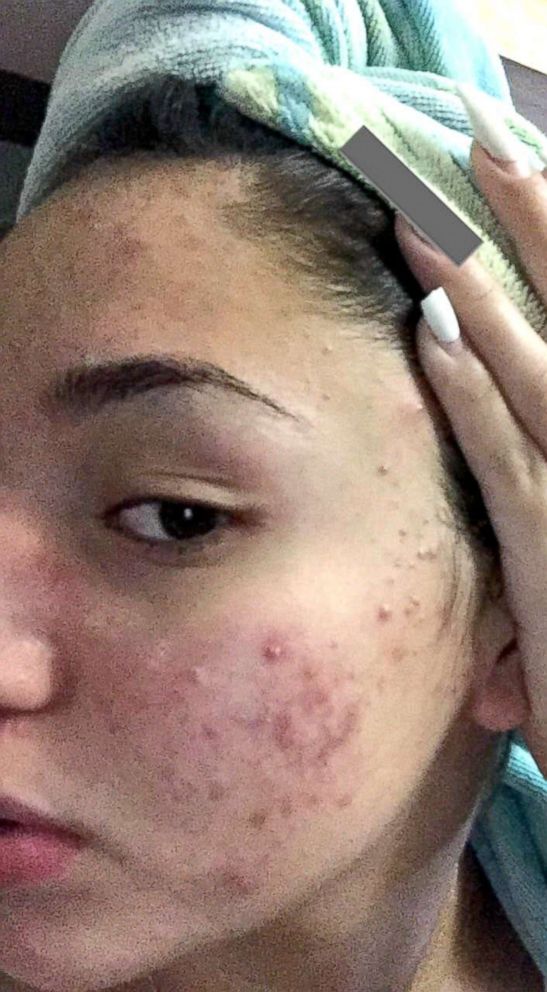 The high school senior said she saw four different dermatologists and tried countless expensive creams, face washes, and even prescription medications, and nothing worked.
Ally Banuelos, Karina's mother, said that it hurt to watch her daughter struggle.
"When you see her going through that, people making fun of her, you try to find a solution," the mother told ABC News. "I would take her everywhere, just to try to find something for her."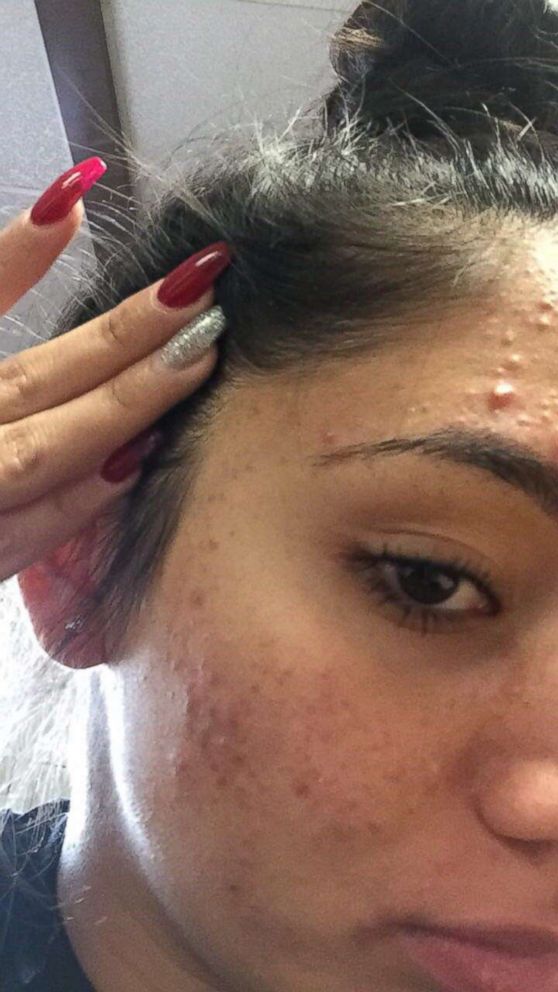 Karina said she eventually decided to take matters into her own hands, and after doing extensive research online, she created her own skincare routine using just four products that she bought at Target, each for less than $10.
After three months, the teen said her skin completely cleared up.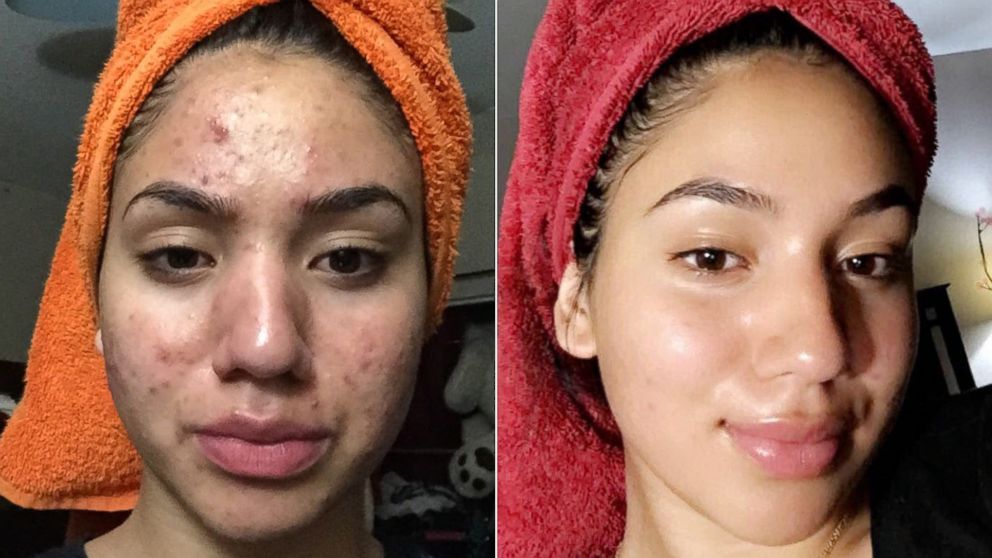 Karina's skincare regimen
1. She first cleanses her face using Thayer's Rose Petal Witch Hazel and a cotton ball.
2. Next, Karina washes her face using Dr. Bronner's cleanser and a facial brush. She said some days she uses just Dove soap as a face wash instead.
3. After cleansing, Karina re-applies the witch hazel with a cotton ball and then applies an oil-free moisturizer for combination skin from Neutrogena.
4. Finally, she cuts up a piece of a fresh aloe vera leaf and applies the gel directly to her face.
Karina said in addition to her topical skincare regimen, she also tried to cut down her consumption of junk food and dairy products, and increased her water intake to help her skin.
Ally Banuelos said she was happy her daughter was able "find something that it's not that expensive" to clear up her skin.
"You don't have to go through, you know, hundreds of dollars of going to the dermatologist when you can find something at Target for $40," she added.
Karina, now acne-free for six months, said she doesn't even stress when she gets an occasional breakout.
"I don't even complain when I have a pimple anymore," the teen said. "Because when I would get a pimple I'd get, like, 100 all over my face."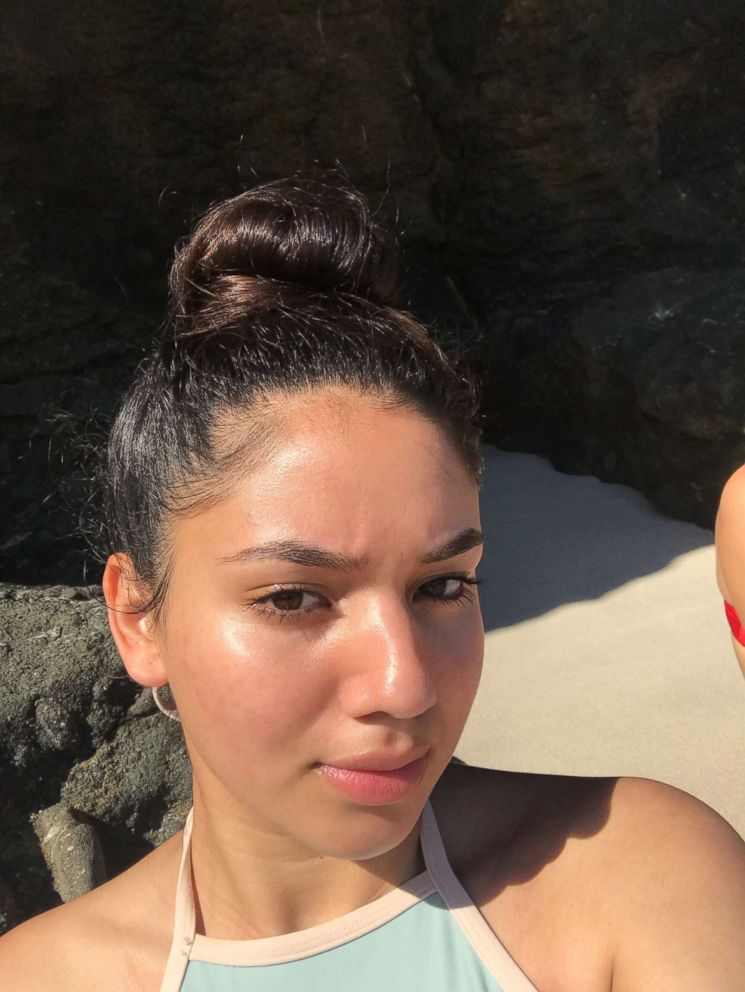 Dermatologist Dr. Whitney Bowe emphasized on "GMA" today that acne is caused by a variety of things -- including diet, stress, hormones and genetics -- and what works for one person to treat acne may not work for other people.
Bowe added that if you are suffering from acne, she recommends taking three things into account when it comes to your skincare routine: cleansers, moisturizers and retinoids.
Cleansing and moisturizing every day is important, she said, and adding an over-the-counter retinol to your skincare routine may be a good option to try if you are struggling with acne.
Bowe recommends visiting a doctor if your acne ever starts to affect your quality of life.