Zibby Owens is the host of award-winning podcast, "Moms Don't Have Time to Read Books."
Coastal Italy. Salem. Poland. Upstate New York. Japan. The Hamptons. These are just a few places to which this crop of October releases will transport readers.
While the COVID-19 pandemic has curtailed travel, there are no limits to where beloved books can take us. So, this "trick or treat" season, grab a bag of candy corn and settle in to devour these memoirs, novels and non-fiction books by a dozen stellar authors, both old and new.
Let the pages carry you out of your home and into new parts of the world, both real and imagined, and escape from this one for a little while.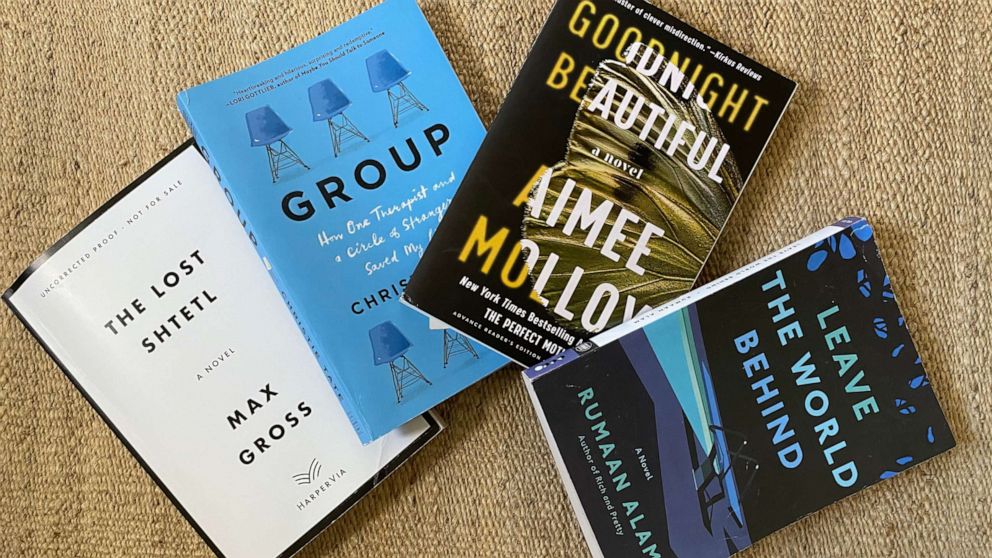 Read along with us and join the conversation on our Instagram account -- GMA Book Club and #GMABookClub.
October 2020 Releases
Oct. 5:
'Catchlight' by Brooke Adams Law
Winner of the Fairfield Book Prize, "Catchlight" is the debut novel from marketing expert Brooke Adams Law. When Laura's mom is diagnosed with Alzheimer's, she and her three siblings, including her alcoholic brother, James, have to find a way to come together to cope.
Oct. 6:
'Leave the World Behind' by Rumaan Alam
On the longlist for the National Book Award for Fiction and already optioned by Netflix, "Leave the World Behind" examines what happens when a white family renting an Airbnb in the Hamptons is confronted by the purported Black owners on their doorstep after a mysterious blackout in New York.
'Digital Goddess: The Unfiltered Lessons of a Female Entrepreneur' by Victoria Montgomery Brown
The book opens with author Victoria Montgomery Brown hopping into a taxi on her way to the police station when she finds out she is inexplicably under arrest, a ploy to tarnish her reputation by a former jealous boss. Still, Brown grapples with how to share this unexpected development with investors in her nascent, soon-to-booming start-up, Big Think. Sprinkled with lessons for business entrepreneurs and anyone struggling to manage anything -- including the household -- Brown uses her Harvard MBA intellect and Canadian sense-of-humor to impart advice, guidance and what not to do.
'Magic Lessons: The Prequel to Practical Magic' by Alice Hoffman
Bestselling and legendary author of 30-plus books, Alice Hoffman is back with the prequel to her blockbuster book (and Warner Brothers film) "Practical Magic." This captivating story of Maria and Hannah Owens in the 1600s traces the development on Maria's gift and her journey to Salem, all led by love.
'A Perfect 10: The Truth About Things I'm Not and Never Will Be' by Heather Land
Wildly popular Southern comedian Heather Land, whose 100 million-plus fans love her for her "I Ain't Doin' It" viral videos and book, shares more personal stories in "A Perfect 10". A divorced (and now engaged) mom of two, Land confesses her secrets in a relatable, quirky and endearing way.
'Is This Anything?' by Jerry Seinfeld
It's about time for comedy legend Jerry Seinfeld's first book. Organized by decade, "Is This Anything?" showcases the progression on Seinfeld's development as a comedian.
Oct. 13:
'After the Rain: Gentle Reminders for Healing, Courage, and Self-Love' by Alexandra Elle
An inspiring self-help/memoir story wrapped in a gold glittering package with 15 life lessons, "After the Rain" contains Alexandra Elle's inspiring guidance as a Black mom, wellness expert and entrepreneur.
'The Lost Shtetl' by Max Gross
A commentary on modern-day life, "The Lost Shtetl" imagines a world in which one lone Jewish village has been forgotten, until now. Written by debut author and Commercial Observer editor Max Gross, this thought-provoking book highlights the role of government, family, change and community.
'Good Night Beautiful' by Aimee Molloy
The sophomore novel of New York Times bestselling author Aimee Molloy, whose first novel "The Perfect Mother," examined the cult of motherhood perfectionism, is back with another psychological thriller. This time, a New York-transplant couple head upstate where Sam opens a private practice as a therapist in their new home. His wife, Annie, eavesdrops from upstairs. One patient changes everything.
Oct. 27:
'Love Your Life' by Sophie Kinsella
The No. 1 internationally bestselling author Sophie Kinsella takes her heroine, Ava, to a writing retreat in Italy. Fed up with dating apps, Ava shuts down and even changes her name to regroup and falls for a man whose martial arts retreat nearby has been canceled. But when they head back to "real life" in London together, their new relationship is tested. With her signature hilarious dialogue and keen observational wit, Kinsella delivers an un-put-downable, enjoyable journey, yet again.
'Group: How One Therapist and a Circle of Strangers Saved My Life' by Christie Tate
This highly-anticipated debut memoir from over-achieving, young lawyer Christie Tate gives readers an inside peek into the highs and lows of group therapy. Recovering form an eating disorder and battling depressing, Tate reluctantly turns to this communal form of psychotherapy. Funny, emotional, and insightful, "Group" is sure to be a breakout hit.
'Memorial: A Novel' by Bryan Washington
The story of a gay couple in Texas, a Japanese American chef at a Mexican restaurant and a Black daycare teacher, "Memorial" is about relationships, love, family, travel and what it means to be happy. When one of the men heads back to Japan to tend to his dying father, leaving his mother to stay behind with his lover, hijinks ensue. This is Bryan Washington's debut novel after being named one of the National Book Foundation's "5 Under 35" and the recent winner of the Young Lions Book Prize from the New York Public Library for "Lot: Stories."
'I'll Be Seeing You' by Elizabeth Berg
A memoir and love story, "I'll Be Seeing You," is told from bestselling author Elizabeth Berg's vantage point as a 70-year-old woman. She writes poignantly about her aging parents and the power of connection through the years in this compelling narrative.
Read along with us and join the conversation on our Instagram account -- GMA Book Club and #GMABookClub.