Use these magical words to help a friend who's going through a tough time in life
ABC News Photo Illustration
Zibby Owens is the host of award-winning podcast "Moms Don't Have Time to Read Books" and author of the anthology, "Moms Don't Have Time To: A Quarantine Anthology."
It's hard to believe a full year has gone by since the pandemic shut down the United States and forced us all to hunker down, pack, move, isolate and hibernate, presumably for two weeks. Now, a year later, we're still in limbo as we wait for the vaccine to trickle down the decades into all age groups.
The one consistent thing during this past year of unpredictability and upheaval has been an unending supply of fantastic books into which we have all escaped. This March brings another pile of perfection. The following are a few must-reads, but there are many other tempting tomes.
The important thing is to fall into the right book for you to weather what's left of this once-in-a-lifetime, generational storm. Here's hoping that by next March 2022, this will all be a hazy memory -- for the books.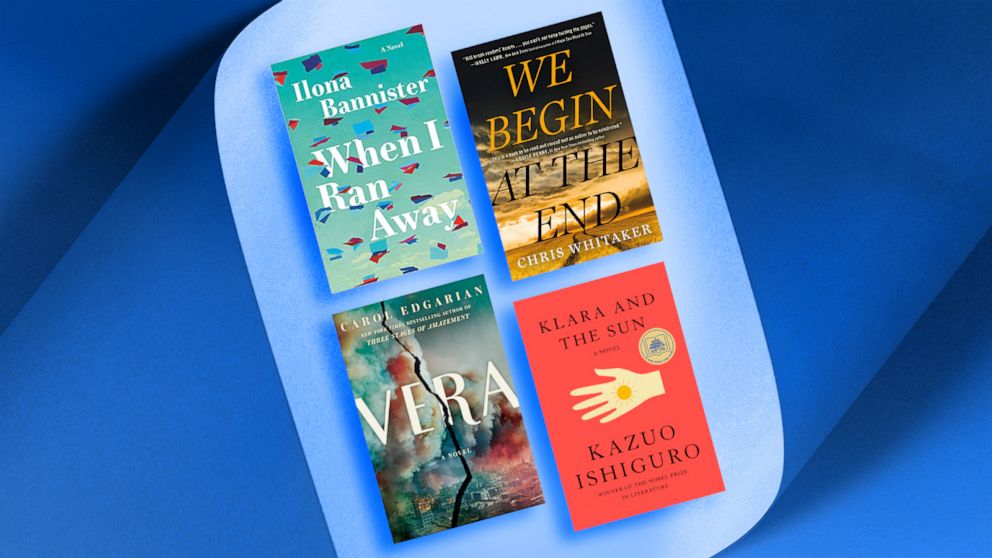 March 2
'Klara and the Sun' by Kazuo Ishiguro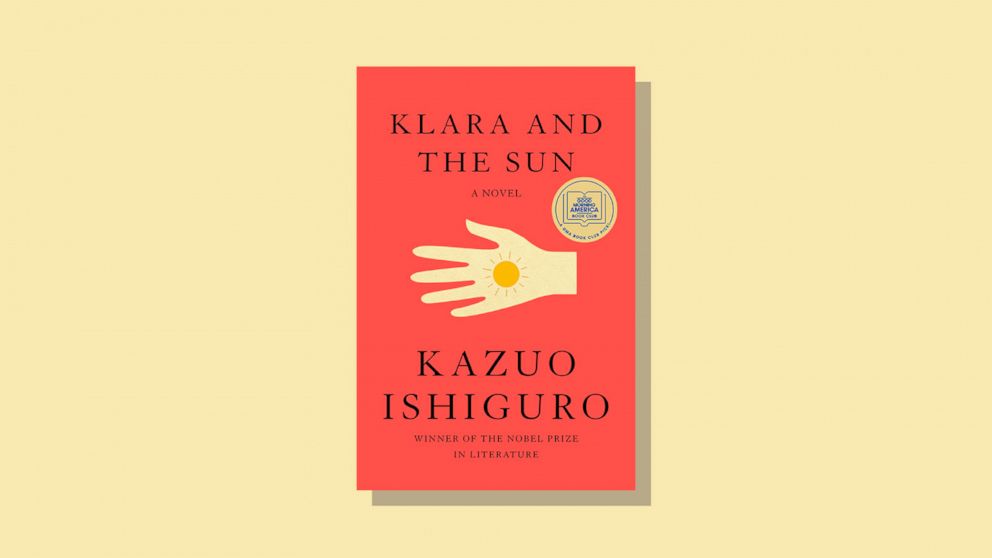 Booker Prize-winning author of "The Remains of the Day" and Nobel laureate Kazuo Ishiguro writes his first novel since winning the Nobel Prize for Literature. Told from the point of view of an artificial friend who monitors store customers, "Klara and the Sun" explores the meaning of love -- and reality.
"Klara and the Sun" is also "GMA's" March 2021 Book Club pick. Get started with an excerpt here and read along with us and join the conversation all month long on our Instagram account -- GMA Book Club and #GMABookClub.
'We Begin at the End' by Chris Whitaker
A 40-something town sheriff and a 13-year-old girl form an unlikely, essential friendship as their lives dovetail. A prisoner is released, the same man who the sheriff had originally turned on decades earlier, and their mutual friend, the girl's mother, descends into darkness, united by these two unlikely compatriots.
'You're Leaving When? Adventures in Downward Mobility' by Annabelle Gurwitch
Humorist, actress, Thurber Prize finalist and author Annabelle Gurwitch writes with laugh-out-loud wit about falling on hard times financially, taking in a French "roommate," divorce, navigating her house stuffed with the belongings of both her parents and grown children, and more, in this confessional-style memoir.
'Professional Troublemaker: The Fear-Fighter Manual' by Luvvie Ajayi Jones
The author of the New York Times bestseller "I'm Judging You" tackles fear and how it can hold us back from becoming our best selves in this inspirational read amplified by takeaways from Luvvie's Nigerian grandmother.
'Spilt Milk: Memoirs' by Courtney Zoffness
"Spilt Milk," a slim, tender collection of essays from award-winning author Courtney Zoffness, explores issues of childhood anxiety, the patriarchy, unwanted sexual overtures in an academic setting, Judaism and more.
'Brother, Sister, Mother, Explorer' by Jamie Figueroa
A magical realist take on loss, this beautifully written novel occurs over the course of a single weekend and tracks a brother and sister as they process the loss of their mother with, perhaps, a visit from an angel.
'Women in White Coats: How the First Women Doctors Changed the World of Medicine' by Olivia Campbell
Three bold women pioneer in the male-dominated medical field in the early 1800s to earn medical degrees and break gender boundaries in this inspiring tale of determination and resilience.
'I'm So Effing Tired: A Proven Plan to Beat Burnout, Boost Your Energy, and Reclaim Your Life' by Amy Shah, MD
The story starts with the author, exhausted and overworked, getting into a car accident that changes her life. Chock-full of important lessons for how to live a less exhausted life and how to manage stress, this book is an essential read for anyone who considers coffee essential.
'Vera' by Carol Edgarian
Set in the aftermath of the 1906 San Francisco earthquake, "Vera" follows one girl, the daughter of a prominent bordello star forced to live with in dire straits, who sets off on a new course after the ground shatters beneath her.
'Who Is Maud Dixon?' by Alexandra Andrews
What lengths will an aspiring author go to to become a famous published icon? Maud Dixon is the pseudonym for a reclusive novelist who hires a new assistant to help with her Morocco-based story. A car accident changes everything, including who really tells the story.
'What's Mine and Yours' by Naima Coster
Race relations pervade a school play in this narrative about two families struggling with their identities, particularly two mothers: one Black and overwhelmed by a recent tragedy, the other white/Latina who wants her children to pass as white.
'Float Plan' by Trish Doller
YA author Trish Doller marks her adult debut with a romance that takes place on the maritime vacation a woman takes alone that she'd planned to go on with her now-deceased husband.
'A Boob's Life: How America's Obsession Shaped Me -- and You' by Leslie Lehr
A breast cancer survivor uses America's relationship with breasts to explore what it means to live in a woman's body. Recently optioned by Salma Hayek for a television show with HBO Max, this book is a memoir of resurrection, reconstruction and revival.
March 9
'The Girls Are All So Nice Here' by Laurie Elizabeth Flynn
Already optioned for TV by AMC, "The Girls Are All So Nice Here" alternates between a 10-year-college reunion and the university events of the past as two best friends combat a menacing figure from school who won't let them forget what happened.
'The Fourth Child' by Jessica Winter
A Catholic girl becomes pregnant in high school and has two more children in close succession. She then adopts a fourth child from Eastern Europe who seems unable to attach, despite the family's love. As the mother wrestles with the complexities of her fourth child, the oldest daughter confronts her own sexuality and creativity.
'Dear Black Girl: Letters from Your Sisters on Stepping into Your Power' by Tamara Winfrey Harris
Tamara Winfrey Harris launched the Letters to Black Girls project, soliciting epistolary advice to young Black girls from Black women. A selection of letters are included in "Dear Black Girl," encouraging pro-Black, feminist, LGBTQ+ positive and body positive messages.
'How Beautiful We Were' by Imbolo Mbue
"How Beautiful We Were" is the second novel from the bestselling author of "Behold the Dreamers." Set in a fictitious village in West Africa, this important work explores the impact of an American oil company on a community and the lengths the inhabitants -- particularly one young woman -- will go to fight for their land.
March 16
'Notes from the Bathroom Line: Humor, Art, and Low-Grade Panic from 150 of the Funniest Women in Comedy' by Amy Solomon (ed.)
Entertainment takes the shape of a book in this visually arresting, smart, often hilarious package of thoughts, quotes, scripts, songs, drawings, poems and essays. Producer Amy Solomon deftly engages 150+ women in comedy, including Lake Bell, Lennon Parham and Rachel Bloom, to produce first-rate, original content in this highly gift-able book.
'Are We There Yet?' by Kathleen West
A middle-aged Minnesota mother's life is rocked when she finds out her second-grade daughter is struggling and her son has been bullying others while posting on fake Instagram accounts. Meanwhile, her own mother reveals a family secret that has this mom questioning everything about her life.
March 23
'Fierce Poise: Helen Frankenthaler and 1950s New York' by Alexander Nemerov
Told in narrative form, "Fierce Poise" brings readers into the art scene of the 1950s with Clement Greenberg, Jackson Pollock and other notables starring in the story based on Helen Frankenthaler's journey to becoming a legendary artist.
'Eternal' by Lisa Scottoline
This expansive WWII-era historical novel follows three childhood best friends as love, loyalty and sacrifice mix and their beloved Rome falls to the Nazis.
March 30
'Apology to the Young Addict' by James Brown
This unforgettable memoir by a middle-aged father who recovered from addiction is an inspiring wake-up call to anyone suffering. It includes his own observations as his friends and neighbors succumb to the opioid epidemic.
'When I Ran Away' by Ilona Bannister
A Staten Island woman runs away from the wreckage of 9/11 and connects with a British man she knows from a local coffee shop as she realizes her brother hasn't survived. Ten years later, the two reconnect, fall in love and have children -- yet can they escape the loss that bound them?
'Of Women and Salt' by Gabriela Garcia
A sweeping debut novel, "Of Women and Salt" masterfully weaves together themes and homelands from addiction, ICE detention centers, Cuba, Mexico, motherhood, secrets and trauma, as one woman traces her identity and helps a neighbor's child.
'The Finał Revival of Opal & Nev' by Dawnie Walton
A fictional Afro-punk rock star clashes with Confederate flag-branding musicians under the same music label. Told in a unique way as an oral history/interview, this book examines the consequences, particularly for a Black woman, of speaking out -- and how one moment can change the notes of history.
'Laundry Love: Finding Joy in a Common Chore' by Patric Richardson
This book will change your life. Textile and laundry guru Patric Richardson, who leads Laundry Camp at the Mall of America, debunks all laundry myths -- and even dismisses the need for dry cleaning. Simple changes like running express loads on warm and replacing dryer sheets with an aluminum foil ball will change the way you do this task and turn doing laundry from a dreaded chore into a hobby. A love letter to the ladies who doted on him, "Laundry Love" is part memoir and part guidebook. Patric will surely become a household name and the Ina Garten of laundry.