Amanda Kloots shared her gratitude for her late husband, Broadway star Nick Cordero, his friends and family, and the virtual event that memorialized his life on Sunday.
"I'm very grateful for Nick's memorial tonight. I'm grateful that so many people from Nick's life were a part of it. I'm grateful that people learned things about Nick they didn't know, got a glimpse into his childhood, early adult years and then these last special years," she wrote in a post on Instagram after the nearly two-hour virtual celebration for her husband, who died in July after a monthslong battle with COVID-19 complications.
Cordero, 41, had been on a ventilator in a Los Angeles hospital since early April and in that time sustained several lung infections and required a leg amputation.
With theaters still closed in New York City due to the pandemic, Broadway on Demand hosted the memorial filled with performances from former castmates, different interpretations of his original music and memories from family and friends.
Kloots kicked off the event in a pre-recorded video message saying, "Nick would want this memorial to be a celebration, something that makes people smile, that makes people sing, that makes people remember his life in a beautiful way."
She also welcomed donations for the Save the Music Foundation in honor of the Tony-nominated star of "Bullets Over Broadway," "The Toxic Avenger" and "Waitress."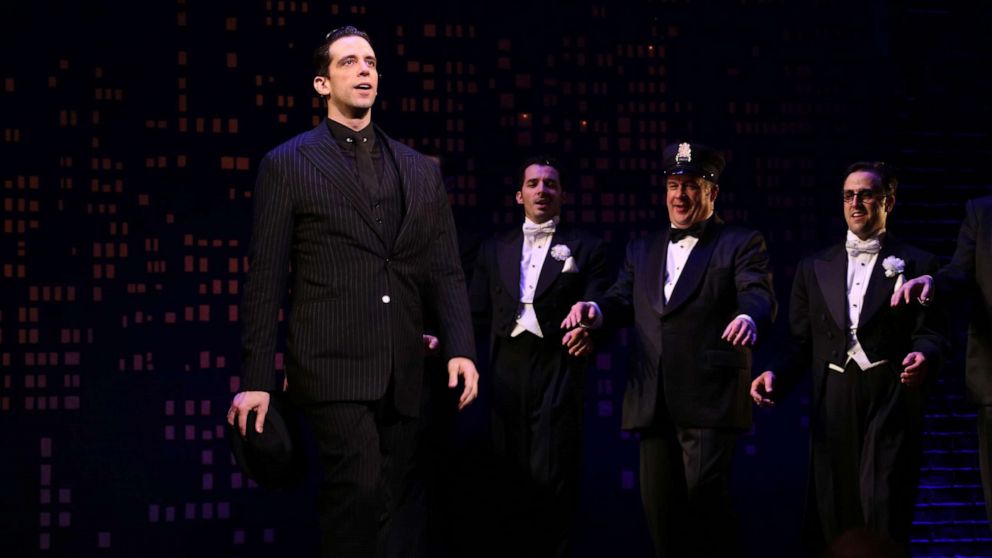 "I'm grateful that Elvis will have this video to watch one day to learn about his father, about how many people loved him and the lives he touched," Kloots wrote alongside the photo of her and her family in their living room, watching the memorial.
"You have to look for silver linings. There have been many through this whole time in my life. Tonight, there were many. Because of COVID we couldn't have a huge celebration somewhere, but now we a video for a lifetime," she continued. "Tonight so many people could watch and learn about Nick's life that may not have been able to travel to wherever we would have held a ceremony. Tonight I was in the comfort of my own home, surrounded by dear friends and Elvis able to ugly cry and breathe when I needed. Hooray for silver linings!"
"Thank you to everyone who came together to make this happen. I think it was absolutely beautiful," she concluded.
The fitness trainer also shared other moments from the evening on her Instagram stories, including a picture of her and 1-year-old son Elvis looking at Cordero's face on the TV.
His friends in show business assembled on screen throughout the evening in remembrance of Cordero, including actress Jennifer Waiser, producer Robert De Niro and singer Linda Perry.
The event concluded with a video of Cordero singing his original hit song "Live Your Life" at Feinstein's/54 Below in New York City.