Angela Bassett recalls starring as Tina Turner in 'What's Love Got To Do With It'
James Devaney/Getty Images
Although Angela Bassett stars in "Mission Impossible -- Fallout," out this weekend, fans are still buzzing about her other blockbuster hit, "Black Panther." The actress, who played Queen Ramonda in the super hero flick, said she knows exactly where we might find her character in the forthcoming sequel.
"Black Panther" centers on Chadwick Boseman's Prince T'Challa, who becomes reigning king of the fictional African country of Wakanda. T'Challa is helped by his strong support system, including his super intelligent little sister, Princess Shuri, and his mother, Queen Ramonda, played by Bassett.
"I think she's still there in the throne room," Bassett told ABC News. "Or she's safely ensconced in the Wakandan Palace, because we didn't see her 'poof' into ashes -- her or Shuri. So mama and baby girl are going to have to right this world back together, because it was pretty much decimated...in the last 'Avengers.'"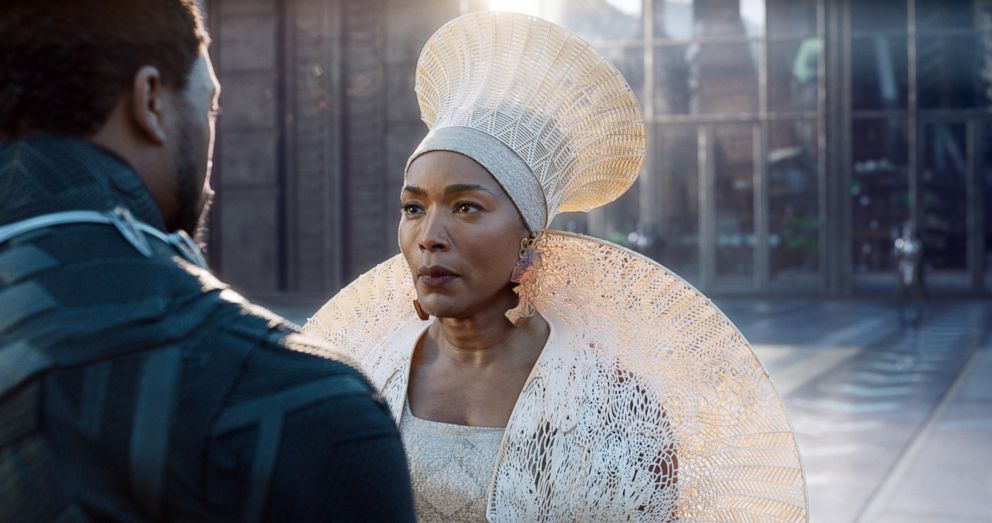 As Bassett, 59, noted, at the end of "Avengers: Infinity World," Thanos caused half the universe's population to turn to ash. She said she's still heartbroken about that.
"They took my son!" she exclaimed, referring to the fact that T'Challa, also known as Black Panther, was one of those who were "ashed."
"My son is gone. But you know, [Wakanda] is 100 years beyond whatever the rest of the world is doing technologically," she explained. "So, I think we have the means...the technology, the strength [to rebuild]."
Bassett also hopes Ramonda will have a more active role in the sequel.
"I would kid when we were working, saying, 'When we come back for ["Black Panther 2"], she's going to really get into the game,'" she said with a laugh. "You're gonna see some of her skills and [Black Panther will] say, 'That's my mama.' She's going to throw down."
Bassett even suggested how the writers might explain where she learned her fighting skills.
"I'm going to say, 'I used to be a Dora [Milaje]," she said, referring to the all-female army in Wakanda. "And I still have some of those moves. Don't underestimate mom!"
ABC News and Marvel are both owned by parent company Disney.