'Bachelorette' and her new fiancé talk engagement live on 'GMA'
Michelle Young and Nayte Olukoya are engaged.
"The Bachelorette" season 18 came to an end Tuesday, with Young choosing Olukoya, who received her first impression rose in the premiere, over Brandon Jones in an emotional finale.
The couple appeared on "Good Morning America" Wednesday to discuss how they're feeling after the show, with Young saying they're "still on kind of an emotional high."
"I never thought I'd be in a situation where I would be in love with two different people, but this position that you put yourself in, that's something that's likely to happen," the 28-year-old teacher told "GMA." "But with Nayte, he just was the person that I could not imagine living without and the way we connected on so many different levels, it's where my heart was guiding me and I definitely made the right choice."
Nayte, who said he'd never been in love before meeting Young, said he felt "very lucky that ... the first person that I fell in love with is going to be the person that I spend the rest of my life with."
Young said Nayte has grown closer with her mother -- after getting off to a less-than-stellar start -- and the two text "more frequently" than she texts with her mom. Fans also saw on the "After the Final Rose" special that Young's mom said the family had spent more time with Olukoya and grown closer with him, and she herself had become fast friends with his mom.
Michelle Young and Nayte Olukoya talk engagement on "GMA":
After Young broke up with Brandon in the finale, Olukoya showed up and confessed his feelings for her in one of the most vulnerable moments viewers have seen from him.
"The very first night I met you, I knew right then and there that we had a connection that I wanted to hold onto. The second night that we were together, we talked about running away together," Olukoya said. "And I'm standing in front of you right now, and the feelings are the same. I want to run away with you. I want to run away to forever with the woman that I've come to love."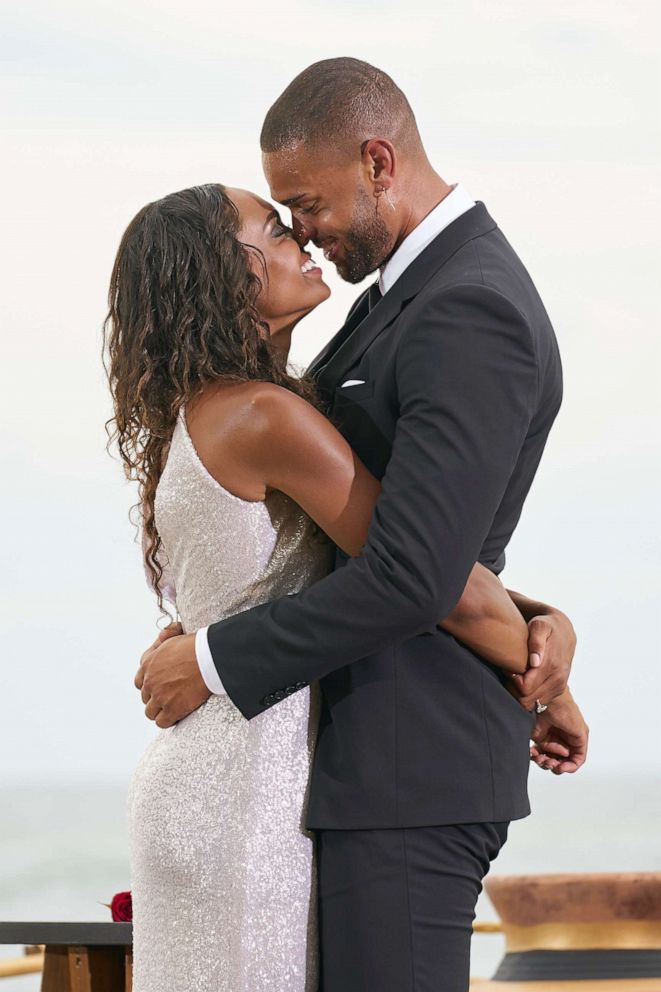 Young said she had felt a connection with Olukoya from the first time he stepped out of the limo and addressed the ups and downs they'd experienced along the way.
"I have never felt a love like this before, and I love you with my entire heart and don't ever want to think about waking up next to anyone besides you and doing life with anyone besides you," she continued. "And, at the end, I wanted to be standing in front of my soulmate, and he is definitely standing right in front of me."
Olukoya then got down on one knee and proposed to Young and the two celebrated their engagement while Young gave Olukoya the final rose of the season.
On the "After the Final Rose" special, host Kaitlyn Bristowe surprised Young and Olukoya with a $200,000 check from Bachelor Nation for a down payment on their first home together in Minnesota.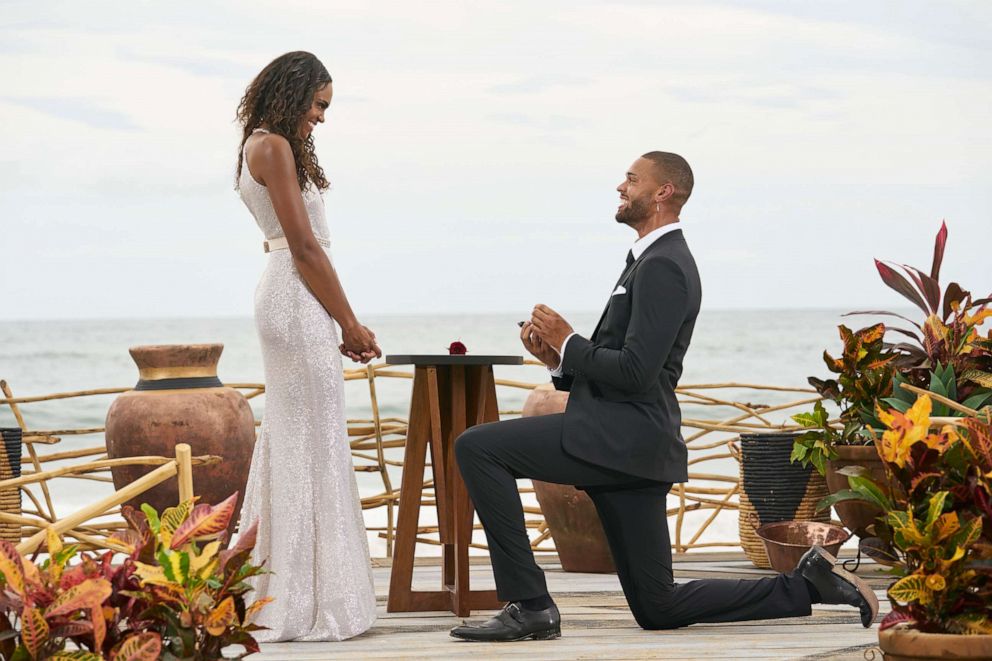 The finale began with Young's final two guys meeting her parents and sister, and the two experiences couldn't have gone more differently. While the family said they would accept Brandon -- whom they had previously met -- into the fold, they expressed concern over Olukoya and his readiness to get engaged and settle down.
Next came Young's final dates with her final two. After first going jet skiing with Brandon, the pair shared a romantic evening together during which she expressed that she isn't falling in love with him and, instead, is already in love with him.
Michelle's final date with Olukoya got off to a rocky start, but the pair got back on track when Olukoya finally opened up about his feelings. They were able to connect on a deeper level that evening and Young said her fears were resolved.
After her date with Olukoya ended, Young arrived back to her room with a letter from Brandon at her door. He expressed his love for her in the note, only complicating Young's inner struggle as she declared "I am in love with them both."
Young began her final day "confused" as she prepared to make what she called "the hardest decision I've had to make in my life" as the guys picked out the engagement rings they wanted to propose to her with.
While Young said she values each unique relationship with her final two guys, she said she had realized "there is one person who I would be devastated to live my life without" as she headed to make her big decision.
"As much as today can be my happy ending, it's also somebody else's heartbreak. The weight of having to let someone go who I'm in love with, it's very painful. When you love somebody, the last thing you want to do is cause them pain," she said. "And I know that person is one of the most wonderful people I've met."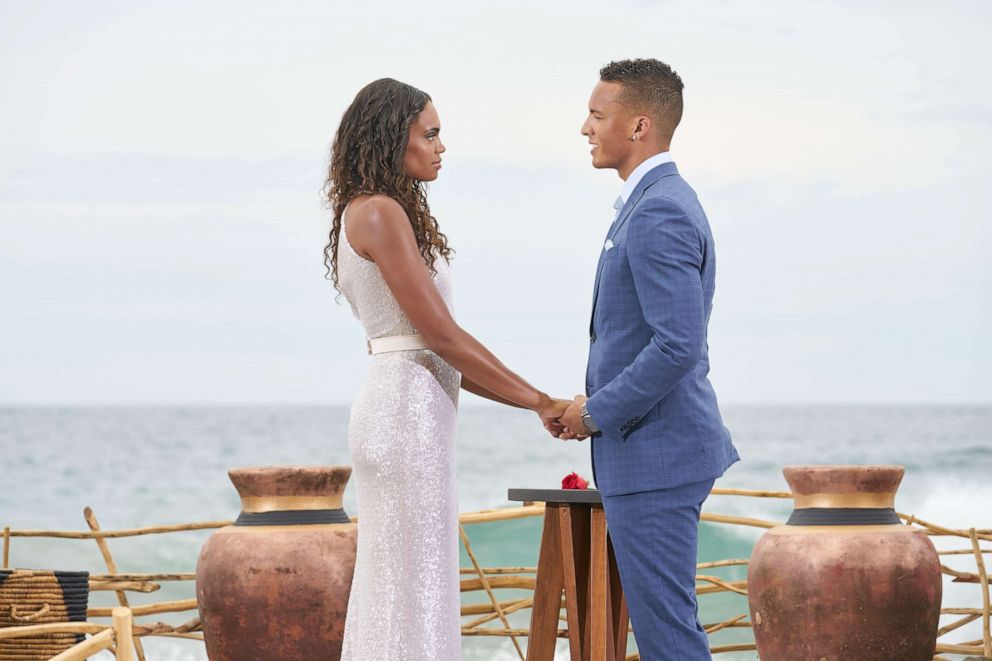 Brandon poured his heart out for Young and told her he had found his "missing piece that I've been searching for my entire life," but she told him her heart was "pushing me in a different direction."
"I have to go with what I feel. And it hurts so much to say, because you are this unbelievable person," she said. "I need you to know how much I care about you and that just doesn't get turned off, and I need you to know that."
Brandon tearfully said goodbye, telling Young, "I truly wish you nothing but happiness. I truly mean that -- even if it's not with me. You've been worth it every second. Giving you my heart was worth it. It's something that I'll never regret. I will always be here for you."
"Saying goodbye to Brandon was one of the hardest things have done, period," Young said. "And breaking his heart broke my heart. As much as Brandon said I deserve to be happy, Brandon also deserves to be happy, it hurts that I couldn't be that person for him because my heart is just in a different spot."
Clayton Echard's season of "The Bachelor" premieres Jan. 3 on ABC.