The cast of "Bullet Train," including star Brad Pitt, appeared on "Good Morning America" Thursday to discuss their new film, which hits theaters on Friday.
Pitt was joined by Brian Tyree Henry, Aaron Taylor Johnson, Benito Antonio Martínez Ocasio (a.k.a. Bad Bunny), Joey King and Hiroyuki Sanada to chat about the David Leitch-directed movie, which is based on the Japanese novel "Maria Beetle" by Kōtarō Isaka.
Pitt plays Ladybug, an American assassin who is experienced but has the worst luck, in "Bullet Train" -- and he's having a blast doing it.
"I really enjoy what I do. I just enjoy it more than I ever have," the 58-year-old Oscar winner, who's been in Hollywood for 35 years now, told ABC News' Chris Connelly. "I'm just content with my choices. I walk on set, you know, and I actually had moments where I just, like, [said] 'I am so fortunate to be here.'"
Andrew Koji, Michael Shannon and Sandra Bullock also star in the movie, alongside several others.
In the film, Ladybug attempts to complete his latest mission aboard a high-speed Japanese train -- with other hit persons each out for vengeance.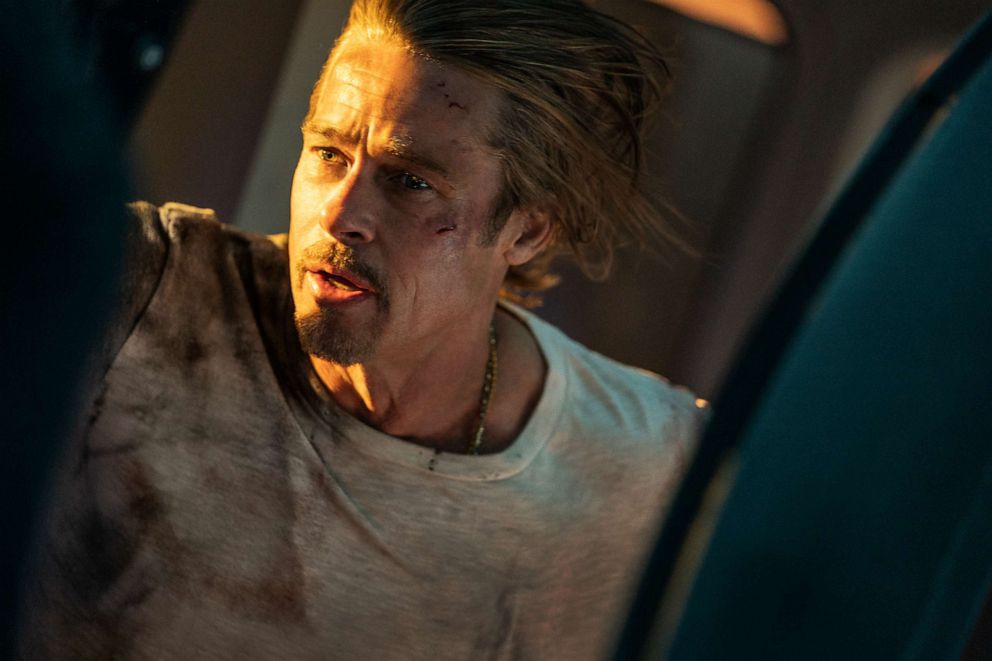 "He's definitely the chump of the story, which is really good fun to play," Pitt teased of his character. "He's had a bit of therapy, he's read his self-help book and he's gonna, like, do things different with these sociopaths."
Taylor-Johnson, who plays a British assassin named "Tangerine," said Pitt's Ladybug "adds to the comedy element" of the film, while Henry, who plays a British assassin named "Lemon," joked about how Pitt also brought the action.
"Brad goes all the way. He wants to really let you feel that he is trying to kill you," Henry said, laughing. "What I know now is several ways to kill someone with a tray table and an arm rest, which is great."
Also previewing their characters for fans are King, whose British assassin, "The Prince," poses as a schoolgirl, and Sanada, who plays an aging Japanese assassin known as "The Elder."
King said her on-screen persona "doesn't have to get, you know, down and dirty and use her fists because her brain is her weapon," while Sanada "loved" playing his role because he's the oldest member of the cast.
Perhaps the film's breakout star, however, is Puerto Rican music sensation Bad Bunny, making his acting debut.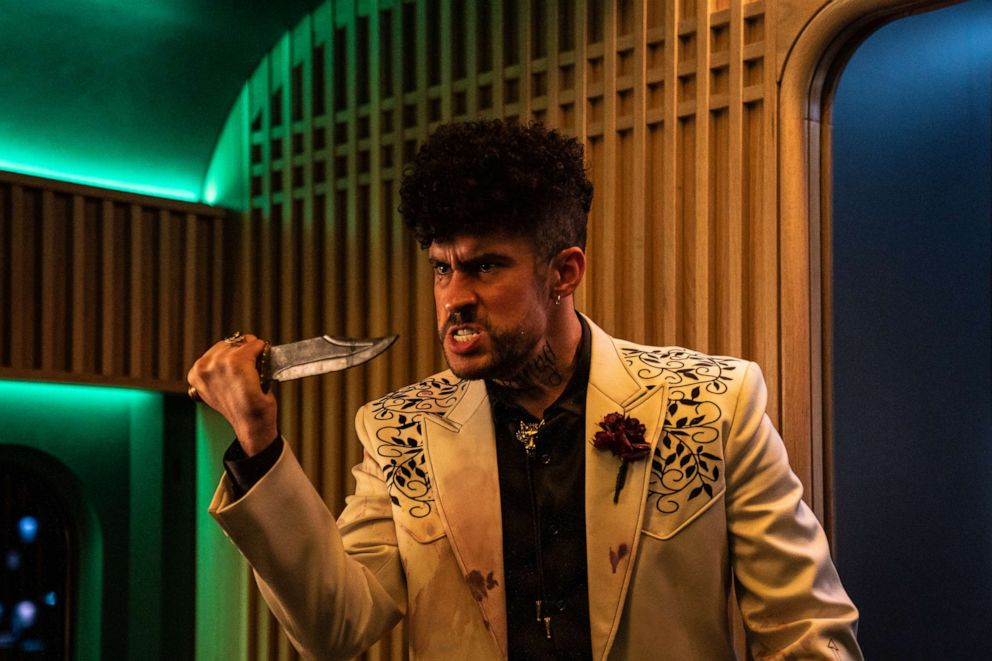 "I heard the name: Brad Pitt, and my mom said, 'You have to say yes. Please. You have to say yes.' So, yes, I'm here in 'Bullet Train,'" the Grammy winner said of how he got involved in the movie.
Pitt said Bad Bunny "just jumped right in like a pro." Still, the rapper and singer opened up about the pressure he faces as a rising star.
"When you are bigger and bigger, people [begin] expecting bigger things, you know?" he said. "So, I just try to not feel that pressure, but it's impossible 'cause my name is, like, in everywhere."
Pitt can relate to that. He told "GMA" that what Bad Bunny is experiencing is similar to the attention he faced in the '90s.
"Then I learned that you just keep making [movies], you don't pay attention to any of it, and it doesn't change the outcome and you enjoy your life much more," Pitt said, to which Bad Bunny replied that he's "learning."
As for the advice Pitt offered Bad Bunny for weathering the storm of attention coming his way, he added, "One, it's being surrounded by people you love and respect. Then it's just following what interests you."
"Bullet Train" arrives in theaters Friday, Aug. 5.