"Oops! My bad." Can you believe it's been more than 22 years since "Clueless" made its debut on movie screens and into pop culture?
Director and writer Amy Heckerling said she came up with the idea for the movie, which was first supposed to be a TV show, at a time in her life when she was feeling sad. Her main character Cher Horowitz was meant to be "the most optimistic person in the world."
"She sees the world through pink-colored glasses," Heckerling said in an interview with ABC News for the special "Lights, Camera, Summer," airing Wednesday at 10 p.m. ET. "She wants to make everybody as happy and look as good as she does, and she wants to make her father as healthy as he'll let her make him, and she wants everybody to be in love."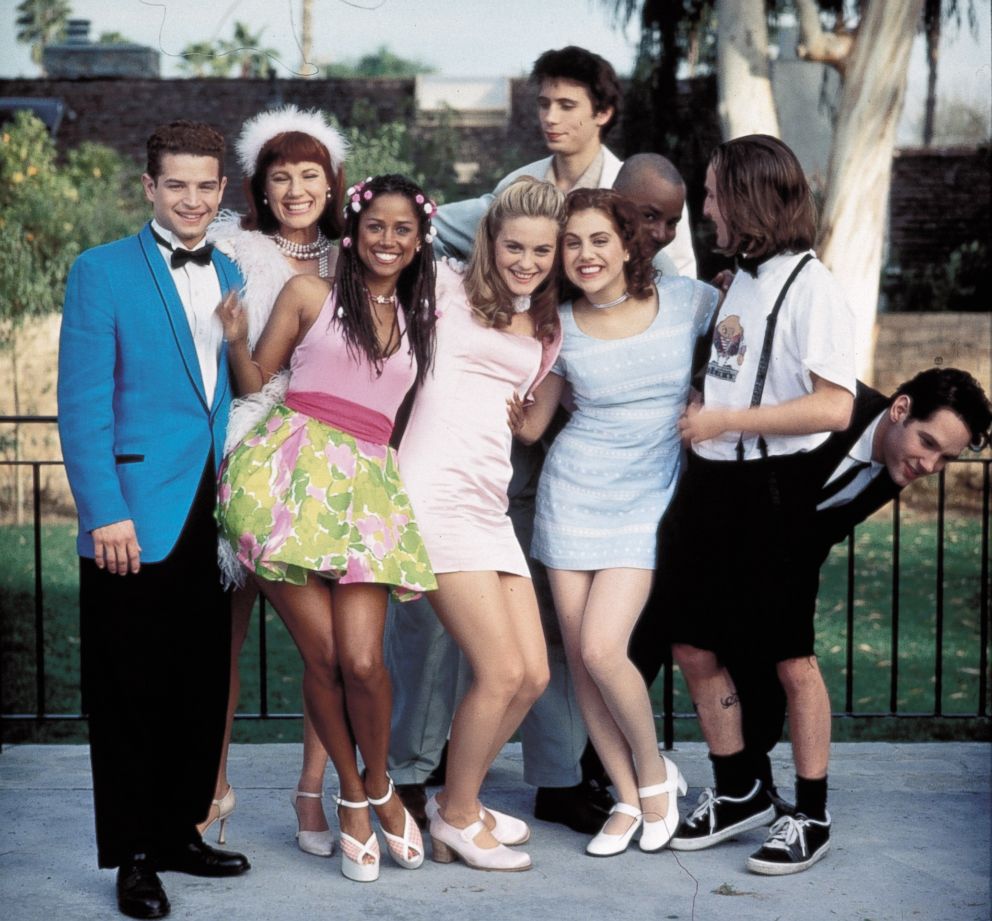 For Heckerling, there was no one more perfect than Alicia Silverstone for the role of Cher.
"I didn't think I could do it because I didn't know I was funny. And so, I was a very serious actress," Silverstone joked in an interview with ABC News. "I remember thinking that Cher was very materialistic and I didn't really like her that much. And, because I never liked materialistic girls."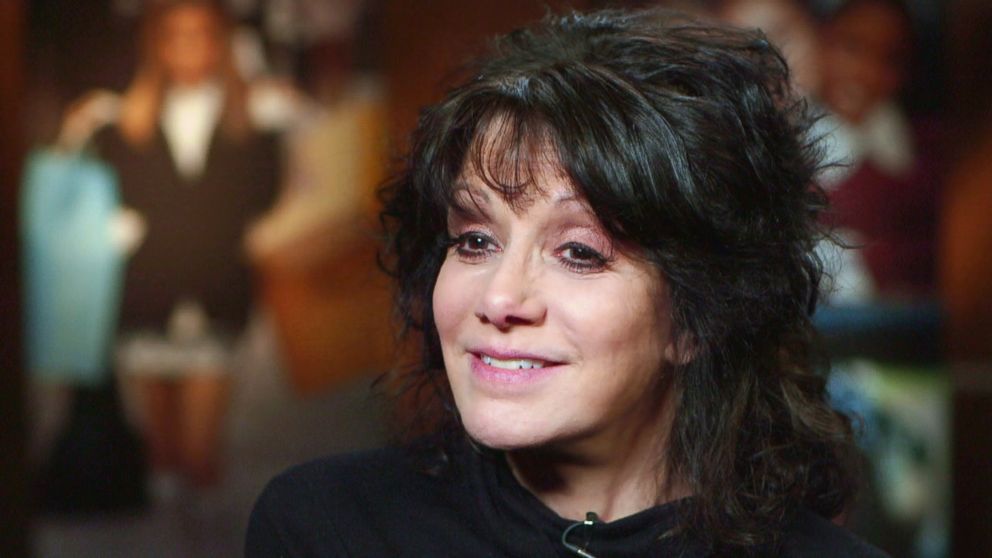 Silverstone, who currently stars in the Paramount Network show "American Woman," eventually accepted the part of Cher and donned some of the movie's most iconic looks, including Cher's yellow-plaid suit.
Mona May was the film's head costume designer.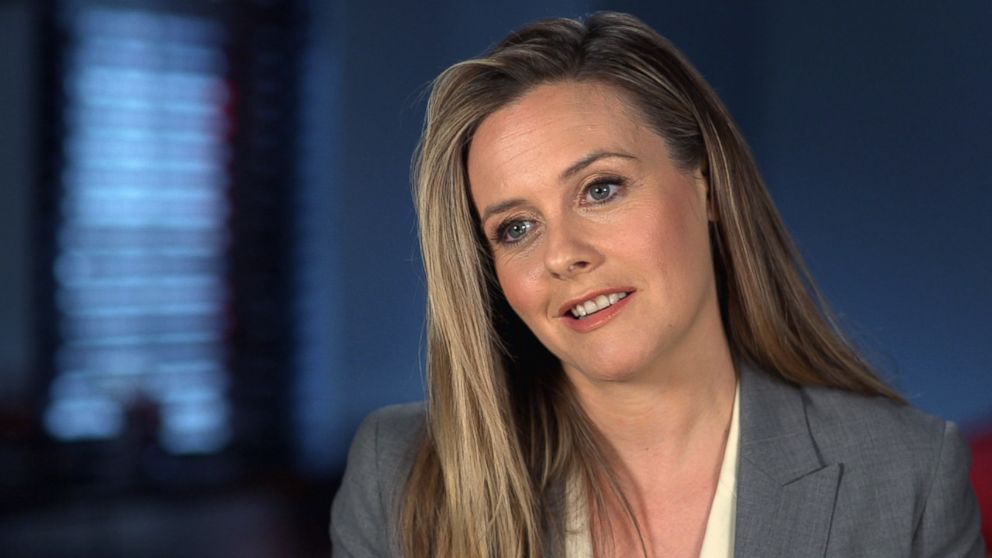 "When Amy gave me the script, it just blew my mind. How fascinating these characters were and it was all about setting trends and making something new," May told ABC News.
"The clothes were, they were their own star. They were the main character of the movie and [May] did such a beautiful job," Silverstone said.
And, as for what line fans on the street quote to them the most often?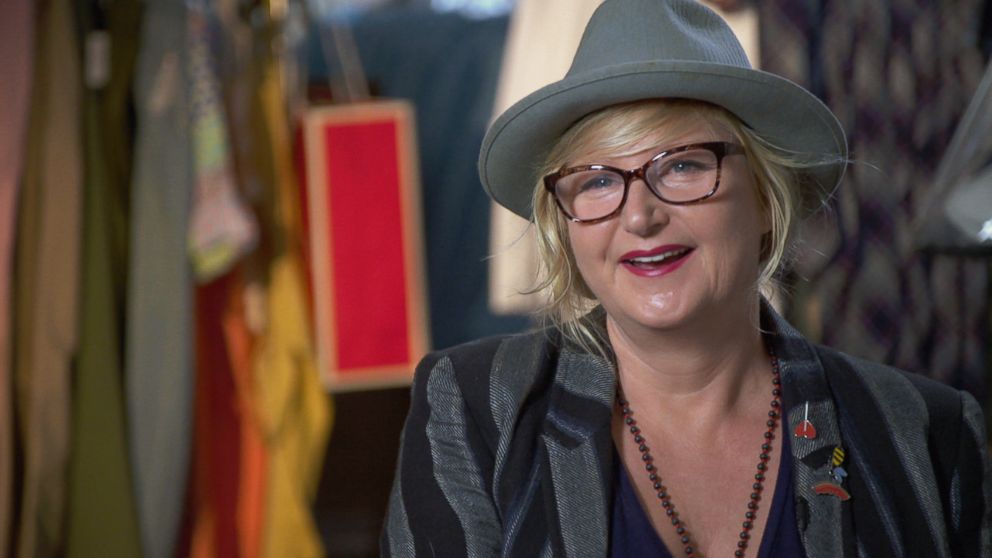 "As if," Silverstone revealed.
"Whatevers and as ifs," Heckerling said.
ABC News spoke to Silverstone, Heckerling and May about the making of the film and its iconic fashion looks. Watch "Lights, Camera, Summer" on Wednesday, May 23 at 10 p.m. ET on ABC.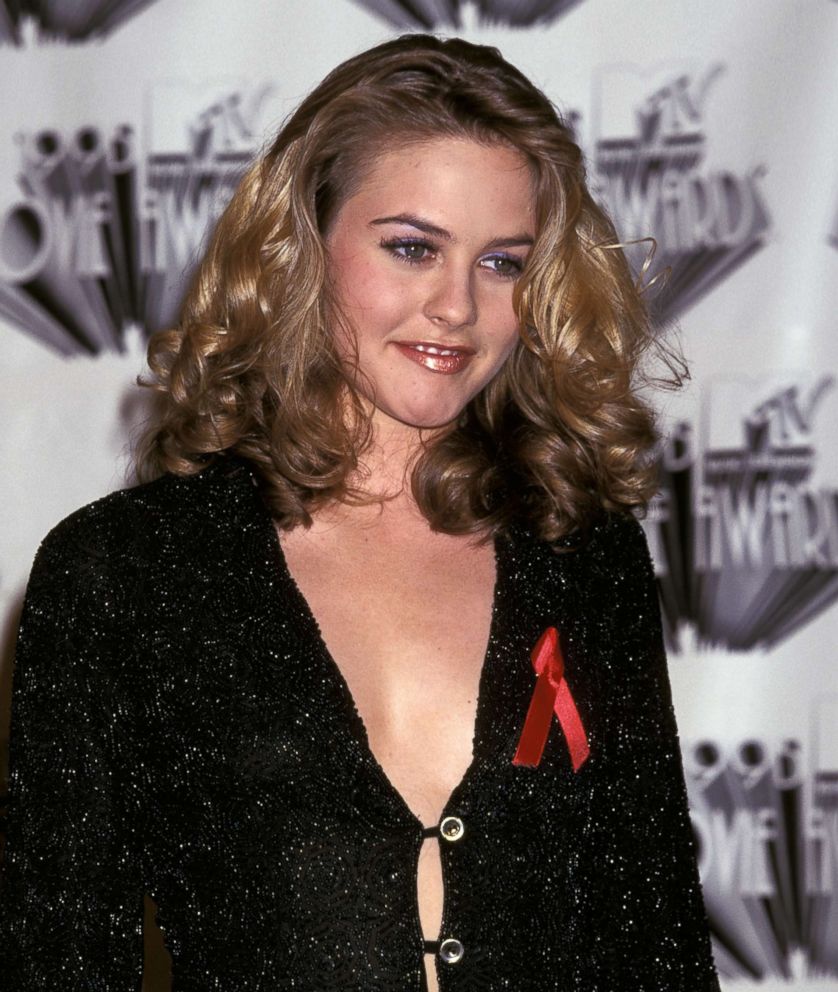 On casting the film
Heckerling first saw Silverstone while on a treadmill at the gym and knew she wanted her for the role of Cher. She said she was watching MTV when the band Aerosmith's music video for "Crying" came on the screen. Silverstone appeared in the video as a young woman dealing with a cheating boyfriend and other unfortunate events.
"I just really loved the girl in it. She was so endearing," Heckerling said. "I told my friend, who is a casting director, 'cause she knew I was writing this thing about a young girl. 'Oh my God, I love this girl from the Aerosmith video.'"
Her friend told her to forget the Aerosmith video and to instead see the actress starring in the movie "The Crush."
"I was like, 'I don't care about a girl in "The Crush." I want the Aerosmith girl,'" Heckerling said. "It turns out it's the same girl."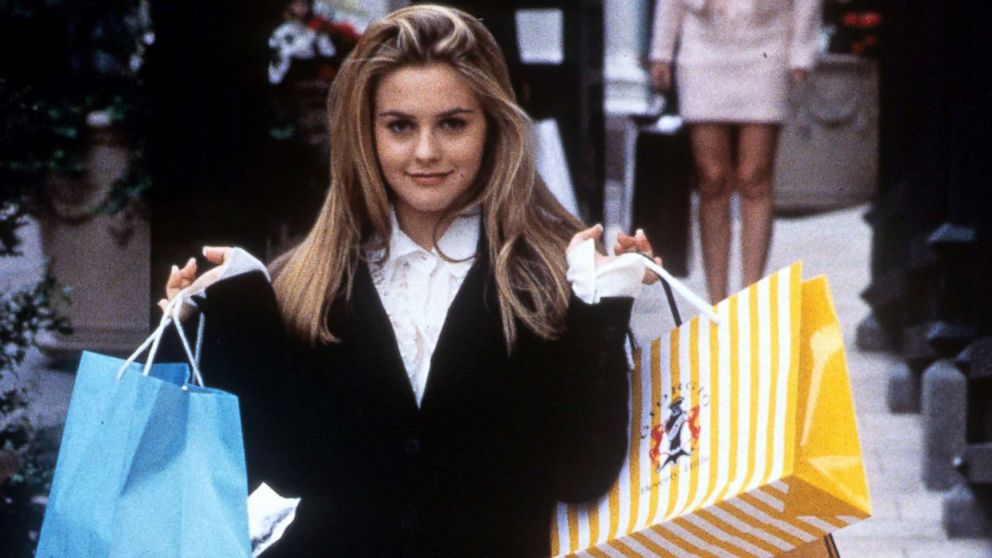 Heckerling and Silverstone met for the first time at a restaurant near the film studio in Beverly Hills, California.
"There was a glass of water on the table and a straw in it. And, rather than picking the glass up and drinking from the straw, I would just pop my head down and come back up, and pop my head down and come back up," Silverstone said. "She just thought that was so adorable, or weird, some combination of both. ... I think she was looking for that heart, that innocence."
"I already knew I loved her," Heckerling said. "Here she is, the Aerosmith girl. Everybody said, you know, 'She's the hot new chick,' but she's also, like, a little kid, and it's so sweet."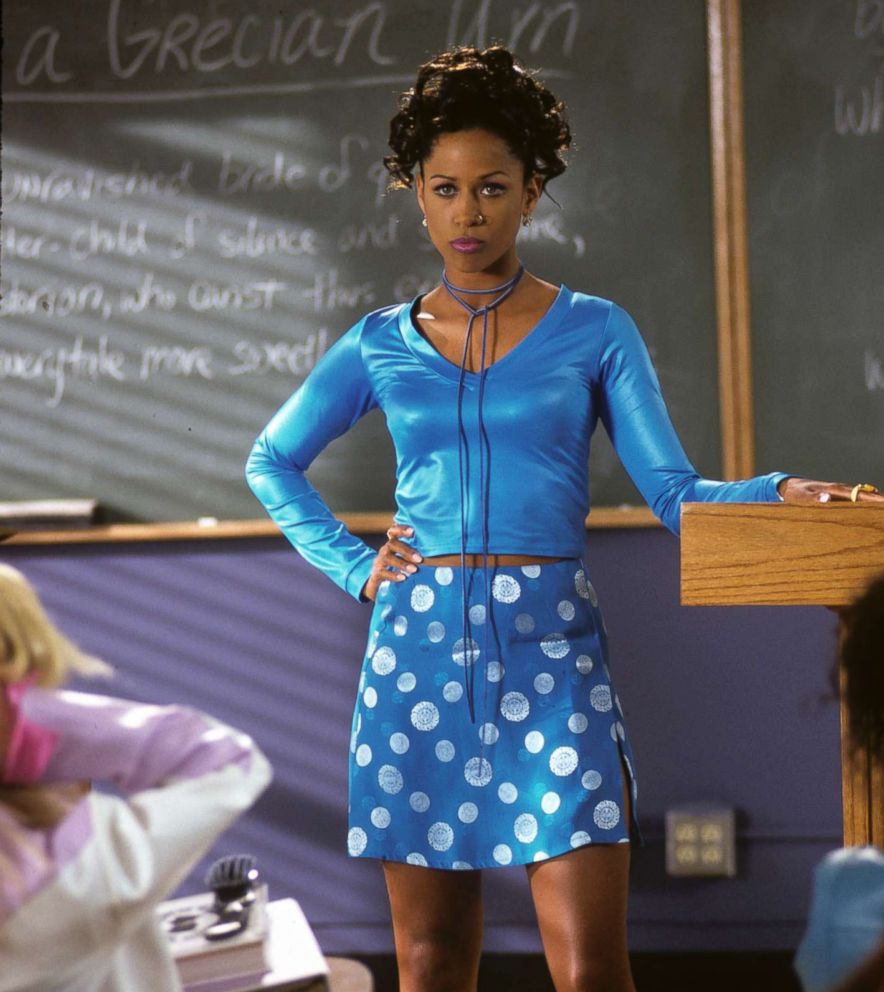 Another actress Heckerling couldn't get enough of was Stacey Dash, who played Cher's best friend Dionne.
"I went crazy for her because I wanted somebody that would feel like royalty, that it wasn't that she was stuck up. She just was, to the manner, born and had [a] certain way of behaving," Heckerling said. "I mean, she's a lovely down to earth person, but she can pull that off."
To Heckerling and Silverstone, Brittany Murphy was perfect for the role of Tai, the transfer student whom Cher takes under her wing.
"She's the main person I remember from the auditions because her audition was so amazing," Silverstone said.
"I don't think I had a voice in that room, but I was like, 'We're going with her, right? We're going with her,'" she added, laughing. "She was so good. ... She's the one I remember."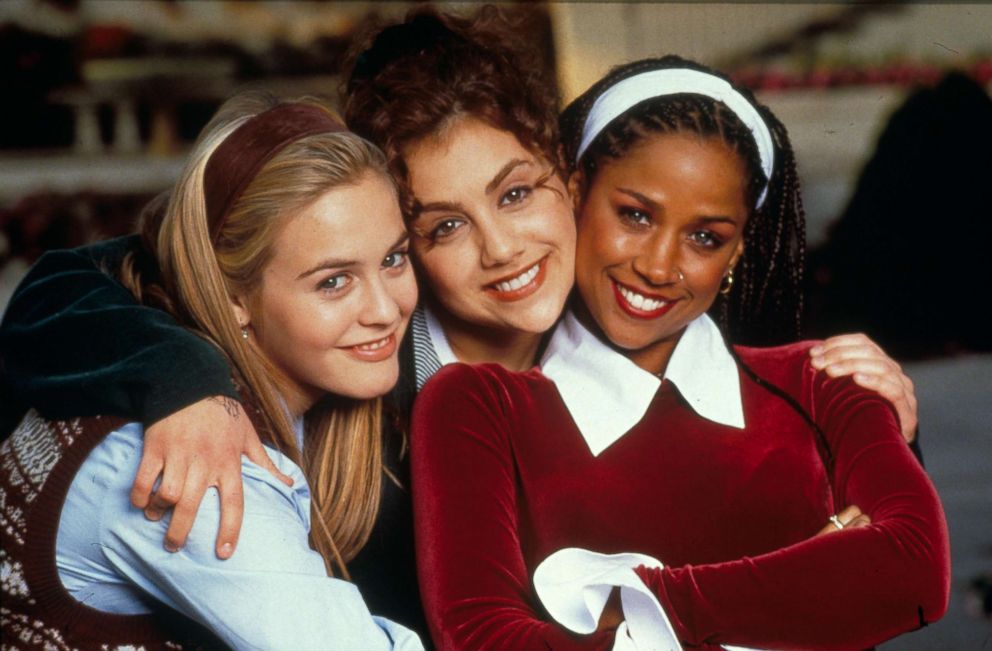 Murphy died on Dec. 20, 2009, at the age of 32.
"She just was, like, sweet. Like, she had that, like, babe-in-the-woods quality amongst them," Heckerling said of the actress.
On their favorite scenes
Silverstone said her favorite scene involved a fight with Murphy's character, Tai.
"I loved my scene with Brittany where she says, 'You're a virgin who can't drive.' I just thought that was the best," Silverstone said.
"I like the 'Oops, my bad.' That's cute, too, while you ram into another car," she said.
Heckerling couldn't name a favorite scene but she told the story of a memorable encounter with two extras from the Valley party scene.
She needed two extras to kiss each other in the swimming pool during the scene and chose two people who'd volunteered.
"So they were making out, and then years later, I'm walking around Melrose. And they go, 'Amy! Amy!'" Heckerling said. "They're engaged. She has his grandmother's ring. They've been together since then."
On the fashion
Heckerling collaborated with May, a celebrated costume designer, to create the iconic fashion looks seen in the film.
"Working with Mona is, like, playing with your best friend on cutout dolls," Heckerling said.
While shooting the movie, Silverstone said, she was tired of the multiple costume changes she had to make. There were 63 altogether.
"I think Dionne (Dash) had probably close to it because they were always changing together and going to school and going shopping after school and you know doing fun stuff," May said.
"I remember being so exhausted with the costume fittings because I just, I wore, I didn't have any fashion sense at all at that age, and it only took, I mean, it took recently that I became interested in clothes," Silverstone said. "At the time, jeans and a green T-shirt, I was good all week long. So, when I had to try 63 things on, I was just like, 'This is painful.'"
"It was kind of, part of really learning of the characters, all the fittings for her, you know, the language. How do you walk in a tight skirt and, you know, the little Mary Janes and from all of that I think we were able to create this beautiful girl," May said.
She said they looked to Europe's runway fashion shows as well as the streets of London and Paris for inspiration.
"From there, you know, the trend of schoolgirls and plaids and petticoats and pea coats and berets, all of that, was kind of very classic. And, we wanted to incorporate that into her wardrobe. And, from there, the yellow-plaid suit was really [the] most amazing costume," May said.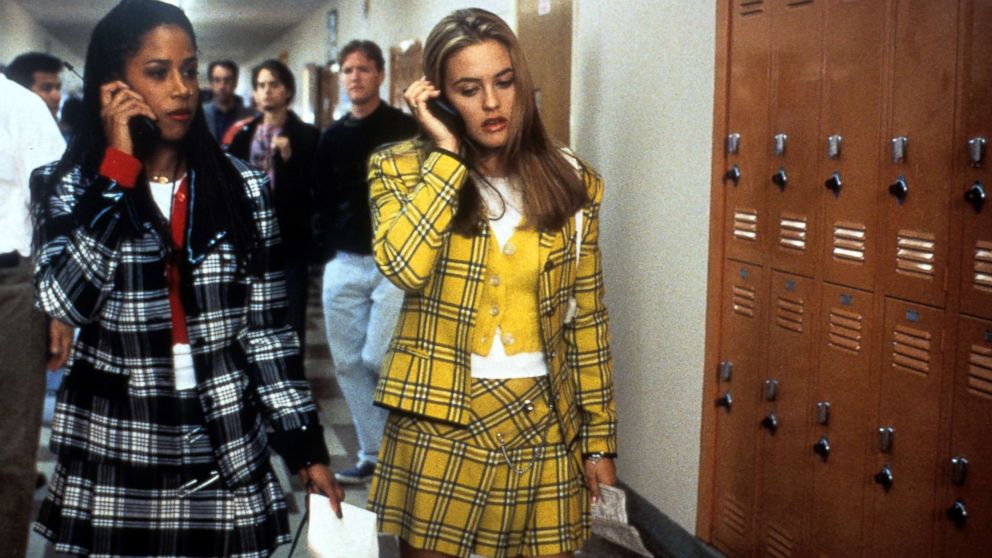 The yellow-plaid coat that Cher wears at school in the quad was chosen to help her stand out in the scene, May said.
"There's a lot of green happening around her and a lot of other people. So, she had to stand out and she really had to like pop so that was kind of the reasoning behind the yellow," May said. "And, of course, Dionne had a matching black-and-white plaid with the big hat. So they just were great together."
Silverstone said that one of her favorite outfits was the tank top worn over a T-shirt for the gym class scene.
"There's so many outfits that, for the moment, just walking in, are just so ridiculous and lovely and beautiful. She did such a good job," Silverstone said.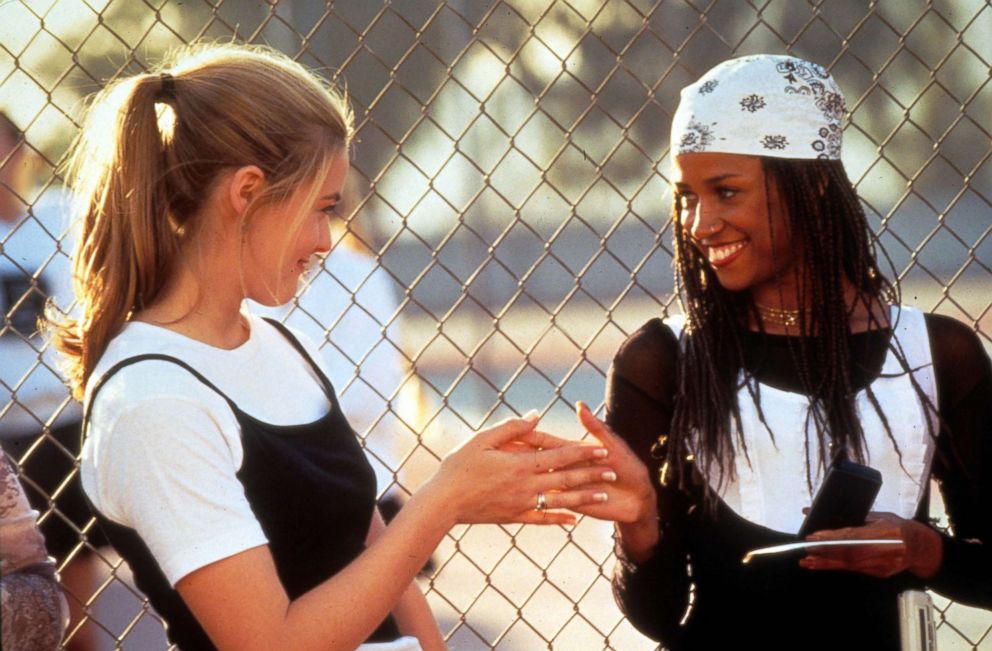 Grunge, known for its association with grunge music, plaid, ripped denim and loose clothing, was also a popular style in the 1990s that was incorporated into the movie.
"At the time, the fashion on the streets was terrible," May said. "At the time, everybody was wearing grunge. The girls didn't look feminine at all. They had, you know, baggy pants, plaid shirts. All the high schools that we went to in L.A. when we were, you know doing scouting, we are appalled almost [by] what was going on."
"There were so many moments that are so brilliant," Silverstone said. "You don't always watch a movie and really just fall in love with the clothes and watch for each moment to see how perfect they are, and these are really. It's just delightful, so, you know."
On where the characters would be today
According to Heckerling, Dionne would marry high school boyfriend Murray, played by Donald Faison, and become a successful businesswoman with multiple companies. High school staffers Mrs. Geist and Mr. Hall would stay married and live a long, happy life together.
As for Cher, she would be working with animals in the medical or advocacy area.
She and stepbrother-turned-boyfriend Josh, played by Paul Rudd, would stay together until Cher went to college. Josh would become an environmental lawyer.
"I didn't think, 'OK, from the time she's like, 16, she's with the same guy.' She had to branch out and experience life and boyfriends," Heckerling said. "But, there was something that made them right for each other. So, I think that they would break apart, but not completely, not in a bad way, and then come back together when they were both more ready to be really with somebody."
On whether there will be an official 'Clueless' Broadway musical
"They told me to keep my mouth shut," Heckerling said, laughing.