Jason Aldean responds to backlash over 'Try That In A Small Town' as CMT pulls it from its rotation
Jason Aldean video pulled from CMT
Christopher Polk/Penske Media via Getty Images, FILE
Jason Aldean has responded to the backlash he's received for his song "Try That In A Small Town" as CMT pulled it from its rotation on Tuesday.
The country singer defended his song -- which contains often violent news footage and provocative lyrics -- in a statement he shared on his Instagram Stories, saying the references people have made are "not only meritless, but dangerous."
"In the past 24 hours I have been accused of releasing a pro-lynching song (a song that has been out since May) and was subject to the comparison that I (direct quote) was not too pleased with the nationwide BLM protests," he wrote in his statement.
"There is not a single lyric in the song that references race or points to it -- and there isn't a single video clip that isn't real news footage -- and while I can try and respect others to have their own interpretation of a song with music, this one goes too far," Aldean continued.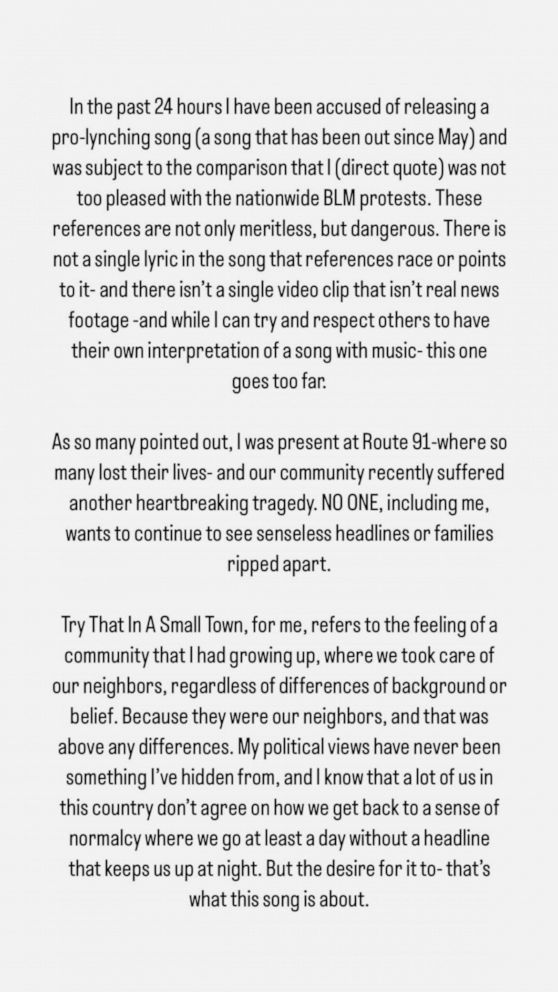 "As so many pointed out, I was present at Route 91-where so many lost their lives and our community recently suffered another heartbreaking tragedy," he wrote, referring to the 2017 mass shooting in Las Vegas. "NO ONE, including me, wants to continue to see senseless headlines or families ripped apart."
While Aldean said "Try That In A Small Town" is about the "feeling of a community I had growing up, where we took care of our neighbors, regardless of differences of background or belief," some online have pointed out why they feel the song and its accompanying music video are both problematic.
Critics have suggested the controversial lyrics of the track, which were written by Kelley Lovelace, Neil Thrasher, Tully Kennedy and Kurt Michael Allison, include pro-gun messaging and violence.
"Jason Aldean simply wants to return to a time in America when 'good old boys' could shoot or beat the s--- out of people who they didn't think belonged in their town," Shannon Watts, the founder of Moms Demand Action for Gun Sense in America, tweeted in response to Aldean.
In two verses of the song, Aldean sings: "Sucker punch somebody on a sidewalk / Carjack an old lady at a red light / Pull a gun on the owner of a liquor store / Ya think it's cool, well, act a fool if ya like / Cuss out a cop, spit in his face / Stomp on the flag and light it up / Yeah, ya think you're tough / Well, try that in a small town / See how far ya make it down the road."
"Around here, we take care of our own / You cross that line, it won't take long / For you to find out, I recommend you don't / Try that in a small town," Aldean sings in another verse from the song.
Amid the backlash, CMT told "Good Morning America" it has pulled Aldean's song from its rotation but did not comment further.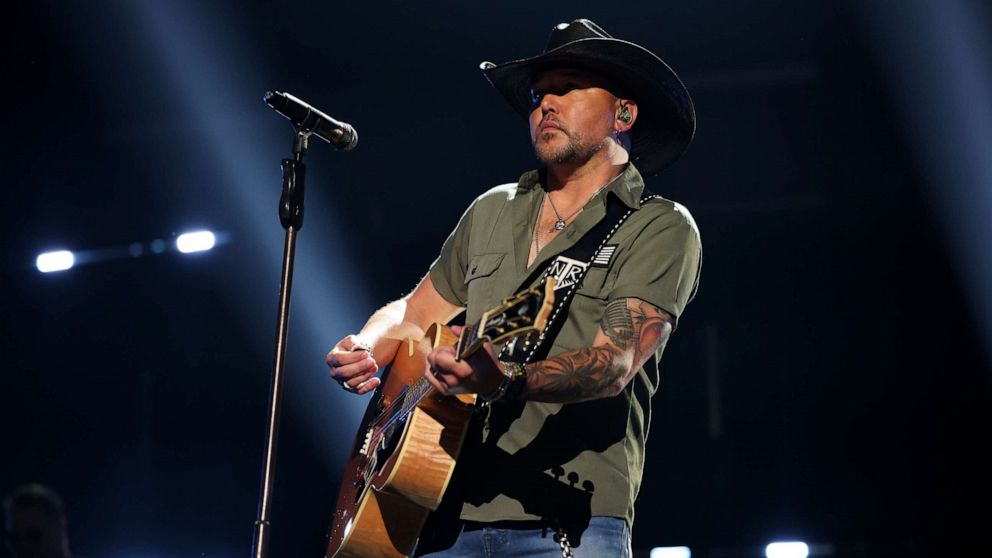 Many also called out Aldean's music video for the song, which was filmed at the town square in front of the Maury County Courthouse in Columbia, Tennessee. This is the site where the Columbia Race Riot began in 1946 after a struggle between a Black World War II veteran and a white shopkeeper.
In the music video for "Try That In A Small Town," Aldean and his band perform the song in the town square at night with the courthouse -- an American flag hanging over its door -- lit up behind them. News footage of crimes and protests involving police are projected onto the building or spliced throughout the video, with Fox News chyrons displayed on several clips.
In a behind-the-scenes clip for the music video, Aldean shares, "We're here in Columbia, Tennessee, in front of the courthouse on the square getting ready to shoot this song and really try to encapsulate what this song's about and what it means to me and what I hope to convey to you guys."
In the behind-the-scenes featurette, the singer also shares, "This is probably my favorite song that we cut for the album -- definitely wanted to make a video to go along with that song and really kind of drive the point home."
One person, who retweeted Aldean's music video, called it "the modern lynching song" and added, "not one person bothered to say along the way 'perhaps don't do that.'"
Another called out on the platform, "Jason Aldean shot this at the site where a white lynch mob strung Henry Choate up at the Maury County Courthouse in Columbia, Tenn., after dragging his body through the streets with a car in 1927."
Fellow country artist Sheryl Crow also publicly criticized the track, writing on Twitter, "@JasonAldean I'm from a small town. Even people in small towns are sick of violence. There's nothing small-town or American about promoting violence. You should know that better than anyone having survived a mass shooting. This is not American or small town-like. It's just lame."