How coronavirus hate crimes changed focus for Asian Pacific American Heritage Month this year
Actor Danny Pudi pays tribute to five Asian figures who have paved the way for him
As coronavirus-related harassment against Asian Americans continues to rise, this year's Asian Pacific American Heritage Month carries a different weight for many in the community. Even though physical celebration is more restricted this year, prominent Asian Americans across the nation are launching virtual campaigns to honor their heritage and denounce racist behavior.
For the past two months, Stop AAPI Hate, a website that's been tracking reports of coronavirus related harassment against Asian Americans, has received more than 1,700 incidents of verbal and physical assaults across the country.
Asian Americans Advancing Justice-LA is planning to hire new staff just to deal with the influx of harassment reports and potential legal cases of discrimination, according to Stewart Kwoh, the group's president and director.
"I think the Asian American population is severely challenged in this time period; they are experiencing extreme anxiety and fear," Kwoh said. The group is planning for the long-term mental, legal, economic and political consequences of the pandemic.
Virtual campaigns celebrate heritage while raising awareness
With a heightened sense of urgency, Gold House, a nonprofit coalition that seeks to support Asian Americans in business and culture, co-created the "All Americans" movement -- in addition to releasing its annual A100 list of this year's most impactful Asians across industries.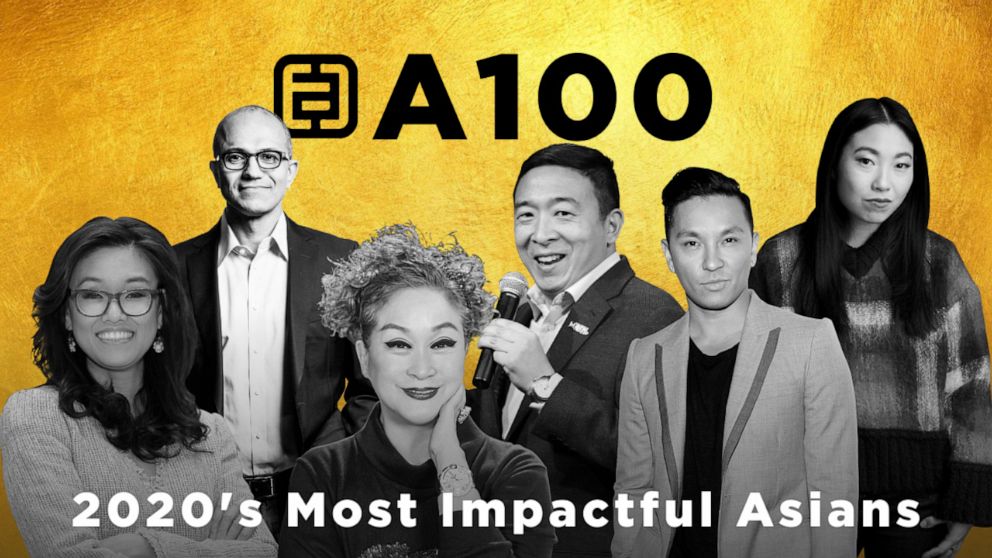 The "All Americans Movement" is a cross-cultural campaign uniting all Americans to support those communities who are impacted the most by the pandemic. Last month, the movement released a star-studded video, featuring Dave Chapelle, Olivia Munn, Daniel Dae Kim, Andrew Yang, Megan Rapinoe and more, to shed light on how the virus has disproportionately affected different racial and ethnic groups and spread messages of solidarity.
Even though in recent years Asians have made "tremendous strides" in representation, business and leadership, Bing Chen, the chairman of Gold House, said the pandemic reversed any progress "overnight."
"Too often we speak to ourselves in an echo chamber," Chen said, emphasizing their mission to unite marginalized communities beginning with the COVID-19 crisis.
Sharing the same commitment for unity, Kim, who stars on "The Good Doctor" and tested positive for coronavirus in March, partnered with his son, Jackson Kim, and "To All the Boys I've Loved Before" star Lana Condor to ask everyone to create videos that showcase Asian American pride in a positive way.
Kim has been featuring his favorite videos on his social media every day this month.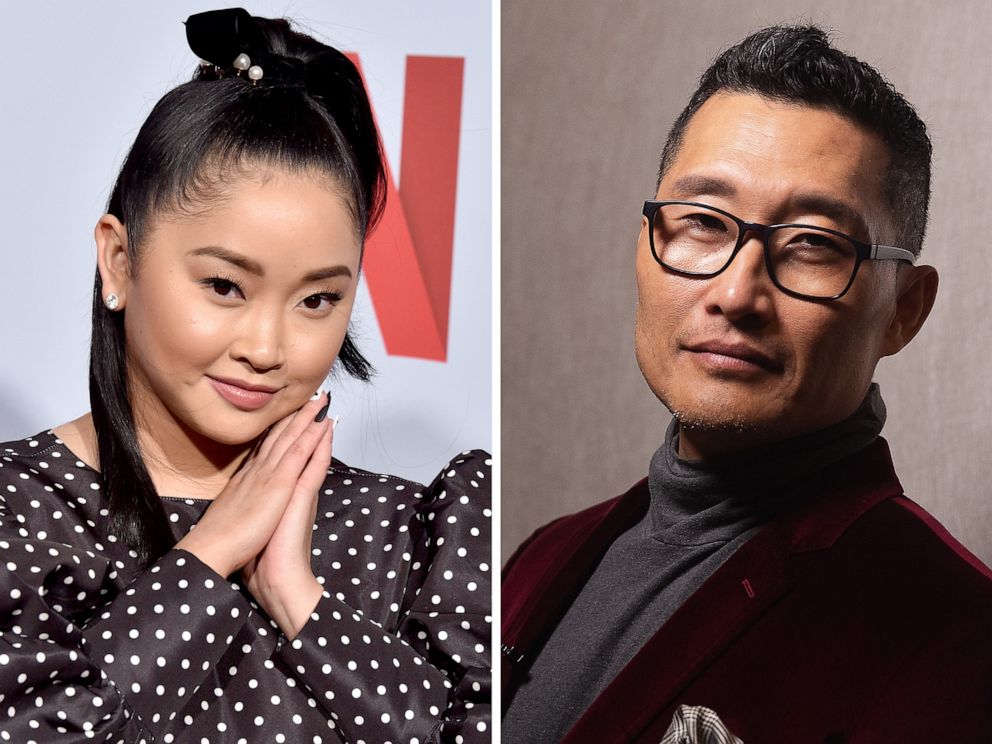 Similarly, online campaigns like #WashTheHate and #UnapologeticallyAsian launched social media movements aimed to uplift the Asian American and Pacific Islander communities while standing up against the recent upsurge in coronavirus-related xenophobia.
"This AAPI Heritage Month was incredibly critical to our sanity and sense of belonging in America. It has driven us to unify more loudly, to collaborate in more productive ways, and to rethink our sense of community," Jeremiah Abraham, one of the organizers behind the #UnapologeticallyAsian campaign, said.
Asian American celebrities recall their own experiences with hate
For "30 Rock" actor Maulik Pancholy, chairman and co-founder of Act To Change, coming together and educating others about AAPI communities feels particularly important this month.
"There's usually a lot of celebration, there's a lot of building cultural awareness, but it does feel different with this month landing in the middle of a crisis and the hate that is happening has really galvanized people," he told "GMA."
Act To Change hosted its second annual "United We Stand: AAPI Day Against Bullying+Hate" on May 18 to address this lamentable trend. May 18 would have been the 65th birthday of Vincent Chin, a Chinese American man who was brutally attacked and killed by two white autoworkers in 1982.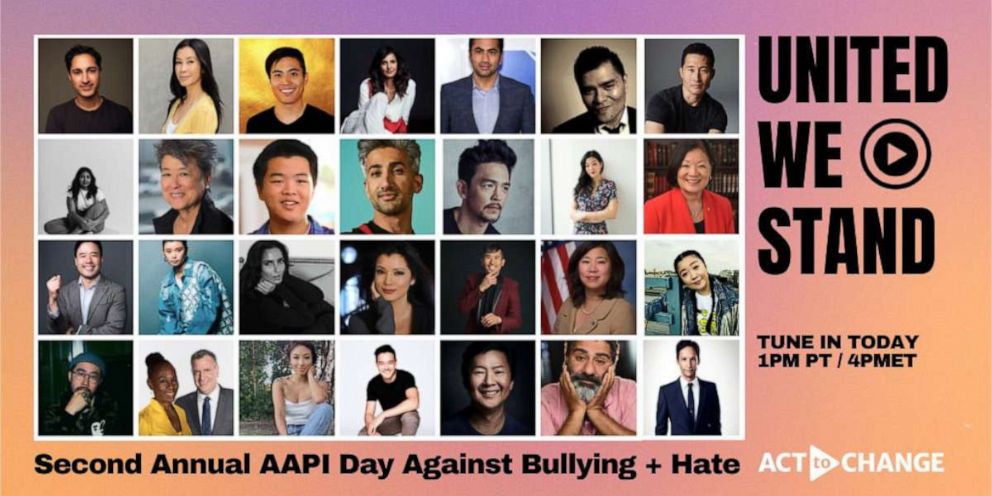 Activist Helen Zia was one of the main forces behind galvanizing Asian communities to seek justice for Chin. Zia told "GMA" she feels like she's "watching a bad movie nightmare that we have seen before," except this time "the misery, frustration, anger index is way higher."
Zia joined along with other industry leaders, activists, politicians and artists at the "United We Stand" event to speak about experiences with bullying and discuss solutions to racism and hate by both empowering Asian American communities and uniting with other minority coalitions.
One of the exchanges from the event that stuck out to Pancholy was his interview with John Cho and Kal Penn, when they spoke about their experiences while promoting "Harold and Kumar" in 2004. Penn recalled the frustration of being "randomly" searched at every airport, though he said his memories were so surreal that he felt like he remembered it wrong.
"Here we were, two men of color headlining a film and going on a big-time press tour, and it felt like such a high moment and then you got a gut punch. For me it had the opposite reaction," Cho said, "It was seared into my memory."
One especially heartbreaking story came from "Queer Eye" star Tan France, who was attacked at age 5 by a group of teenagers on his walk to school in England.
"It was purely because they wanted me to go back to my own country," he said. "[But] this was my country. I was born and raised there."
France said it's important to highlight these experiences, especially in this moment in time.
"We brush it under the carpet to think our stories aren't legitimate because often the focus isn't on Asians," France said, adding people "need to be kind and to look out for each other."
Political leaders respond to xenophobia amid coronavirus
U.S. Rep. Grace Meng, D-N.Y., who was the first Asian American elected to Congress from New York, was also featured at the virtual event as the leading voice in fighting anti-Asian sentiments in the political arena.
After calling out President Donald Trump and confronting House Minority Leader Kevin McCarthy about using the term "Chinese virus," Meng introduced a resolution calling on the federal and local government to denounce anti-Asian sentiment caused by the coronavirus.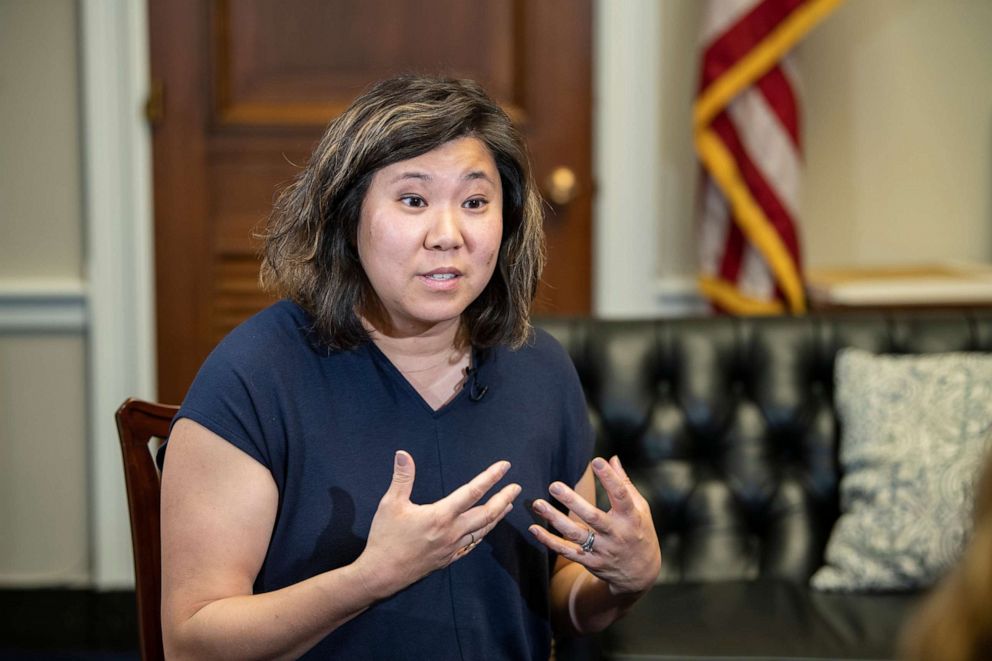 Recently, the U.S. Commission on Civil Rights issued recommendations to federal agencies in order to prevent and stop the spread of anti-Asian racism and xenophobia in the country.
The recommendations come a few days after a group of Democratic senators, led by Mazie K. Hirono, D-Hawaii, and Cory Booker, D-N.J., sent a letter urging the Department of Justice's Civil Rights Division to release concrete plans and designate an official to address coronavirus-related hate crimes and discrimination.
Meng also introduced legislation on May 7 to combat hate crimes toward all communities. The bill has been referred to the House Judiciary Committee, where it is pending. She said she remains optimistic despite the country's long history of anti-Asian rhetoric.
"We actually have a platform that we didn't have back then where we are able to speak up for our community," Meng told "GMA."
What to know about coronavirus: