'Dirty Laundry' by Disha Bose is 'GMA' Book Club pick for April
ABC News Photo Illustration, Ballantine Books
"Dirty Laundry" by Disha Bose is our "GMA" Book Club pick for April.
The thrilling novel proves that secrets, desires and even blood can all come out in the wash. In her debut novel, Bose reinvents age-old ideas of love and deceit that can make even the most dysfunctional life look so-called "perfect."
The novel centers on Ciara Dunphy, who appears to have it all -- a loving husband, perfect children and a beautiful home in a small Irish village -- until she's found murdered and the pristine facade comes crumbling down.
Ciara's best friend Mishti Guha, a mother "different" from the others in Ciara's tight-knit circle, and Lauren Doyle, a mother who finds herself at the butt of most jokes, become unlikely allies.
It seems like everyone has something to gain from Ciara's murder. In order to avoid blame, friends turn to foes and begin to air each other's dirty laundry.
For those who are fans of twisted tales like "Big Little Lies," Bose weaves an intricate fabric of complicated female friendships and the motivations to keep up appearances. Readers will quickly learn -- nothing is ever as it seems.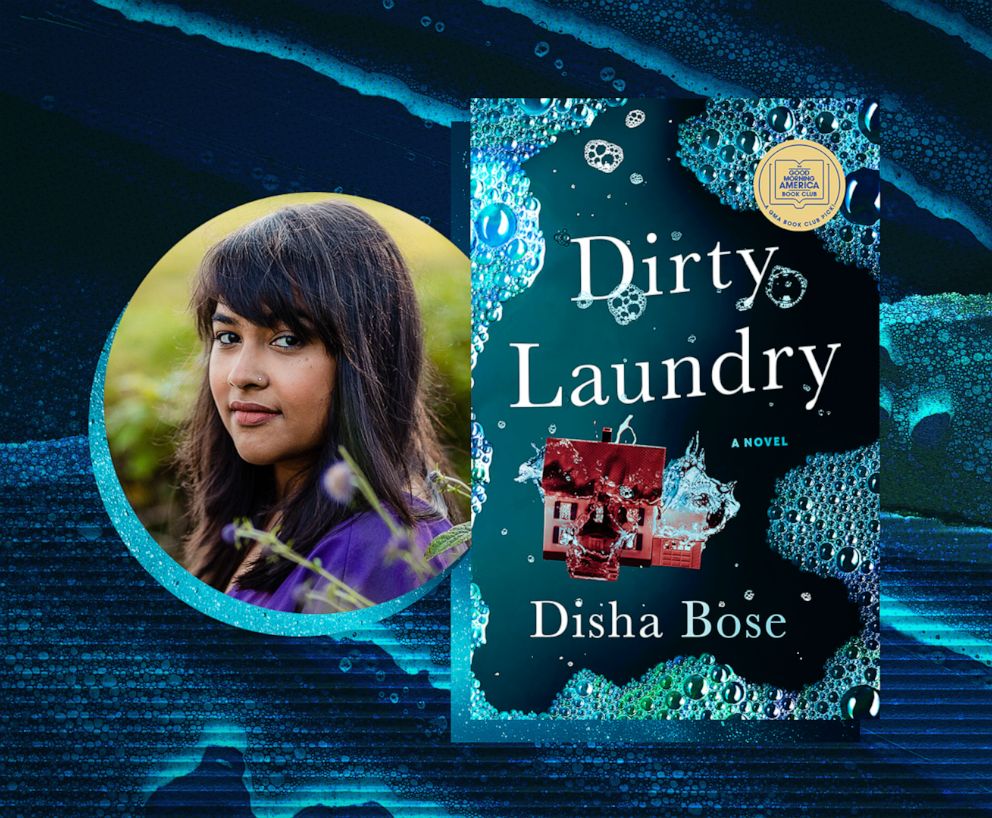 Listen and read an excerpt below and get a copy of the book here.
'Dirty Laundry' by Disha Bose
This thrilling novel proves that secrets, desires, and even blood can all come out in the wash. In her debut novel, Bose reinvents age-old ideas of love and deceit that can make even the most dysfunctional life look so-called "perfect."
Valid: Invalid date to Invalid date
This month, we are also teaming up with Little Free Library to give out free copies in Times Square and at 150 locations across the U.S. and Canada. Since 2009, more than 300 million books have been shared in Little Free Libraries across the world. Click here to find a copy of "Dirty Laundry" at a Little Free Library location near you.
Read along with us and join the conversation all month long on our Instagram account -- GMA Book Club and #GMABookClub.
*****
September 29
The house smelled of porridge, detergent, and soiled nappies. A few years ago, it smelled of patchouli, filtered coffee, and Black Opium by Yves Saint Laurent.
"I hate him. I hate you, and Daddy, and Granny. And I hate him the most."
"Bella, you don't mean that." Reasoning with a four-year-old was a losing game, so Ciara tried only half-heartedly.
She had Finn, the baby, on her hip, swinging him gently. When he was even smaller and cried all the time, this was the only way she could stop him from turning purple. She preferred not holding him often and creating bad habits, but she found herself needing to hold him like a comforter against Bella.
"I do, I mean it. I hate him the most." Bella pointed at her brother's unperturbed face.
"So what do you want me to do about it?" Ciara was staring at the hillock of congealed tea bags, where they'd stained and discolored the marble countertop. It was a few days since she'd bothered using a dish to discard them or giving the counter a wipe.
"I'm going to cut off his hair."
Ciara turned to her daughter. She felt an itching desire to drag her out of the house and leave her in the front yard.
However, she couldn't be seen dragging her daughter, kicking and screaming. She was in an entirely acceptable pair of leggings and a sweatshirt—they suited her brand—but publicly reprimanding her daughter was not. Her children were not known to make scenes.
A year ago, she'd video-blogged about her six-step skin-care regimen, not expecting much, but it had gone viral. She'd turned into an overnight Instagram sensation. She promoted self-care and researched interesting ways of looking after skin health: for instance, freezing a jade roller to rub over her face to tighten the pores.
Now she had everything a woman could desire -- children and skin-care expertise.
Her most recent video, posted a week ago, was different. She had given her followers a peek into her personal life. Some of her followers had applauded her for her honesty and the rawness of the video.
It was imperative now, more than ever, that people in the village didn't notice anything amiss. She needed to show she was in control, even though she wasn't anymore.
It was apparent in the rips and tears in her voice when she spoke to Bella. Ciara was almost certain that her brain was physically bulging out of her skull. She couldn't allow anyone to see her like this.
That could discredit what she had said in her video.
"Go on, do it, then. The scissors are right here. Cut your brother's hair. See what happens," she hissed at her daughter. Her heart thumped as she half-expected Bella to do it, just to prove a point.
She saw herself in her daughter in moments like these. They looked so alike, with the same golden hair and oval faces, their chins dropping low when they smiled.
In her house today, there were toys everywhere. The kitchen sink was piled high with dishes she hadn't loaded in the machine. A laundry basket full of clothes was lying outside the utility room. If she couldn't have the house looking spotlessly clean, then she didn't want to bother cleaning it at all.
Bella's nostrils flared. The tops of her cheeks were beginning to turn a distinct shade of plum. Ciara was exhausted. They needed to leave her alone. Every last fucking one of them.
Finn remained silent. He was watching his sister with big eyes, as though he was committing this scene to memory. It was impossible to tell how much he actually absorbed at this age. He was only a year and a half; Ciara still had a few years to go before she needed to worry about what he was going to turn into. At four, Bella was already out of her hands. Of all the things Ciara wished she could have done differently, her daughter topped the list. It was the one she'd never admit to anyone.
When Bella finally conceded, spluttering and blubbering in a hot mess of tears, Ciara turned and walked to the stairs. It was time for Finn's nap. Once left alone, Bella was going to stop crying in a few minutes, and she would have learned an important lesson in life.
Unlike some mothers who petted and soothed every teardrop, Ciara wasn't going to reward her daughter for acting like a bitch.
*****
Names: Bose, Disha, author. Title: Dirty laundry: a novel / Disha Bose. Description: First edition. | New York: Ballantine Books, [2023]