April showers bring May flowers. Well, this April is showering us with an abundance of verdant and colorful books, all delighting the senses like an unexpected flower patch.
Novels translated from Italian and German, memoirs about murder and massacres, hilarious essay collections, poignant short stories and many food-themed tomes combine to give us a rainbow collection of fantastic literary fun.
If only the rain would stop.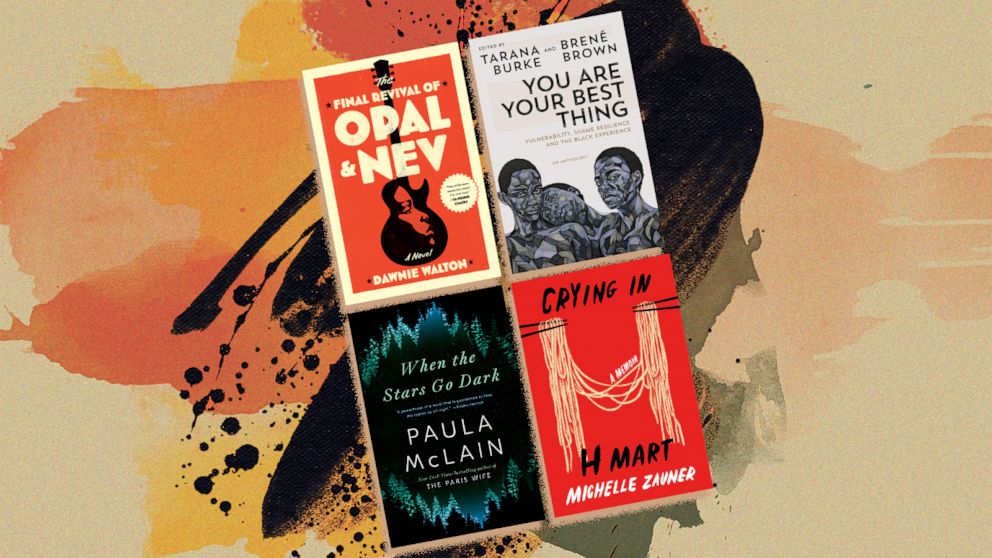 April 6
'The Light of Days' by Judy Batalion
This epic, sweeping tale of Jewish women resistance fighters in WWII is powerful, incredibly well-written by genius Judy Batalion, and truly changes history. Steven Spielberg's Amblin Entertainment already has a big screen version of this in the works!
'Caul Baby' by Morgan Jerkins
New York Times bestselling author Morgan Jerkins depicts a woman desperately trying to have a child but repeatedly miscarrying. She turns to an ancient ritual of "cauls" to help her through. While it doesn't help her, someone in her family does end up having a baby, and their paths intersect until the truth bubbles up.
'Gold Diggers' by Sanjena Sathian
Sanjena is way too young to have published such an amazing novel about a group of South Asian teenagers and the quest for their identity in the U.S., yet she pulls it off effortlessly, complete with references to TCBY and other 1990s favorites.
'Good Company' by Cynthia D'Aprix Sweeney
If I could "go long" on a book the way it works with stocks, I would "go long" on Good Company. (Book Stock Exchange, anyone?) This will absolutely hit the lists due to its combination of approachable, skilled prose from the author of bestseller "The Nest," the fantastic characters, and the universally shared desire to figure out who we really are.
'The Nine Lives of Rose Napolitano' by Donna Freitas
This book is for anyone who ever thinks: what if? Or lays in bed late at night rethinking plans. The central question of the book is whether a woman must have children, and why there is so much pressure for her to do so.
Yet deft author Donna Freitas explores all the alternatives as a series of interwoven lives in a "Sliding Doors" style narrative with not only two potential outcomes, but nine, involving everything from pregnancy, abortion, adoption, miscarriage, divorce and more.
'Eva and Eve: A Search for My Mother's Lost Childhood and What a War Left Behind' by Julie Metz
One of the most engrossing, educational, emotional and yet effortless reads of the year so far, "Eva and Eve" is a stellar work of nonfiction. Weaving together multiple generations, Julie introduces us to her family and paints a vivid picture of Jewish life in Vienna prior to 1940.
With sexual assault scenes, smoking pot situations, and a unique piece of machinery that produces pharmaceutical packaging as the main star, this book is simply impossible to forget.
'Broken (in the Best Possible Way)' by Jenny Lawson
A series of witty essays that starts with "I Already Forgot I Wrote This" proves Jenny's prowess as an essayist yet again. You will want to sit down and just listen to her riff on life like you're at an at-home comedy club.
'Blow Your House Down: A Story of Family, Feminism, and Treason' by Gina Frangello
What does it mean for a woman to have an affair? Gina's creative non-fiction looks at her own life -- and culture at large -- and will make you think twice about every relationship. Plus her writing style includes clever passages like, "A is for Antiheroine: Um. This is not that kind of book."
'Huddle: How Women Unlock Their Collective Power' by Brooke Baldwin
An overdue reflection on the power of women banding together shown, not told, through story after story of empowering women, collaboration and the hidden glory of "huddles," told by CNN anchor Brooke Baldwin.
'Fearless' by Mandy Gonzalez
Broadway and TV star Mandy Gonzalez (currently starring as Angelica in "Hamilton") spins a theater-bound tale of a 12-year-old crew trying to suss out a potentially haunted theater in this middle grade novel.
'The Book of Difficult Fruit: Arguments for the Tart, Tender, and Unruly (with Recipes)' by Kate Lebo
Organized into sections of different fruits, like huckleberry and pomegranate, this narrative non-fiction work includes reflections on health and wellness from inflammation to depression, marriage, family and the food that fuels us, all in an originally-written memoir told through food.
'Finding Freedom: A Cook's Story, Remaking a Life from Scratch' by Erin French
Erin writes poignantly about her experience in Maine as an unemployed single mother, her depression and anxiety, addiction, the wrong man, and the right son in this journey that ends with her at the helm of renown restaurant, The Lost Kitchen.
'Love in Case of Emergency' by Daniela Krien
Originally written in German, this novel follows the lives of five German women despite their many differences. The opening sentence is immediately intriguing and a sign of the intoxicating prose and in depth analysis of emotion that follows: "The day Paula realizes she's happy is a Sunday in March."
'Broken Horses: A Memoir' by Brandi Carlile
Six-time Grammy winner. Critically acclaimed singer-songwriter. Producer. Musician. Brandi Carlile could never have dreamed she'd end up with these accolades growing up in various trailers and homes, constantly moving with her family, never settled.
Brandi recounts her past and the challenges of the present with her wife and two kids, while hobnobbing on stage with greats like Elton John and Dolly Parton.
April 13
'When the Stars Go Dark' by Paula McLain
Billed as a love letter to California, Paula McLain's absolutely incredible literary thriller about the human journey on the way to solve a mystery includes parts of her own experience in foster care mixed in with her reflections on abandonment and belonging in this genre-bending novel from the author of "The Paris Wife."
'Low Country' by J. Nicole Jones
The daughter of a country music star explores her roots and even the topography of her native land in this coming-of-age story of a past she's not always proud of.
'Did I Say That Out Loud? Midlife Indignities and How to Survive Them' by Kristin van Ogtrop
One of my recent favorites, "Did I Say That Out Loud," is a collection of snackable, irresistible essays that shine a light on what middle age brings. From the longing of kids banging into walls with a scooter to the fork tine she swallowed that landed her in the hospital to her hilarious father making smalltalk with everyone to her time as Editor-in-Chief of "Real Simple" magazine, Kristin's collection is perfection.
I laughed out loud, repeatedly.
'Big Time: Stories' by Jen Spyra
An irreverent collection of tales about motherhood, marriage, work and more, mostly told in the first-person with a forward by Steven Colbert, for whom Jenn Spyra worked.
'The Way of Integrity: Finding the Path to Your True Self' by Martha Beck
As any O: The Oprah Magazine readers know, Martha Beck is always full of insights. This book didn't disappoint! Beck identities the ways culture works against integrity and touches on "Dante's Inferno," includes quizzes, and rethinks suffering.
'Lilyville: Mother, Daughter, and Other Roles I've Played' by Tovah Feldshuh
Structured like a three act play with two intermissions which she calls "the theater of my memories," Broadway icon Tovah Feldshuh shares her past. She admits that "the greatest role of my life has been the role of Lillian Kaplan Feldshuh's daughter -- a part I never auditioned for, and I couldn't have been luckier to get."
April 20
'The Happiest Girl in the World' by Alena Dillon
An aspiring Olympic gymnast sacrifices all to get to the top — as does her mother. For what? The protagonist, Sera, ends up covering up what has been occurring with her coach to protect her dreams in this examination of a woman's goals, how her body can be a means to an end, and the lengths girls will go to to win.
'Second Thoughts: On Having and Being a Second Child' by Lynn Berger
A slim yet powerful examination of what it means to be the second child in the family and how parents treat siblings differently. This is perfect for any parent about to have another child or anyone interested in the effects of birth order.
'Hour of the Witch' by Chris Bohjalian
No. 1 New York Times bestselling author and literary legend Chris Bohjalian returns with a story about Mary Deerfield, a suspected witch in 1662 Boston who, while wrestling with her own internal demons and disastrous marriage, raises suspicion that the demons aren't just in her own mind.
'I Am a Girl from Africa: A Memoir' by Elizabeth Nyamayaro
This Zimbabwean-born political scientist, former United Nations Senior Advisor and head of HeForShe, was so inspired by the helpfulness of the U.N. aid workers in her childhood that she resolved to work for the U.N. herself. She became a true humanitarian and ended up graduating from the London School of Economics and Harvard Business School. She relives all in her stirring memoir.
'The Final Revival of Opal & Nev' by Dawnie Walton
This brilliant recreation of the final tour of fictitious rock stars Opal & Nev is original, heartfelt, bounding with creativity and will add a beat to your step as you travel along with protagonist Sunny Shelton. You just might forget that she isn't actually real.
'Crying in H. Mart: A Memoir' by Michelle Zauner
The story of grief, told in an elegant, literary style by the daughter of a Korean mother and a white father, bereft after her mother's untimely loss, will resonate with anyone who has ever cried while grocery shopping, on the subway or anywhere else when emotions just won't stay in.
April 21
'World Travel' by Anthony Bourdain and Laurie Woolever
A collection of remembrances mixed in with a global travel guide, this collection of city-by-city tips and restaurant suggestions uses Anthony Bourdain's own words alongside Laurie Woolever's, making this a one-of-a-kind book honoring a one-of-a-kind soul.
April 27
'Everything is Fine' by Vince Granata
Vince's younger brother descends into mental illness as an adult and kills their mother in their childhood home. As Vince mourns his mother and copes with his brother's trial, he has to dig deep to understand how such a horrific thing could have occurred.
'Reunion Beach: Stories Inspired by Dorothea Benton Frank' by Elin Hilderbrand, Adriana Trigiani, Patti Callahan, Mary Alice Monroe and more
Dorothea Benton "Dottie" Frank's death in 2019 pummeled the spirits of her dear friends in the literary community. Many of them banded together to produce this collection of stories and essays in her honor, including the low country of South Carolina as a main character in her work.
'Whereabouts: A Novel' by Jhumpa Lahiri
The first novel in a decade from Pulitzer Prize winning novelist Jhumpa Lahiri, "Whereabouts" was originally written in Italian and translated into English. A story about a woman's wanderings around a city, her relationship with her mother, and the beach scene that changes everything, this brilliant novel will forever change the landscape of Lahiri's body of work.
'Sooley' by John Grisham
Samuel ("Sooley") Sooleymon heads to the U.S. with his South Sudanese classmates to be scouted at a basketball tournament. While he's competing, civil war breaks out at home: his father dies, his sister goes missing, and his mother and siblings end up in a refugee camp.
He is stuck in the U.S. and snags a spot on a team at North Carolina Central, where he practices night and day to excel enough to get to his family again. Written like it's a movie, Sooley is a truly memorable story of a boy with the world on his shoulders and the drive to achieve the impossible.
'The Bomber Mafia: A Dream, a Temptation, and the Longest Night of the Second World War' by Malcolm Gladwell
Written in New York Times bestseller Malcolm Gladwell's characteristic approachable, story-telling style, "The Bomber Mafia" is really an ode to Malcolm's father who grew up during World War II and even found a discarded bomb in his backyard (which Malcolm found far more fascinating than his father did). Originally intended to be an audiobook, the recording companion to the written word is truly compelling.
'What Happened to You?: Conversations on Trauma, Resilience and Healing' by Oprah Winfrey and Bruce D. Perry
Sharing stories from her own past, Oprah, along with trauma expert Dr. Bruce Perry, gives life-changing emotional and scientific insights into why we do what we do. These two compassionate souls delve into a deeper understanding of people and behavior in order to leave the trauma of the past in the past.
'You Are Your Best Thing: Vulnerability, Shame Resilience, and the Black Experience' edited by Tarana Burke and Brené Brown
A powerful, brave collection of essays on Black shame and healing co-edited by two dear friends, Brene Brown and Tarana Burke, this anthology allows readers to process the effects of white supremacy while celebrating love and livelihood in the Black community.
Contributors include Imani Perry, Jason Reynolds, Austin Channing Brown and many others.