John Travolta reacts to 'Grease' co-star Olivia Newton-John's death: 'Your impact was incredible'
Remembering Olivia Newton-John
Alberto E. Rodriguez/Getty Images, FILE
John Travolta is mourning the loss of his "Grease" co-star Olivia Newton-John, who died Monday at the age of 73.
"My dearest Olivia, you made all of our lives so much better. Your impact was incredible," he wrote on Instagram alongside an old photo of Newton-John. "I love you so much."
The two starred in the iconic 1978 movie musical as Sandy and Danny, cementing themselves as one of Hollywood's most beloved onscreen couples.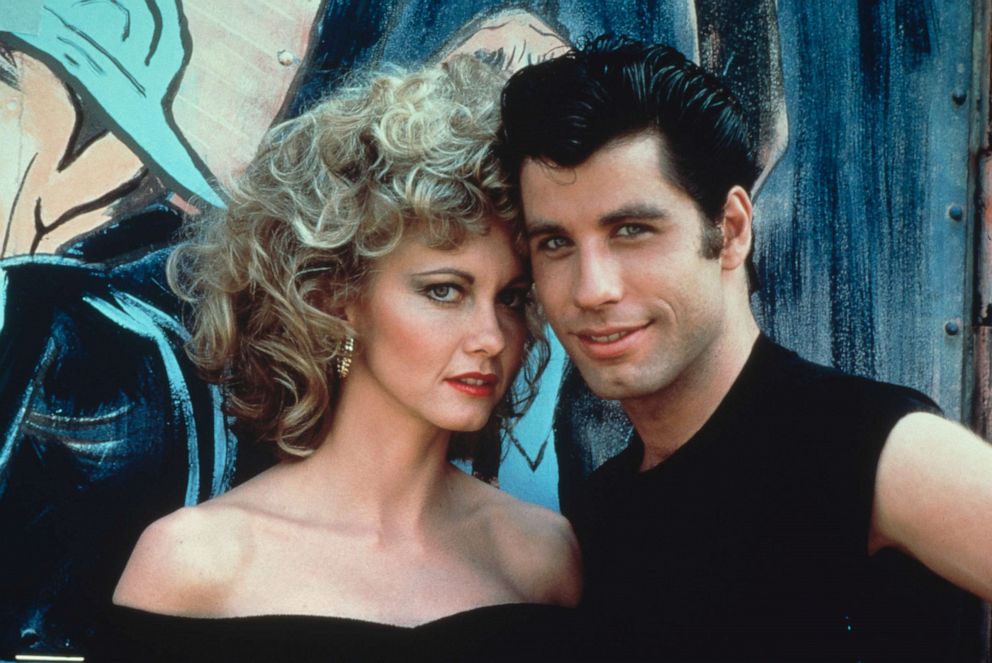 "We will see you down the road and we will all be together again," Travolta, 68, continued. "Yours from the first moment I saw you and forever! Your Danny, your John!"
Newton-John's death was announced via a statement from her husband, John Easterling, and shared to her verified social media pages. In it, Easterling noted that Newton-John "passed away peacefully" at her ranch in southern California surrounded by family and friends.
"Olivia has been a symbol of triumphs and hope for over 30 years sharing her journey with breast cancer," Easterling said in the statement, pointing to the work she did through her Olivia Newton-John Foundation, after first being diagnosed in the early '90s.
The actress and singer battled a recurrence of breast cancer in 2013, and again in 2017, which metastasized to the sacrum and progressed to stage 4.
In addition to her husband, Newton-John is survived by her daughter, Chloe Lattanzi. Lattanzi, 36, reacted to her mother's death on Instagram by sharing a slideshow of photos of the two together throughout the years.
Continue reading to see how other stars are paying tribute to Newton-John:
Robin Roberts
Barbra Streisand: "Too young to leave this world," Streisand wrote on Twitter. "May she RIP. 😢🙏🏻 #OliviaNewtonJohn."
Jane Lynch: "Godspeed, ONJ," Lynch wrote in a tweet. "Bless you. What a light."
Sara Bareilles:
Delta Goodrem: "The whole world will feel this heartbreak today because the entire world felt Olivia's unmatched light," Goodrem wrote in an Instagram post. "A force for good. A force of nature. Strong and kind. my mentor, my friend, my inspiration, someone who always guided me… she was always there for me. Family to me. I don't have all the words I would like to say today but I hope everyone will join in celebrating our beloved Olivia, her heart, soul, talent, courage, grace… I love you forever ❤️."
Gabrielle Union: "'Grease' is my #1 movie of all time and made me a lifelong Olivia Newton John fan," Union tweeted. "Me and my sister watched Xanadu more times than I could count. Sending so much love and prayers to a real gift of a woman and talent. #RIPOliviaNewtonJohn 🙏🏾🙏🏾🙏🏾🙏🏾"
Andy Cohen: "Hopelessly Devoted to YOU, Olivia Newton John. Rest In Peace, Queen. Thank you for the music," Cohen wrote in an Instagram post.
Mia Farrow
Viola Davis: "Oh man!!! You were my childhood!! Your talent, poise, beauty!! Rest in glorious peace," Davis tweeted, adding, "God bless your family....and thank you for creating eternal memories. ❤️❤️❤️❤️."
Daniel Dae Kim: "Farewell with love to the legend who will forever be my first crush," Kim wrote on Twitter. "Rest In Peace, Olivia Newton-John."
Cyndi Lauper
James Gunn: "Really sad to hear about the passing of Olivia Newton-John," Gunn tweeted. "My first real crush as a kid. I loved Grease & her music & I coincidentally also bought & lived in for a while the wonderful home she built in Malibu. May she Rest In Peace. ❤️"
Marlee Matlin: "I am SO saddened at the news of the passing of Olivia Newton John," Matlin tweeted Monday. "I remember being so star struck when I met her at my first Hollywood gathering for Paramount. She was the sweetest and brightest light and I loved getting to know her on 'It's My Party.' RIP dear, sweet Olivia."
George Takei
Edgar Wright: "Olivia Newton John so completely dominated the charts and Top Of The Pops when I was a kid, it felt like she WAS pop music. And yes, Xanadu is still a stone cold classic song. RIP x," he wrote on Twitter.
Magda Szubanski
Antonio Banderas: "Rest in peace, Olivia Newton-John," Banderas tweeted. "Deepest condolences to her family and loved ones."
Kelsea Ballerini:
Kylie Minogue: "Since I was ten years old, I have loved and looked up to Olivia Newton John. And, I always will," Minogue wrote on Instagram alongside a photo of her and Newton John. "She was, and always will be, an inspiration. to me in so many, many ways. My deepest condolences to her family and loved ones."
Hugh Jackman: "I'm devastated to hear the news that Olivia Newton John has passed away," Jackman wrote. "One of the great privileges of my life was getting to know her. Not only was she one of the most talented people I've knokwn ... she was one of the most open hearted, generous and funny. She was a one of kind spirit. It's no secret Olivia was my first crush. I kissed her (poster) every night before bed. Her legacy will only grow stronger in the years to come. A fighter for healing from cancer that knows no bounds. I love you Olivia."
Julianne Hough: "Like so many, Olivia has always been my hero," wrote Hough, who played Newton John's iconic role of Sandy in "Grease Live!" "Discovering her magnetic energy as an artist and actress came first but it was her heart that truly captured mine. Forever an icon and legend!"
Dionne Warwick: "Another angelic voice has been added to the Heavenly Choir," Warwick tweeted. "Not only was Olivia a dear friend, but one of the nicest people I had the pleasure of recording and performing with."
Melissa Etheridge: "Journey well, dear friend," Etheridge wrote on Twitter. "She was one of the first to reach out to me after my cancer diagnosis. What a beautiful woman and special talent. Hard to know what to say. She will be missed."
Lea Salonga: "Rest in Peace, Olivia Newton-John. Hers was one of the voices of my childhood," the singer and actress tweeted. "Deepest condolences to everyone she loved and loved her."