Kanye West has collaborated with many artists in the past, but the rapper took the stage Sunday at Houston's largest church for his most spiritual collaboration yet.
The "Jesus is King" rapper stopped by preacher and bestselling author Joel Osteen's Lakewood Church for Sunday service and opened up about his faith and spiritual journey.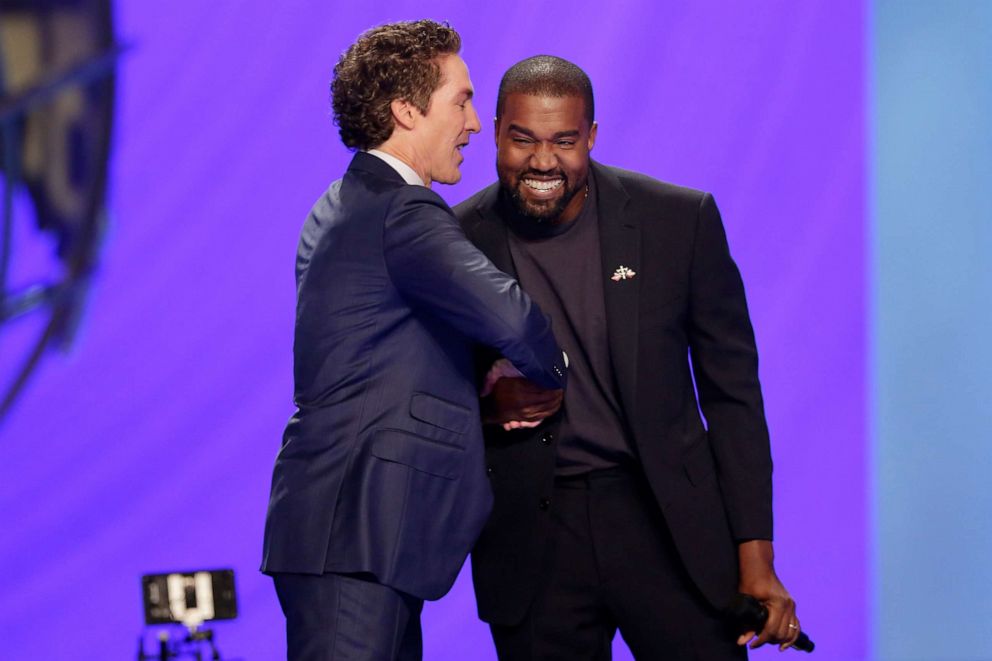 "God's been calling me for a long time and the devil's been distracting me for a long time," West said on stage with Osteen.
Over the past year, West has increasingly spoken publicly about his faith and has also started hosting his own gatherings similar to Osteen's, called "Sunday Service," which he first started as a small gathering with his family and choir, but has grown into a cultural phenomenon.
Now, he's crediting fatherhood for his spiritual shift. He says he's trying to use his platform to share how he's evolved with his faith.
"Every time I stand up, I feel that I'm standing up and drawing a line in the sand and saying I'm here in service to God," said West on stage with Osteen.
In an interview following the appearance, West told ABC News that he's certain his influence has inspired others to follow his path of worship.
"It's an overwhelmingly positive response. And people are giving their life to God," West told ABC News. "He's using me to point to him. More are going to him since I've been here. More people from my generation and the next and the next generation. So it's working."
West attended Osteen's megachurch with his wife, Kim Kardashian West, and their daughter, North, who were sitting in the front row.
In an interview with ABC News after taking the stage, Osteen commented about Kanye's journey and said, "I love his heart. I love what he stands for."
"He's full on board for the Lord," Osteen added. "And so we celebrate that. And I just love his heart."
On Friday, West held his Sunday Service for inmates at the Harris County Jail in Houston and performed during the surprise concert, while his wife, Kim, spent the day with Rodney Reed, a death row inmate at the prison who was issued a stay of execution among public protests.
West is expected to hold Sunday Service in front of his biggest audience yet at Osteen's Church on Sunday evening, where the preacher's service reaches over 7 million broadcast viewers.