After Ashley Judd became one of the first of many women who came forward with allegations of sexual misconduct against Harvey Weinstein last year, the actress found herself at the center of the #MeToo and Time's Up movements.
Judd, who spoke to ABC News shortly after giving the keynote address at the ANA Inspiring Women in Sports Conference, said that over the last few months, she has formed alliances with other women in Hollywood who, like her, support feminist causes.
She added that although she's admired many of these women from a distance "for the force of their personalities as well as their craft," they've since become "much closer friends."
"Brie Larson is an incredibly driven, very determined, extremely bright young woman who is a force to be reckoned with. And of course Reese [Witherspoon], she could really be president," Judd said. "It's really blessed me to get to know my cohorts better because that's one of the prices of living in Tennessee: I've been physically removed from the Hollywood space. I'm so thankful that this movement has brought me closer to my sisters."
Judd, 49, first spoke out about Weinstein in October, telling The New York Times that about 20 years ago, the movie producer sexually harassed her in his Beverly Hills hotel room. Since then, dozens of women have accused Weinstein of misconduct, with several alleging rape. Weinstein, who was terminated by the board of his production company and expelled by the Academy of Motion Picture Arts and Sciences, has denied all claims of nonconsensual sex.
Judd, who presented at the Academy Awards with Weinstein accusers Annabella Sciorra and Salma Hayek, said that while it took a great deal of courage to go public with her story, "I lead with my vulnerability."
"I think people know me a little bit better [now]. They may have known my acting and some people were familiar with my international social justice work but I think that folks know my soul a little better and my passion for a more equitable society," she said. "That both feels good and is kind of scary."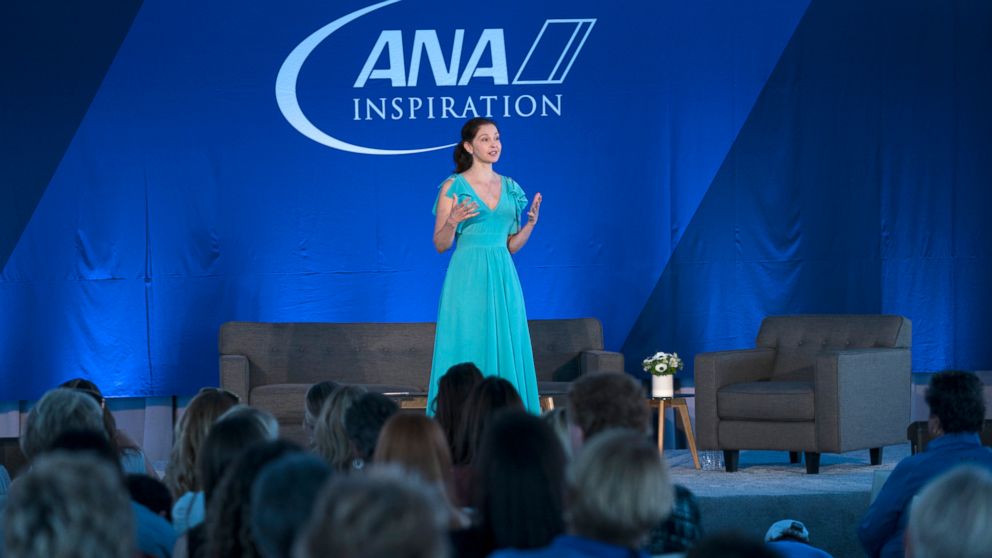 To cope, Judd said she prioritizes self-care, which includes journaling and meditating in the mornings and backpacking in the Great Smoky Mountains National Park when she can. She also said that her faith in God and her close relationships have provided her with "a kind of buffering that's really important."
Going forward, Judd will continue to advocate for women's rights, which is what drew the actress, also an avid golf fan, to the ANA Inspiring Women in Sports Conference.
"Women being physically empowered is crucial to our striving for a more just and safe society," she explained. "I'm always interested in female empowerment as well as competition and a drive for personal excellence."