Michael B. Jordan talks about his Super Bowl LV ad
As the Tampa Bay Buccaneers celebrate their Super Bowl win, advertisers made some winning plays of their own Sunday night that left social media buzzing about the game's best commercials.
"The very challenge advertisers had this year is they're going against the backdrop of so much controversy, so much conflict coming out of the pandemic," Donny Deutsch, former chairman of the advertising firm Deutsch Inc., told "Good Morning America" Monday. "They're afraid to step in any political mine fields, being too politically correct or incorrect."
Michael B. Jordan transformed into "the perfect vessel" for an Amazon Alexa device. His blue eyes beamed every time he was summoned to dim the lights or read an e-book in the bath.
The actor talked about the ad with "GMA," saying "everything timed out perfectly with the 'Sexiest Man Alive' title, so I figure I'd put that to use a little bit and we came up with a way to make that work."
Deutsch said Amazon expertly used humor and entertainment in the ad.
"What was so great about that ad is on the one hand it's very entertaining and you remember it ... but it really showed the product in usage," he said.
Jordan, who stars in the new Tom Clancy franchise "Without Remorse," said his own production company "just signed a deal with Amazon Studios so I have a new home for all things film and television and Amazon Studios is kind of like the perfect home for me to really get that message across" on new diversity and inclusion.
Other Top Commercials of Super Bowl LV
Deutsch also hailed Jeep's ad, voiced by Bruce Springsteen, as "the symbol of all that was right" in terms of its approach because "it showed the struggle of how to depict America right now."
The boss made his Super Bowl debut with a powerful message about uniting the country and finding common ground. The 71-year-old rock star even had his very own 1980 Jeep flown to Kansas for the shoot.
Variety's senior TV editor, Brian Steinberg, told "GMA" that the team was finalizing the two-minute spot up until the last minute.
"They just finished filming it last Sunday. It was that close to the wire," he said, adding it was the culmination of a 10-year pursuit for Jeep to get "The Boss" in one of its commercials.
Meanwhile, other auto brands floored it and went full speed ahead with humor. Will Ferrell starred as an overly competitive American looking to beat Norway at the electric vehicle game in a star-studded spot for General Motors.
Deutsch praised Toyota's storytelling of swimmer Jessica Long, a 13-time Paralympic gold medalist, for "bringing that forward and associating their brand with that kind of humanity."
Other A-list actors dominated the ads during the commercial breaks on Super Bowl Sunday.
Jake from State Farm sported his classic red polo and khakis and had a hilarious visit with his celebrity stand-in, Drake from State Farm.
Movie throwbacks reemerged with a "Waynes World" reprise for Mike Myers and Dana Carvey, plus an appearance from Cardi B in an Uber Eats spot. Timothy Chamalet pays homage to Edward Scissorhands in a new Cadillac ad.
Others wanted to put 2020 in the rear-view mirror. Bud Light said it was "a lemon of a year" and encouraged Americans to make lemonade seltzer.
Some ads flew by in seconds. Reddit who spent its entire annual budget for just five seconds of air time.
M&M also scored some sweet success with a humorous way to handle life's fumbles. The brand ended its spot with "Schitt's Creek" creator and star Dan Levy who offered a preemptive apology for eating more of the candy.
Doritos popped with its flat Matthew McConaughey spot and Mila Kunis took advice from Shaggy in a new Cheeto's ad.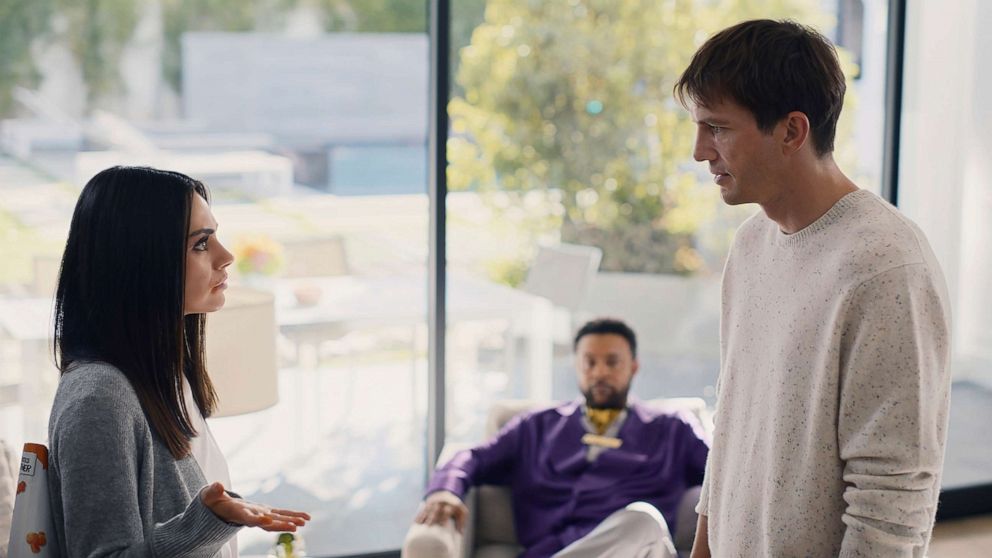 But some spots fell short in Deutsch's opinion: "A lot of the new advertisers made it hard to associate names with messaging," he said.