Caeleb Dressel is back in the U.S. after he made a huge splash in Tokyo with five gold medals, two Olympic records and one world record.
From shedding tears of joy at the poolside podium while the National Anthem rang through the arena to poker nights with teammates and sipping on Coke floats in the dining hall of the Olympic village, the Team USA superstar has no shortage of standout moments, both big and small.
"Usually the memories I get to bring back home with me have nothing to do with the pool," he told "Good Morning America" in Times Square upon returning from Japan. "It's fun competing. It's fun getting to do what I love to do -- but I would say some of the highlights were when Team USA becomes Team USA."
From training in Hawaii at Olympics camp with dozens of other elite swimmers to finally coming together as a team in Tokyo, Dressel said one of his favorite memories of the whole month with the team was when "the guys taught some of the girls how to play poker."
Which he admitted wasn't nearly as strong as his performance in the pool: "That was some of the worst poker I've ever played actually. I only won one game. I lost both the tournaments and we probably played over 12."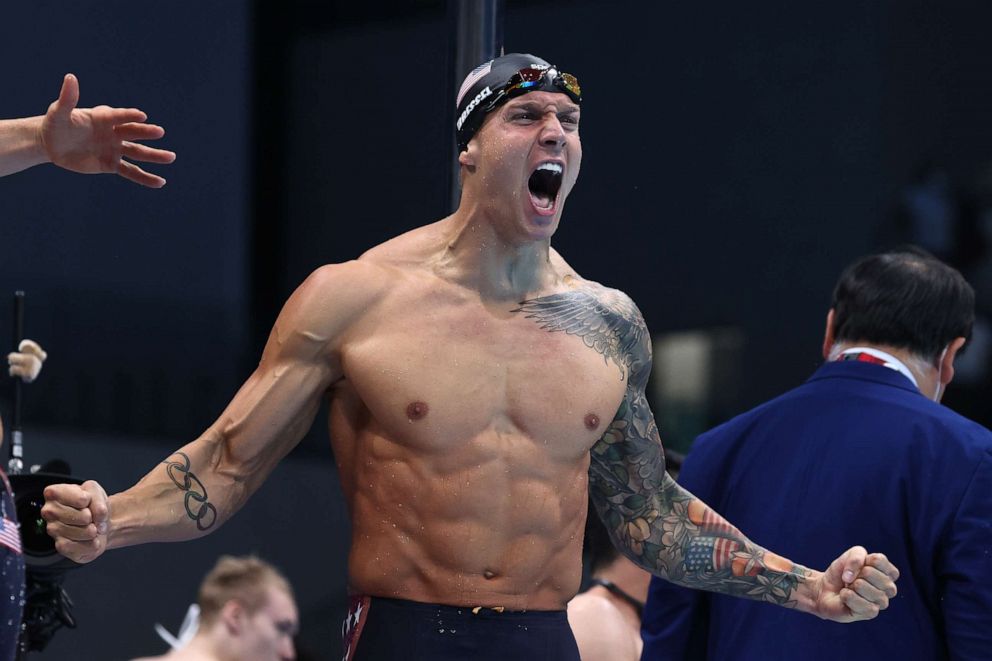 While he was able to carve out some time to enjoy himself, it was Dressel's mental strength and keeping a physical checklist of his big events that contributed to his success.
"For me, it's taking one race at a time," he said. "You have to know what the task is at hand. I knew what I signed up for -- I knew how many events I would swim at the games. I knew what my schedule was going to be. I had everything written down, what day I was swimming it, when I was swimming it. And for me, what helped personally, was being able to physically check off each day, each block."
He continued, "I would circle each swim and then after every session I would look for it on the bus ride back, picking up the pen and crossing off each day. So that really helped mentally looking at something that I could actually reciprocate with and know there's one day gone and before you know it there's seven Xs, the meet's halfway done -- that helped a lot just taking it one race at a time, one everything at a time."
Dressel's all-gold medal count came from wins in the 4x100-meter medley relay, 4x100-meter freestyle relay, 100-meter freestyle, 100-meter butterfly and 50-meter freestyle.
Dressel set an Olympic record with 21.07 in the men's 50-meter freestyle. Alongside teammates Ryan Murphy, Michael Andrew and Zach Apple, the four men set a new world record with their gold medal win in the men's 4x100 relay with a time of 3:26.78.
But after the exhausting slate of impressive swims, Dressel said he's happy to be out of the water.
"I don't want to be anywhere near a pool right now, which is normal," he said. "My focus is all there and then once the task is up I can let the guard down and I can be sick of swimming."
Now that he's finished with the Olympics, Dressel said he and his wife Megan "still haven't taken a honeymoon so we might try to plan that."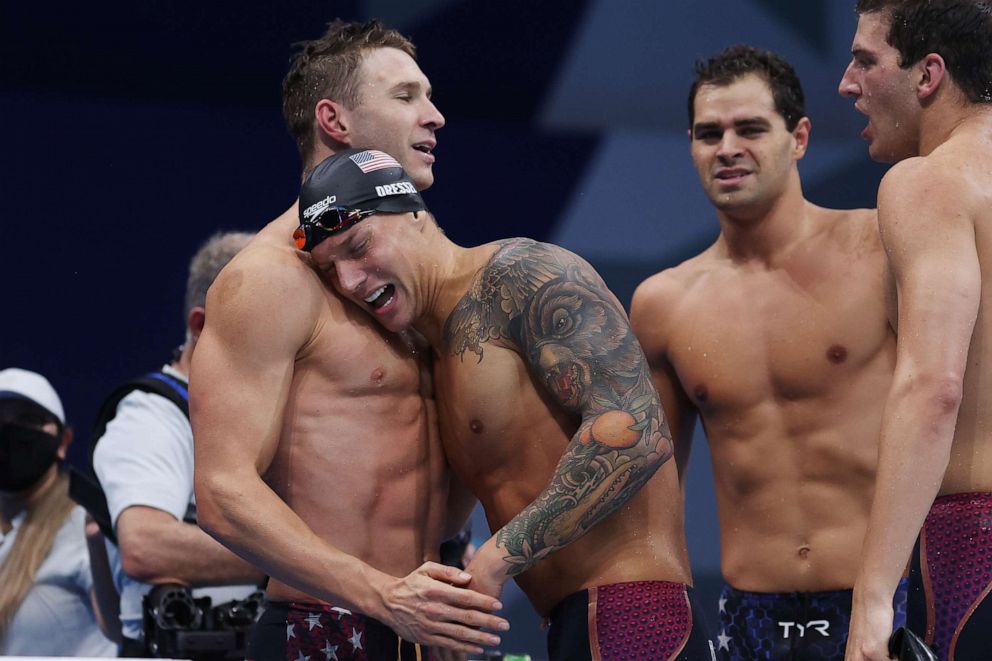 Immediately after their events wrapped up in Tokyo, Dressel said he and teammates Townley Haas and Zach Apple went to the athlete dining area and loaded up on all the things they love.
"I had like five or six pieces of pizza, two burgers, I made a Coke float," he said with a laugh. "Then literally right after that we went and had a football from our common area -- my shoulder still hurts. We threw it around for probably two hours."
He added, "It's just a bunch of guys and girls doing what we love to do. It's human beings at the end of the day. We might be pretty fast in the water but we like playing poker and video games and we eat pizza and burgers."