Those who use Slack or any other communications platform at work will relate to our "GMA" Book Club pick for September, "Several People Are Typing" by Calvin Kasulke.
Kasulke's debut novel is a fast-paced read written entirely in Slack channel messages, emojis and gifs, and is perfect for fans of "Office Space" and "Then We Came to the End."
But even if you're unfamiliar with Slack, Kasulke assures you'll still enjoy the book.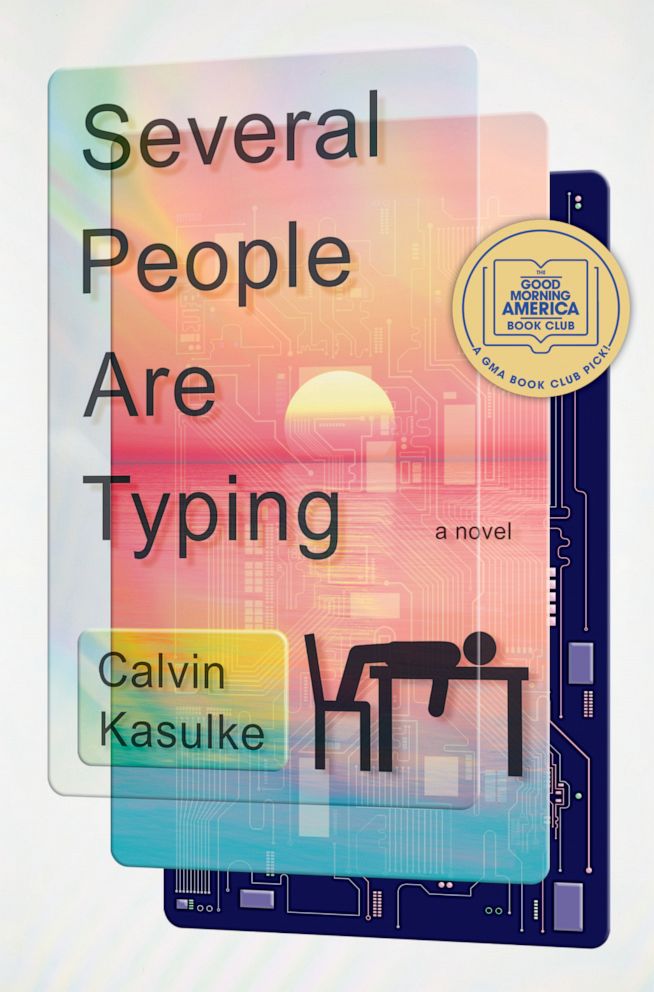 "Even though the book is written entirely in Slack chats, you don't need to ever have used Slack or to even really know what Slack is to read this book," he told "GMA." "If you've ever sent a text message or DM or been in a group chat, you're totally gonna get this."
"It's a pretty quick read," Kasulke said about his book. "Partially because it's written in chat form. But I've also been fortunate enough to hear from some readers who said they needed to read it in a single day, or some people in a single sitting because they really just wanted to know what happened and they got caught up and wanted to get to the end."
The story follows Gerald, a mid-level employee of a New York-based public relations firm. When his consciousness is uploaded into Slack and finds himself trapped in his company's workspace, he plunges into the surprisingly expansive landscape where he finds an unlikely ally in Slackbot, Slack's AI's assistant, who helps him navigate his new digital reality.
Gerald also learns about his PR team's real-world problems and how they're in danger of snowballing out of control.
"It's not what you expect," Kasulke said about his book. "I don't know what comes to mind when you hear that a novel is written entirely in chat form and I've also heard from some readers who didn't know if they were going to like it and didn't know what to expect, and they wound up having a really wonderful time, and I hope you do too."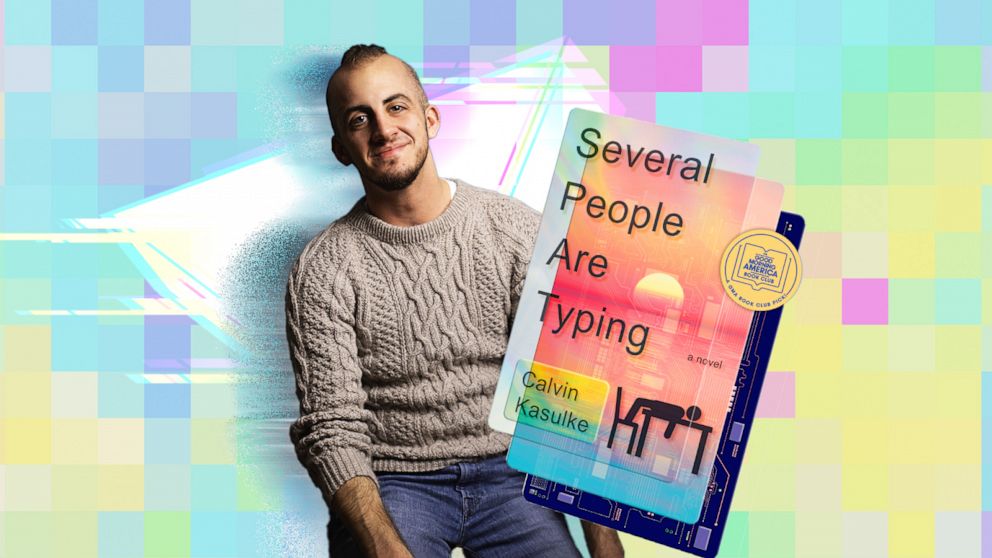 Get started with an excerpt below, or listen to the audio excerpt here:
Audio excerpted courtesy Penguin Random House Audio from SEVERAL PEOPLE ARE TYPING by CALVIN KASULKE, read by MACLEOD ANDREWS.
You can also get a copy of Kasulke's book here:
By clicking on these shopping links, visitors will leave Goodmorningamerica.com. These e-commerce sites are operated under different terms and privacy policies than Goodmorningamerica.com. ABC will receive a commission for purchases made through these links.
Several People Are Typing
Valid: Invalid date to Invalid date
Read along with us and join the conversation all month long on our Instagram account -- GMA Book Club and #GMABookClub
*****
gerald, slackbot
gerald
help
slackbot
I can help by answering simple questions about how Slack works. I'm just a bot, though! If you need more help, try our Help Center for loads of useful information about Slack.
gerald
uninstall
slackbot
I searched for that on our Help Center. Perhaps these articles will help:
• Change your time zone
• Manage your password
gerald
please help me
slackbot
I can help by answering simple questions about how Slack works. I'm just a bot, though!
gerald
uninstall self
slackbot
I'm sorry, I don't understand! Sometimes I have an easier time with a few simple keywords. Or you can head to our wonderful Help Center for more assistance!
#nyc-office
kerolyn
so this spreadsheet
gerald
yes?
kerolyn
was it like, special?
gerald
not particularly
tripp
what were the contents of the spreadsheet
gerald
does that really matter
kerolyn
it must
clearly
Nikki
Clearly it must, for all this to have happened.
gerald
coats
tripp
no comprende
Nikki
https://en.wikipedia.org/wiki/Coats
Coats
Coats may refer to [read more]
tripp
thank you, Nikki
unnecessary
but thank you
Nikki
You're welcome.
kerolyn
explain the coats, @gerald
gerald
it was a spreadsheet of different winter coats that I was considering purchasing
broken down by price, probable warmth, and other deciding factors
tripp
"other deciding factors"
such as
gerald
Predicted Attractiveness In Coat was a factor
tripp
lol
huge
Nikki
You built out a spreadsheet for that?
kerolyn
no, I get that
gerald
it's a big decision, financially
kerolyn
it's a big purchase
exactly
jinx
gerald
is that what you think it is, maybe? a jinx
kerolyn
that's not what I meant
gerald
maybe you're right though
Nikki, pradeep, Louis C
Nikki
Why do we have these calls? What is he even saying?
pradeep
I have no idea
I tune out whenever this dude talks
what's his role over there again?
Louis C
He's their comms director.
pradeep
if they have a comms director then why did they hire us?
Louis C
Because he isn't a very good comms director.
Nikki
You're both missing my point. I mean, *what is he actually saying*? It sounds like he's taking this call from the bottom of a well.
pradeep
if he's been stuck in a well for a while, that might explain his grasp of like the entire internet
Louis C
I believe their offices are located in the greater Tampa area.
Nikki
Is this what Tampa sounds like?
pradeep
please tell me this dude didn't just say "myspace"
please tell me I did not just hear him say that
Louis C
Yes. This is what Tampa sounds like.
#nyc-office
kerolyn
which channel were you going to upload a spreadsheet about coats into?
gerald
#gents-only
Nikki
You're joking.
gerald
you guys made a women-only one!!
kerolyn
not the same
Nikki
Not the same.
tripp
why was I not invited??
gerald
we're getting off-topic
point is that's the spreadsheet I was trying to upload when I got stuck
and now I'm just kinda, in here
tripp
@gerald invite me to #gents-only
gerald
I'm trying to explain why I'm not in the office rn
tripp
@gerald invite me to #gents-only, you coward
doug smorin
done
tripp
bless u
doug smorin
missed a lot of messages
someone recap for me?
kerolyn
gerald says he can't come in to work today because he uploaded a spreadsheet wrong, somehow, and now he's stuck inside slack
or smth
doug smorin
what
kerolyn
that's what we were investigating
gerald
I know it sounds like bullshit
tripp
should file a ticket with google suite maybe
would be a real significant bug
I'm checking their troubleshooting page rn and it doesn't look like there's a section dedicated to users getting Tron'd
gerald
I don't know how to get un-stuck
tripp
weird that they wouldn't include that! if it was a real thing that happened!
doug smorin
okay, Gerald, just work from home
gerald
or like, back into my body
doug smorin
but send an email next time
@here FYI please send me or kerolyn an email if you need to call out
I don't usually look at slack if I have calls
kerolyn
:thumbsup:
lydia
omg Gerald!! sry I'm so late to this!! get well soon!!!
gerald
help
*****