Chris Hemsworth talks new movie 'Extraction 2'
Courtesy of Warner Bros. Pictures/DC Comics
Whether you find it mad trippy or catastrophic -- it's actually a mix of both -- "The Flash," now in theaters, soars highest on the wings of its star, Ezra Miller, who plays Barry Allen, a forensic chemist struck by lightning that gives him the power to moonlight as superhero The Flash.
We've seen Miller cameo as Barry/The Flash in 2016's "Batman v. Superman: Dawn of Justice" and "Suicide Squad." But in this new chapter from the DC Comics playbook, Miller is the whole show, nailing every note of humor, heart and go-go-go mojo. Miller's legal troubles (Google if you must) may turn off a potentially wider audience, but as an actor he's aces.
Directed by Andy Muschietti (the "It" movies), "The Flash" starts way better than it finishes with Barry berating himself as "the janitor of the Justice League." But an urgent call from Alfred (Jeremy Irons), butler to Batman (Ben Affleck), tells him that the Caped Crusader needs his help since the other Justice Leaguers, from Superman to Wonder Woman, are busy on other jobs.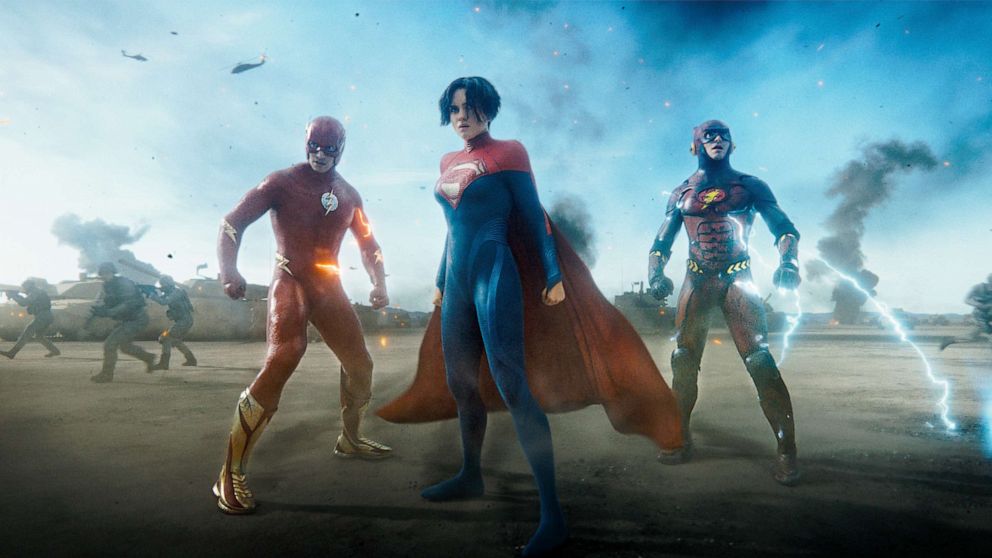 So The Flash is off to the rescue when the Gotham Hospital building collapses spilling newborns into the air. The "baby shower" is an almost tragedy being played daringly for laughs and it ignites action that is outrageous and off-kilter in just the right proportions.
Cue the backstory. Since boyhood, Barry has suffered psychological damage from the murder of his mother (Maribel Verdú) and the unjust imprisonment of his father (Ron Livingston) for the crime. Like Bruce Wayne/Batman, he's an orphan in a storm not of his own making.
But there's a fix. When Barry discovers that he can flash back in time and maybe save his mother, he unthinkingly takes the leap. Any fan of "Back to the Future" knows you mess with time at your peril. Suddenly, Barry comes face to face with himself as a gangling, goofball 18-year-old with no Idea how to reset the clock. Doing double duty, Miller is double dynamite.
That's when the two Barrys bend time to call on Bruce Wayne, aka Batman, in the person of the great Michael Keaton. The star of Tim Burton's first two "Batman" films is stupendously funny playing the Dark Knight as a grumpy burnt-out case who thinks Superman is a better choice. But only the Man of Steel's cousin Supergirl (a terrific Sasha Calle), is available for service.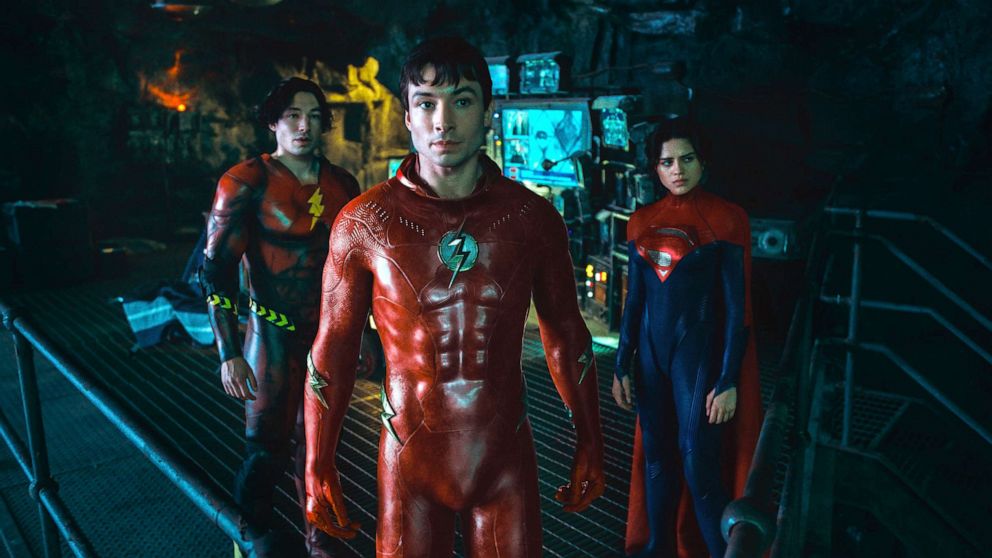 Just when you feel irrevocably lost in the multiverse, "The Flash" switches gears to involve the twin Barrys and a wild bunch of DC heroes (no spoilers but they multiply like rabbits) in a fight to save the world from Superman's mortal enemy, General Zod (Michael Shannon).
All the multiverse hopping is, in a word, exhausting. "The Flash" clocks in at an overlong and overstuffed 2 hours and 35 minutes. You can barely keep track of the characters and their alternates as they zigzag through multiple timelines of life, death and resurrection.
The last third of the movie, including a post-credit sequence, defines what it means to overstay your welcome. And so "The Flash" ends in a blur of shoddy digital effects that substitutes white noise for storytelling clarity. What's undeniable is the film's let's-get-nuts spirit that at least tries to do something rare in a summer epic: take us somewhere we haven't been before.