Chadwick Boseman's extraordinary, impactful life: Part 1
Mario Anzuoni/Reuters, FILE
The world is collectively mourning the loss of Chadwick Boseman, who died at the age of 43 after a private years-long battle with colon cancer.
Stars of the Marvel Cinematic Universe, friends and former colleagues of the actor and more spoke about his inimitable personality as well as his incredible contributions to cinema and culture during the ABC News special "Chadwick Boseman - A Tribute for a King" on Sunday night.
Few knew that the actor was diagnosed with stage 3 colon cancer in 2016, which eventually progressed to stage 4. Many expressed amazement at Boseman's strength in filming several movies, including "Marshall," "Da 5 Bloods," "Ma Rainey's Black Bottom," and more, while undergoing surgeries and chemotherapy.
Boseman continued sharing his acting talents with the world through his health battle.
"At this moment in our country's history as thousands from all backgrounds protest and demand for social justice, Chadwick Boseman played an instrumental role in defining the current culture," "Good Morning America" co-anchor Robin Roberts shared.
"He's already played some of the greats in Black history -- Jackie Robinson, James Brown, Thurgood Marshall -- and then made history as the first Black superhero in his own movie," Roberts added.
Read on to see how stars and friends of Boseman reflected on his life and legacy during the TV special.
Oprah: 'He truly was a superhero'
"I think that he not only played a superhero, but the way he handled his life and managing cancer with such humility and grace and dignity lets all know that he truly was a superhero," she shared.
"He will be remembered, cherished and loved in our hearts, not just for what he was able to offer on film, but what he was able to give as a human being," she said. "And it's not just a loss that we're feeling. We're going to feel his absence."
"I say that he was a star. But also a shooting star, because he lived his life in such a way that, you know, forever kids who see him in that 'Black Panther' role and see a reflection of themselves embodied in everything that he intended -- they get to dream about and wish about and make wishes on that shooting star that was Chadwick Boseman."
Robert Downey Jr: 'His legacy is so meaningful'
"Toward the end of the third 'Avengers' -- 'Infinity War' -- we all kind of lose together. And I remember it was one of those few days that all of the Avengers were together and it was just the way that he walked on set and the immense success that had occurred, and rightfully so, with 'Black Panther' ... he was just kind of in this stratus of his own, but always, always humble, always hardworking and always a smile on his face. Now looking back, all the more I've realized just what an great incredibly graceful human being he was."
"'Black Panther' is hands down -- it is the crowning achievement of the Marvel Universe," Downey said. "It was the one where people got to vote with their ticket sales and say we require this overdue diversity."
"There is a void now," he added about Boseman's passing.
Forest Whitaker: 'I was excited to get the chance to work with him because he's such a great artist'
"When we started to do 'Panther' ... I was able to look at him as he was doing the action sequence with Michael Jordan and doing everything himself just over and over again. So I got a chance to recognize the sort of discipline that he had and focus that he had in the scenes we were doing there. I think I was kind of touched when we were doing the coronation scene -- when we were crowning him king -- and everyone in the audience is dancing and the drums are playing. I turned to Chadwick, and Chadwick says that you can feel this energy coming, as if there was a transformation that was going on."
"I thought that was really powerful that he was being empowered -- that it was actually happening," he added.
Don Cheadle: 'He'd go out of his way to let you know that he loved you'
"I didn't have enough time with Chadwick," he said. "I mean it's a statement that I know everyone is making and everyone can make because he was here far too short."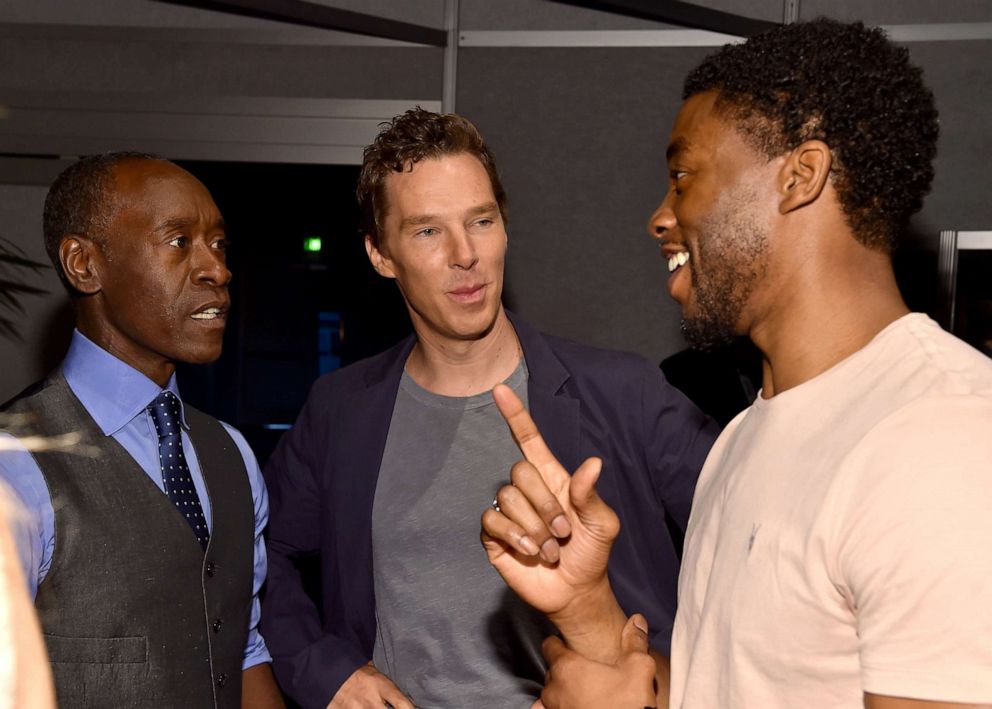 Paul Rudd: 'Thank you, Chadwick'
"I thought back to all of those performances and all those incredible people that he played and realized I don't think you could do it as convincingly as he did if you don't possess that same grace he had in real life," he shared. "You can't act that."
"To all those little kids that love 'Black Panther' and look to T'Challa as their hero, just know that the guy who played him is an even bigger hero in real life," he added.
Scarlett Johansson: 'He will always be with us'
"Chadwick was a deeply kind and gentle person, and very present and thoughtful," she said. "Those qualities are all so present in his work and he left that part of himself in the integrity of all his performances. So he will always be with us. He left an unprecedented legacy ... there will forever be an irreplaceable piece missing from our Marvel family."
Phylicia Rashad: 'Always as a student he was about justice'
"I think when people come to know of him now, through the words of me and other people have known him, what will become readily apparent to them is his commitment to justice and purpose," she said.
"And if you go back to listen to the commencement address that he gave at Howard university ... he spoke fervently about the importance of purpose. And always as a student he was about justice."
Winston Duke: 'You were my Black Panther'
"You were the last person I thought would leave us. You were the last person I thought could leave us so soon," he said.
"You're not just my friend, you're not just my hero, you were my superhero," he said. "You were my Black Panther."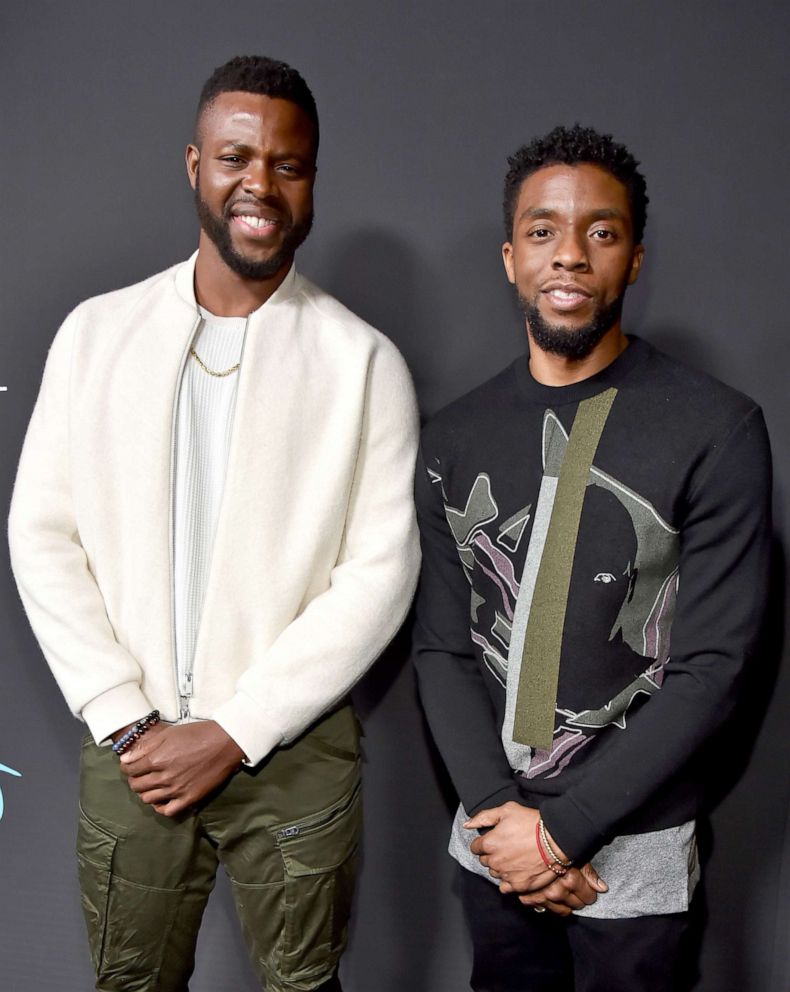 Mark Ruffalo: 'The world is a less beautiful place without him'
"He's a historical figure as the Black Panther, but also such a good and decent human being."
Jeremy Renner: 'Thank you for your gifts and inspiration to so many'
"Chadwick, my friend. You will forever be remembered by your warm smile, your kind heart and your fierce courageousness through diversity," he said.
Tom Hiddleston: 'He was always grace and humility personified'
"He knew how much 'Black Panther' meant to so many people and how much joy it brought to them."
Simu Liu: 'I know that I ride the coattails of his success, that I stand on his great shoulders'
"I never got the chance to thank him for his talent, for his light, for showing millions of people around the world that superheroes didn't just come in one color and that people of color could absolutely lead tentpole blockbuster franchises the way he lead 'Black Panther.'"
Angelina Jolie: 'He gave all of us and all of our children an example of a great, gracious and humbled leader'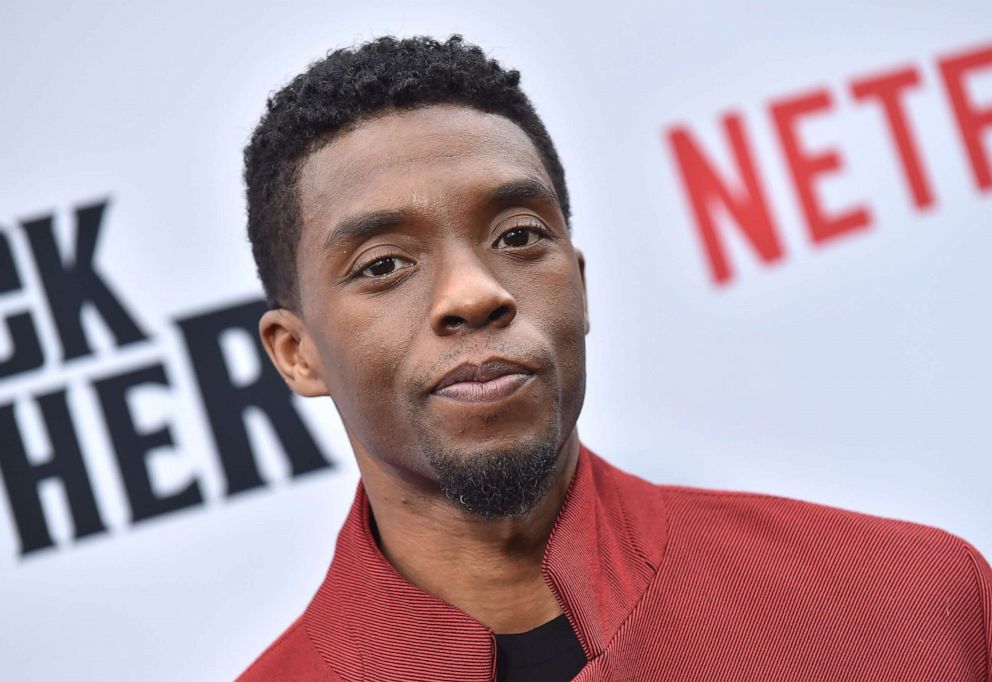 Josh Brolin: 'I just love you, man'
"Have a wonderful journey wherever it is that you're going -- they're lucky to have you," he said.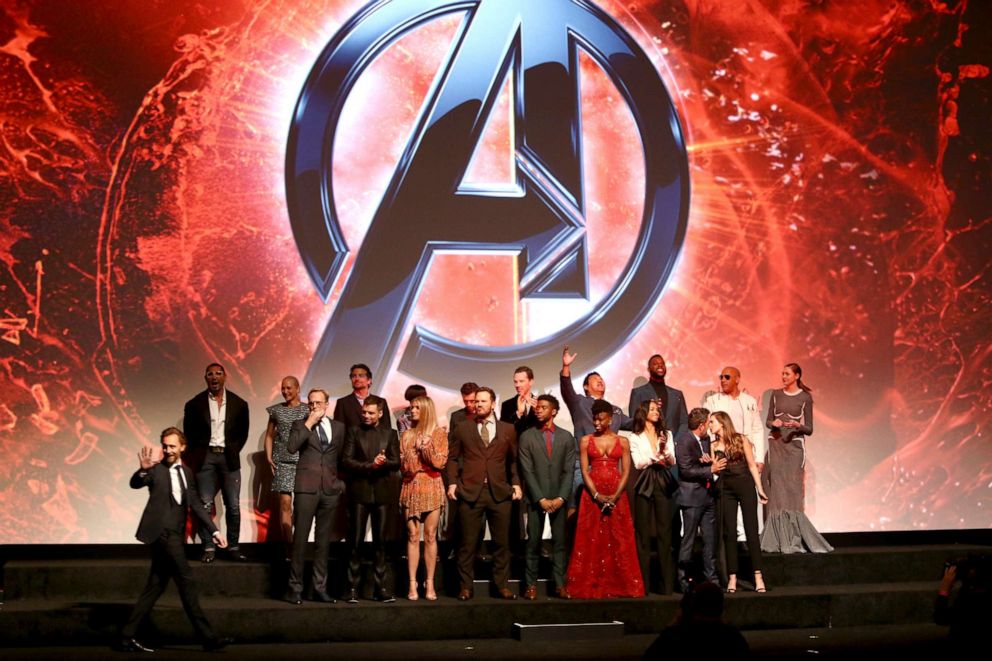 Whoopi Goldberg: 'This loss is felt around the world'
"He was pretty amazing," she said. "He is Wakanda Forever."
"Nobody was having more fun. If you look back on it, you think well if you knew that your time might be limited, you'd have a good of a time as you could as well. Bravo for him."
Chris Evans: 'He had that power in his art to define a generation'
"Chadwick was an immensely talented actor but a truly magnetic person. There was a wisdom to him, a stillness to him. He was not only a very committed actor but a very present person. He was inspiring in probably every way that you can be."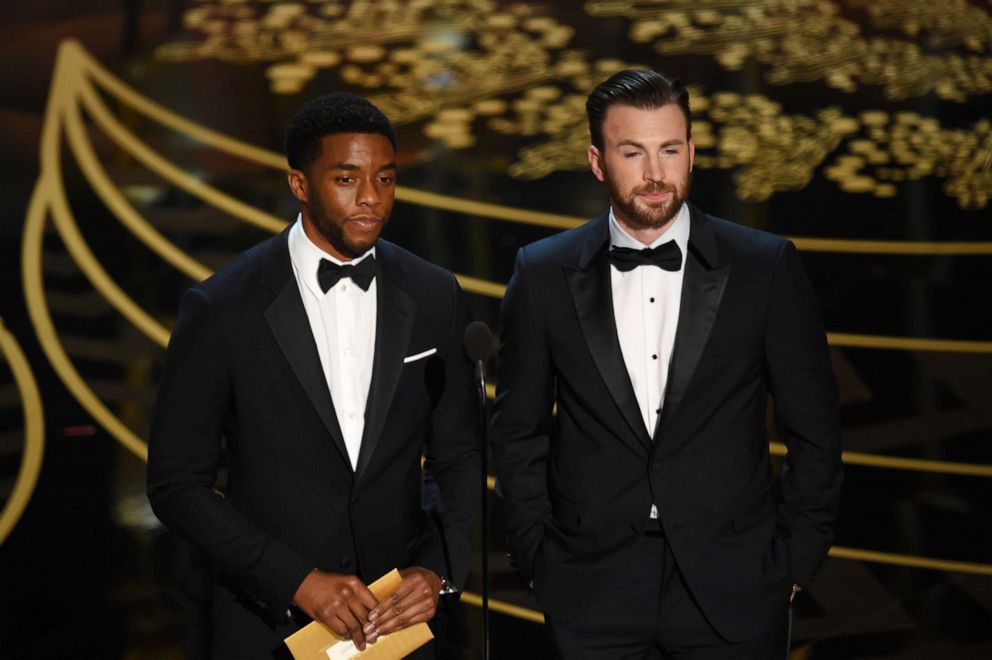 Sen. Kamala Harris: 'The most incredible twinkle in his eyes'
"You know he had this combination of being an old soul with the most incredible twinkle in his eyes," she said about the actor.
"That his last tweet was to encourage people to exercise their right as citizens to vote, to participate in their democracy, born of the love of our country, it's so reflective of Chadwick," she shared.
Harris said "Black Panther" was a "moment of collective celebration."
"Because of the story itself but also because of Chadwick. The significance of it, the brilliance of it, the elegance of it -- he did all of that."
Ta-Nehisi Coates: 'He's gone, and so that's a huge loss'
"Chad was my brother," he said. "And I mean in the sense of -- there's obviously, brother in the sense of being you know [an] African American man in America. But the brotherhood that I'm really speaking of is Howard."
He described Boseman as "very, very conscious."
"He would not, he wasn't the kind of cat that felt he had to take a role to make a living. His art was an extension of that struggle...so he was not going to take anything that embarrassed him, embarrassed his people, embarrassed his community. That just wasn't him."
"A film like 'Black Panther,' you know, Chad was articulating, as only he could, the humanity of Black folks. And that's what this is all about. You can't shoot a man in the back unless you believe they are subhuman, or not human at all. What Chad was in the work of doing was communicating Black humanity through Black heroism. But primarily Black humanity. And he was peerless in his ability, you know, to to do it in his chosen field. And he's gone, and so that's a huge loss. That's a huge, huge loss."
Zoe Dale: 'He was a role model'
The young woman, then 20, met Boseman when he visited her in the hospital during her cancer battle.
"I was really nervous and being able to meet him was one of the best experiences I had at St. Jude," she said. "To have someone who is African American be a lead in a movie, such a big movie like that, and to sound like our dad, he was a role model that we could look up to and someone that looked like us in a movie."
The actor signed her treatment schedule when visiting her on what was the 30th and final time she was going into the hospital for radiation.
"I was just thinking how he was able to be at St. Jude with a smile on his face the entire time and happy to be there, I was just thinking 'wow.'"