Simone Biles heads to Tokyo and weighs in on Team USA's medal hopes
Lionel Bonaventure/AFP via Getty Images
Simone Biles is an unstoppable force in the world of gymnastics. The 24-year-old Olympic champion, one of the greatest female gymnasts of all time, is the most decorated U.S. gymnast ever, according to Team USA.
She's proven her unmatched skills time and time again by nailing challenging moves never done before. Biles had four signature moves named after her in three different events: on the floor, on vault, and on the balance beam.
"The demand on the body is extraordinary, and the physical conditioning that has to take place in order to be able to withstand that kind of pressure is, frankly, off the charts," said Don Spencer, gymnastic coach and USA Gymnastics Power TeamGym Technical Committee chairman.
Here's a look at Biles' signature moves and what makes them so challenging:
Floor exercises
The "Biles on the floor" was first successfully completed by Biles on the world stage in 2013 at the World Artistic Gymnastics Championships. This move is a double layout with a half-twist, which means that her body remains straight and elongated as she flips twice. While in the air, she completes a half-twist.
What makes this move so challenging is the "blind landing," according to Courtney Johnson, a USA Gymnastics-accredited judge. This means that Biles can't see the floor where she will land when she comes down from the flip.
Not only does she have to be extremely high in the air to do two full, stretched-out flips, but the half-twist makes this move more difficult, Johnson said.
Her second signature move on the floor, "Biles II," was first successfully completed on the world stage in October 2019 at the World Championships in Stuttgart, Germany. For this move -- a triple-double -- Biles flips twice while twisting three times before hitting the ground.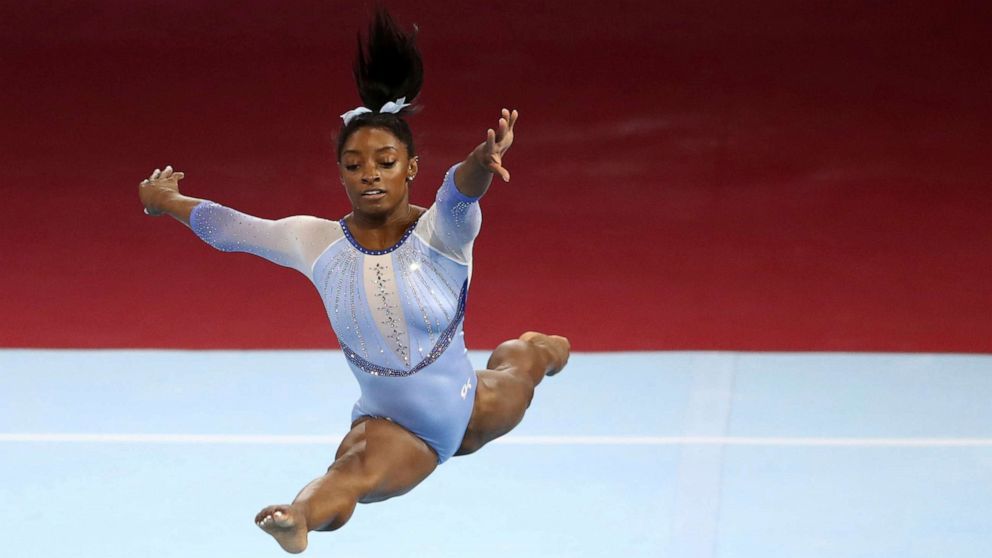 "The timing has to be good enough for you to still get that height in the air but also move your arms to start this spin-rotation part," Johnson told ABC News.
Biles is the first female gymnast to ever complete a triple-double.
On vault
The "Biles on the vault," a Yurchenko half-on with two twists, was first successfully completed on the world stage at the 2018 World Championships. Yurchenko is a type of move named after Soviet gymnast Natalie Yurchenko that involves a round-off onto the spring board, followed by a back handspring on the vault.
So, Biles does a round-off, into a back hand-spring with a half turn, and completes the move by twisting twice in a somersault.
It was assigned a difficulty score of 6.4 -- which makes it one of the most difficult vaults in women's artistic gymnastics.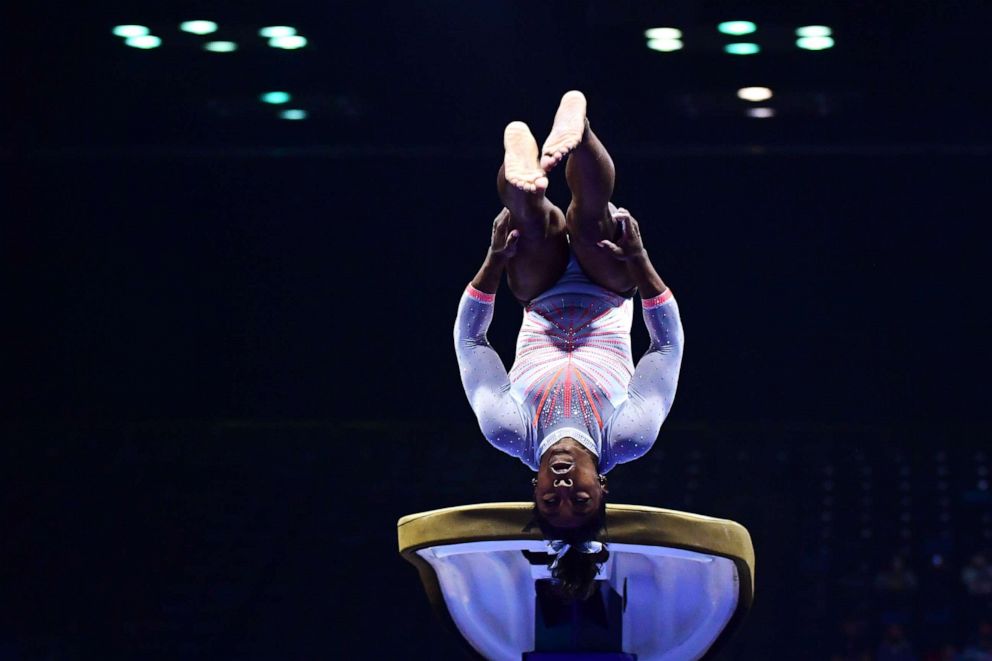 However, if Biles lands a Yurchenko double pike at the Tokyo Olympics -- a roundoff, a back handspring and two straight-legged backflips -- she will likely have a fifth move named after her. She's already performed and successfully landed the move in competition.
On the balance beam
The "Biles on the balance beam," which was first completed on the international stage at the 2019 World Championships, features a double-double dismount. Biles is the first gymnast to ever complete this skill, according to Team USA.
"If you're listing the level of difficulty amongst all those skills, I would say the balance beam dismount is probably at the top of the list," said former UCLA gymnastics coach Valorie Kondos Field.
The move is a double-twisting double backflip, completed on a 4-inch wide beam.
"The one that is just mind boggling to me is the dismount of balance," Spencer said. "It's hard enough just to get to a dismount, with multiple skills in front of it going down a straight line. To be able to execute a skill that twists twice and flips twice from a balance beam ... that is just absolutely phenomenal."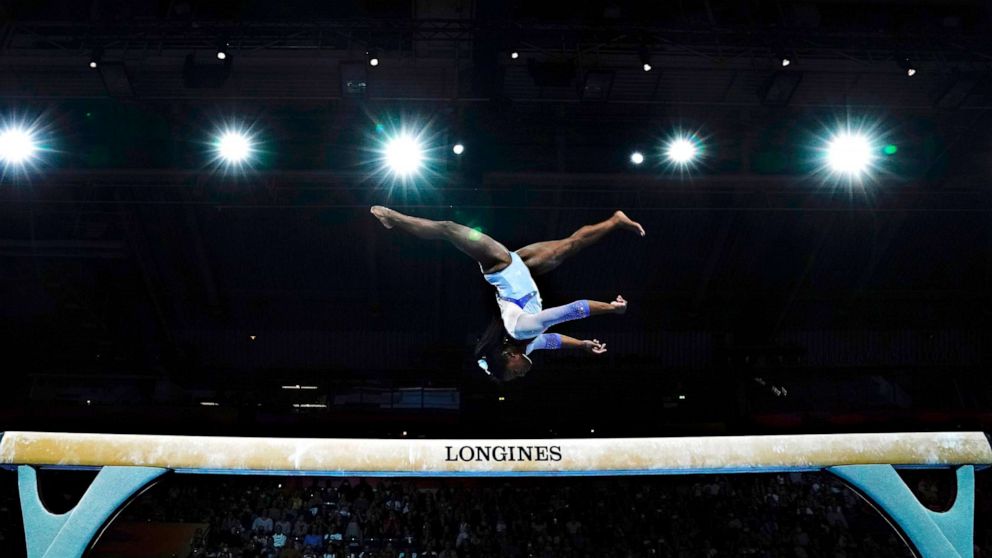 Coaches say that Biles' genetics likely has a lot to do with her success. Johnson said her 4-foot-8-inch height and small stature gives her more time in the air to do high-difficulty skills, and it makes her unstoppable when combined with her strong, muscular build.
"She's using her body and her muscles as efficiently as possible and it makes her that much more powerful," Johnson said.
Her strength allows her to push her smaller body higher up into the air, Johnson said. And since she's shorter and takes up less space -- she can manage more twists, turns, and stunts than her competitors.
However, experts also say Biles' mental strength and drive have likely played a big role in her gymnastics prowess.
"Your stress levels from the mental strain can really affect and manifest physically, so to be able to overcome those things and compete at the level that she's competing is amazing and it just sets her apart," Johnson said.
The pressure is on, with coaches, gymnasts and judges alike praising her focus.
"The focus has to be just razor blades sharp," Spencer said. "The margin of error is so small, that one minor mishap -- if it happens early, it can multiply and exacerbate the end, and even if it happens late, it can mess it up the landing, and so on."
Biles is heading to her second Olympics, following a stunning set of wins in the 2016 Olympic games. Biles won the individual gold medals in all-around, vault, and floor -- and now she's ready to take on Tokyo.