Take it from Snooki: Don't stress out about motherhood
You may know Nicole "Snooki" Polizzi from her days on MTV's "Jersey Shore," but this soon-to-be "mawma" of three is starting a new chapter. With the launch of her new store, The Snooki Shop, in New Jersey, Polizzi has transitioned into the roles of mother and entrepreneur.
We caught up with the 31-year-old and took a trip down memory lane to see what she has to say about starting a family, turning her passion into a business and more.
1. Soak up new experiences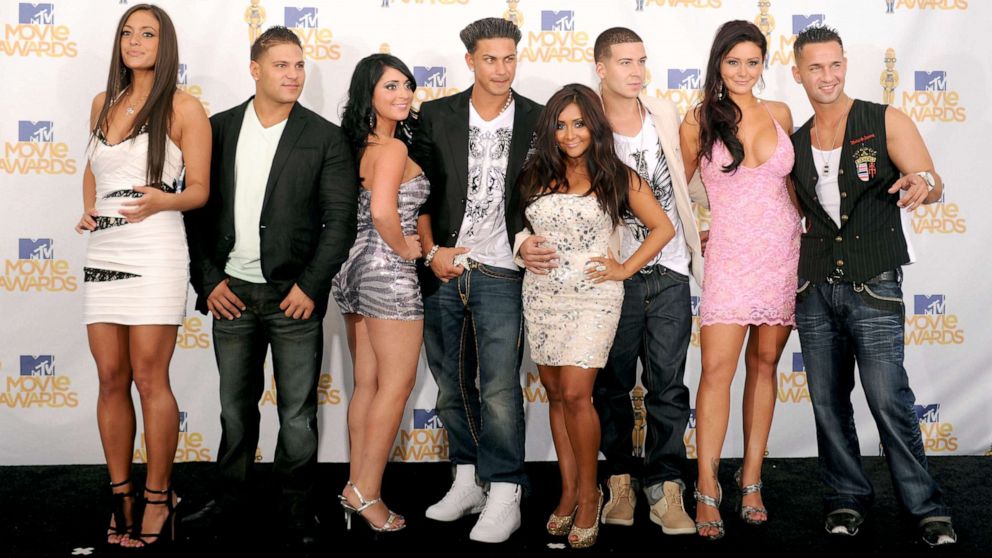 Snooki began her career in 2009 on MTV's reality show "Is She Really Going Out with Him?" but soon after was scouted for "Jersey Shore." Her party girl personality made her a standout on the show and a household name.
Polizzi remembers her time shooting the show as being "the most craziest time for all of us" because of all the opportunities that arose from their newfound fame.
"You know in the fame, in that life, it can be so crazy, and then it dies down and then it's crazy again," she said.
She said the cast would get annoyed by having to attend "another movie premiere" or awards show.
"I would tell all of us just to enjoy the experience," she said.
2. Don't stress out about motherhood
In 2012, Polizzi gave birth to her first child, Lorenzo.
She recalls living in the basement of her now-husband Jionni LaValle's mother's house at the time and being anxious about what was to come.
"I was super nervous because it was my first child," she said
At the time, she was 24 years old and, like many people, had a vision of how she thought her life would play out.
"I knew [Jionni] was the one, but I wanted to get married first and then be together for a year and then have a baby," she said.
Although it didn't go exactly as planned, it would all work out in the end.
"I think it was the immaturity of me that was nervous…and then, once I had Lorenzo, I knew what to do," she said. "I would tell myself to not be so nervous and stop stressing out because 'you're going to be fine.'"
3. Embrace the little things
Polizzi was born in Chile and adopted as an infant. She grew up in Marlboro, New York, where she also attended high school.
It was around this time that she received the popular nickname. In an interview with Rachael Ray, Polizzi revealed that in eighth grade, her friends started calling her Snooki because she was the first to kiss a boy. The nickname is based off a character in the film "Save the Last Dance."
"My girls started calling me Snooki and it just stuck ever since," she said.
Throughout high school and college, Polizzi took up cheerleading. She was even captain of her high school cheer squad.
"Cheerleading was my sport," she said. "It was my outlet. I loved it."
She looks back fondly on her high school years and said she sometimes wishes she could go back to relive one of the best times of her life.
4. Make time for yourself
In 2014, Polizzi married LaValle, who she describes as the love of her life.
"I wanted our wedding to be very old school and traditional. … I mean, it looks like we got married in the 40s, which I love."
Today, the couple has two children with a third on the way.
With her busy life as a mom and entrepreneur, she has one piece of advice: make time for yourself.
"We never go on dates because we are so busy with the kids and working…we need to make time for ourselves."
5. Always cherish friendships that are real
True friends are hard to come by, but Polizzi has found a real friendship with "Jersey Shore" co-star Jennifer Farley, also known as JWoww. The two became friends and have since collaborated on several projects, including their own MTV show "Snooki & JWoww," which aired from 2012 to 2015.
Today the reality stars host their own digital series, "Moms With Attitude," which often incorporates Polizzi's daughter Giovanna and Farley's daughter Meilani.
"I love shooting it with her because she's my best friend," Polizzi explained. "I feel like every year we get closer and closer, so always cherish friendships that are real."
6. Don't second guess yourself
Polizzi opened The Snooki Shop in the fall 2018. The store sells a variety of clothing and accessories that she would describe as a mix of Nicole and Snooki. From animal prints to comfortable "mawma" wear, The Snooki Shop has it all.
"I always wanted to do my own store, I just never had the time," Polizzi said. "I love clothes, so I thought just opening my own store would be a dream come true."
What has running her own business has taught her?
"Just go with it and see what happens," she said. "If you second guess [yourself], then it just delays the process and it becomes more stressful."