Trisha Yearwood has the perfect addition for your Thanksgiving spread this year -- sweet potato pudding!
The singer's popular holiday dish serves eight and is a great side to prepare along with her turkey recipe that she promises will "change your life."
Yearwood said she's found the dish is a hit with both sweet potato lovers and even those who don't love the vegetable as much because of its unique presentation.
"I meet a lot of people who say they didn't think they liked sweet potatoes—until they tried them prepared in a different way from just baked and topped with butter and brown sugar," Yearwood wrote in her 2010 cookbook, "Home Cooking with Trisha Yearwood."
Crank up Yearwood's new duet with her husband Garth Brooks -- "Shallow," out Nov. 20 -- and get cooking! You can also catch Yearwood on "Trisha's Southern Kitchen" Sundays on the Food Network.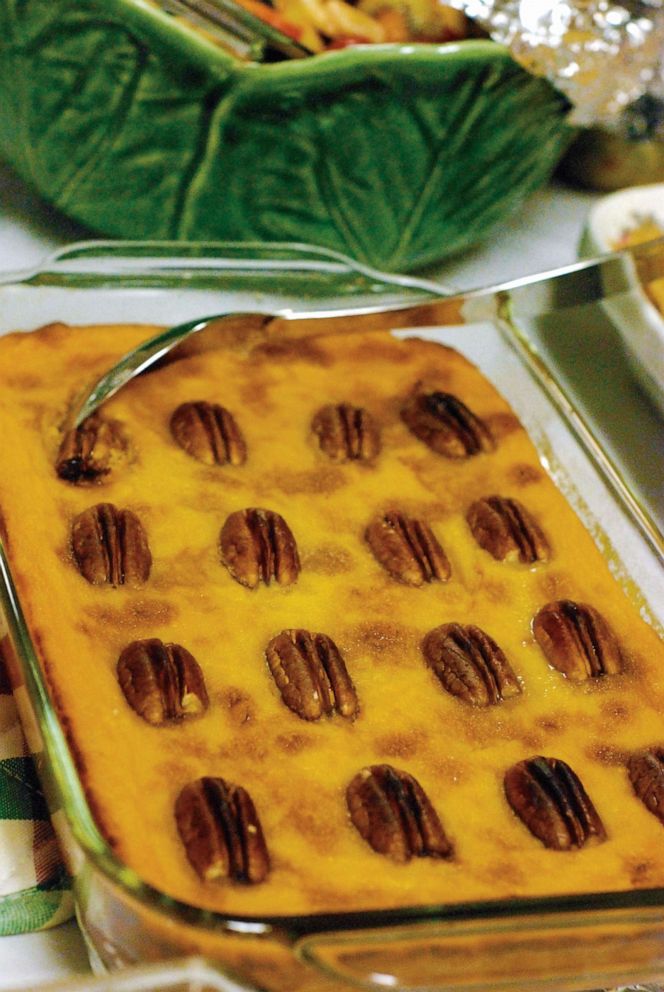 Here is the full recipe:
Ingredients:
2½ pounds (about 3) medium sweet potatoes
½ cup (1 stick) butter, room temperature
2 large eggs
1 tablespoon self-rising cornmeal
1 cup sugar
½ cup milk
¼ teaspoon salt
1 teaspoon vanilla extract
1 cup pecan halves
½ cup packed brown sugar
Directions:
Preheat the oven to 400 F. Spray an 8-inch square baking dish with cooking spray.
On a foil-covered baking sheet, bake the sweet potatoes for 1 hour, or until they are soft. Remove and let cool. Reduce the heat of the oven to 325 F.
When cool enough to handle, peel the potatoes, place the flesh in a large mixing bowl, add the butter and mash until smooth.
Add the eggs, one at a time, beating well after each addition. Add the cornmeal, sugar, milk, salt, and ½ teaspoon of the vanilla and beat until smooth.
Pour the batter into the prepared baking dish. Arrange the pecan halves on top of the pudding and top with the brown sugar.
Sprinkle the remaining ½ teaspoon vanilla by small droplets over the brown sugar. Bake for 45 minutes, or until the top is browned.
Tip: The top of this pudding should be browned, but watch to make sure you don't burn the pecans.
Reprinted with permission from "Home Cooking with Trisha Yearwood." Copyright © 2010 By Trisha Yearwood. Published by Clarkson Potter/Publishers, an Imprint of Penguin Random House, LLC.