Willow Smith talks sexuality, says she could see herself with both a man and a woman in a polyamorous relationship
What is LGBT Pride Month?
Paul Archuleta/FilmMagic via Getty Images
Willow Smith, her mother Jada Pinkett Smith and her grandmother Adrienne Banfield-Jones got together for another edition of "Red Table Talk." This time the conversation focused on "unconventional relationships" and multiple partners.
Smith, 18, has always been very candid about her views of the world and on Monday's Facebook show, she talked about what she wants in a partner -- or partners -- as she moves forward as a young woman.
Pinkett Smith opened the show by saying that Willow has been reading up on polyamory, the practice of having multiple partners for the purpose of love.
In a video, it was explained that this practice is not polygamy or swinging. It's also about honesty and love, not just sex.
"Will and I are constantly in conversations about alternatives," Pinkett Smith said, later adding that she's monogamous when it comes to sex.
Willow said investigating this kind of new love is all about looking for something that can be "helpful and make us love more." Though her experience is very limited, being 18, Willow talked about "evolving" past the feelings of insecurity and jealousy that can come from monogamy.
"There's no freedom, it's all fear based," she said.
"Monogamy can work," Pinkett Smith said, probing her daughter about why she feels it's "oppressive."
"Divorce is an epidemic," Willow responded. "And people are trying to find meaning and true love."
Banfield-Jones was opened minded about the discussion but admitted the idea of multiple partners is "still off-putting to me."
While the proud grandmother said she wouldn't be in a polyamorous relationship, Willow said she obviously would be open to one.
"There are so many different kinds of people in this world and so many things to learn," she said.
She said she doesn't see the benefit in not learning from others, including romantic partners. But she admitted she would stay away from people who don't have "pure intentions."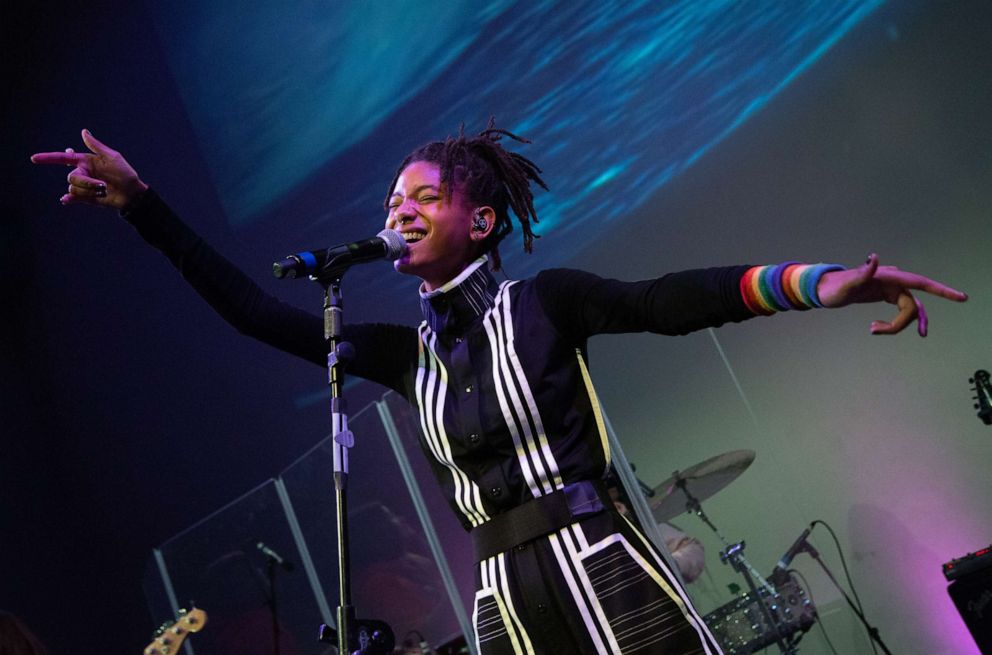 "That's not aligned with my purpose," she said about people wanting multiple partners just for more sex, for example. "Personally, male and female, that's all I need," she said about a potential three-way partnership.
Pinkett Smith admitted that her stomach turned a bit imagining her daughter with two loving partners.
After being told by her grandmother that she is young, Willow admitted, "I have so much to learn!"
But, she added later, "There's a difference between a romantic relationship and a sexual relationship" and that she would focus more on the "emotional connection" if she were to have a polyamorous relationship.
The three ladies also welcomed a polyamorous couple, who confirmed the things Willow had been saying.