Leah Van Dale is expecting her first child with husband Matt Polinsky.
The WWE star announced her pregnancy exclusively to "Good Morning America" on Monday, sharing that she found out the exciting news in March.
"It's just all been such a whirlwind," she said. "I think because of my past, it was hard to get excited off the bat about this one, but I was cautiously optimistic. I try to have a good mindset, a positive mindset this time around, and it's working. So I'm very happy about that."
Van Dale, 35, who goes by the stage name Carmella, experienced two miscarriages last year in September and October. Nevertheless, she said this pregnancy has "been really good" so far, and she is due around November.
She added that her morning sickness, however, "has been crazy."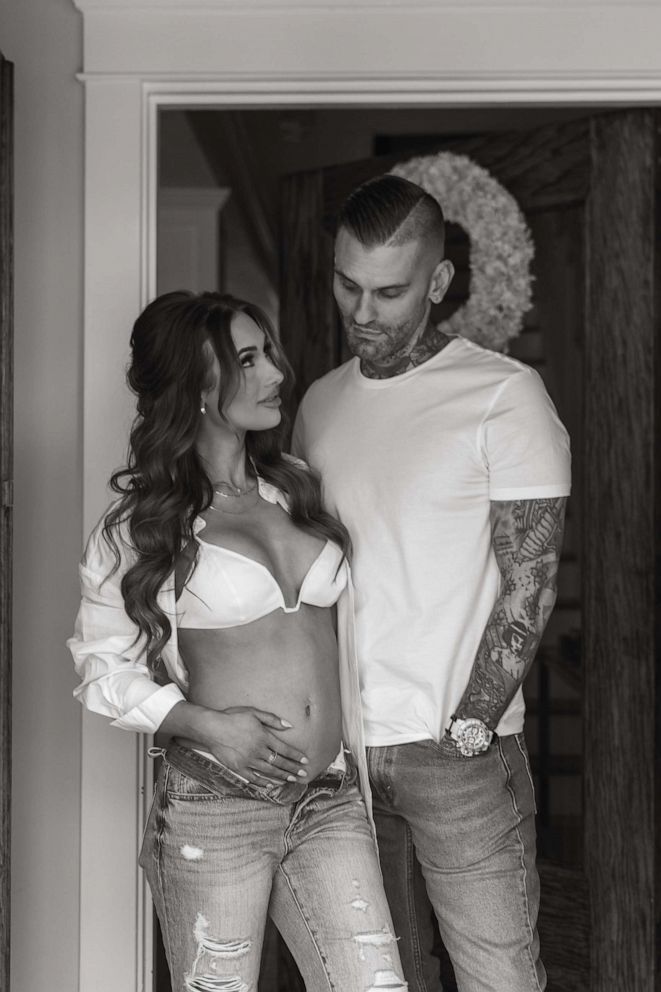 "I've been nauseous. I've been so tired, more tired than I've ever been in my life," she told "GMA." "But I've never been so happy to feel so awful. I've been great, I mean mentally. It's kind of this weird space where I'm excited, but also just a little apprehensive because of the miscarriages. It's unfortunate that it robs you of the true excitement that should be there."
Speaking about her initial response to her positive pregnancy test this time around, she added, "After the first [test], I'm like, 'Oh, are we sure? Are we sure?' ... I mean, I took [additional tests] for weeks just to make sure they still said positive. So it's really just been such a mind work to get my head around. But the fact that I'm here, I'm on the other side of it, I'm almost out of the first trimester at this point ... it's been quite a journey."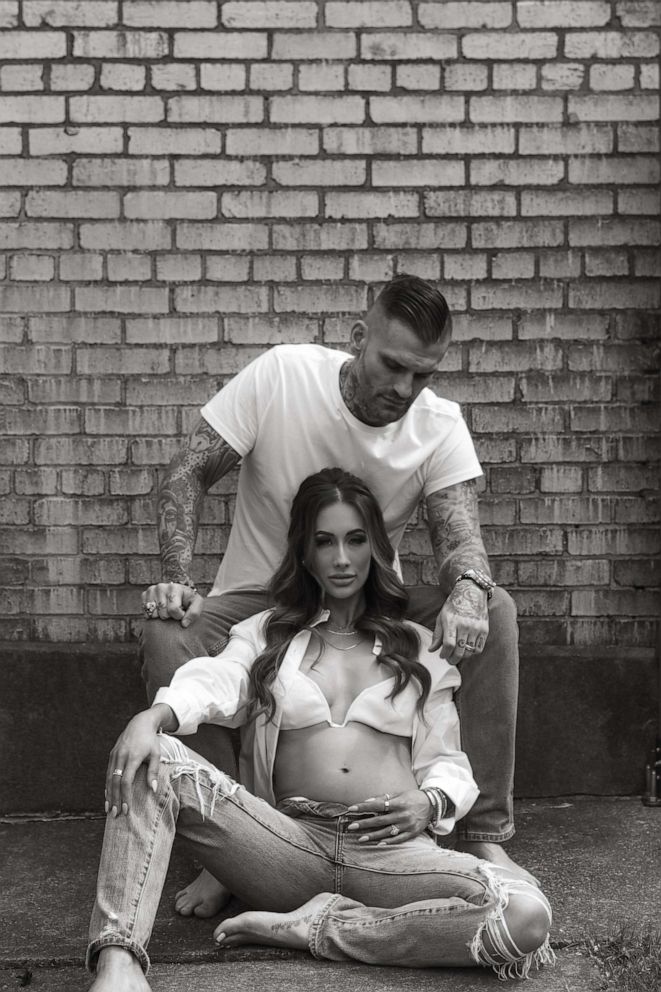 Discussing her pregnancy cravings, she said that they include "all of the carbs."
"Literally anything: pasta, pizza, mashed potatoes. And, actually, I'm craving cucumbers, a lot," she added.
Van Dale tied the knot with her husband Polinsky, 39, in April 2022. Polinsky is already a father of three kids, whom he shares with ex-wife Amy Polinsky.
Speaking with "GMA" on Monday, Van Dale also discussed Polinsky's excitement in welcoming their new addition to the family, saying he did not expect the news at all.
"He was completely shocked and surprised," she said, adding, "He was so excited, and from the get-go when I told him, we both just really tried to have such a positive outlook on it."
Van Dale added that her stepkids were also thrilled to learn about her pregnancy, even though she and Polinsky were a bit "apprehensive" to break the news to them in the beginning, worrying about how they might react, since she said "they're all a little bit older."
"They were so, so excited, and made us even more excited about having the baby. That's just so amazing," she said.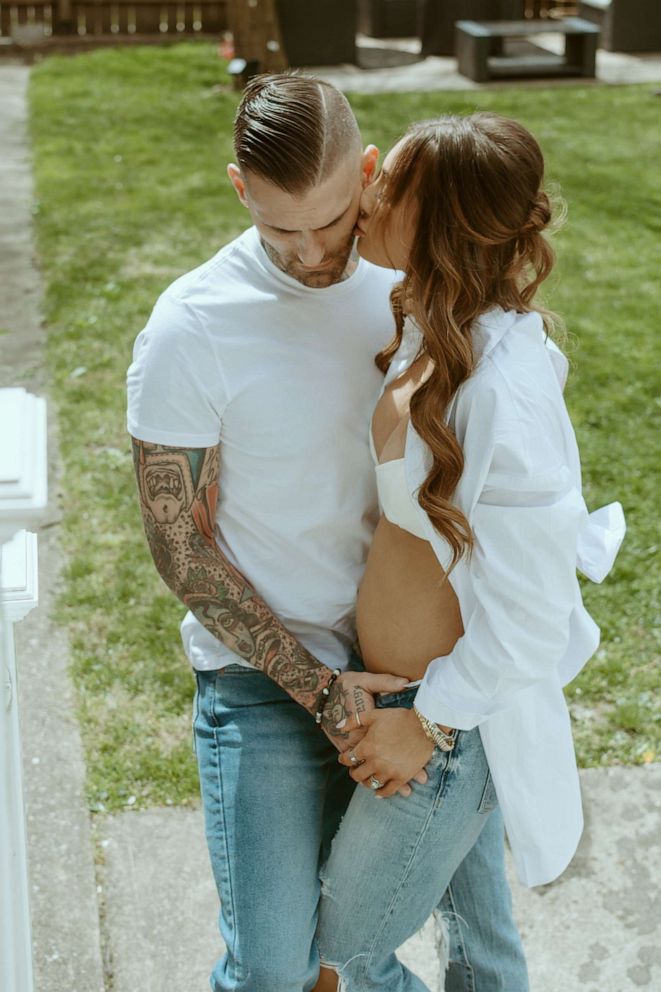 Shining a light on ectopic pregnancy, miscarriage
Van Dale decided to open up to the public about her second miscarriage in 2022, after she experienced an ectopic pregnancy. She posted about it on Instagram at the time, prompting followers and her WWE colleagues to leave thousands of supportive messages in the post's comment section.
"When it happened again with the ectopic, I just [felt] like this is so crazy," she said Monday. "I just thought you get pregnant, you have a baby. Of course, you've heard of miscarriage, but I don't know anyone personally that has gone through it, especially multiple times. So, when I went through it the second time, and it was a health issue for me as well, and not just the fact that I was losing a baby, I mean, my life was on the line ... it was just traumatizing and the most devastating thing that I've gone through, because you're not only going through this extreme medical condition, but you're also going through the loss of your child."
According to the American College of Obstetricians and Gynecologists, ectopic pregnancy occurs when a fertilized egg implants outside of the uterus.
"Almost all ectopic pregnancies -- more than 90% -- occur in a fallopian tube," the association states on its website. "As the pregnancy grows, it can cause the tube to burst (rupture). A rupture can cause major internal bleeding. This can be a life-threatening emergency that needs immediate surgery."
Risk factors for ectopic pregnancy include prior fallopian tube surgery, previous pelvic or abdominal surgery, certain sexually transmitted infections, pelvic inflammatory disease, endometriosis and previous ectopic pregnancy, according to the group, and people who smoke cigarettes, are over 35, have a history of infertility or have used "assisted reproductive technology, such as in vitro fertilization" may also be at increased risk of experiencing an ectopic pregnancy.
Symptoms of an ectopic pregnancy can include abnormal vaginal bleeding, low back pain or mild pain or cramping on one side of the pelvis, the American College of Obstetricians and Gynecologists states.
"As an ectopic pregnancy grows, more serious symptoms may develop, especially if a fallopian tube ruptures," the organization adds. Those symptoms can include "sudden, severe pain in the abdomen or pelvis," "shoulder pain" or "weakness, dizziness, or fainting."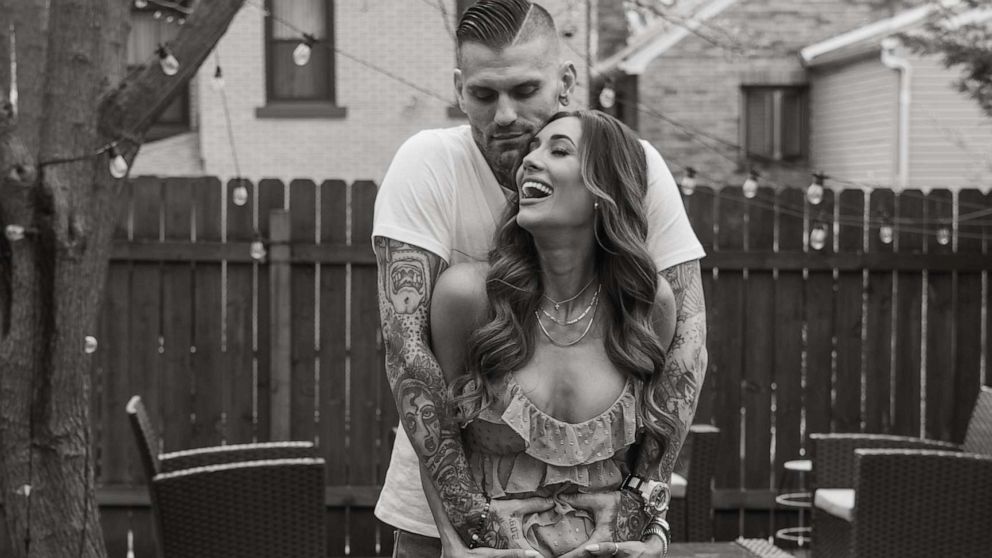 The "Total Divas" cast member said that her experience "was definitely difficult," leaving her feeling "alone and isolated."
"It just changed me. I was a different person because of that," she explained. "And I felt like, if I'm going through this, surely there are other couples going through this in the world, and no one talks about it. Nobody puts it out there. It's almost like there's a shame around it -- which, there's nothing to be ashamed of."
"It's part of life, and a lot of people go through it. More people than you know go through it," she continued, adding that she wanted to help other women by sharing her story and "normalizing it."
"I just think that's important, because especially nowadays with social media, everyone just portrays this perfect image of their lives and their relationships and everything," she said. "And I just feel like it's just so phony, and we have to be a little more, you know, authentic, and be a little more cautious about the things that we put out there because it does have an effect on people."
Van Dale also encouraged others who have experienced a pregnancy loss to remember "you didn't do anything wrong."
"It happens to a lot of women, and all you can do is be in it and go through it. Don't push it down," she said. "You have to feel the feelings you have to feel ... otherwise it's just going to be this thing you keep stuffing down that eventually will just explode."
Having a good support system consisting of her family and friends -- and especially her husband -- has played a crucial part in helping her going through her own journey, Van Dale said.
"My husband is just incredible, and you know, eventually you just have to kind of... I mean, it's life at the end of the day," she said.
She added, "So many people have gone through this. So, I think at the end of the day, it's life. It's how you deal with things. It's [about what] you do with them, and how you react. That, you know, makes us all who we are."
Van Dale took a break from wrestling after her miscarriages to focus on healing, which has given her a chance to spend quality time with her family.
"I think I've just focused so much on my career in the last 10 years that it made me forget the importance of life, and made me forget what truly matters," she said. "And at the end of the day that's family … that time afforded me more quality time with my family, with my stepchildren. I got the opportunity to get to know them on a level that I never knew them before."