Cardi B and her husband Offset, one-third of the rap group Migos, feted their first child together at a lavish baby shower that everyone is talking about.
The two rappers invited family, friends and few celebrities, to help them celebrate Tuesday night in Atlanta. The pink-outfitted baby shower not only featured a decadent layered cake, but also amazing details such as a book library and a live band. It even had a theme: "Bardi Shower: A Bronx Fairytale."
It was all thanks to party planner Karleen Roy, the founder and creative director of Vanity Group. The former executive assistant to Sean "Diddy" Combs told "Good Morning America" that she worked hard to not only celebrate Cardi, but her culture. (Cardi is known for boasting about her Trinidadian and Dominican heritage.)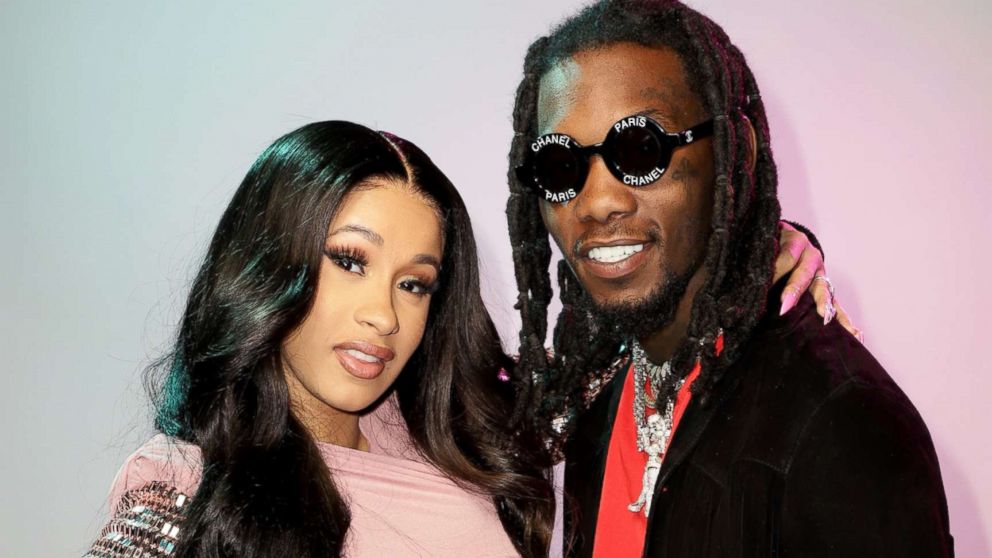 "People follow trends for baby showers, but we're really trying to celebrate who the mom is," Roy explained of her inspiration behind the shower. "If they all look the same, that's boring. We really wanted to speak to who Cardi was [and] her upbringing to bring something special and unique to her."
Roy said the couple wanted just two things: good food and great music. Roy said she chose food to reflect both of their heritages, as Offset, whose birth name is Kiari Cephus, hails from Atlanta. So the event planner had empanadas, yellow rice, macaroni and cheese, along with fried chicken on the menu.
And Cardi B, 25, whose birth name is Belcalis Almanzar, seemed to enjoy the day. She thanked her family for attending along with giving fans a glimpse of her baby's big day.
"BARDI Shower! Thank you everybody for coming," she wrote in a caption on Instagram Wednesday. "I really appreciated with all my heart and will never forget ya!! I haven't been able to open gifts today cause I haven't been feeling too good. Tomorrow I will see!!"
The rapper said despite the presents for her baby, "the best gift of all was your presence."
The couple publicly announced their engagement in October 2017 before Cardi revealed her pregnancy during a performance on "Saturday Night Live" in April. The rapper just confirmed rumors that she was already married just this week.
But if you want to liven up your upcoming baby shower, Roy broke down the elements of Cardi's baby shower that may be easy to replicate at your own festivities.
Don't be afraid to have live entertainment
Cardi's baby shower featured a live band, ballerina dancers, and even Migos' own deejay, DJ RayG. Roy said it was important for her to have live performances to stay true to her Bronx theme.
"We were really trying to bring the Bronx elements to the shower as far as New York street performers and subway performers -- that was a big thing. So how can we take that nugget and do it for the culture?" Roy asked rhetorically. "We had an orchestra, but they were an all-black hip-hop orchestra and they were playing hip hop music. And since the shower was for a little girl, we hired an all-black dance company."
Create a children's book library
At Cardi's shower, her event planner created a space where family and friends can write messages inside of the books given to baby Bardi.
Roy told GMA that "it really was important for us to have personal moments incorporated into the shower. You've gone to a lot of showers, who say, 'Bring a book!' Then you get home and you don't know who the book is from."
The event planner said to make it easier, she allowed Cardi's guests to "find a book that spoke to them and drop a note in it. As the baby grows up, she can go back and read who was at her mom's baby shower. It's a cute thing to have in their home for years to come."
Create installations for photo opportunities
Inside Cardi B's shower, there were several spaces where family and friends could pose for amazing photo opps. Not only did Roy supply a wicker chair, surrounded by pink flowers, for people to take a snap, but she also created a mock bodega, undoubtedly inspired by Cardi's upbringing in the Bronx, that could also be the perfect backdrop for your Instagram.
Roy said, "It's all about Instagrammable and sharable moments to not only the crowd that's there, but the crowd that wishes they were there."
She revealed she used 26,000 flower stems for the entire shower, but if people wanted to create floral walls at their own baby showers to purchase hedges instead, which are a bit more inexpensive. Also, grab an area rug to mark the space. Pick out the chair with the best personality and decorate the background with flowers (faux flowers are totally OK to save funds) and even some signage.