A year after survivors catapulted #MeToo into a global movement by sharing personal accounts of sexual assault, men are now reflecting on the movement and what it means to them.
In a recent SurveyMonkey poll, FiveThirtyEight, a site that focuses on opinion poll analysis, politics, economics, and sports blogging, surveyed 1,615 adult males. The outlet collaborated with Death, Sex & Money from WNYC Studios-- a podcast that features intimate conversations with celebrities and listeners about money, relationships, family, and career.
The participants of the survey were asked how they felt about #MeToo as well as the subject of masculinity.
Here's what they said.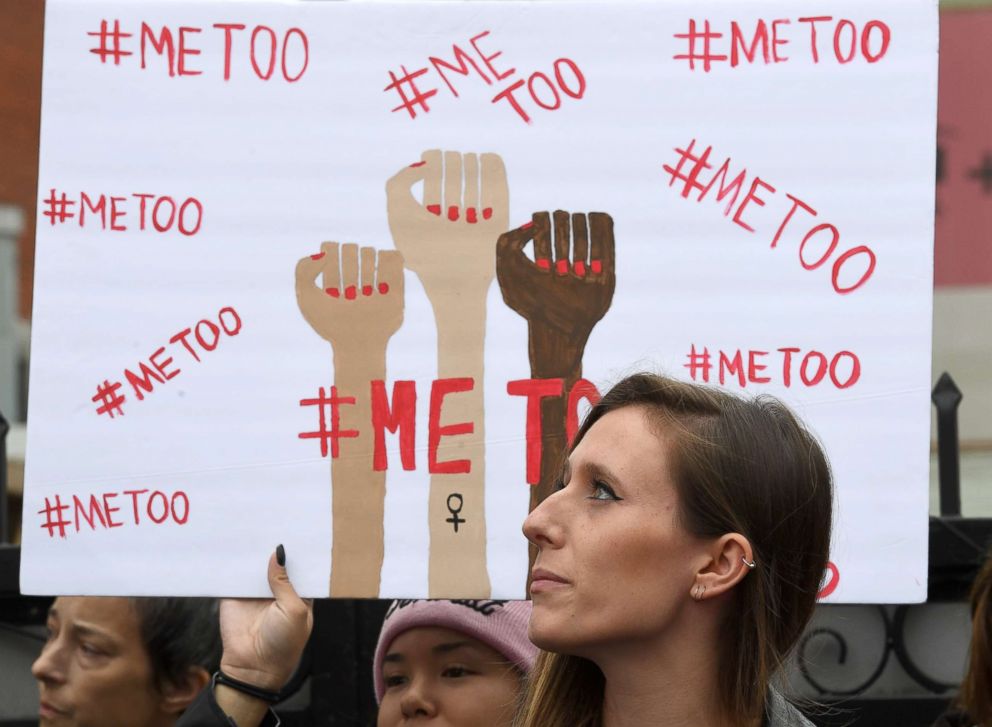 Results among millennial men
Of the men ages 18 to 34, 23 percent said that they had changed their behavior in romantic relationships after #MeToo. On the contrary, 77 percent said they did not change their behavior.
When it came to sexual boundaries, 15 percent said they wondered whether or not they pushed their partner too far in a past sexual encounter.
In this group, 77 percent said they have never been married, whereas 7 percent are divorced and 15 percent are married. As for sexual preference, 73 percent identified as heterosexual.
When asked how masculine or "manly" they feel, 29 percent of men in the 18 to 34 age group said they felt "very masculine" whereas 47 percent of the guys reported feeling "somewhat masculine."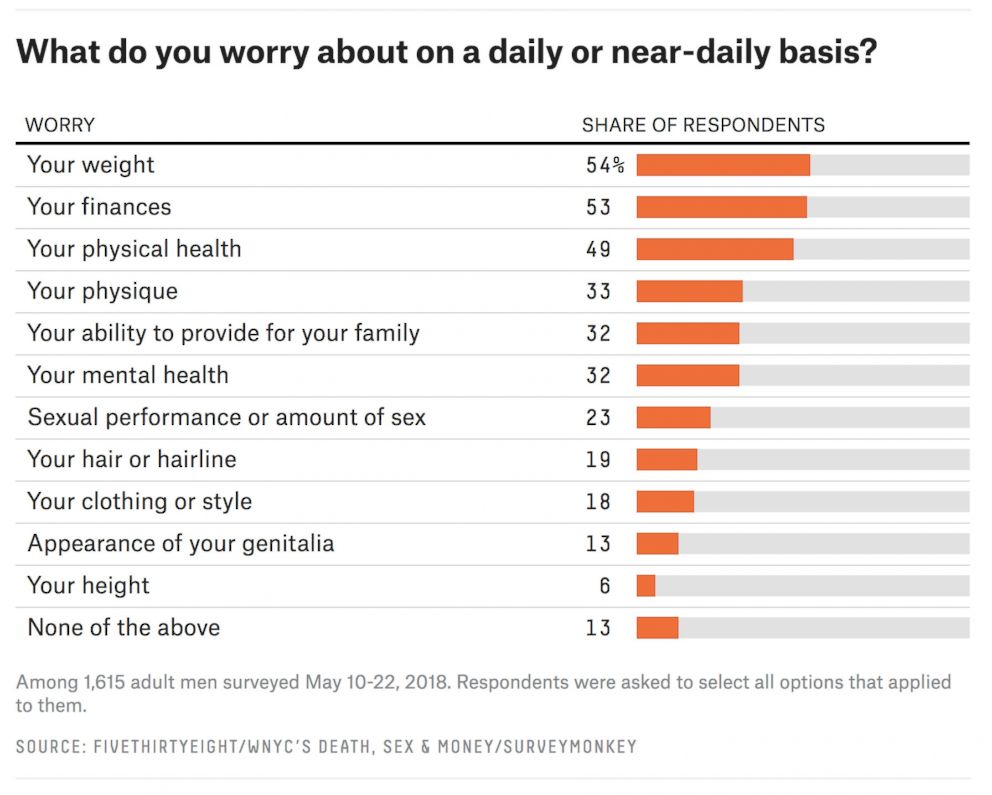 What does it mean to be a man?
According to the survey, when the men were asked to name a hobby or quality that they relate with being "masculine," the most cited words included "sports," "hunting," "strength," "lifting" and "football."
Among the 18 to 34-year-olds, 70 percent said that society puts pressure on them in a way that is unhealthy. This age group was more likely to pinpoint pop culture as a source of influencing their view of what it means to be a good man.
A total of 64 percent of all the men in the survey reported a father figure is the source of what it means to be a good man.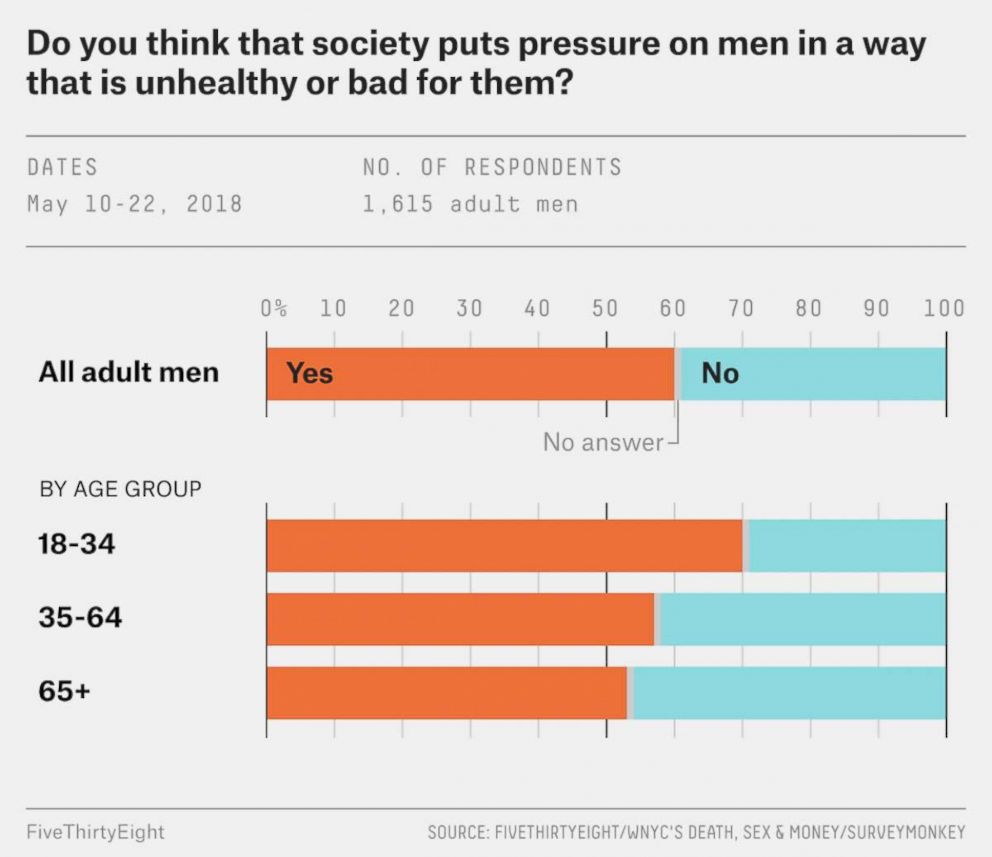 Dating, relationships and more on #MeToo
Among the employed men who were involved in the survey, 66 percent of them said they had heard a lot or some about #MeToo, and of those who had heard of it, only 34 percent said they had changed their behavior as a result. Most men said they had not witnessed an incident of sexual harassment at their workplace.
When making the first move, 61 percent of all the men said they felt that it was expected of them to do so. Forty-nine percent reported that they always tried to pay on dates with some variation across age groups.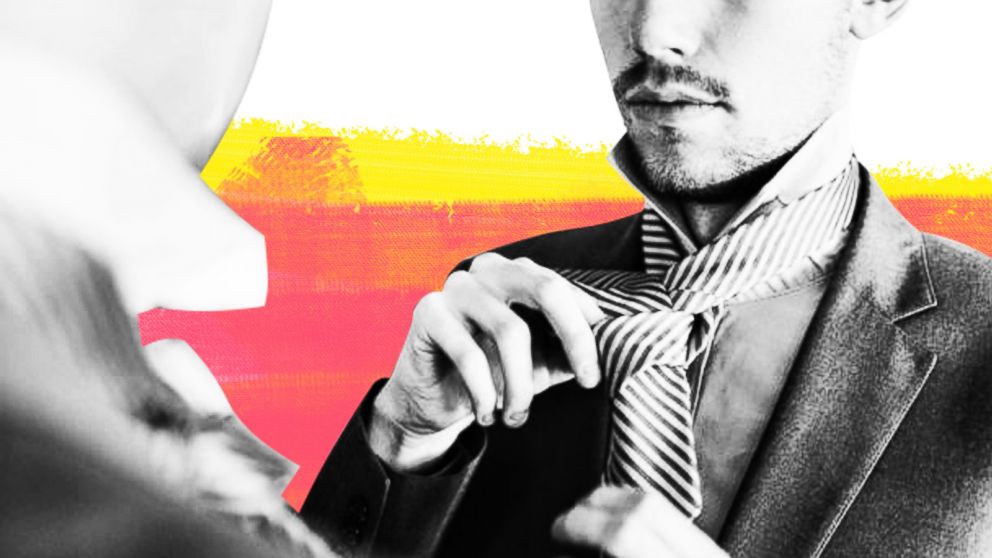 Of all the survey respondents, 86 percent said that they had not changed their behavior in romantic relationships in the wake of the #MeToo movement and 13 percent said they had changed their behavior.
About one-third of men said they ask for verbal consent when they want to be physically intimate with someone.
This is a collaboration between the Death, Sex & Money podcast from WNYC Studios and FiveThirtyEight.
This SurveyMonkey Audience survey was conducted May 10- 22, 2018 among a national sample of 1,615 adult men. Respondents for this survey were selected from the nearly 3 million people who take surveys on the SurveyMonkey platform each day. The modeled error estimate for this survey is plus or minus 2.5 percentage points. Data have been weighted for age, race, education, and geography using the Census Bureau's American Community Survey to reflect the demographic composition of the United States age 18 and over.