Tips on how to pick the best produce in season
Tis the season of open windows to try and get a cross breeze and getting ready to crank the air conditioning, which means the last thing you want on is the oven or stove in the kitchen this summer.
These fresh and vibrant recipes are best served cold and can alleviate heat in the kitchen because each one requires minimal to zero high-heat cooking -- we're talking a pot of boiling water at most.
Whether you want cold Asian noodles or some fresh salad ideas, check out the recipes perfect for a hot summer day below.
Shaved Zucchini Salad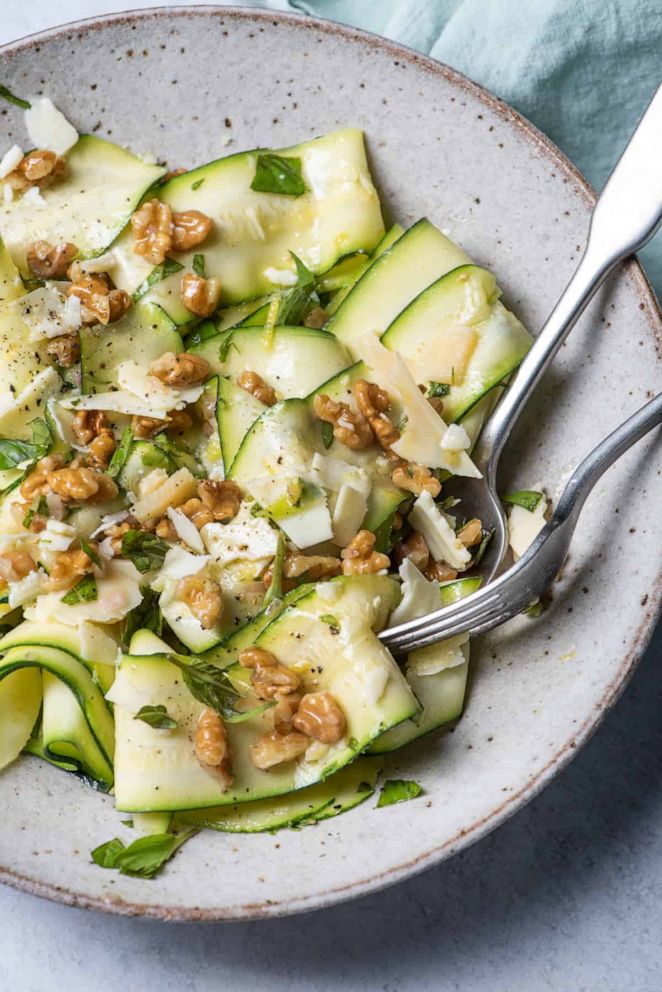 Yumna Jawad, recipe developer and food blogger of the Feel Good Foodie, shared her elegant yet simple salad that utilizes a raw squash and some simple pantry staples.
Cook Time: 10 minutes
Ingredients
Dressing
1/2 medium shallot minced
1 lemon zested and juiced
1 teaspoon red wine vinegar
1 teaspoon Dijon mustard
1 teaspoon honey
1/4 cup extra virgin olive oil
Kosher salt to taste
Freshly ground black pepper to tasteFor the salad
2 medium zucchinis ends trimmed1/3 cup toasted walnuts
1/3 cup shaved Parmesan cheese
Fresh basil for garnish
Directions
In a medium bowl, mix shallot, lemon juice, lemon zest, red wine vinegar, Dijon mustard and honey. Slowly stream in oil, whisking continuously until emulsified. Season to taste with salt and pepper.
Using a vegetable peeler, shave the zucchini into ribbons, starting from one side, then flipping over and repeating on the other side. When you get the core of the zucchini, you can chop and reserve for another use.
In a large bowl, toss zucchini, walnuts, Parmesan and basil with dressing. Serve immediately.
Shrimp Avocado Salad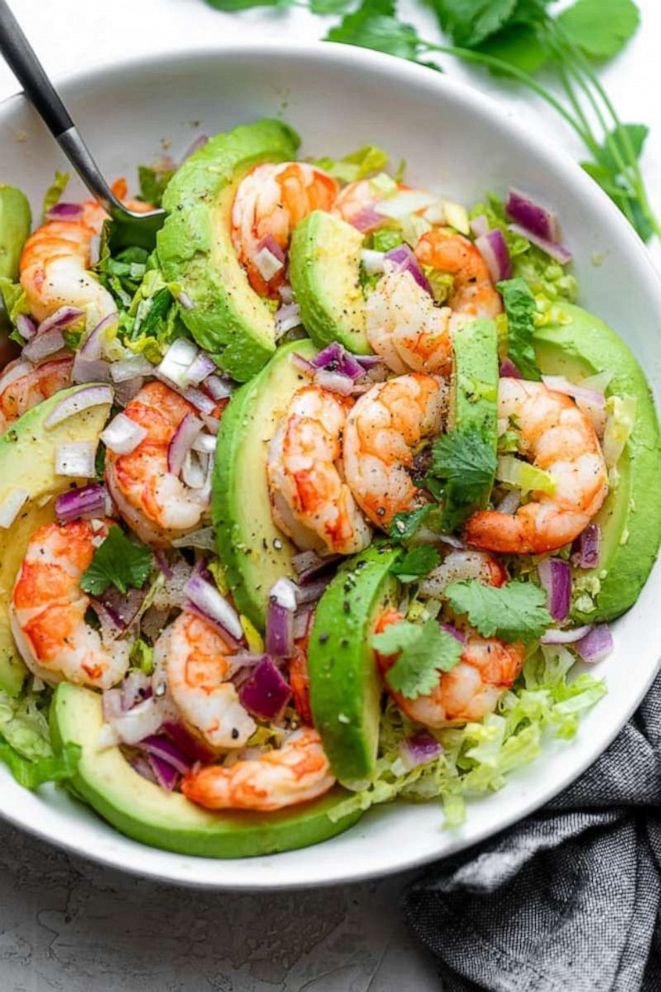 Whether you have a bag of frozen, cooked shrimp in the freezer ready to thaw out over a simmering pot of water or prefer to go with pre-cooked and prepped shrimp, this simple, fresh and satisfying dish has all the best flavors of summer.
Cook Time: 10 minutes
Ingredients
1 lb. shrimp thawed drained and patted dry with paper towel
1 tablespoon olive oil
2 avocados peeled and sliced
Salt and pepper to taste
1/4 red onion sliced
2 cups shredded lettuce
1 tablespoon fresh chopped cilantro
Dressing
3 tablespoons extra-virgin olive oil
3 tablespoons fresh-squeezed lime juice
1 teaspoon ground cumin
1/4 teaspoon sea salt
1/4 teaspoon fresh cracked pepper
Directions
To steam the shrimp, bring a large pot of water to a boil. Add the thawed shrimp to a steamer basket or mesh strainer and steam for 5-6 minutes until they turn opaque and cooked through.
To make the dressing, use a bowl large enough to hold all the ingredients. Whisk together the olive oil, lime juice, cumin, salt and pepper.
Transfer the cooked shrimp on top of the dressing. Add the red onions and gently combine all the ingredients with the dressing in the bowl. Spoon mixture over the shredded lettuce and add the sliced avocados.
Garnish with cilantro and serve at room temperature or chilled.
Notes
Store any leftovers in an airtight container. They will last about 2 days in the fridge. But it's best to enjoy it within 24 hours since the avocados will slightly brown the next day.
You can make the dressing up to 2 weeks in advance and have it on hand ready to toss when you make the salad.
You can also use pre-cooked shrimp and toss it in the salad instead of cooking it on your own.
For best results, follow the recipe as is. If you're not a fan of red onions, you can try green onions or skip them all together. Also, if you prefer not to use cumin in the dressing, try paprika or coriander.
Cucumber Sushi Roll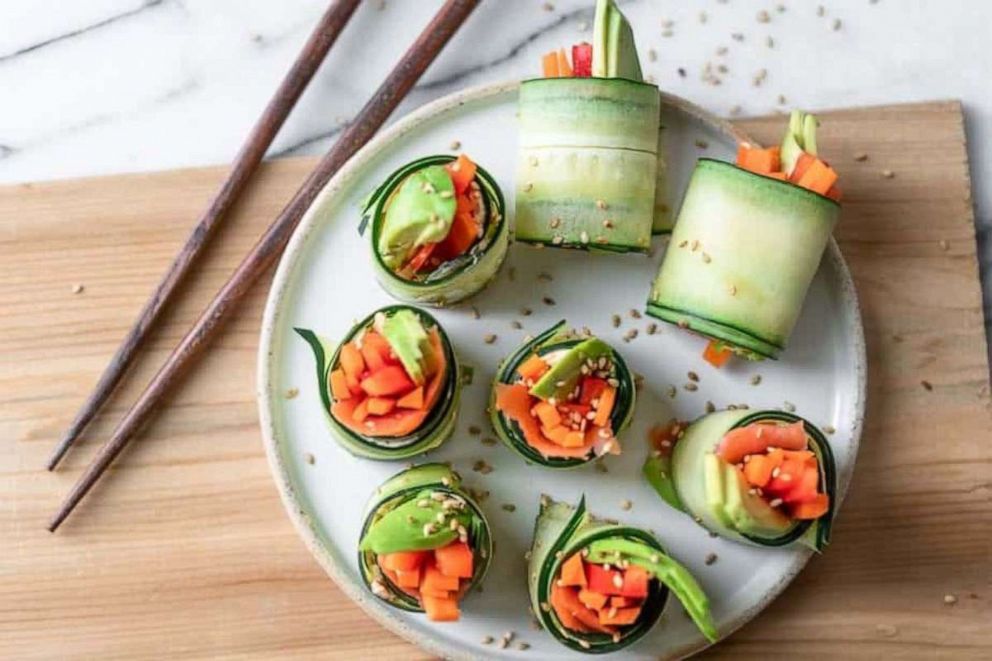 Cook Time: 15 minutes
Ingredients
2 large English cucumbers
4 ounces whipped cream cheese
1 teaspoon sriracha
1/4 teaspoon ginger powder
4 ounces smoked salmon
2 carrot sticks cut into matchsticks
1 red pepper cut into matchsticks
1 avocado thinly sliced
Toasted sesame seeds for sprinkling
Directions
Trim the ends off the cucumbers, then use a vegetable peeler to slice the cucumber into thin flat strips. Continue until you reach the center of the cucumbers. Then flip it over and repeat. You can discard the first skin peel and should have about 8-12 strips per cucumber.
In a small bowl, mix the cream cheese with the sriracha and ginger powder and stir until well combined and smooth.
To assemble the rolls, lay the cucumber slices down, spread the cream cheeses mixture on top. Then place the smoked salmon, carrot sticks, red pepper sticks and avocado slices on the top half of the cucumber slice. Starting from the top half, carefully roll the cucumber slices tightly.
Place them upright on a plate and sprinkle toasted sesame seeds on top, if desired. Makes about 20 to 24 rolls.
Tips
Use long and wide cucumbers for this recipe. They will be easier to roll and will be more sturdy to serve as compared to smaller varieties like Persian cucumbers.
Use the freshest ingredients. These rolls are all about the fresh veggies! Use ripe avocados and bell peppers that still have their crunch.
Make sure not to over stuff the rolls. You want to limit the amount of veggies and seafood in each roll and only place ingredients on half the length of the cucumbers so they stay together.
Double up the cucumber rolls. Depending on the peeler you have and how much you're stuffing the cucumbers, it may help to double up on the rolls. I found that a standard peeler produced very thin slices that weren't sturdy enough so I recommend doubling up.
Store any leftovers in an airtight container. They will last up to 2 days in the fridge. If you don't use any avocados, they will last up to 4 days in the fridge.
For best results, follow the recipe as is. There are many different vegetables, spreads and seafood or other additions that would work well in this recipe with the cucumbers.
Above recipes reprinted courtesy of Feel Good Foodie.
"Chickpea of the Sea" Tuna Salad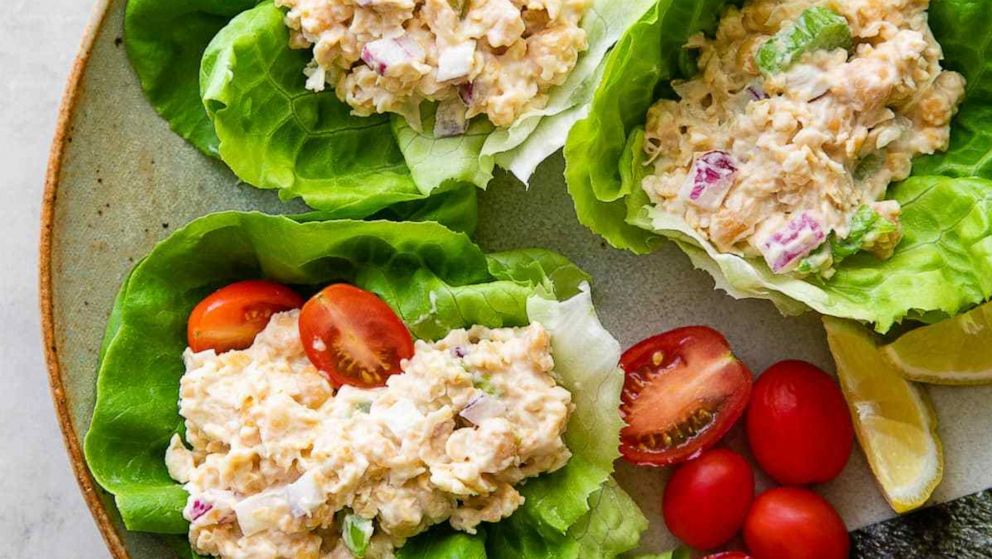 This vegan version of a classic tuna salad sandwich is an easy, healthy, delicious and sustainable summer meal that can be served alone, on whole-grain bread for a hearty sandwich, added on top of a bed of leafy greens with a squeeze of lemon or scooped on chips or pepper strips.
Total Time: 10 minutes
Ingredients
1 can (14 oz) chickpeas (garbanzo beans), drained and rinsed
juice of 1/2 lemon + some zest if you like
1/4 to 1/3 cup of vegan mayo (or 3 to 4 tablespoons hummus or white bean hummus + 2 to 3 tablespoons water)
1/4 cup celery (about 2 small stalks, leaves ok too), chopped
1/4 cup red onion (about 1/2 small), chopped
1/4 to 1/2 teaspoon garlic powder
Pink Himalayan salt & cracked pepper, to taste
Dash of cayenne, optional
6 slices of preferred bread, to serve
Leafy greens, to serve
Directions
Mash chickpeas: Drain and rinse chickpeas, place in medium size bowl and roughly mash about 3/4 of the chickpeas with the back of a fork or potato masher, until desired consistency.
Assemble salad: Add the rest of the ingredients and mix well, adding any extra ingredients you like. Alternatively, you can use a food processor starting with the beans, pulse a few times, add remaining ingredients pulsing again a few times until desired consistency.
Serve chilled on its own, as a sandwich, atop a salad or in a bowl to scoop with veggies.
Chilled Soba Noodle Salad with Cucumber, Sesame and Ginger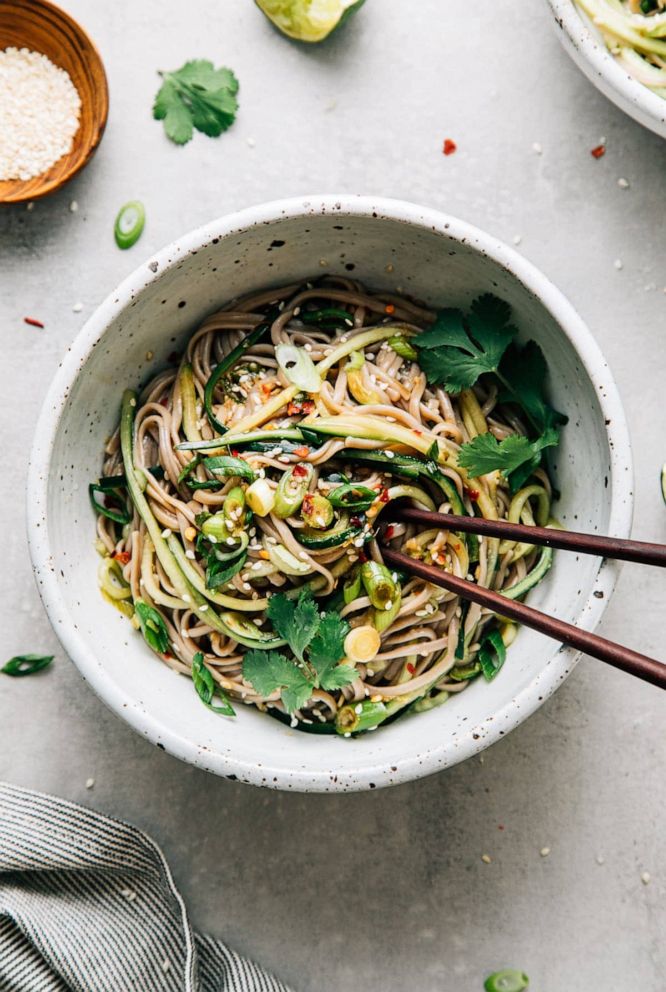 This dish is packed with cool and refreshing ingredients and topped with a sweet and spicy ginger scallion sauce that makes for a perfect lunch or dinner.
Total Time: 16 minutes
Ingredients
1 package (8 or 9 oz.) soba noodles
1 large English cucumber, julienned
1/2 cup cilantro, roughly chopped
Lime wedges
Ginger Scallion Sauce
3/4 cup scallions (green onions), thinly sliced
2 cloves garlic, minced
2 tablespoon fresh ginger, grated or minced
2 tablespoons sesame seeds
2 – 3 tablespoons rice wine vinegar (unseasoned)
2 tablespoons pure maple syrup
1 tablespoon toasted sesame oil
1 – 2 tablespoons tamari, soy sauce or Namo Shoyu
1 – 2 teaspoons red pepper flakes, to taste
1/2 teaspoon sriracha, optional
Directions
Sauce: In a small bowl, combine the ingredients for the sauce and set aside.
Soba noodles: Cook soba noodles according to package. I recommend salting the water well to really bring out the flavor (I would not usually recommend this but if using 100% buckwheat noodles they will benefit from this…at least I think so). Once done, rinse the soba noodles under cool running water to cool them down and stop them from cooking, or they will turn mushy.
Cucumber: In the meantime, prepare your cucumber using a julienne tool. If your cucumber is really long, you can cut it in half before you julienne it if you like. You can also spiralize if you have a spiralizer. Feel free to cut them into ¼ inch x 1 ½ inch matchsticks pieces if you don't have a julienne tool.
Combine: Once noodles are rinsed, return to the pot they cooked in, add the cucumber, cilantro and about three quarters of the sauce, toss well. Chill in the refrigerator until ready to serve.
Serve: In a single serving dish, add half of the noodle mixture, top with half of the remaining sauce, and salt and pepper to taste. Add as much lime juice as you like. I especially loved the lime and used about 2 juicy ones for myself.
Notes
A serving of cubed tofu pairs well here, adding more protein.
I specify English cucumbers here but 2 – 3 Persian cucumbers will work too. Look for thinner cucumbers as they are the easiest to work with when using a julienne tool.
You can use regular sesame seed oil, but toasted sesame seed oil will yield the most distinct and delicious flavor!
Spicy Raw Tomato and Red Pepper Soup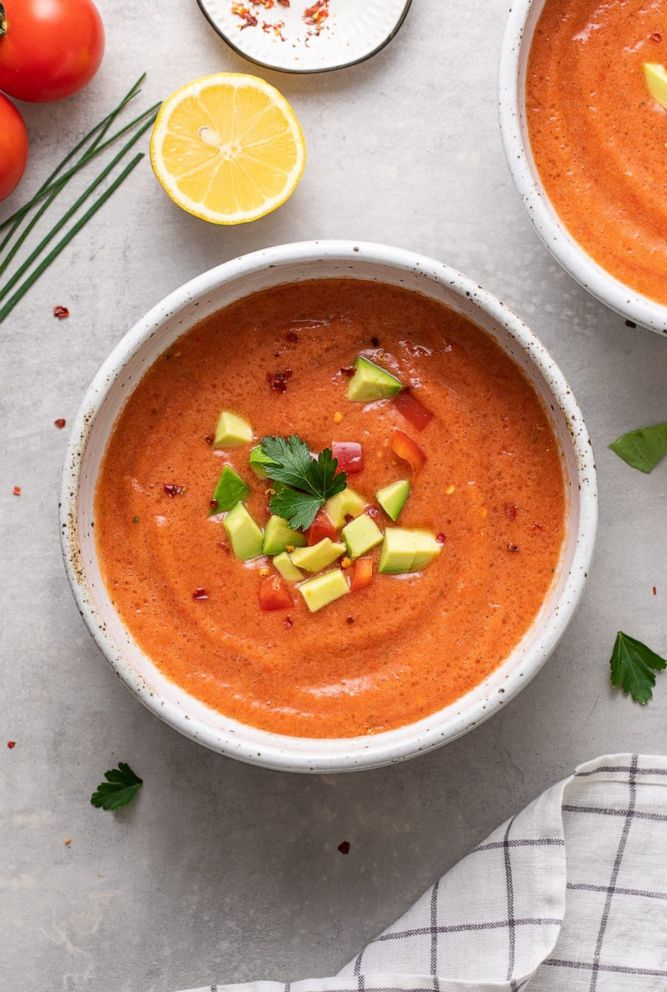 Similar to gazpacho, Julie from The Simple Veganista shared her spicy raw tomato soup recipe made with herbs and lemon that's both refreshing and has anti-inflammatory benefits.
"With summer's arrival, we love having a few chilled recipes on rotation that are simple and require minimal effort to beat the heat," she told "GMA."
Ingredients
1 pound (16oz.) tomatoes (use your favorite)
1 medium red bell pepper, cored and sliced
1 lemon, juiced
2 teaspoons nutritional yeast
A few cilantro, parsley or basil leaves
A few chives
Pinch of red pepper flakes
Pink Himalayan salt to taste
Directions
Quarter the tomatoes. Core and de-seed the bell pepper and cut into slices.
Place all ingredients in food processor/blender and blend until a soup consistency. Taste for flavor adding extra ingredients to suit your taste.
Enjoy as is or place in the refrigerator to chill for 1 hour before eating.
Place in individual bowls and top with a squeeze of lemon juice over top and some chopped chives, parsley or basil. Sliced or diced avocado is also excellent adding a little creaminess!
Note: Would be great with julienned or spiralized zucchini noodles.
Above recipes reprinted courtesy of The Simple Veganista.
Summer Peach and Prosciutto Antipasti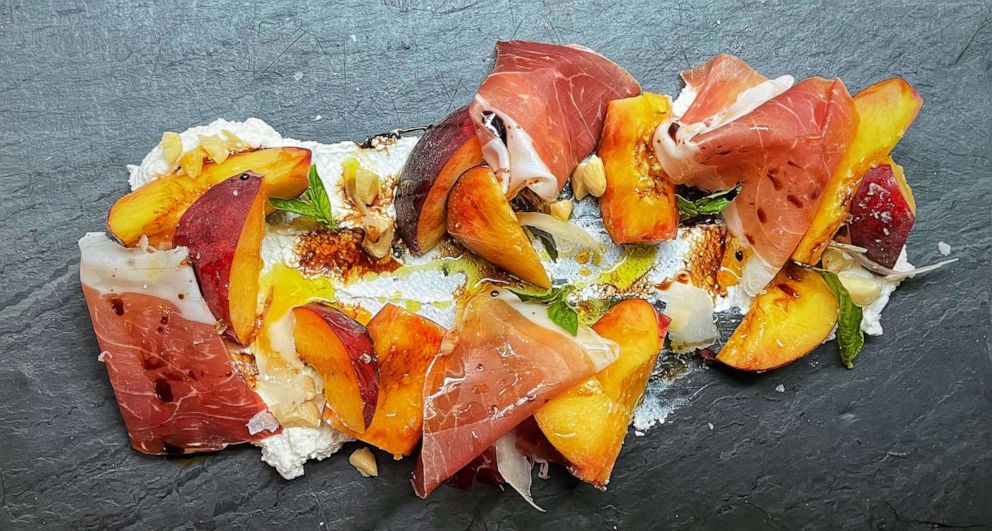 Serves: 2
Ingredients
2 Ripe peaches
4-5 Thinly sliced pieces of prosciutto
1 cup Ricotta
2 tablespoons Extra Virgin Olive Oil (preferably Sicilian)
2 tablespoons Balsamic vinegar
1/4 cup Shaved Parmesan Reggiano
3-4 Pieces fresh torn basil
2 tablespoons Crushed Almonds
1 tablespoon Calabrian Chile Oil (optional)
Sea salt
Directions
Wash, pit and quarter peaches and lightly marinate with olive oil, balsamic and chili oil, if using.
Smear a dollop of ricotta on a desired platter and place the peaches on top.
Give the prosciutto a light twirl and arrange in between the peaches. Sprinkle crushed almonds evenly over the top and finish with sea salt, torn basil and remaining peach marinade.
Serve at room temperature or chill for up to 1 hour.
Recipe reprinted courtesy of Kyle Jacovino, chef and owner of Pizzeria Vittoria.
Editor's note: An earlier version of this story was originally published on June 24, 2021.