It's almost Valentine's Day and this simple riff on the classic chocolate-strawberry combo is an easy treat to serve a loved one or enjoy for yourself.
Food creator and founder of KaleJunkie, Nicole Keshishian Modic, shared her creative sweet treat inspired by chocolate-covered strawberries that uses ice cube trays to make a perfectly poppable bite. Plus, she includes some gut-healthy ingredients for an added nutritional benefit.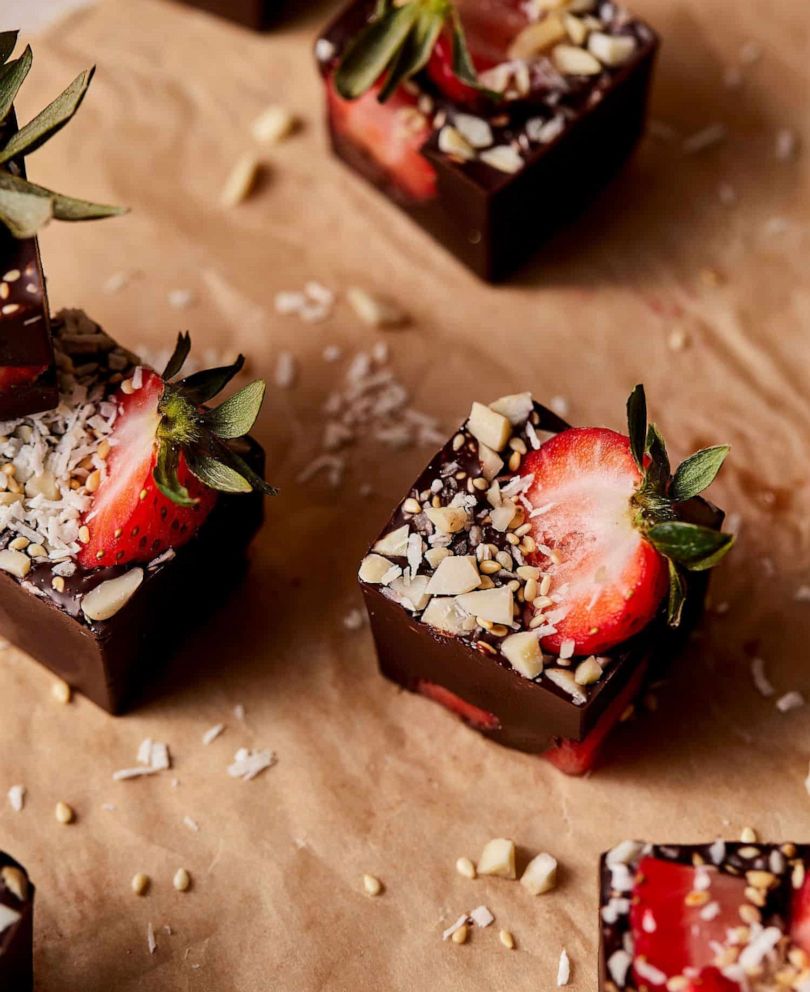 "As I get older, the more I want to eat foods that make me feel good -- and that includes desserts," she told "Good Morning America."
Her healthier chocolate-dipped strawberry cubes are made with just six "super simple ingredients that are readily available, and all of which support the healthy bacteria in your gut."
"To entice you even further to make these, all you need is one bowl and an ice cube tray," she said. "They are the perfect Valentine's Day (or anytime) treat to pop out of the freezer when the sweet craving hits— but you want to feel good!"
Gut Healthy Chocolate Dipped Strawberry Cubes
Ingredients
12 strawberries
1 1/2 cups dark chocolate chips
1 teaspoon coconut oil
1/4 cup finely shredded unsweetened coconut
1/4 cup finely chopped almonds
3 tablespoons white sesame seeds
Directions
Start by placing your chocolate chips and coconut oil into a small bowl, and microwave in 30-second increments until the chocolate is fully melted. Stir the chocolate and oil together until it's fully incorporated.
Next, grab your ice cube tray and pour the chocolate into each cavity, until they're a little less than halfway full.
Then, place a strawberry into each cavity, making sure that the stems are attached.
Sprinkle your sesame seeds, unsweetened coconut, and chopped almonds over the tops of your strawberries, being careful not to get too much in the chocolate.
Place your ice cube tray in the freezer and freeze for 4-5 hours, or until the chocolate is solid.
When the chocolate-dipped strawberries are done, pop them out of the freezer, eat, and enjoy! Store any leftovers back in the freezer, for up to two weeks.
An earlier version of this story was first published February 2022.